Fellow Spotlight: Julie Chou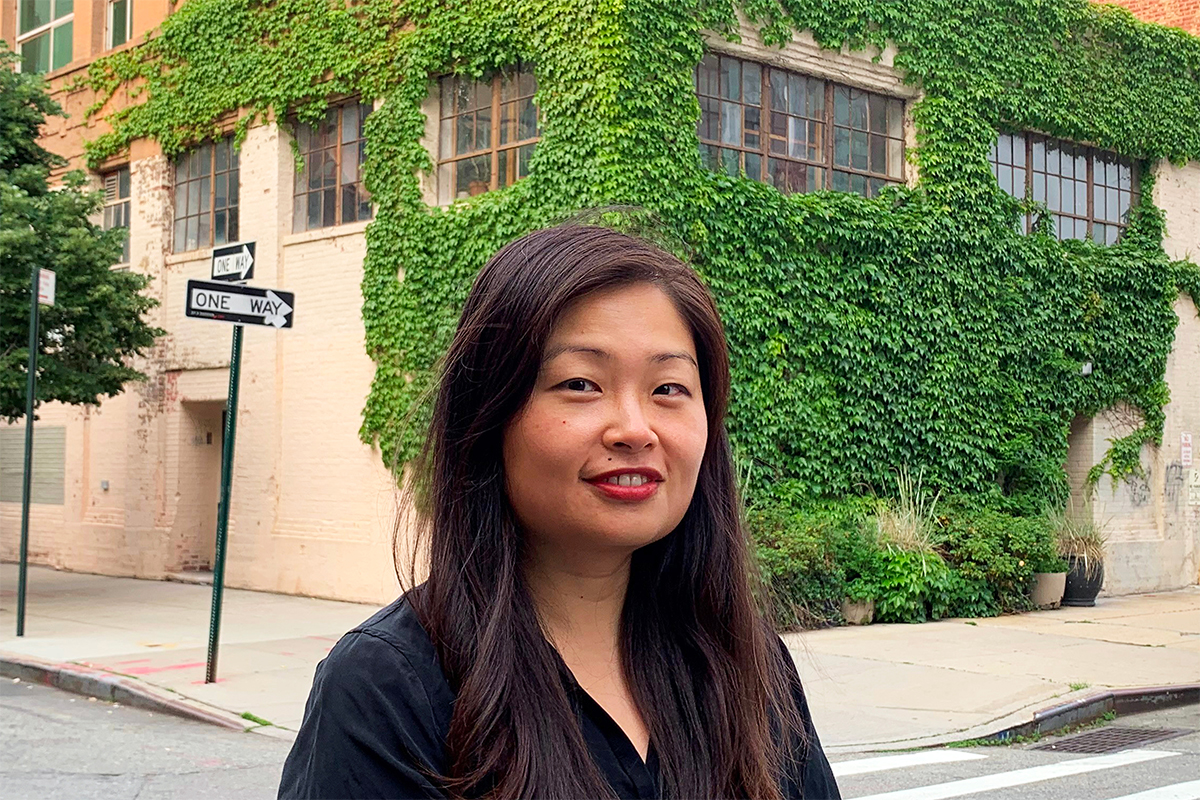 Julie Chou believes in the power of perceptions other than your own. Whether at a meeting for one of the Community Boards she serves on, or in a serendipitous sidewalk conversation with a stranger, Julie seeks to know other New Yorkers' experiences of their city as she works to improve it through urban design and democratic advocacy.
A partner and co-founder at Purpose by Design Architects, Julie sees architecture as a means to serve something bigger: the "purpose" for which she and her two co-founders named their new venture. Since first tackling the issue of bathroom access as a 2018 Forefront Fellow, Julie has become a movement leader in the push to add public bathrooms to the City's public realm, leading a cross-Community Board working group to seek a fix for this chronic New York problem. Read her full bio below.
We talked to Julie about taking leaps to follow new paths, growing up as an immigrant in Ohio, and pursuing design as a democratic process – where people at the margins feel seen, heard, and served.
---
Tell us a little bit about yourself, what you're passionate about, and how that informs your work.
JC: I grew up in the Midwest. I was actually born in Taiwan, and I moved to the suburbs of Ohio when I was six. So that was a little challenging, growing up as an immigrant. In the suburbs of Ohio, I definitely had that experience where you have two perspectives, one at home versus one when you're outside of your home with your peers and at school. I think that challenge has helped me with the work that I currently do. I feel like I'm able to understand where people are coming from better, and then, at least with complex problems, see things from different perspectives before making my own opinion.
I moved to New York City about 20 years ago for architecture school and I've been practicing as an architect since. I'm very passionate about New York. I value the culture and the diversity here that I craved growing up, and I think a lot of my work is preserving that special quality about New York for others.
You were a Forefront fellow in 2018. How did that experience fit into, or influence, your career?
JC: I loved the Shelter for All Fellowship. I think that was the first time actually that I got to be part of this large group, where we have people from all sorts of backgrounds, all sorts of disciplines, looking at a very complex issue like homelessness, and all having the same common goal. I don't think that's really common at least with the work I do. I feel like we can be siloed. With the community board I serve on, sometimes it feels a little combative, where the local community feels like city agencies are perhaps hiding something. In the fellowship we were all on the same page. We were all really open.
It's super cool to think that our public bathroom report that came out of that fellowship is still being used for bills by legislators today, so many years afterwards. I think it's a testament to our cohesion. It was written by a transportation planner, data scientists, and an architect. With collaborators from our larger public realm group, we had a landscape architect and someone from DCP that managed public open spaces. I think that was the reason that that report turned out so rich and useful for people.
Before becoming an architect and a community leader, you studied economics. How did you shift and evolve towards this work?
JC: The shift was 180. I remember being at the Federal Reserve on 9/11, and watching the towers go down. Shortly afterwards, I realized that I wasn't going to wait to pursue my passion for architecture and see how economics was gonna pan out. I quit my internship and applied to architecture school shortly after.
I feel like it's come around full circle now. As I started shifting towards mission-driven projects, working in housing and looking at public bathrooms, I've been able to put my economics brain back to use. For example, with bathrooms, we've focused on models using public-private partnerships. Facing complex issues, you begin to use all the tools in your tool belt.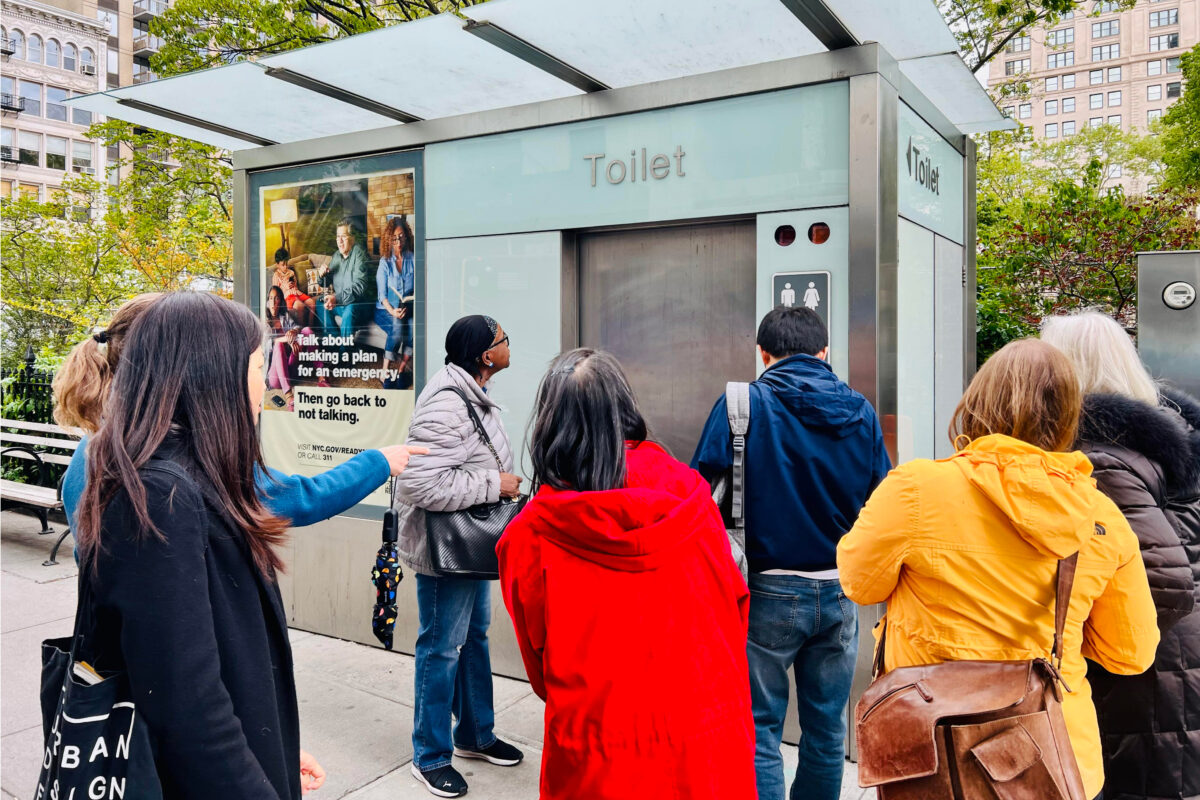 Public bathrooms have been in the news recently with the City Council considering legislation. Do you feel as though there is momentum towards getting more public bathrooms in New York City?
JC: Yeah, it's been exciting. We're on the fourth bill that's come out about public bathrooms since the pandemic. I keep telling people it's now or never. We had a public health crisis and public bathrooms are part of that public health solution. But, unfortunately, we have a budget deficit, and our city agencies are not staffed to full capacity. When the city council took it up, I was really excited, really hopeful. I think some of that has been tempered by the challenges our city faces right now. As is always the case, we're competing with really pressing issues, such as housing and the influx of migrants. So we'll see. We do have a lot of support at the community board level.
You've recently started your own design firm, Purpose by Design Architects. Congratulations! Tell us a little bit about that, and the type of work that you'll be doing.
JC: Thank you. We are super excited about our new venture. I started a women-led architecture firm with two of my colleagues at MAP, Rachel Simpson and Kami Altman. We've been working in marginalized neighborhoods, building housing for vulnerable populations for the past seven years or so. This is something we really believe in, and we hope that we can continue to do.
We were all on the same page that we wanted "purpose" as a central part of our mission and that's why we're starting this firm. The most important thing for me is that design is here to serve something. It's not about itself, or it doesn't serve its own needs first. Rather, it's designing for a larger purpose.
As I've said to community boards across the city on public bathrooms, I don't think design is a one-size-fits-all solution. What we want in Midtown might be different from Jackson Heights, versus what will work best in Flatbush. So I think it's really important for us to become familiar with a community's specific needs and make designs and recommendations at a local level. We're trying to position our firm in that aspect. We want to incorporate our experiences with the Urban Design Forum, including learnings from the Forefront Fellowship that I just mentioned. We also participated in the Good Form Working Groups recently. Talking to people from different disciplines, like data scientists, or public health experts helps us with our design process and being able to tackle the issues we want to use design to address.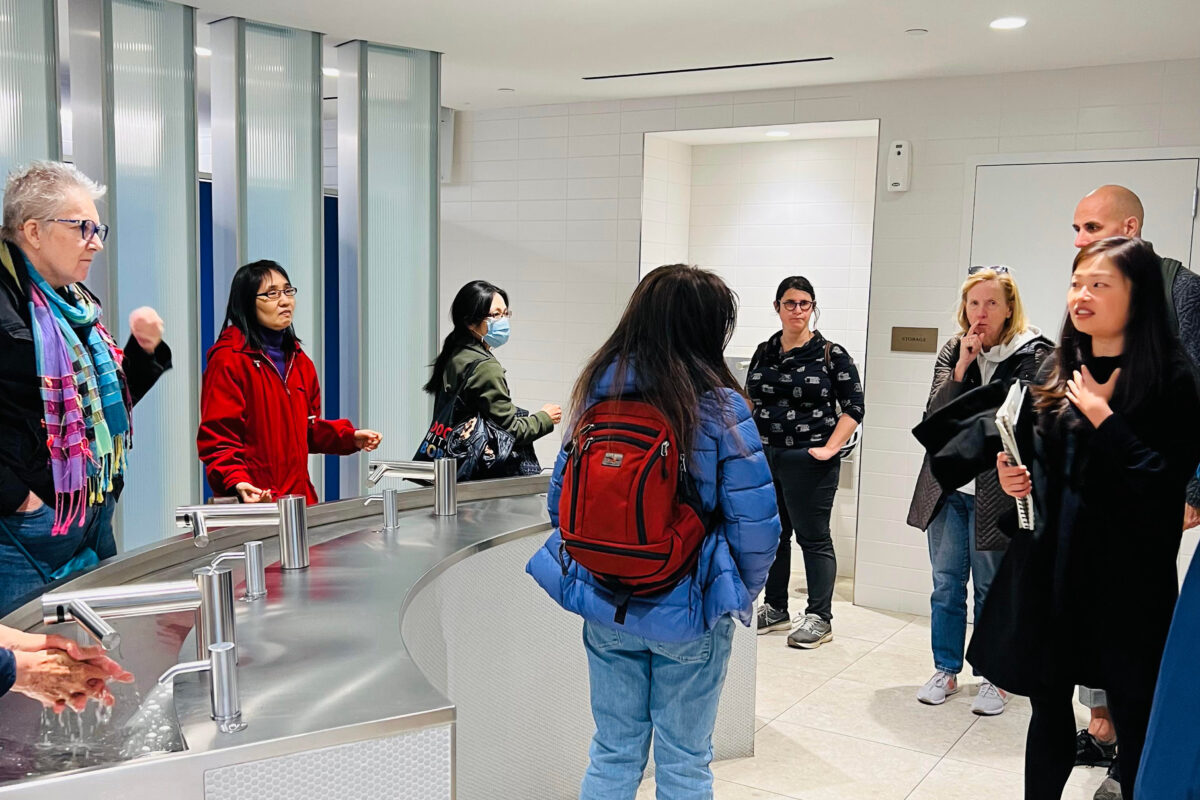 As a member of a Midtown community board, you interface with a lot of players with a stake in the future of the built environment. Pull back the veil for us. What is something most people don't understand about New York community boards?
JC: I'm a big fan of community boards. I've been on the Midtown board for six years now, and actually recently joined my Queens local community board where I'm a public member. During the pandemic, I started leading a public bathroom working group, with members from about six community boards. There's some amazing people there that just show up and are so encouraging.
I think Community Boards are a really great forum for people to talk to each other face to face, especially right now, when we're so politically divided. A Community Board is just an advisory board. The only way we have power is when we have consensus on an issue. That's when we get the ear of our local council member, our borough president, our state legislators. So it's important that people with different viewpoints join, and for our chair to acknowledge all the concerns in our board. For 50 members to vote on something unanimously, it has to be a really well-crafted resolution.
A big issue right now is remote work. I'm not sure that people understand how it affects the city across the board. In our $100 billion annual budget, a lot of it comes from the tax revenue of our buildings and our income tax from these businesses. So if we lose that, in Midtown, that means potentially losing programs and services across our city. It's a big thing. Remote work is changing the identity of New York.
The public is allowed to testify at Community Boards. I think it's really important that people do that. If we bring people in, we can craft good resolutions and advise our legislators that all the voices are accounted for. So it's a good time to get involved.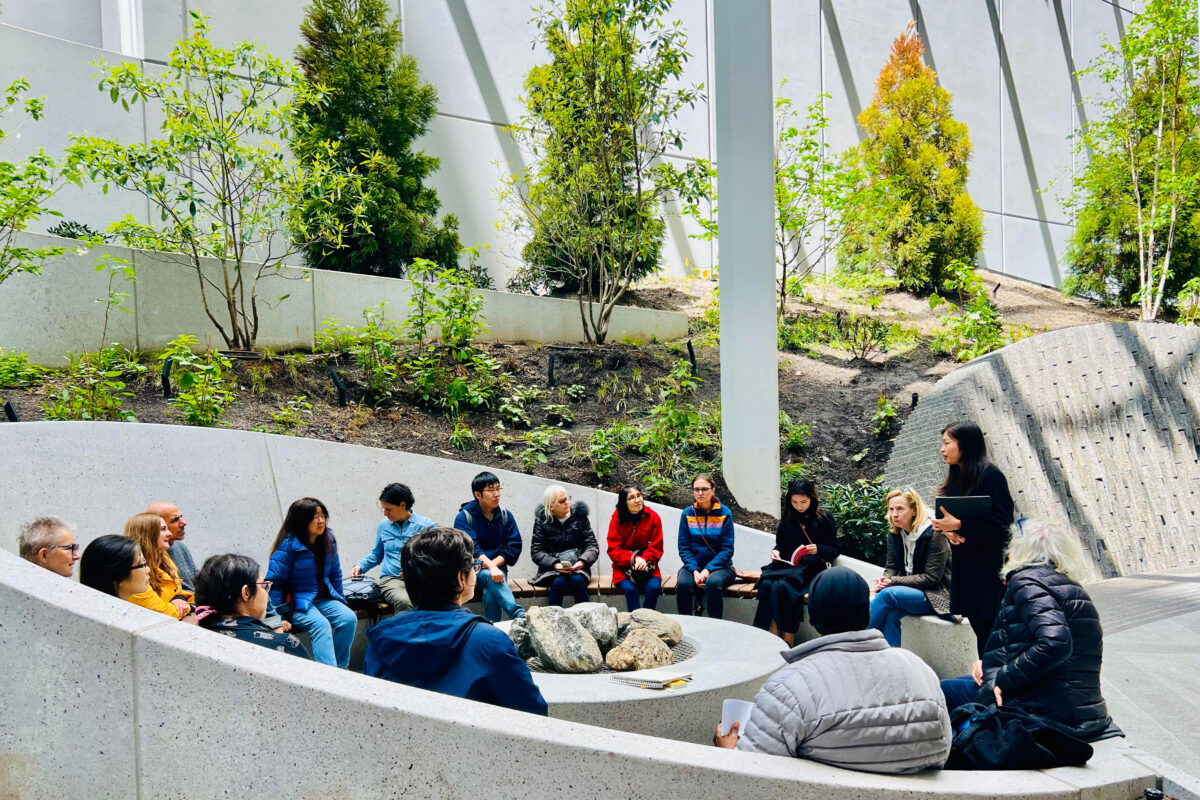 Describe the perfect day in New York City.
JC: I really love meeting random everyday New Yorkers and just connecting them with them about New York City. A few months ago, I was walking around the South Bronx, just trying to understand the neighborhood a little better. I was taking a picture of a locked comfort station in what seemed like a renovated park. The parks manager was there that day. He came up to me and asked me what I was doing, but then we proceeded to have an in-depth conversation about comfort stations in our city's parks system, and the different parks in the South Bronx which he also managed. Then he started talking to me about the neighborhood and how much he's seen it change, and how it was affected by the pandemic. It was just a really great conversation with somebody that was obviously really passionate about the work that he does and the community that it's connected to.
What's something you're looking forward to in the future?
JC: Having gone through the pandemic, and seeing how people came together to support each other during that time, I think we shouldn't forget how incredible our city can be when we do work together. My sister is a nurse at a local hospital. And she told countless stories of people reaching out to help them. I hope we continue to do that, especially now that the city is changing, and that we don't forget all our neighbors who are still recovering in various ways from the pandemic. There's a lot of work to do. I definitely feel motivated to once again get out of my comfort zone, like I did when I quit my internship, and just now, when I left my job to start a new firm. I feel really hopeful. I'm excited to work and make new partnerships with people that can make the future a little bit brighter for people in our city.
This interview was edited and condensed for clarity.
Images Credit: Elaine Tai
---
Julie Chou, AIA, is a founding partner at Purpose by Design Architects, which she founded in 2023 with two colleagues from Magnusson Architecture & Planning, where she worked for 7 years prior. At MAP, Julie managed a variety of affordable and supportive housing projects. She is a member of Manhattan's Community Board 5 and sits on the Land Use, Zoning and Housing committee and is the Vice Chair of the Budget, Education and City Services committee. Since her time as a 2018 Forefront Fellow as part of Shelter for All, Julie has become a leader in the movement for more accessible public bathrooms in New York City and leads a public bathroom working group with several community boards across the city. Julie recently served on a working group focusing on trauma-informed design for Good Form, the Forum's 2022-23 initiative to prioritize health equity in the built environment. She holds a BA in economics from UChicago and a BArch from Cooper Union.