We want to hear your ideas for our upcoming programming.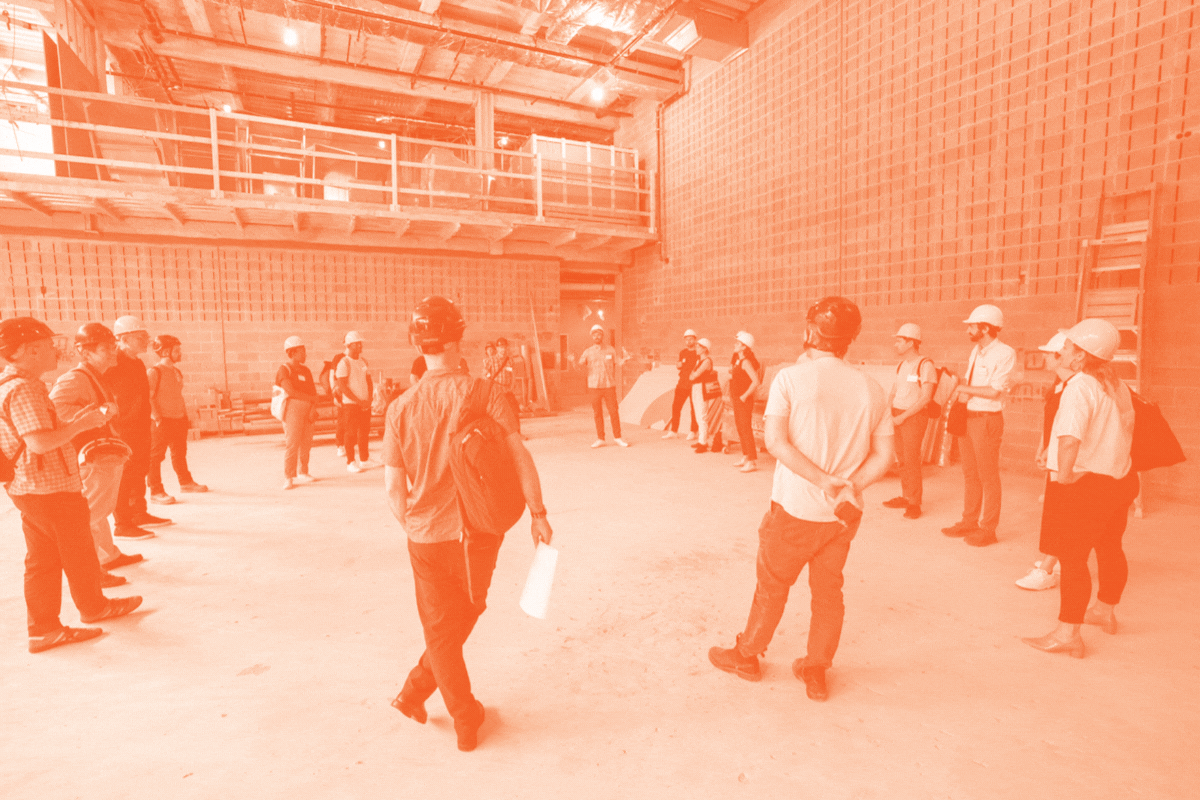 Public Works an event series that offers a venue for collegial debate around the projects and policies shaping New York City. This Spring, presentations on initiatives like NYC's Strategic Climate Plan and DOT's BQE corridor visioning kept our Fellows abreast of impactful change citywide and to share their expertise as professionals from diverse fields.
We also draw upon talent in our community to create opportunities for experiential learning. We've toured complex projects like the Alloy Block and the Gansevoort Peninsula, hearing from builders about community engagement, design visions and financing.
Now, we want to hear from you: We welcome your ideas for our winter and spring 2024 programming. Our team is eager to take on critical issues around housing affordability, climate adaptation, conversions, and community and economic development.
Ways to Participate
Urban Design Forum programs are shaped by, with, and for our members. While we may not be able to integrate every proposal we receive, your input will serve as valuable guidance. Here are some ways to get involved:
Workshops ↓
Invite expert feedback from our community on a project or campaign you are leading in workshops or charrettes.

Presentations ↓
Recommend upcoming development projects, public policies, or creative research impacting the future of New York City you would like to present to an audience of Forum Fellows.

Tours ↓
Share a new building, infrastructure or public space project you are working on that will serve the public or address critical needs.

Trainings ↓
Propose trainings that could support deeper civic engagement within our membership network, such as writing op-eds or public testimony, mounting issues campaigns, or other public advocacy strategies.

Host us ↓
Open your doors to host small gatherings (40) or large events (100 people) on the future of New York City's built environment.

Submit your ideas to be considered for our Winter/Spring 2024 programming by Tuesday, September 26, 2023. If you have any questions, please contact Guillermo Gomez at guillermo@urbandesignforum.org.
Support Our Work
This program is made possible through the support of our Board of Directors, Director's Circle, and our Campaign for Courageous Leadership, a fundraising initiative to nurture a new generation of diverse, creative and informed leaders. Join us in supporting the Forum to become New York City's leading center on the built environment.
To learn more about how you can support, please contact Miranda Bellizia, Director of Member Engagement, miranda@urbandesignforum.org