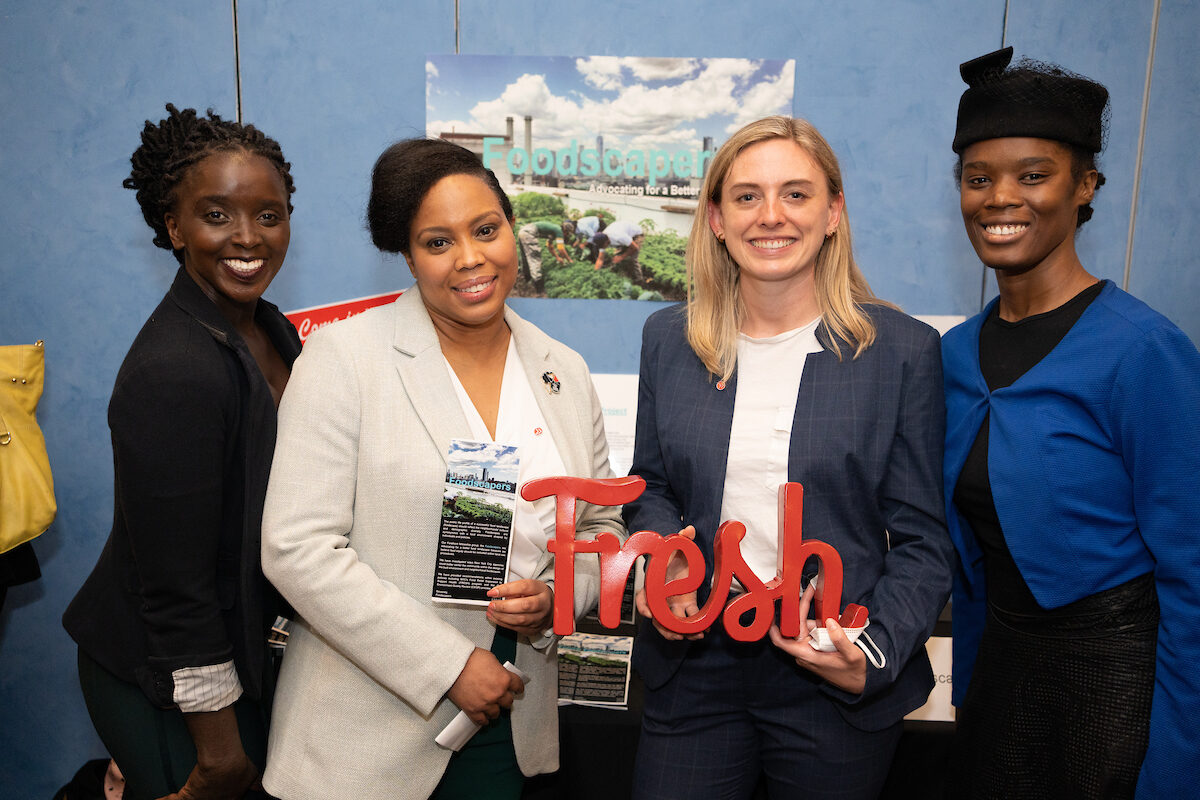 The Urban Design Forum's 2021 Forefront Fellowship, Neighborhood Fare, explored how to foster food equity in every New York City neighborhood through the built environment. In partnership with the Department of City Planning and the Mayor's Office of Food Policy, Fellows investigated how city government can strengthen community-based infrastructure to advance food equity.

This year, Fellows developed original projects that explore how to shape better food landscapes, decentralize food hubs, support immigrant-led food businesses, and create community among urban growers. Learn more about their projects here.
by Ellen Abraham, Kiffa Brathwaite, Charmaine Browne, April Hurley and Joy Resor
A successful food landscape — or foodscape — should reflect a neighborhood's cultural and demographic diversity. We advocate for shaping better food landscapes across New York City by including food equity within land use procedures.
The built environment affects the ways in which people live, including how and where they acquire food, and land use policy can be used to shape better and more equitable food environments. We investigated ways New York City agencies could better center communities within the design of the built environment and neighborhood food landscape.
Zoning, land use, and urban development can have unintended impacts on neighborhood food equity. The city's focus on nutrition and supermarket expansion has led to mixed results. It is very cumbersome for average New Yorkers to be active participants in determining the food landscape within their community. While developments going through public review are required to engage with community boards, many voices are still left out of that process. Community members are often distrustful of developers or the city when development is proposed as a result of historic and racist policies of disinvestment in Black and Brown communities. In order to rectify these policies, the city should ask how it can center the community's needs in the design of the built environment and neighborhood food landscape in order to level the playing field and increase food equity in underserved neighborhoods.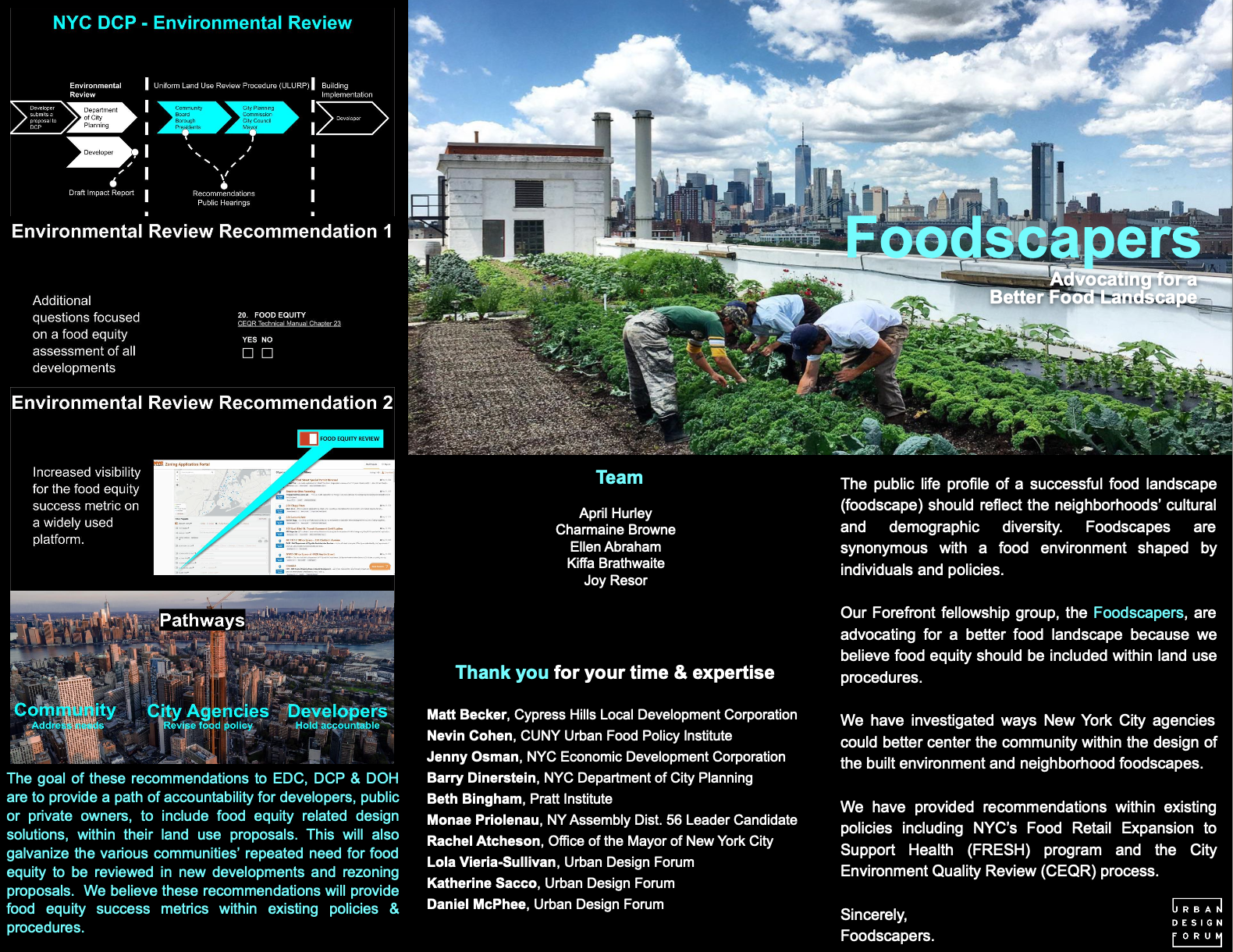 We developed a series of recommendations that focus on expanding ways the city can invest in alternative models of food retail space, aid in entrepreneurship opportunities for underrepresented store operators, and reinforce the community's stated goals within new developments. A variety of food resources in a neighborhood reflect new opportunities for fresh, culturally appropriate, and affordable food but can also provide job opportunities for residents, ways to build wealth, and can create places where communities flourish.
Our policy recommendations provide a path of accountability for city leaders and developers to achieve more equitable development outcomes and play an active role in the fight for food justice.
Authors
Ellen Abraham is a design project manager and entrepreneur, she nurtures her passions through leading community-building activism, design-based philanthropy and high impact social justice & design advocacy projects. Ellen currently works for Skidmore Owings & Merrill, serves on various not-for-profit boards and runs a startup called ArchitectPins®.

Kiffa Brathwaite has over 10 years of non-profit experience, after being immersed into service while attending Saint John's University she spent 2 years volunteering in New Orleans, Louisiana with Habitat for Humanity. Kiffa is dedicated to her commitment to community development and fighting food insecurity.

Charmaine Browne is a Public Health Practitioner with a master's degree in Global Public Health Nutrition dedicated to tackling food insecurity, malnutrition, and chronic disease prevention through the implementation of public health policies and programs. Most recently, during the height of the pandemic, she supported NYC's first emergency food delivery program to tackle hunger caused by COVID-19.

April Hurley is community planner from the Bronx. Her research interests include food policy, housing policy, and cooperative development. April leverages her background as in Spanish education and International relations, to organize her community across generational lines. April founded Thymed Action, a planning firm, building upon her neighbors placekeeping efforts around food security.

Joy Resor is an urban planner who approaches planning with a person-focused perspective and currently manages a variety of projects at the Department of City Planning. She received her Master of Urban Planning degree from the University at Buffalo and Bachelor of Arts degree in psychology from American University.