Neighborhood Fare: Tools for Connecting Local Food Systems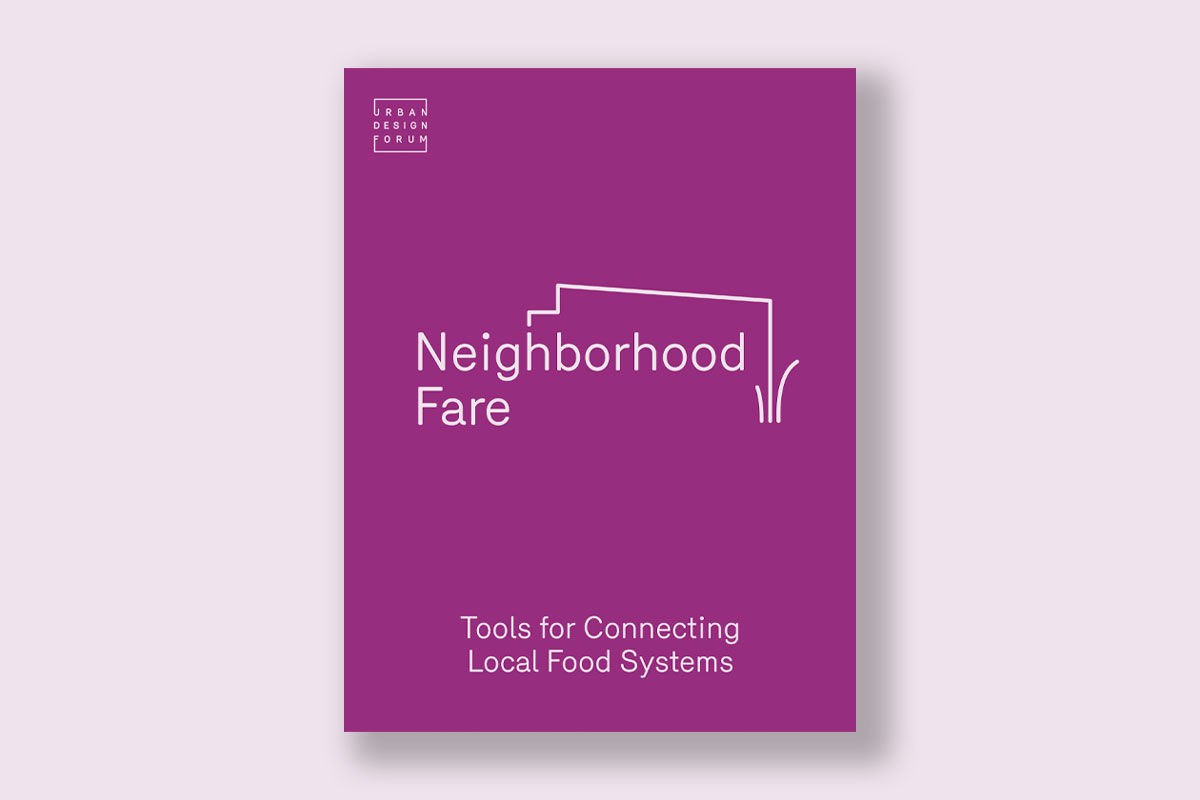 (June 17, 2022—New York City) – Urban Design Forum is pleased to release Neighborhood Fare: Tools for Connecting Local Food Systems, a new toolkit designed to help build a healthier, more resilient and more equitable urban food system.
This year, Urban Design Forum partnered with the Department of City Planning and the Mayor's Office of Food Policy to strategize how city government can improve access to healthy, affordable, and culturally appropriate food in New York City.
Building off of Food Forward NYC, New York's first ever 10-year food policy plan, this toolkit provides a series of resources for government, community leaders and the public, including short- and long-term solutions to transform the current food system.
At the centerpiece of this toolkit is a visualization of a food-forward New York City neighborhood–representing a connected food system that makes fresh, healthy and culturally appropriate food available to every New Yorker. The toolkit also includes briefings with observations, case studies, and recommendations to envision thriving local infrastructure and an assessment tool to evaluate the equity impact of proposed investments in the food system.
The Forum hopes that this toolkit inspires continuing conversations and action on building a healthier, more resilient, and more equitable urban food system.
"We are immensely grateful to our Fellows, agency partners, and food leaders who supported this toolkit, and are excited to share it with neighborhood leaders and elected officials across the city," said Daniel McPhee, Executive Director of the Urban Design Forum. "Getting fresh, healthy, and affordable food to every neighborhood is an urgent challenge facing New York City today. With the right mix of programs and incentives, we can better connect every aspect of the food system, from bodegas and commercial kitchens to community gardens and urban farms."
"By offering easy access to fresh food and supporting small businesses, we are building healthier neighborhoods. The great ideas in UDF's Neighborhood Fare plan will help guide us as we continue to innovate across the five boroughs," said Dan Garodnick, Department of City Planning Director.
"I am thrilled to see the release of this thoughtful toolkit centered around community engagement and food equity," said Kate MacKenzie, Executive Director of the Mayor's Office of Food Policy. "The research and recommendations outlined in Neighborhood Fare are an invaluable resource to City agencies, businesses, community organizations and residents looking to build a more equitable and sustainable food environment that supports the health and well-being of all New Yorkers."