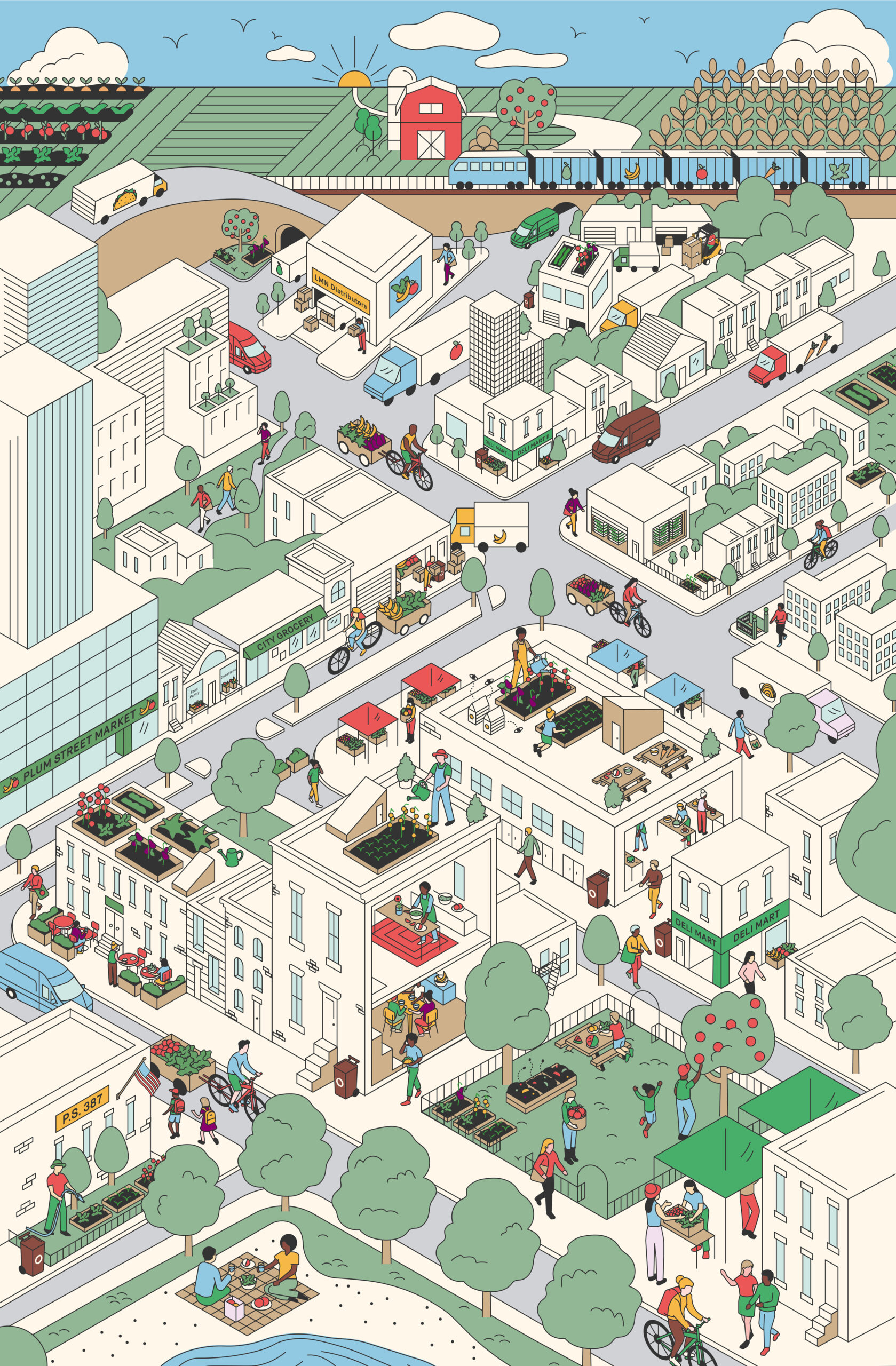 New York City can invest in communities to bring healthy and affordable food to every neighborhood.
New York City's food system is all around us — from the bodegas that line our street corners to the community gardens where volunteers gather to grow fresh produce. Through food, New Yorkers launch small businesses, build good health, and celebrate our city's diverse cultures.
Too many New Yorkers struggle to access healthy, affordable and culturally-appropriate food. New York City should invest in efforts that help bring healthy food to every neighborhood.
Urban Design Forum has created new tools that support city and community leaders strengthening community-led food efforts. Explore the resources below to learn more about building a more equitable food system.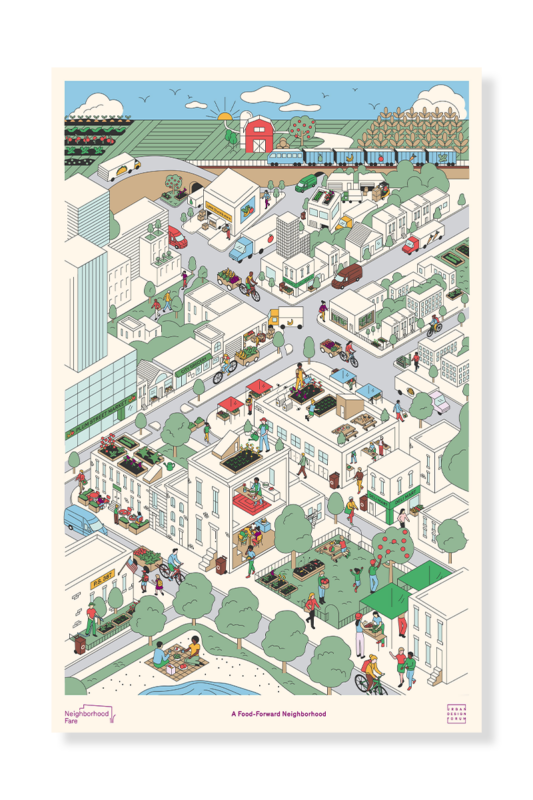 Explore the Food-Forward Neighborhood
We envision a connected, community-based food system in every New York City neighborhood. Explore our illustration visualizing a food-forward neighborhood.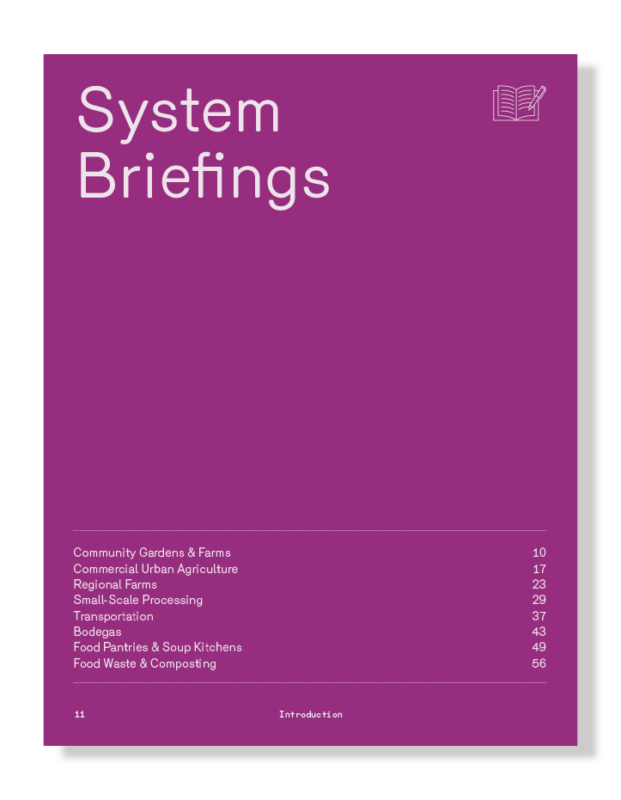 Learn How Our Food System Connects
Our analysis highlights eight parts of the food system that strengthen access to fresh, local food and build community power. Learn more about how we can invest in our infrastructure for a food-forward future.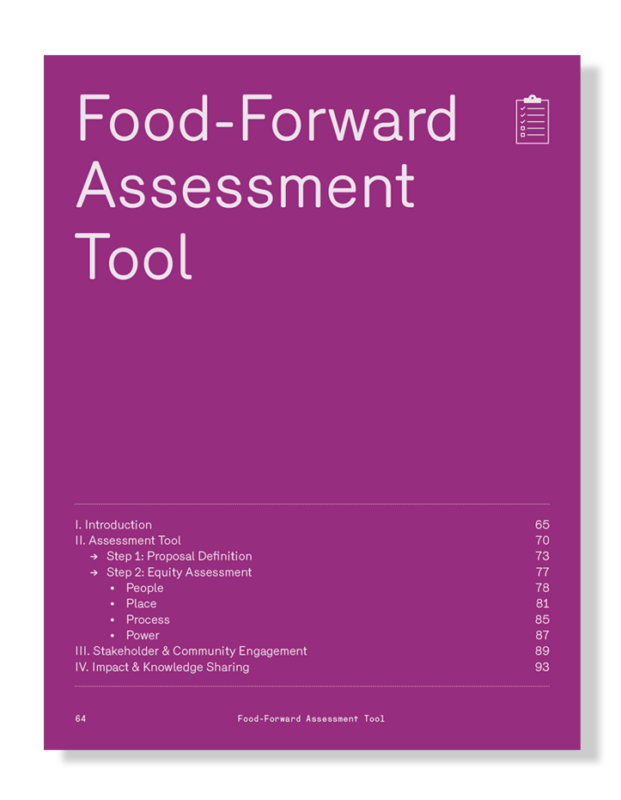 Strengthen the Food System in Your Neighborhood
For community leaders and city officials, we developed a resource to integrate community decision-making into new investments in the food system. Use our Assessment Tool to start building a food-forward neighborhood.
Who We Are
The Urban Design Forum convenes civic leaders to confront the defining issues in New York City's built environment. We are an independent membership organization that empowers professionals of diverse backgrounds, industries, and perspectives to shape a better future for all New Yorkers.
We investigate complex challenges in the built environment, study alternative approaches from cities around the world, and advance progressive strategies to build a more dynamic and democratic city. We shape our research and recommendations through partnerships with leaders in the private sector, government and community development.
How We Worked
In 2021-22, the Urban Design Forum partnered with the Mayor's Office of Food Policy and the Department of City Planning to explore how to strengthen community-based food infrastructure.
We convened a diverse group of 25 emerging leaders — from community planners to designers to food policy experts — to investigate this question as part of the Forefront Fellowship. Fellows spent three months interviewing over 75 community leaders, nonprofit staff, business owners, food researchers, and city officials. Their research focused loosely on Mott Haven, The Bronx; East New York, Brooklyn; and Elmhurst, Queens, seeking to understand how local food systems operated across different contexts. They visited bodegas, community gardens and farms, kitchen incubators, distribution hubs, composting centers, and more.
Acknowledgements
Authors: Ellen Abraham, Kiffa Brathwaite, Charmaine Browne, Timothy Duschenes, Olivia Flynn, Genea Foster, Rae Gomes, April Hurley, Nausher Khan, Cristina Lee, Alexis Luna, Diana Malone, Ezra Moser, Chit Yee Ng, Fernando Ortiz-Baez, Catherine Ponte, Joy Resor, Ciara Sidell, Kelvin Taitt, Despo Thoma, Will Thomson, Kimberly J. Vallejo, Alejandro Vazquez

Editors: Katherine Sacco, Natalie Greaves-Peters

Design: Partner & Partners
We thank the Mayor's Office of Food Policy and the Department of City Planning, who were integral partners in this research at every step.
Special thanks to the many community leaders, civil servants, and professionals who graciously lent their insight to this research: KC Alvey, Amaka Anekwe, Matt Becker, Sean Butler, Ryan Cagle, Paige Carter, Aida Castillo, Charlie Ciraolo, Bianca Cornelius, Rose DeStefano, Sheryll Durrant, Quincy Ely-Cate, Robyn Enes, Lisa Ennis, Carolina Espinosa, Lena Ferguson, Leah Gable, Yolanda Gonzalez, Kyara Grant, Nate Gray, Tamara Greenfield, Kathrine Gregory, Allie Gumas, Luba Guzei, Gigi Hernandez, Darryl Hollon, Larinda Hooks, Nathan Hunter, Michael Hurwitz, Erin Johnson, Ben Kerrick, Dahee Lee, Kate MacKenzie, Allison Marino, Carlos Martinez, Elana Martins, Sarah McCollum Williams, Qiana Mickie, Thomas McQuillan, Stephen O'Brien, Henry Obispo, Nancy Ortiz-Surun, Jenny Osman, Neil Padukone, Juanita Pair, Lucinda Poindexter, Lousette Saint Victor, Siddhartha Sanchez, Judy Secon, Mike Servello, Jerry Shannon, David Shuffler, Tara Singh, Elizabeth Solomon, Beatrice Stern, Kofi Thomas, Fernando Tirado, Pedro Rodriguez, Julie Suarez, Jeremy Teperman, Myron Thurston, Tenzin Tsomo, Paulette Viana, Alissa Westervelt, Arlen Zamula.
Questions?
Please direct all media inquiries to:
Janrey Serapio
Communications Manager
janrey@urbandesignforum.org
Image Credits: Forefront Fellows, Urban Design Forum, and Samuel Lahoz