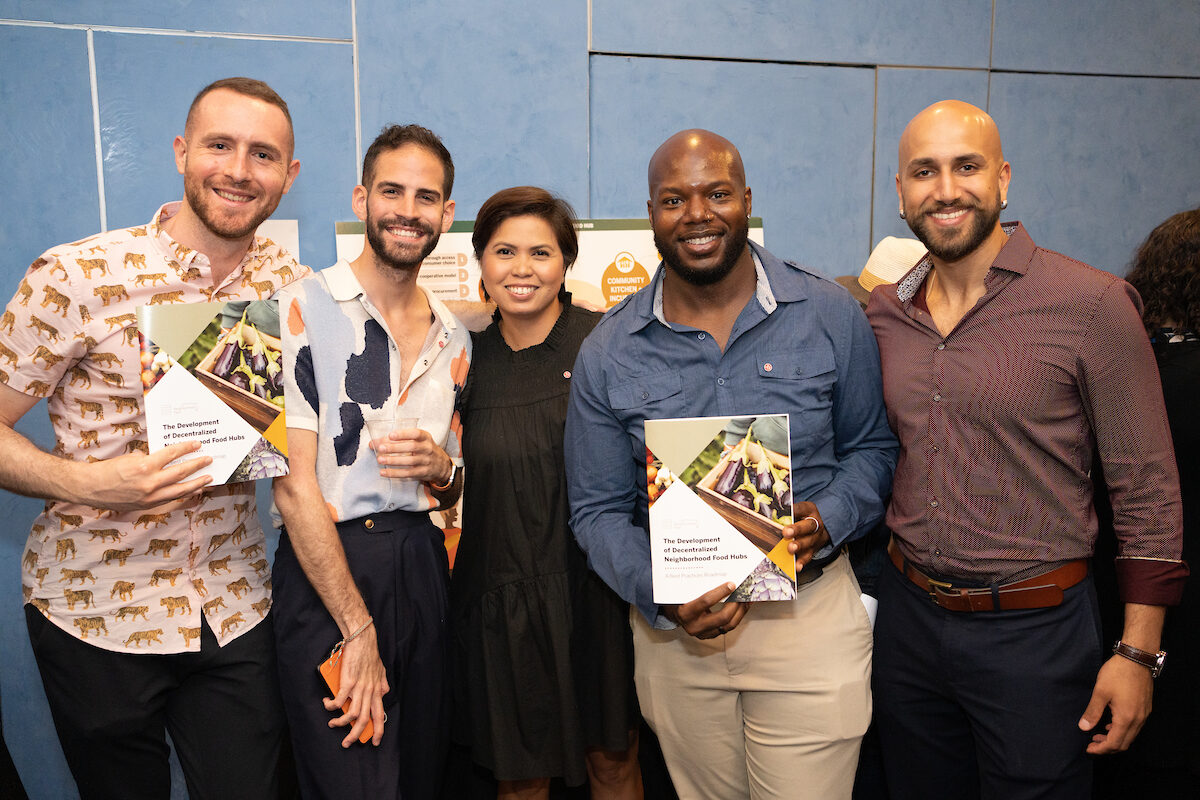 The Urban Design Forum's 2021 Forefront Fellowship, Neighborhood Fare, explored how to foster food equity in every New York City neighborhood through the built environment. In partnership with the Department of City Planning and the Mayor's Office of Food Policy, Fellows investigated how city government can strengthen community-based infrastructure to advance food equity.

This year, Fellows developed original projects that explore how to shape better food landscapes, decentralize food hubs, support immigrant-led food businesses, and create community among urban growers. Learn more about their projects here.
by Nausher Khan, Diana Malone, Ezra Moser, Fernando Ortiz-Baez, Kelvin Taitt
Our project focused on exploring different approaches to increase access to healthy and affordable food in neighborhoods characterized by otherwise expensive, unhealthy and limited choices. We focus on the centralization of food distribution as a source of this inequity, particularly amongst low-income, urban communities of color. We propose a neighborhood food hub as the best alternative to the current centralized model.
We began by rewriting the classic definition of a food hub. We identified four crucial aspects of a neighborhood food hub:
Buys from small- and mid-sized Black, Indigenous and People of Color (BIPOC) providers
Stores and distributes food, either to other businesses or to consumers directly
Sells affordable, prepared, nutritious, on-the-go food
Provides services and facilities to strengthen entrepreneurship and build resilience in the community served
We then identified five key components of a successful neighborhood food hub — wholesale; nonprofit and cooperative grocers; community engagement; retail/café; and community kitchen and incubator — and surveyed exemplary case studies of each.
In our report, we highlight several findings from these case studies:
The inclusion of BIPOC providers involves action by wholesalers, nonprofit and cooperative grocers, and retail cafes, all of which must commit to purchasing from and investing in BIPOC providers.
Government investment plays a key role in leveling the playing field for neighborhood food hubs. This investment is needed to increase the capacity of wholesalers. Government subsidies are needed for nonprofit grocers to maximize their ability to source from BIPOC producers and also sell the goods at an affordable price.
Community engagement must be infused with a trauma-informed approach. The lack of access to nutritious and affordable food or living through food insecurity is a traumatic experience. Creating a trauma-informed organizational culture involves training staff and maximizing engagement of community members. The improved engagement forms the foundation of effective service delivery and the ultimate success of the food hub.
Neighborhood food hubs should support entrepreneurship in the community. Community kitchens and incubators are vehicles for empowerment by working with community members to pursue their business ideas. They can offer training, mentorship, financial subsidies and access to markets. Resident entrepreneurs increase culturally-informed offerings.
Neighborhood food hubs must provide affordable and healthy prepared food. Retail or cafes can be responsive to the community by adopting a business model that targets economically vulnerable populations. They can serve the community by offering diverse products and prices and accepting payment from SNAP/EBT.
We conceive of a successful neighborhood food hub as a decentralized collective of service providers aimed at addressing food equity, food access, affordability and availability by providing raw and finished food products, alongside food-related wraparound social services and economic empowerment.
Authors
Nausher Khan is a food equity practitioner, currently leading strategic expansion for Red Rabbit. His work focuses on providing public school children from underserved communities with nutritious and culturally familiar food. Nausher's impact to date has been focused on international education and financial inclusion in Chile and Pakistan. Nausher's approach to social development leverages human-centered design with the aim of creating equitable systems.

Diana Malone is a Filipina-Immigrant, has been in the US for 21 years and speaks fluent Tagalog. She leads the Healthy Retail Program; She supports and helps increase capacity of emergency food programs in the City Harvest network and food retailers as well as recommends solutions to maximize program capacity and improve the distribution of healthy food. Diana loves gardening, collecting indoor plants and retail comp shopping.

Ezra Moser is a city planner and manager of the Greater East Midtown Unit at the Department of City Planning. Ezra has a deep background in planning and public space design, and collaborates with developers, legal teams, architects, landscape architects and local stakeholders to deliver equitable development and a world-class public realm in Midtown Manhattan. Ezra holds an MSc in City Design and Social Science from the London School of Economics and a BA in Urban Studies from Trinity College.

Fernando Ortiz-Baez is a sustainable designer and Borough Director for NYCEDC managing
Government and Community Relations. He was a city planner for the NYC
Department of City Planning-Bronx Office. Fernando started his career as a
Community Organizer for THE POINT Community Development Corporation, and
he has worked on environmental justice in the South Bronx and studied across
four continents. His experience includes collaborating with Native American tribes,
and he specializes in community engagement as well as teaches sustainability
management at Columbia University. Fernando holds a MSc in Sustainability
Management from Columbia University, a MDes in Sustainable Design from the
Boston Architectural College and a BA from Pratt Institute.

Kelvin Taitt is a social entrepreneur and community organizer from Brooklyn, and the co-founder of East Brooklyn Mutual Aid (EBMA), which he helped to launch in April 2020. Kelvin was also the Director of Strategic Growth and Operations at The Corbin Hill Food Project, a New York City nonprofit dedicated to distributing local, farm-fresh food, to low-income communities and communities of color. Previously, Kelvin served as the Director of Operations at Brooklyn Packers, a worker-owned and Black-led food distribution cooperative, where Kelvin built out an infrastructure that delivers farm-fresh produce to households on a weekly basis. Kelvin has an extensive background in operations and logistics management from his time in big-box consumer retail and as an entertainment producer, tour and logistics manager.