About 19 billion pounds of food flow through New York City every year. All along this supply chain, our food system relies on a distributed network of physical infrastructure. Regional farms grow a wide range of produce; processing facilities transform raw goods into consumer items; composting site accept food scraps from neighbors — and more!
These system briefings examine eight parts of our food system that strengthen access to fresh, local food and build community power.
Read on to learn more about how our food system works and explore new ideas to support connected, community-based food infrastructure.
---
Bodegas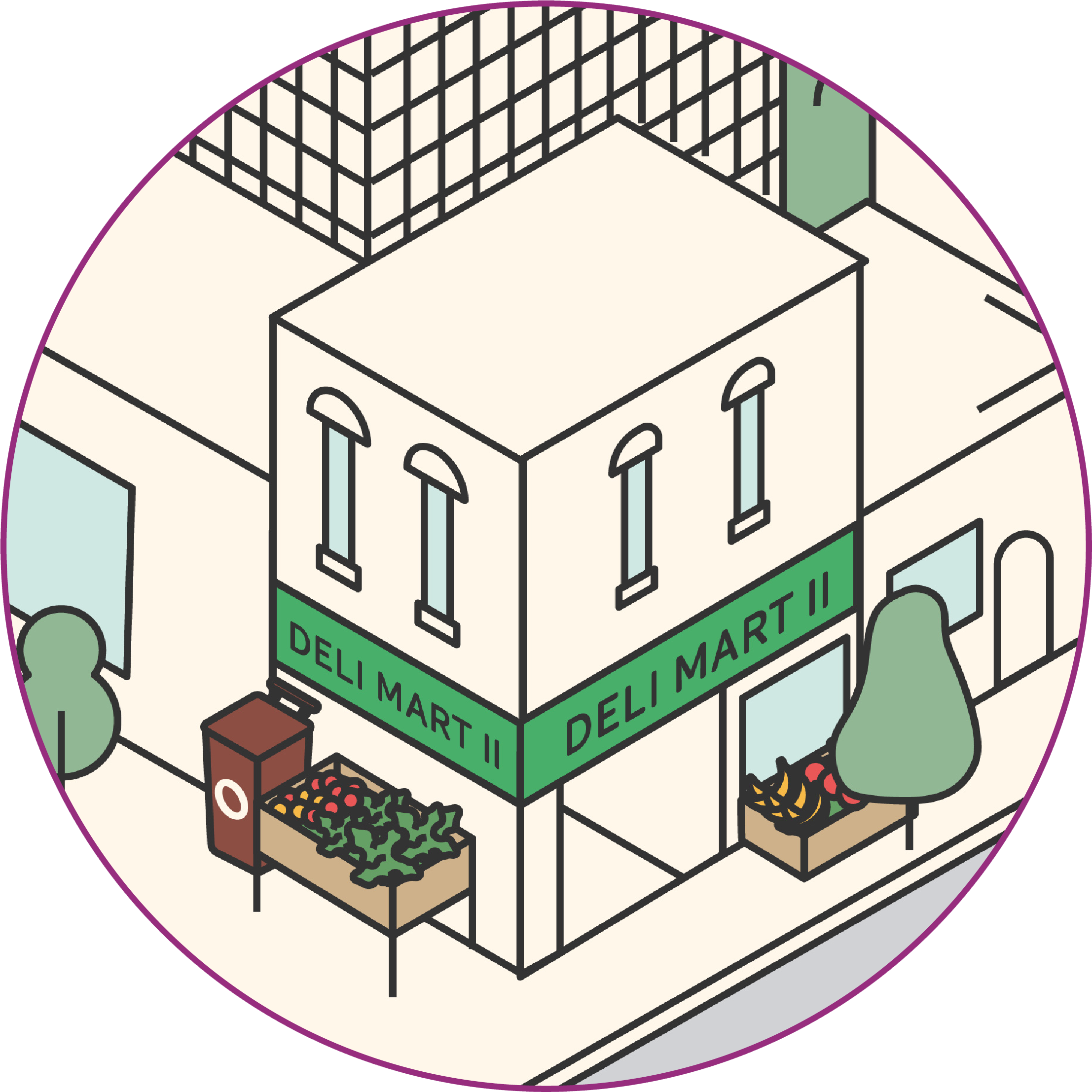 In a food-forward neighborhood, bodegas are a hyper-local source of healthy, fresh food, local produce, and local value-added products.
Bodegas are small corner stores ubiquitous in the New York City landscape. Bodegas are typically small, owner-operated convenience stores, which stock a variety of household essentials and often offer hot meals.
Recommendations
→ Create new connections between large distributors, local entrepreneurs, and bodegas to supply healthy, fresh food.
Through tax credits or similar financial levers, the City should encourage large distributors such as Baldor, FreshDirect, and Krasdale to connect with micro-entrepreneurial initiatives like FRESCH and Bronx Salad that are placing healthy grab-and-go food in bodegas.
→ Strengthen technical assistance for bodega owners.
The Department of Small Business Services (SBS) should expand bodega-specific technical assistance.
Case Study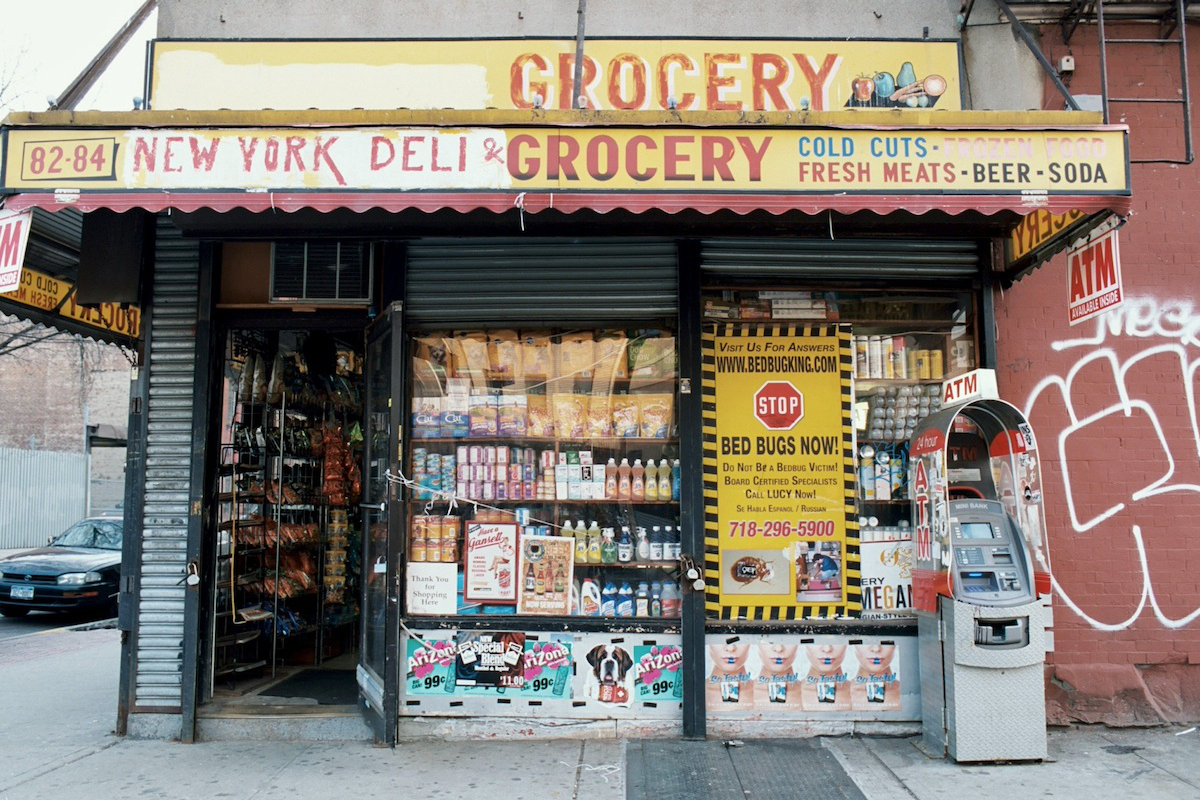 → FRESCH
FRESCH is a locally-led effort to expand access to healthy grab-and-go items at Bronx bodegas, founded in 2019 by Sean Shen'naque Butler in partnership with Bronx Health REACH.
---
Commercial Urban Agriculture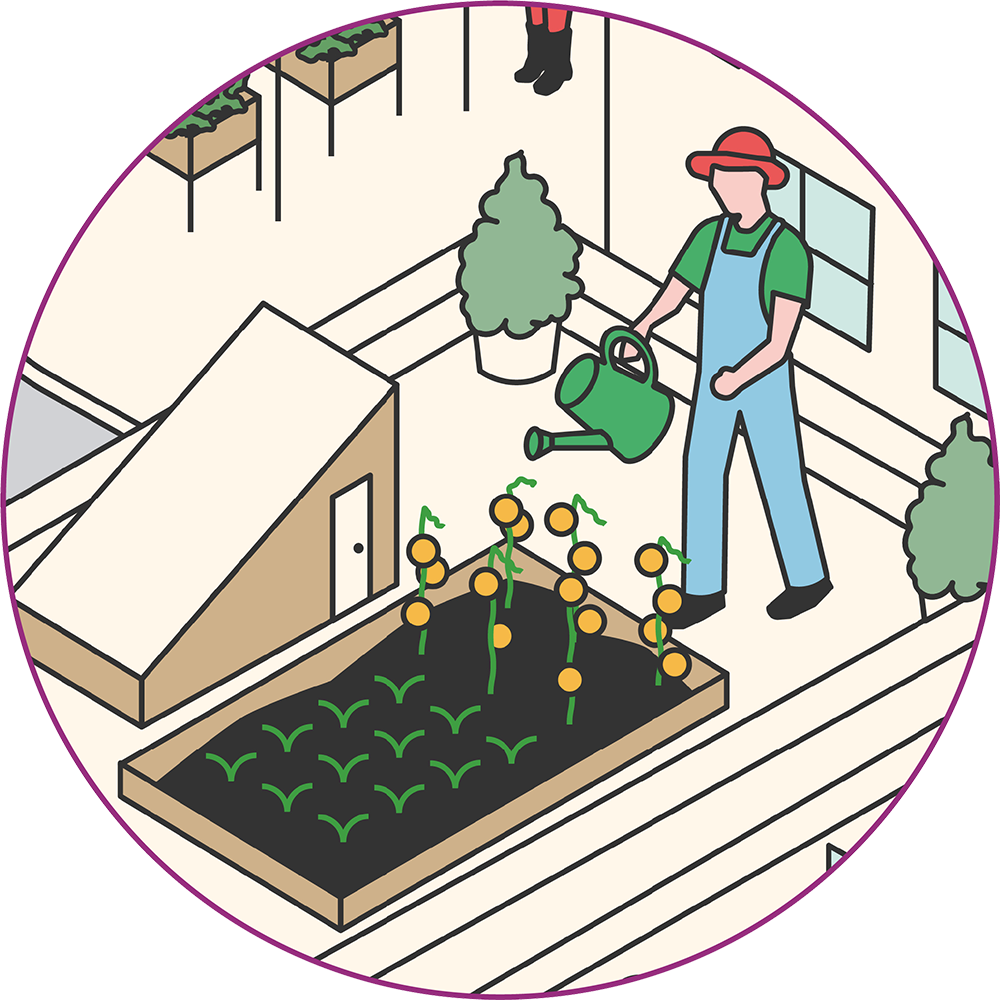 In a food-forward neighborhood, commercial urban agriculture provides accessible, local produce and strengthens the food economy.
Commercial urban agriculture is a small but growing sector of for-profit food growing operations that primarily serve urban residents. In New York City, the three main types of commercial farms are soil-based farms, rooftop farms, and controlled environment agriculture.
Recommendations
→ Expand access to suitable space.
The City should provide tax incentives to landowners who make land and building space available for farming similar to bill H2995 proposed in Massachusetts, which would enable cities to adopt a tax break on land used for urban agriculture.
→ Explore business models that expand produce access for local communities.
The City should provide incentives and subsidies for farms to sell a designated portion of their fresh products at affordable prices to low-income communities and residents in food deserts and in neighborhoods where they are based.
Case Study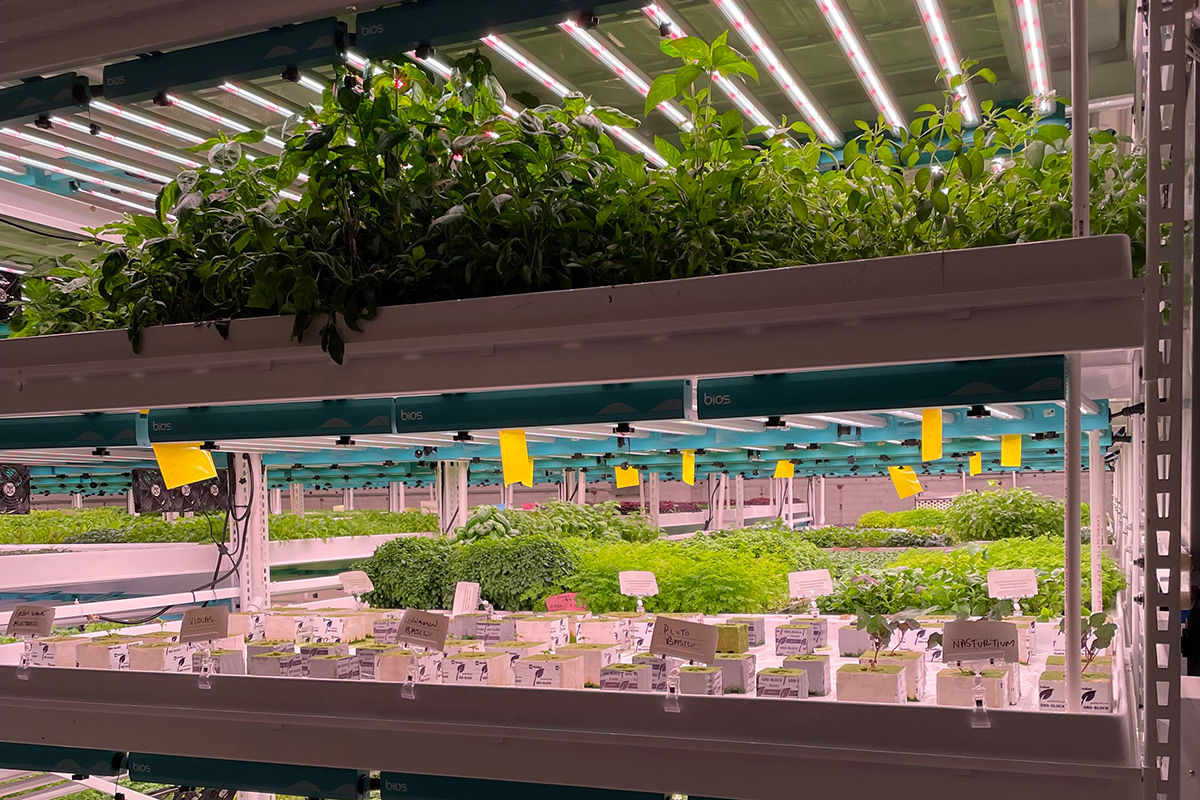 →  Farm.One
Farm.One is a vertical hydroponics farm established in 2016.
---
Community Gardens & Farms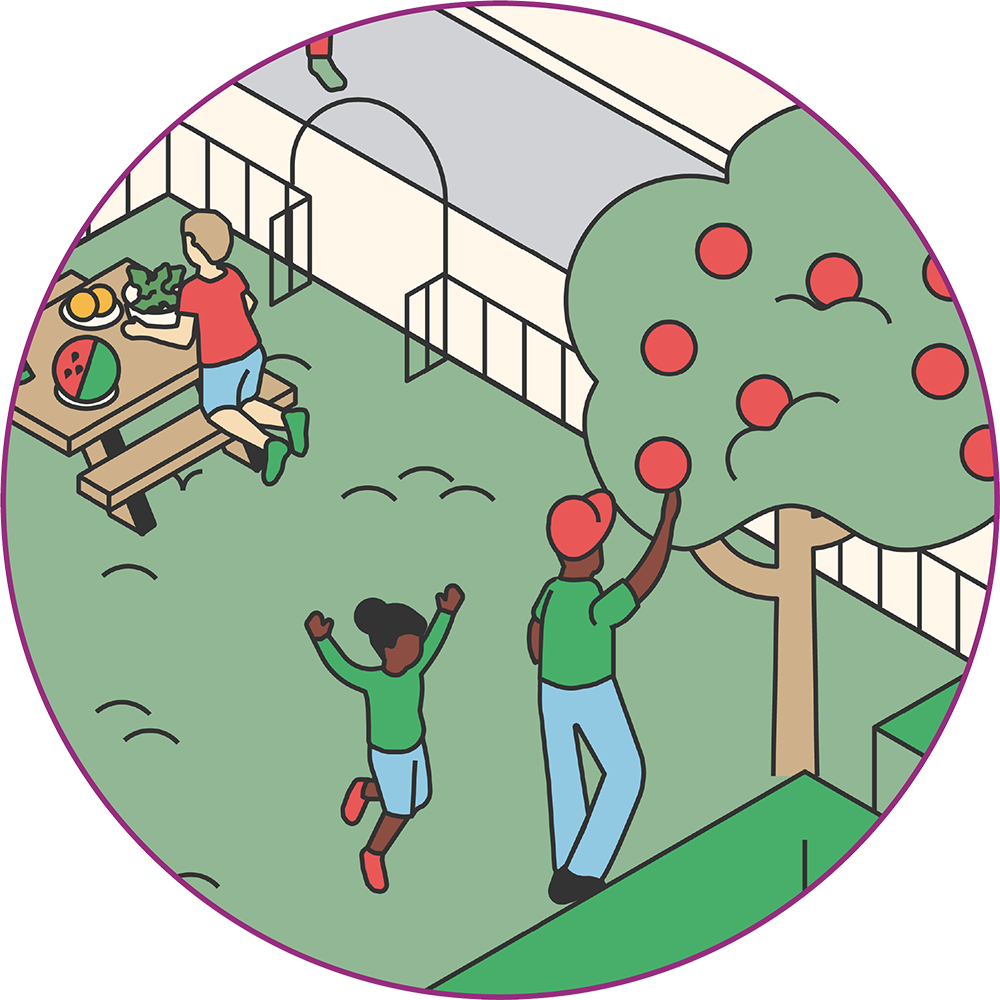 In a food-forward neighborhood, community gardens are protected spaces for food production, community convening, and wealth-building.
Community gardens and farms are small, community-focused growing spaces that provide access to fresh, local food and build social cohesion. This briefing focuses on spaces that are open to the public and that anyone can join, rather than school or New York City Housing Authority (NYCHA) gardens.
Recommendations
→ Support sustainable infrastructure and relieve operations costs.
The City should subsidize infrastructure investments that meet water and energy needs through rainwater harvesting and solar panels.
→ Offer greater flexibility for economic development in community-run spaces on public land.
GreenThumb should institute different categories of licensing agreements, allowing gardens to opt into a commercial license agreement that would enable gardeners to earn income from commercial agriculture on public land.
Case Study
→ La Finca del Sur
La Finca del Sur is a community farm located in Mott Haven, The Bronx.
---
Food Pantries & Soup Kitchens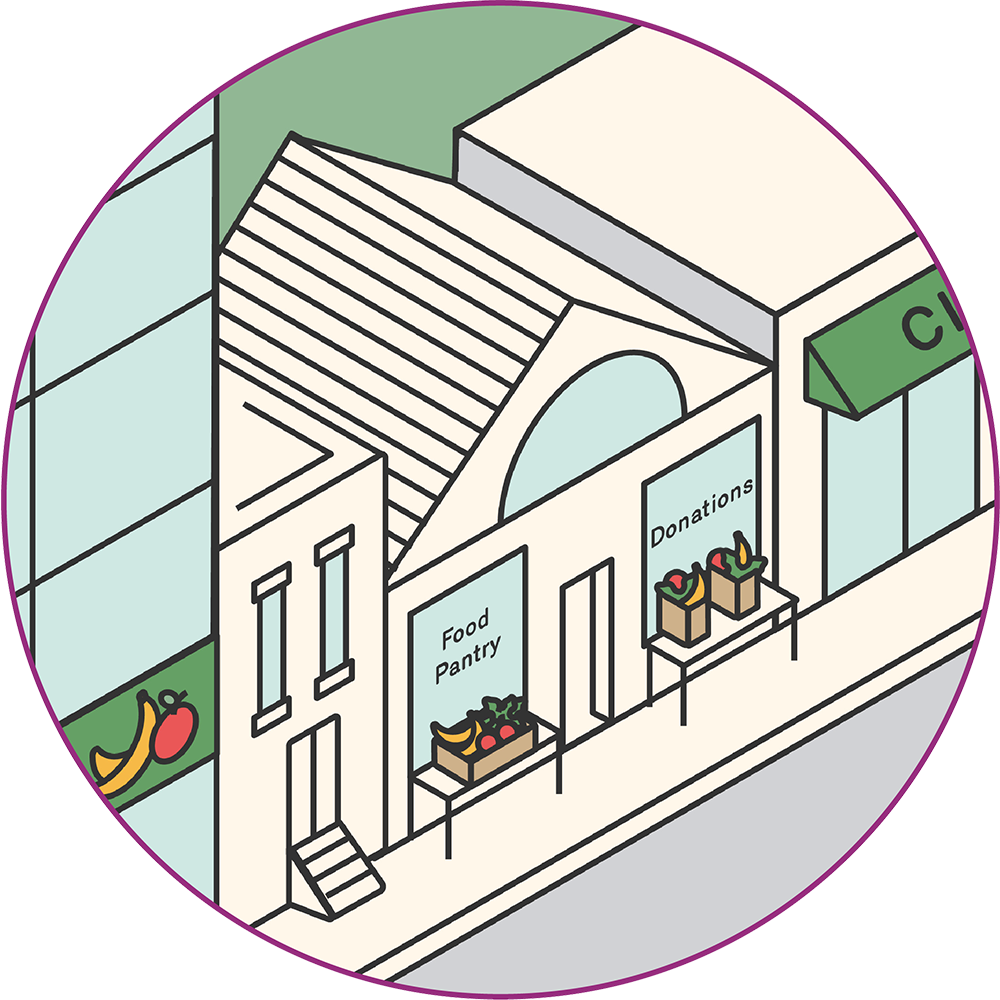 In a food-forward neighborhood, food pantries and soup kitchens support emergency food needs with dignity and choice.
Food pantries and soup kitchens are part of the emergency food system, which serves New Yorkers experiencing food insecurity. While emergency food has historically been a central focus of food access efforts, this briefing explores how pantries and soup kitchens can connect to other parts of the food system to strengthen diverse strategies for food access.
Recommendations
→ Expand access to space with centralized listings.
The City should create a central listing of spaces that can be used for emergency food storage and distribution, including NYCHA community centers, houses of worship, and underutilized and vacant buildings.
→ Fund pilots for emergency food providers to test retail offerings.
The City should support food banks, food rescue organizations, and local agencies that want to pilot alternatives to charity-based models through flexible funding. Pilot programs should meet unique neighborhood demands, but may build on successful models like DC Central Kitchen's Healthy Corners,
Case Study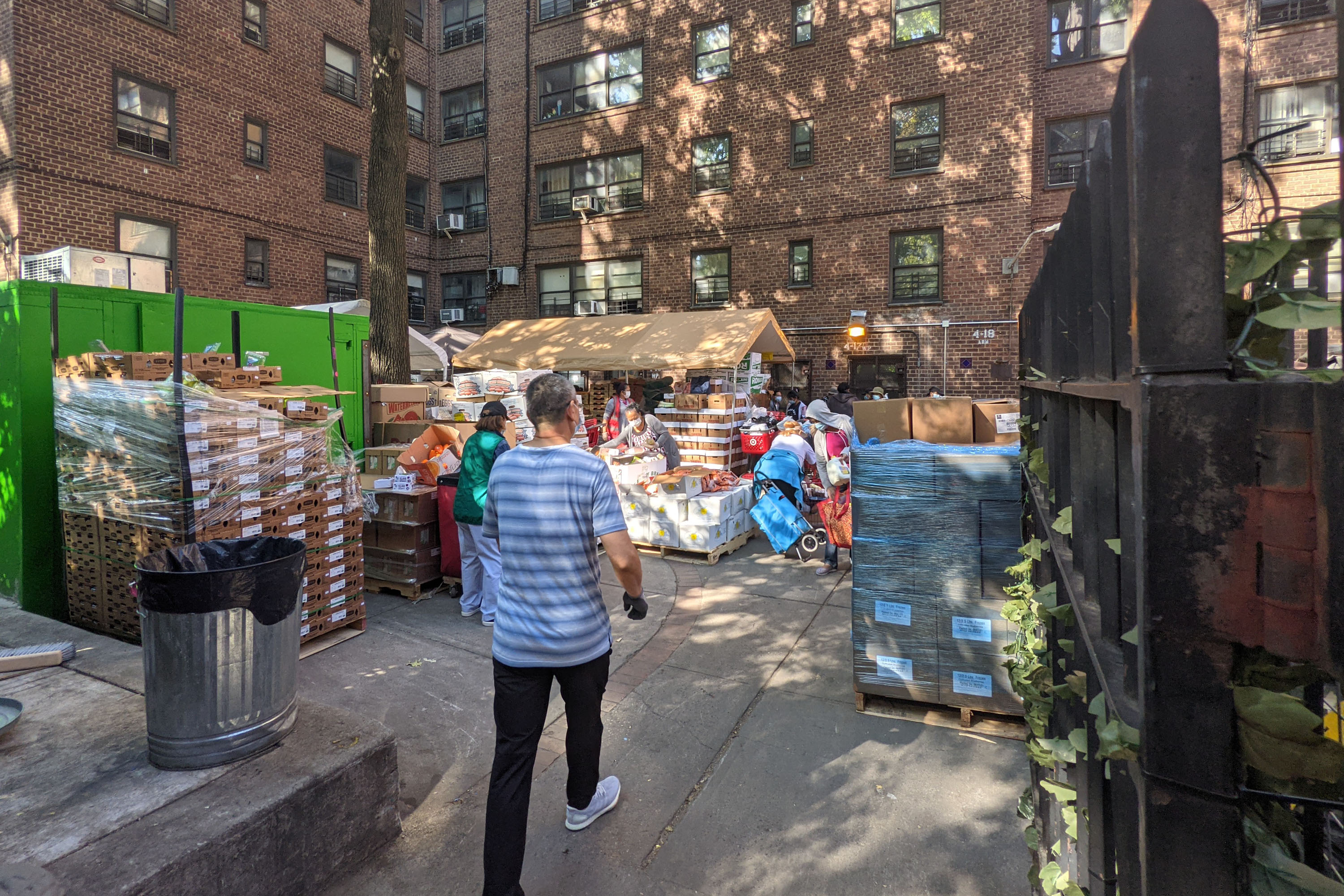 → La Jornada
La Jornada food pantry serves Flushing and Corona, Queens with a main facility at NYCHA's James A. Bland Houses.
---
Food Waste & Composting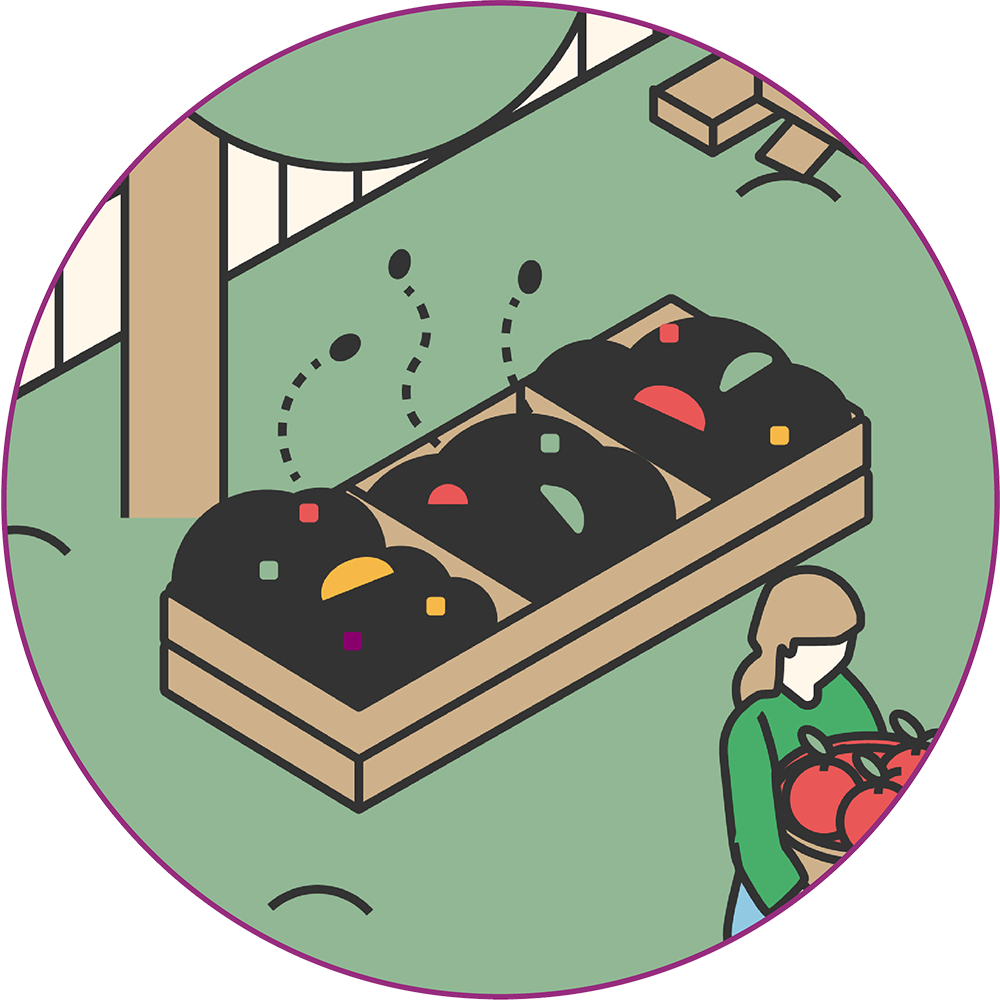 In a food-forward neighborhood, food waste enriches the soil, generates power, and builds local economies.
Food scraps account for as much as 20% of the waste New York City sends to landfills each year. Composting is a primary means of processing food waste into productive use, along with anaerobic digestion.
Recommendations
→ Mandate citywide residential and commercial composting.
Meeting the City's goal to collect 90% of organic waste by 2030 is only possible if organic waste collection is mandated citywide.
→ Connect and fund local loops.
City agencies are already well-connected to networks of composters, community gardens, food pantries, and food businesses through programs run by the Department of Parks and Recreation (NYC Parks), DSNY, the Human Resources Administration (HRA), the Department of Small Business Services (SBS) and other agencies.
Case Study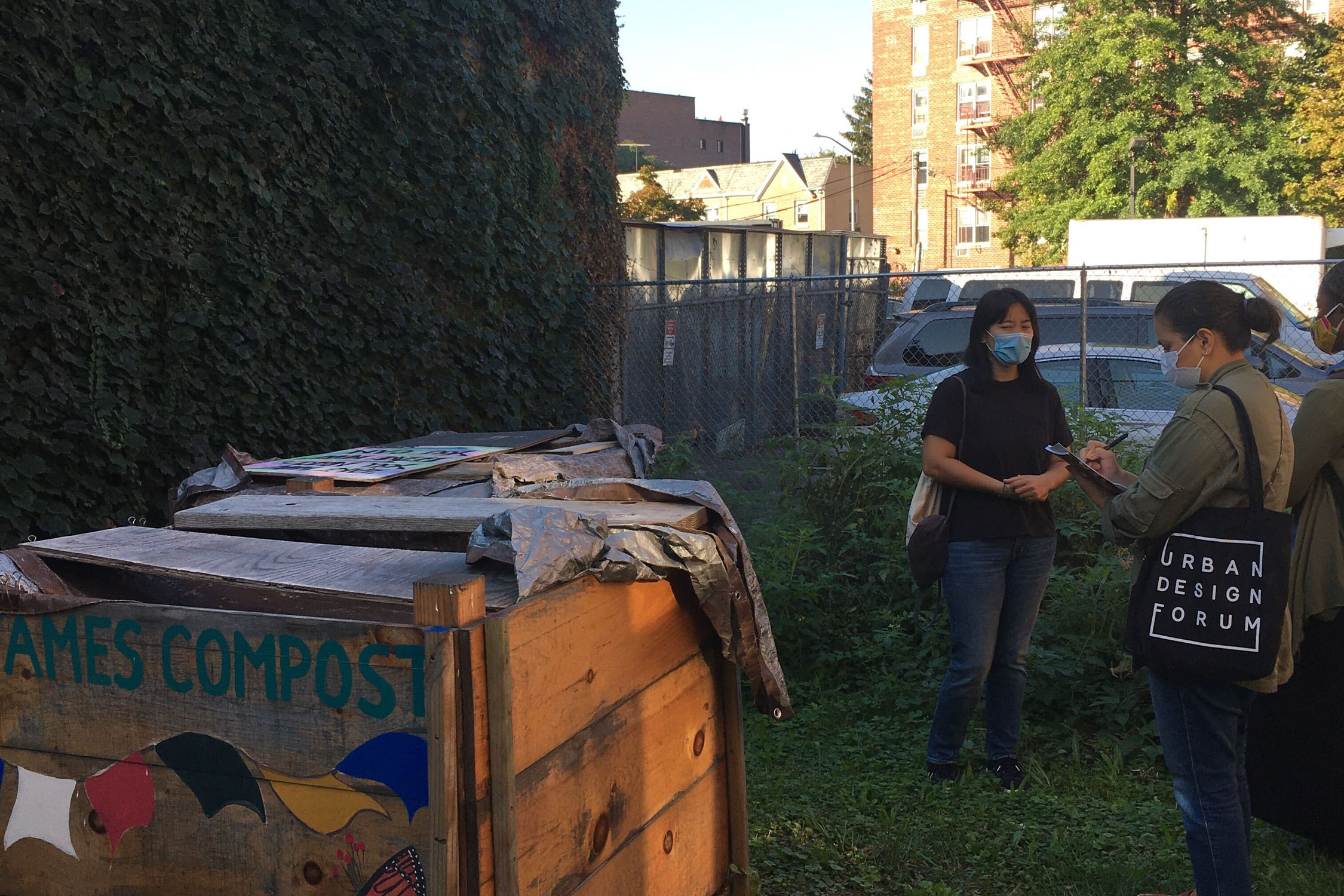 → St. James Compost
St. James Compost is a community-led compost site located at St. James Church in Elmhurst, Queens.
---
Regional Farms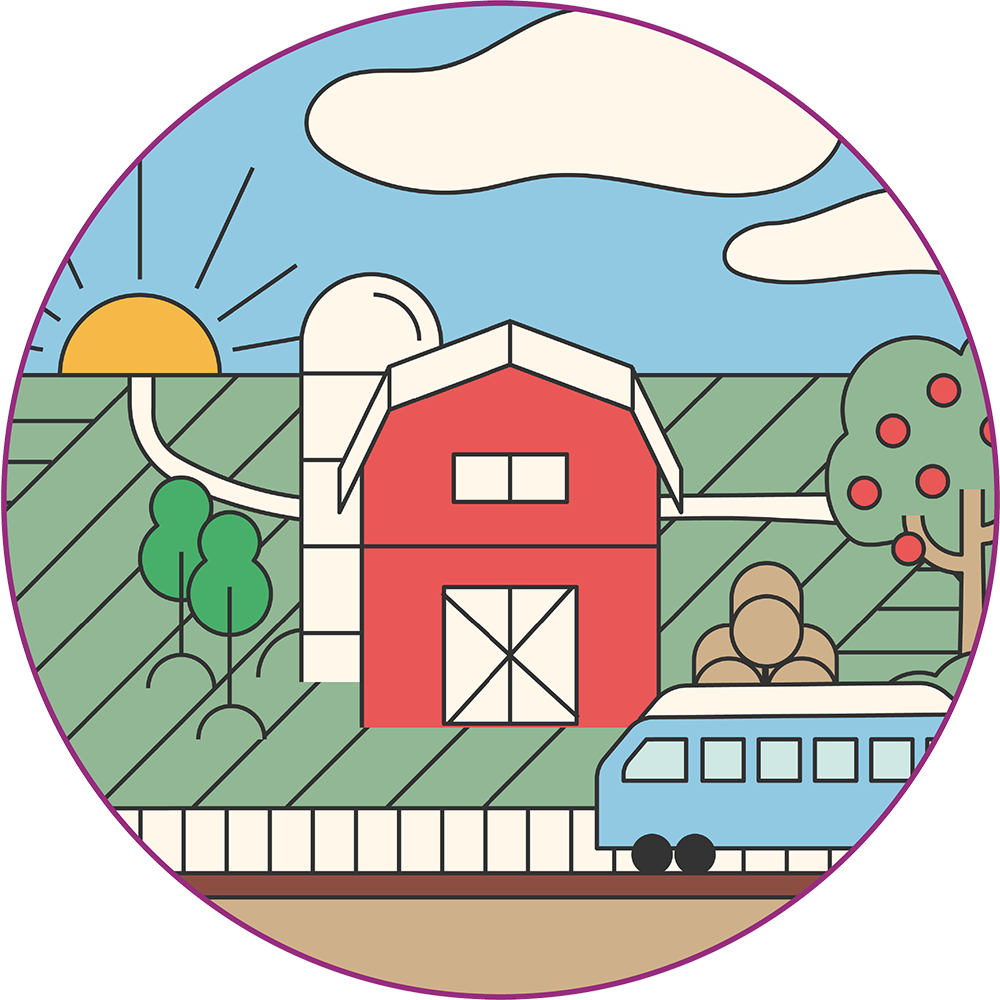 In a food-forward neighborhood, regional farms connect to local markets to provide fresh, high-quality produce.
Regional farms shorten the distance between producers and consumers. New York City's food system benefits from connections to regional commercial farms across New York, Connecticut, Massachusetts, Rhode Island, New Hampshire, Vermont, New Jersey, Pennsylvania, Delaware, and northern Virginia.
Recommendations
→ Build creative partnerships with state and federal agencies to fund stronger connections between regional farms and urban neighborhoods.
City programs could expand, in partnership with state and federal agencies, to benefit the regional food system, modeled off of DEP's contract with the Watershed Agricultural Council for regional watershed work.
→ Create a design toolkit to activate plazas and streetscapes for farmers markets and CSA share distribution.
DOT and the Department of Parks & Recreation should collaborate to develop design parameters that ensure street, sidewalk, and plazas can support farmers markets, CSA distribution, and similar activities.
Case Study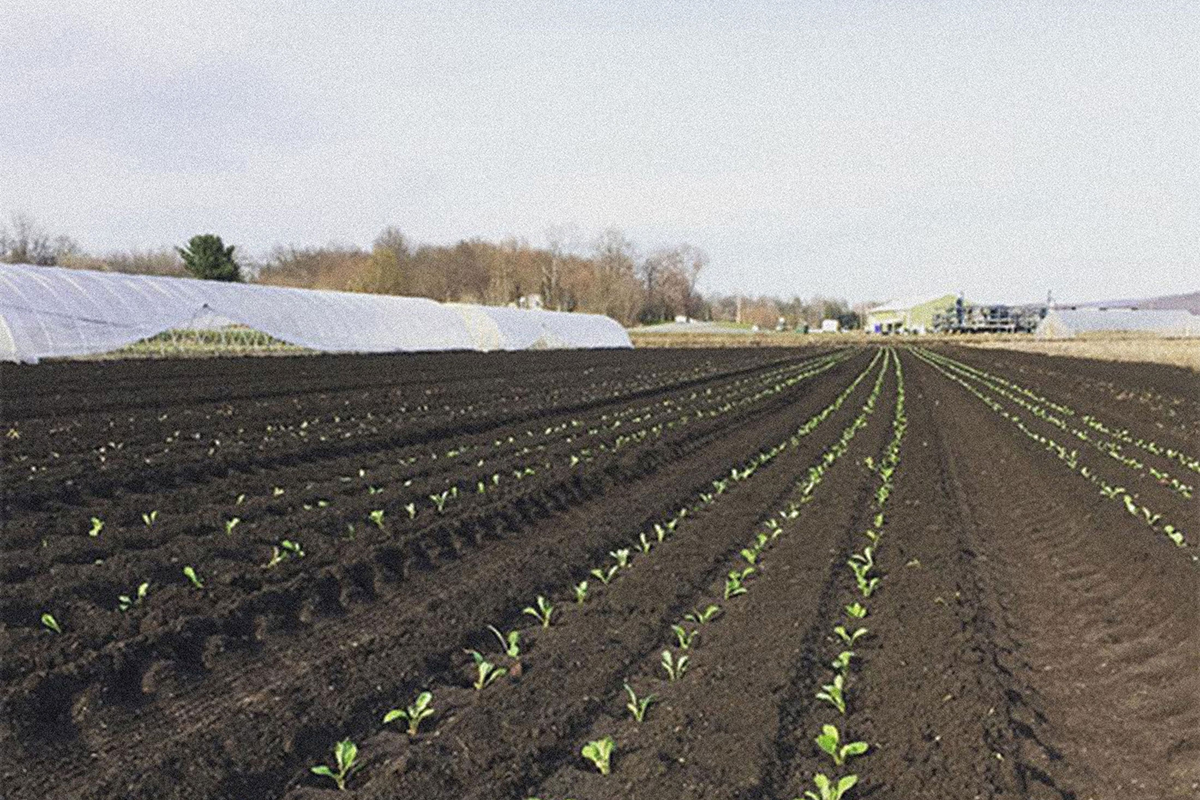 → Chester Agricultural Center (CAC)
Chester Agricultural Center (CAC) manages an agricultural land trust in Chester, NY, part of New York state's fertile black dirt region.
---
Small-Scale Processing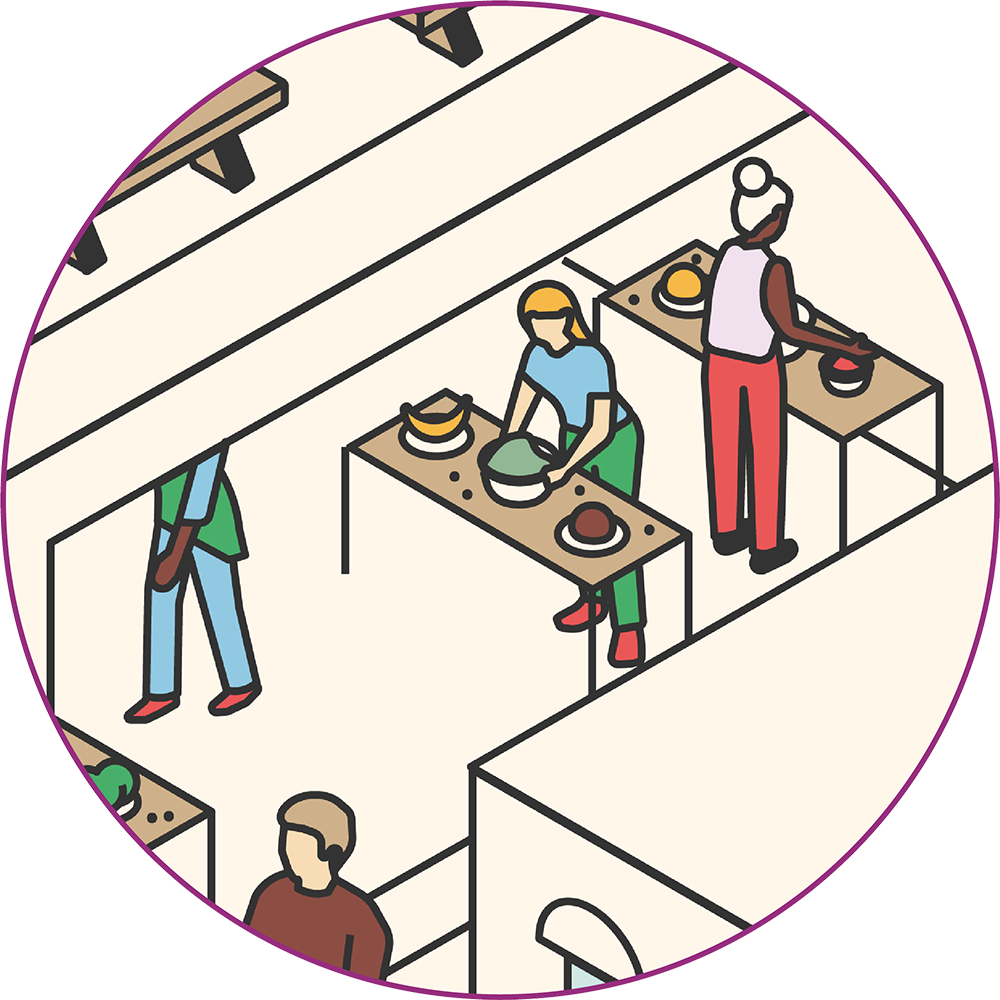 In a food-forward neighborhood, distributed facilities for small-scale food processing support local economies.
Food processing transforms raw agricultural products into readily consumable food items, sometimes called "value-added" products. This briefing focuses on secondary processing, which is most prevalent in New York City, though the industry also encompasses primary and tertiary processing.
Recommendations
→ Expand affordable, distributed spaces for small-scale food processing.
The City should explore incentives and regulations to preserve and create manufacturing spaces within and beyond manufacturing zones and established Industrial Business Zones (IBZs). Incentive programs could encourage leasing underutilized manufacturing infrastructure for food, modeled on the Pfizer Building's transformation into a food manufacturing hub.
→ Make it easier to share space and costs.
Expanding shared use of food production spaces would be a tremendous boon to entrepreneurial activities and support for community-led food access services.
Case Study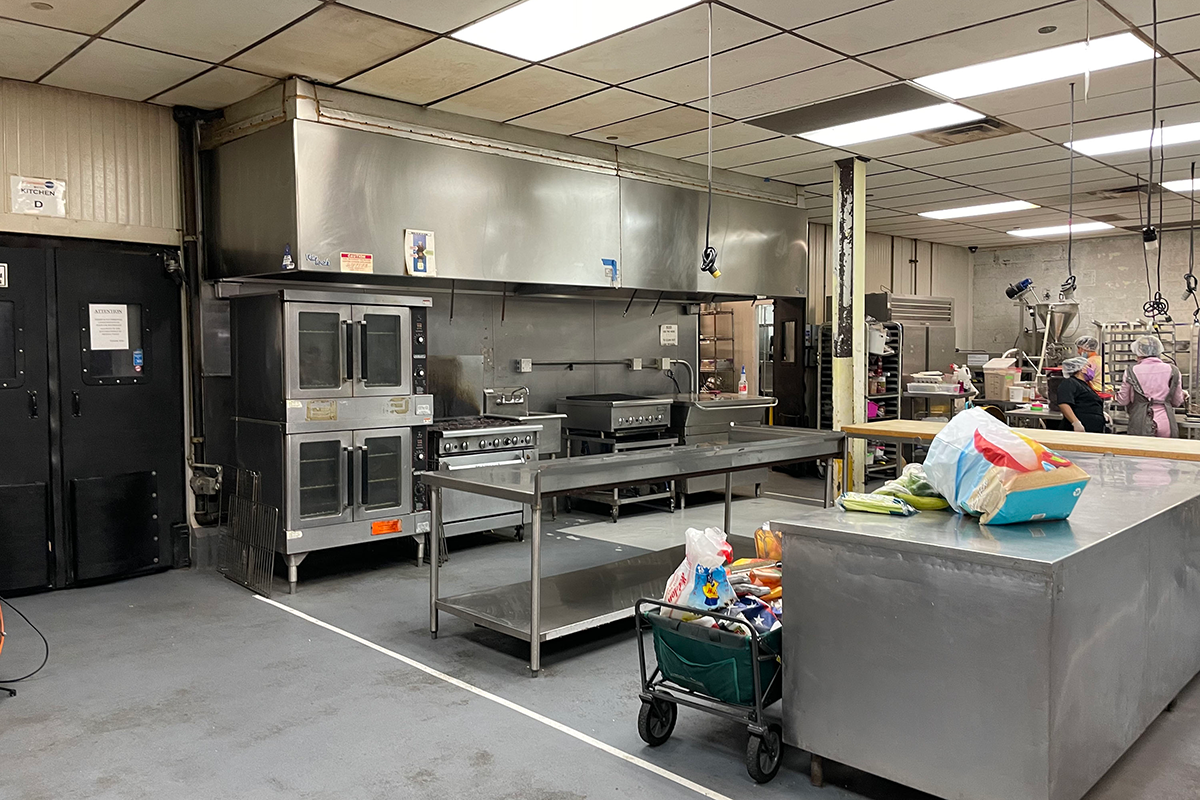 → The Entrepreneur Space
The Entrepreneur Space is a shared commercial kitchen in Long Island City, Queens that provides infrastructure and training for micro entrepreneurs.
---
Transportation
In a food-forward neighborhood, truck, rail, water, car and cargo bike networks move plentiful food supplies to every neighborhood in a coordinated, carbon-neutral and safe way.
New York City's food transportation network is a distributed system of trucking, railways, water vessels, cars, and cargo bikes. Trucking dominates food transport, but multimodal connections are key to building a more sustainable and resilient system.
Recommendations
→ Pilot neighborhood-based delivery models to reduce truck volume.
While exploring urban consolidation programs for truck deliveries, a goal outlined in Delivering Green, the City should consider specific needs and opportunities for consolidated or locally zoned delivery for food transportation.
→ Incentivize lower-emission trucking and cold storage options.
The City should consider additional strategies to deepen its commitment to cleaner truck freight. The City should ensure that its Green Loading Zone pilot prioritizing curb access for lower emission vehicles — due to launch in spring 2022 — benefits commercial corridors with a high density of food businesses.
Case Study
→ Brooklyn Terminal Market
Brooklyn Terminal Market is a major New York City wholesale and distribution site located in Canarsie, Brooklyn.