BACKGROUND
Our public spaces should support safety for all New Yorkers. Yet some safety measures may isolate the most vulnerable. With two thirds of unhoused New Yorkers having some form of mental health needs, growing social stigma surrounding street homelessness and public substance use often leads to exclusion rather than providing care. While universal design has helped public spaces feel more welcoming and accessible, these standards often overlook mental health and neurodivergence. Homogenous public spaces can therefore unwittingly neglect users who diverge from social or cultural norms, including individuals who experience poor mental health.
VISION
Public spaces should welcome and provide benefits for all New Yorkers, rather than distress or criminalize people. We envision a planning process that shifts the design and management of public spaces from Shamescapes to Safescapes. New York City should aim to reshape parks, plazas, and open spaces that challenge stigma and provide access to dignified care. By foregrounding the values of the neurodiversity movement in neighborhood planning, public spaces can foster greater empathy and dignity for everyone, especially those at the margins. The City could create guidelines for public space design and management informed by evidence-based research, incorporate inclusive design for a range of mental health experiences, and build a social fabric of mental health support through programs and partnerships.
IDEAS
Establish a design framework for all public spaces to center mental health and neurodiverse individuals.
Physical accessibility and mobility inclusion has been central to the design process of our parks, plazas, and other public spaces today. Comparably, designing for mental health is a fairly nascent field of design advocacy. New York City must develop new approaches that include non-physical health issues.
Strategies to advance this could include:
Shape a Mental Health in Public Space Task Force & Listening Tour, led by the Chief Public Realm Officer and NYC Department of Health and Mental Hygiene (DOHMH), mental health nonprofits, and neurodiversity advocates to source design feedback from New Yorkers who have experienced mental health challenges in the public realm or stigma first-hand.
Develop a citywide Mental Health in Public Space plan that builds off of DOHMH's Care, Community, Action: A Mental Health Plan for New York City. The City could target equitable distribution of short-term and long-term neighborhood public space programming and capital investments in neighborhoods with high overdose rates and poor youth mental health. The City could leverage mental health research or the Independent Budget Office (IBO) to outline the economic and health risks and benefits of investing in public space.
Develop new design guidelines and a toolkit that outlines how public space design could support inclusivity, fight stigma, and support wellness for city agencies like Department of Parks & Recreation (DPR), Department of Transportation (DOT), or community development organizations, Business Improvement Districts (BIDs) and other community-based organizations. These ideas could build off of programs like the NYC's Active Design Guidelines and Streetscapes for Wellness, or Toronto Bentway's Safe in Public Spaces initiative.
Case Study:
The Bentway's Safe in Public Space Initiative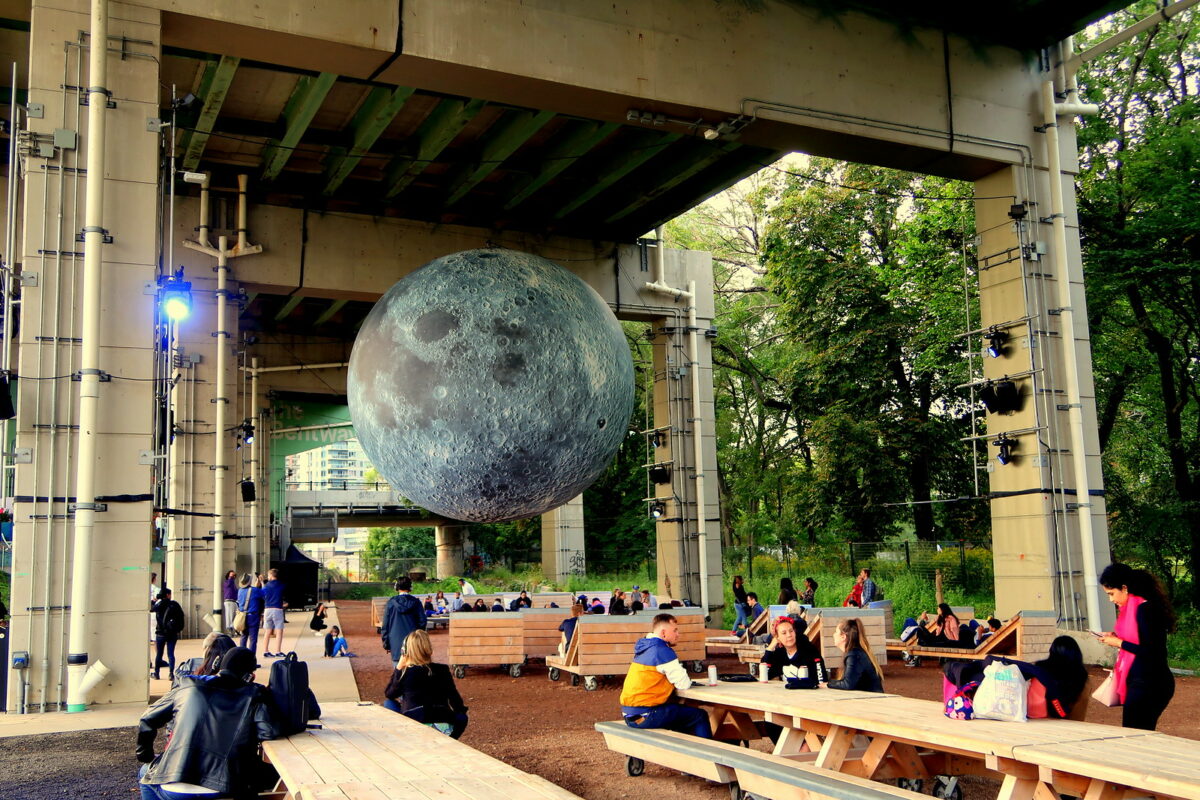 Image Credit: wyliepoon
The Safe in Public Space initiative at The Bentway, a new site under Toronto's Gardiner Expressway, sought to broaden the definition of public safety to address new public health challenges. The Bentway Conservancy led creative public space projects, a public space fellowship, and community consultations to develop best practices to support universal design, accessibility, and inclusive spaces.
Invest in data collection on the impacts of parks and open spaces on residents' mental health.
Research has shown that interventions like greening vacant lots, expansion of greenspace, and other public space improvements have been seen to improve mood and support harm reduction. But the city has limited local data on the impacts of design on mental health. With improved data, the City could develop an equity-based approach for design and capital spending to neighborhoods most in need.
This could take shape through the following approaches:
Fund post-occupancy evaluation of parks and open space to focus on the usage and emotional and psychological effects of parkgoers, through long-term studies or performed in real time. Smartphone-based evaluation tools could be explored, like the Urban Mind app. The City could also support research to study the mental health benefits of street tree planting.
Pilot public space interventions that center neurodivergent residents, and invest in a participatory action research study led by community partners and mental health nonprofits. This research can guide accessible and inclusive urban design and planning assessment tools to support improved safety and wellness in public space.
Expand the Parks Inspection Program (PIP) process to include park conditions that cause physiological stressors that impact mental health, including heat, noise, and air pollution, in park inspections.
Create a mechanism through the existing PIP Plus that invites thoughtful and holistic responses to quality of experience issues observed during property inspections, such as park visitors experiencing homelessness or substance use. These data should inform both capital investments as well as deeper engagement with local community based organizations and social service providers.
Case Study:
The Urban Mind App
The Urban Mind app is a tool used to inform future urban planning and social policy aimed at improving design & health. The app prompts users to describe their lifestyle and wellbeing in regards to their built environment. Three times a day for two weeks, it collects users' written responses and an optional photograph or video of their surroundings to draw conclusions about the effect of the urban landscape on their mental health.
Support community-driven public space interventions that center neighborhood mental health needs.
Oftentimes, top-down, homogenous projects can disregard community-specific needs and challenges.
The City could explore tools and more direct funding for neighborhood led projects that could include the following:
Led by the new Office of Engagement, create an open-source digital toolkit or menu that can be shared citywide amongst community boards and community-based organizations to guide more inclusive neighborhood-based public space investments.
Led by DOHMH and DOT, the City could partner with philanthropic organizations, insurance companies, and anchor institutions to fund community design projects in every borough. With sufficient resources for technical assistance, community organizations or BIDs could envision public space pilots that support mental health, such as new urban furniture that supports socialization and relaxation, lighting alternatives that are soothing and mood stabilizing, or biophilic street pop-up spaces that reduce anxiety and filter noise.
Launch a parks and public space initiative oriented around social services.
For New Yorkers experiencing psychological distress in the public realm, access to services for holistic care can be challenging. Approaches could consider activating existing neighborhood physical assets to support social programming that addresses anxiety, stress, harm reduction and overdose prevention.
Strategies could include the following:
Pilot and study the redesign of public bathrooms to connect health services and resources as a way of supporting social cohesion and health prevention.
Activate streets surrounding and within public parks for programming dedicated to increasing mental health literacy and stigma reduction. The City could expand the fleet of NYC Health + Hospitals' Street Health Outreach & Wellness programs mobile units and partner with community-based organizations to ensure targeted outreach.
Develop a partnership between DPR, DOHMH and nonprofit organizations that embeds mental health service providers in city parks to develop training and outreach strategies for parks staff. Build upon existing models like the Mental Health Response Pilot at Fort Greene Park. The City could build on DOHMH's resources for guiding credible messengers for outreach from the community (such as family, friends, clergy, and coaches) to prevent self-harm.
With DOHMH and the Department of Small Business Services (SBS), provide Business Improvements Districts with public space strategies and approaches to support harm reduction, fight stigma, and connect New Yorkers to mental health services, similar to Times Square Alliance's Recharge Station.
Case Study:
Times Square Recharge Station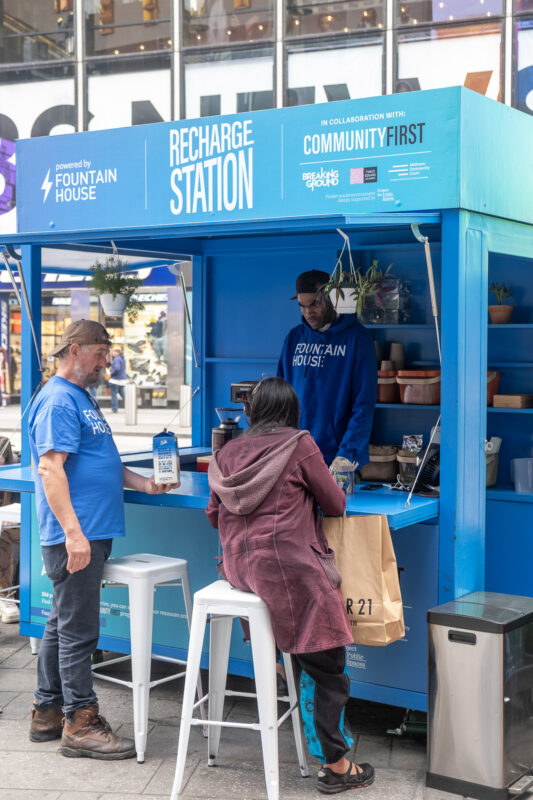 Image Credit: Courtney D. Garvin for Fountain House
A collaboration between Fountain House, Project for Public Spaces, Times Square Alliance and other community partners, the Recharge Station was built as a space where New Yorkers experiencing homelessness, mental health needs, and substance use issues could seek services without stigma. Fountain House's Community First initiative focuses on building trusting relationships and meeting people "where they're at." The first step starts with helping them meet their immediate needs before connecting them with a wider network of housing and health services.
---
Many thanks to the Safe Experiences Working Group members, who collaborated on the creation of these ideas and recommendations: Amritha Mahesh, Kelli Peterman, Isabel Saffon Sanin, Carlos Talero, Azure Thompson, Alice Shay and Rosalind Tsang.