BACKGROUND
Heart disease is the number one killer in the United States, costing nearly $240 billion each year in health services, medication, and premature death. Stress, poor access to healthy food, and physical inactivity all contribute to a higher risk of heart attack and stroke. However, the prevailing approach to addressing health issues, including heart disease and diabetes, often focuses on treatment rather than promoting overall health. This approach places the burden of care on individuals and their access to healthcare resources. In New York City, Black and immigrant communities are disproportionately affected by poor heart health. Neighborhoods with higher rates of chronic diseases have also experienced a history of neglect in terms of quality open spaces, well-maintained and safe streets, recreational facilities, and active transportation options.
VISION
New York City should use every measure to address health disparities, including the built environment. We envision an equity-focused planning approach to shape and maintain active places in our streets, open spaces, and transportation corridors. In order to encourage physical activity and improve metabolic health, the City should support the creation of health-targeted planning tools and partnerships to drive equitable public space design, programming, and stewardship. Ongoing and more inclusive community engagement formats could prioritize community needs, leverage resources and expertise from anchor institutions like hospitals, and cut red tape for community organizations.
IDEAS
Create Health Improvement Districts (HID) that target funding to neighborhoods with high health disparities.
Neighborhoods experiencing legacies of racist planning policies and disinvestment are less-equipped to resource and maintain their public spaces, unlike well-heeled BIDs and conservancies in core districts. The city could explore alternative community development and public space management models that leverage existing neighborhood-based stakeholders and partnerships, like anchoring hospitals.
Possible strategies include:
Explore funding models similar to Business Improvement Districts (BIDs), congestion pricing, toll roads, City-run parking garages, paid parking, curb space fees, or even a Public Realm Improvement Fund that could invest in the maintenance and development of active public spaces.
Organize a task force with the Department of City Planning (DCP), Department of Small Business Services (SBS), Economic Development Corporation (NYCEDC), Department of Parks & Recreation (DPR), and Department of Transportation (DOT) to explore formalized community development and public space maintenance models, similar to the Memphis Medical District Collaborative that leverages anchoring health institutions.
Partner with health institutions to fund programs that encourage more active lifestyles. Through a coordinated effort, networked doctors or health advisors could prescribe health prevention tools such as free transit passes, yoga or exercise classes, bike sharing memberships, bicycle purchases, gym memberships or sports leagues, or increased Health Bucks. Look to models like ParkRx America that work with hospital networks on integrating prescriptions for nature walks and outdoor activities.
In neighborhoods without major anchor institutions, the HID model could rely on public dollars marshaled to smaller nonprofits, BIDs or community development corporations with a mission for health impact in housing and public space stewardship.
Case Study:
Memphis Medical District Collaborative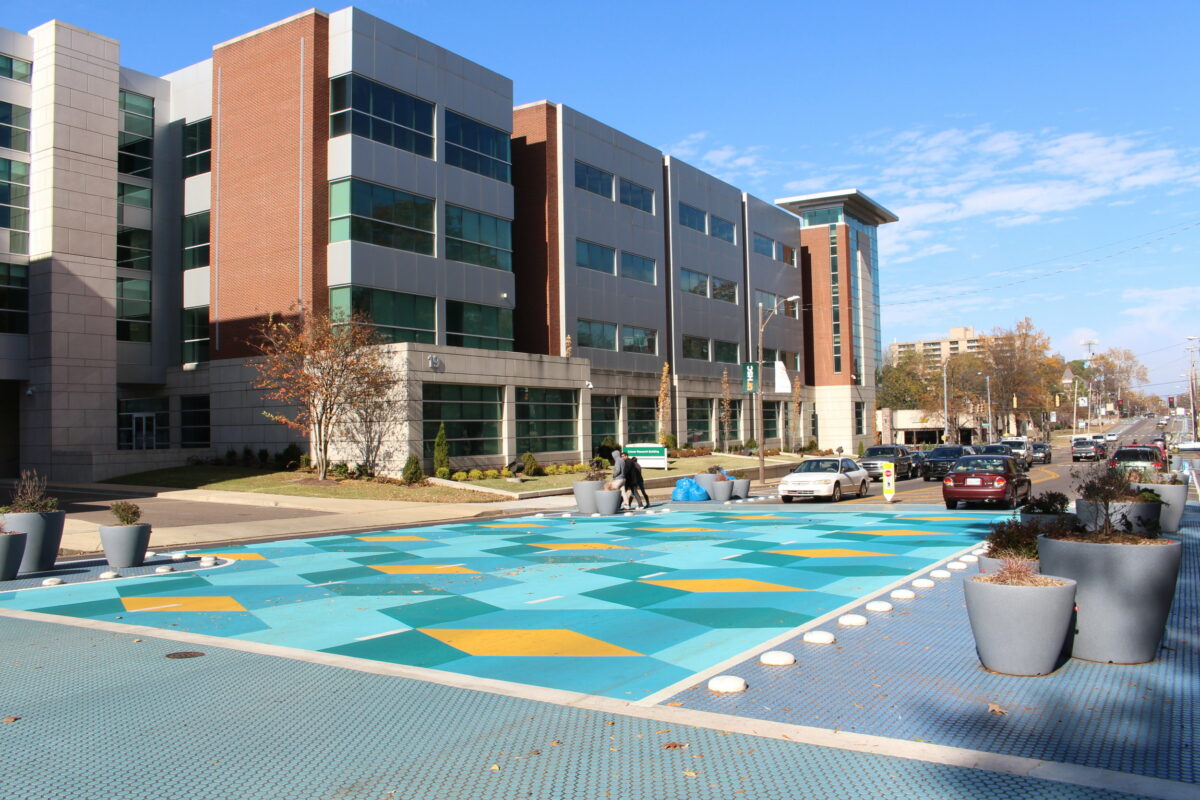 Image Credit: Memphis Medical District Collaborative
The Memphis Medical District Collaborative is a community development corporation that leverages local anchor institutions and community stakeholders, that include University of Tennessee Health Science Center, Methodist Le Bonheur Healthcare, and St. Jude Children's Research Hospital. Through deep and long-term partnerships, MMDC is able to transform shared public spaces to promote physical activity and wellbeing through pedestrian safety, active mobility, public programming, and economic development.
Build ongoing neighborhood-led visioning processes to direct future investments in health infrastructure.
Neighborhood planning initiatives are often too piecemeal or invite community feedback on nearly-completed designs. Further, low-income, Black, and immigrant neighborhoods may lack the resources or time to drive longer-term community visioning that helps guide agency planning.
To strengthen planning processes, the City could:
Increase capacity both in city agencies and at the grassroots level for ongoing participatory planning. New technical assistance programs in underinvested communities, channeled through community-based organizations, could ensure every neighborhood has the resources to lead their own visioning.
Develop a visual menu of healthy design strategies related to neighborhood-specific health challenges during stakeholder engagement. These strategies could explore ways to address access to safe and accessible streets; quality open space; safe, accessible, and reliable transit, with non-car options; and access to free or affordable indoor recreational spaces. Each neighborhood could draw from frameworks such as Streetscapes for Wellness, Active Design Guidelines, DOT Street Design Guidelines, and others.
Create an Equitable Capital Investment Tool that could guide distribution of capital dollars to the neighborhoods experiencing the highest burden of chronic disease. The City could expand the Department of City Planning's Equitable Development Data Explorer into a tool that supports transparency and accountability of capital budget spending and construction aligned to community needs.
Case Study:
Park Rx America educates healthcare providers about the health benefits of time spent in nature, and promotes the practice of offering nature prescriptions to patients. The physical activity associated with park visits can decrease risk from obesity, diabetes, and hypertension, along with other mental health benefits.
Allow flexible neighborhood planning to increase access and proximity to active places.
Outdated rules and bureaucratic barriers often inhibit the creation of health-oriented infrastructure. The opportunities to expand active places can be limitless if we can support neighborhood-based activation.
The City could help cut through red tape and lower barriers through flexible planning strategies that include the following:
Expand PlaNYC Schoolyards to Playgrounds program to unlock athletic and recreational facilities. The City could expand partnerships with public and private universities, private schools, stadiums and other sports venues to open up spaces during off hours and on weekends. Possible sites could include local institutions such as LIU, Pratt Institute, NYU, Columbia University, Fordham, St. John's University, and CUNY campuses.
Encourage and work with anchor institutions, like hospitals or wellness centers, to activate adjacent streets and plazas for health and wellness programming.
Reform zoning to allow for the flexibility of properties for healthier uses. This could include allowing gyms and indoor recreation in more zoning districts, or creating zoning incentives modeled off the FRESH (Food Retail Expansion to Support Health) Program with sliding scale or price ceiling membership rates, open space minimums and expanding plaza bonuses, or encouraging rooftop gardens.
Lower barriers for pop-ups and public space activations in underused sites such as faith-based spaces, universities, schools, empty retail spaces, libraries and other anchor institutions, parking lots, vacant lots, and under elevated bridges or other viaducts. City agencies, like DOT or SBS, could directly fund community-based organizations to support outreach in order to increase community participation in these programs or drive community stewardship.
Case Study:
Golden Age Park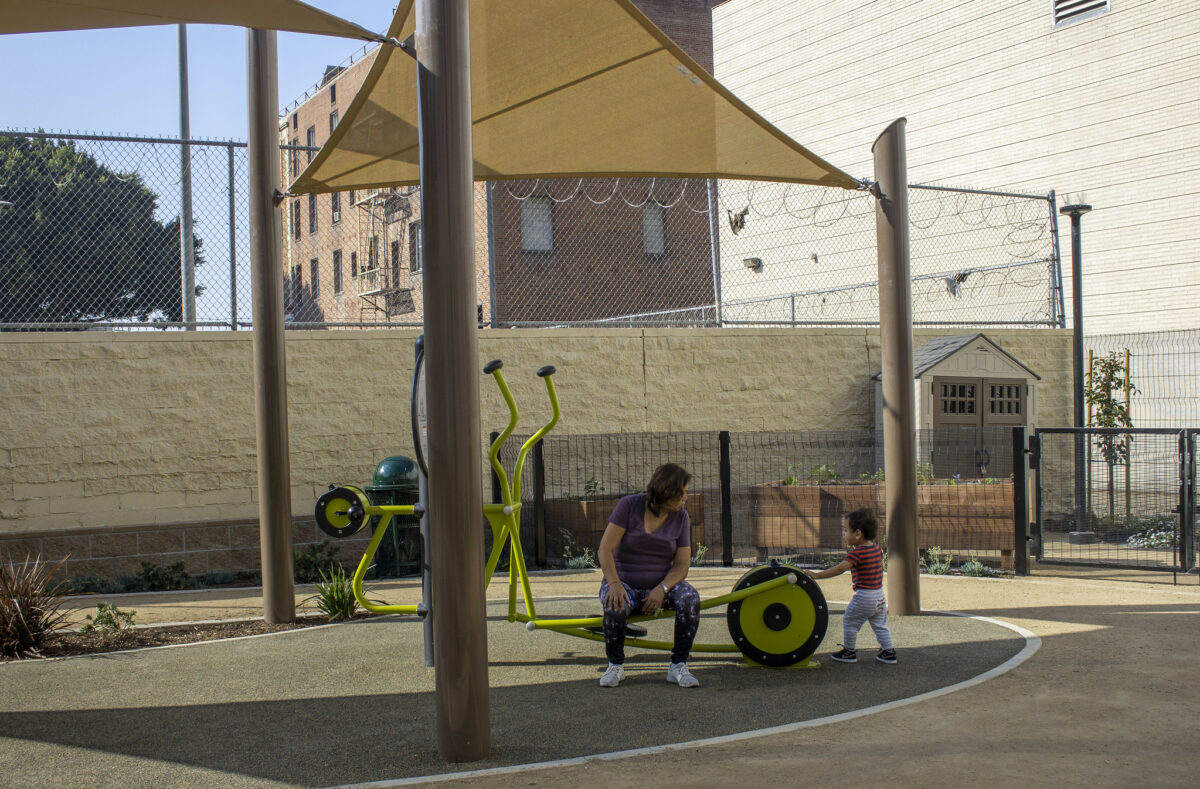 Image Credit: UCLA Luskin. Photo by Mary Braswell.
The site of Golden Age Park, situated in the Westlake/MacArthur Park neighborhood of Los Angeles, had been vacant for almost 30 years. After extensive research conducted by a team from the UCLA Luskin School of Public Affairs, this underutilized space was transformed into a park suitable for people of all ages. A grant from the AARP Community Challenge was awarded to the Los Angeles Neighborhood Land Trust and the UCLA team to construct social seating areas, community gardens, shade sails, and exercise equipment.
Support a comprehensive health planning framework that connects neighborhoods to assets at a larger scale.
Neighborhoods with poor health outcomes and limited public spaces also may lack alternative options that encourage active mobility. Designing a network that connects neighborhoods to assets at a larger scale could introduce a range of benefits like active lifestyles, better air quality, or improved sense of safety.
Approaches to drive a planning framework could include:
Integrate greater access to active public spaces alongside networked active and green corridors, building on the NYC Streets Plan and a forthcoming comprehensive citywide greenway network plan. Areas to expand the network could include corridors like Broadway, Flatbush Ave, Atlantic Ave, Ocean Ave, 14th Street, 34th Ave, Utopia Parkway, Webster, East Tremont, Cross Bronx, and Hylan Blvd.
Shape a Comprehensive Active Corridor Plan by coordinating a cross-agency planning effort led by the new Chief Public Realm Officer. Coordination between DCP, DPR, DOT, DOHMH, and EDC could ensure more holistic planning for commercial nodes, housing density, parks and other public amenities. Deeper capital coordination around an overarching plan could direct dollars to neighborhoods burdened with chronic diseases, and could overlap with a Health Improvement Districts (HID) model.
Seek partnerships in targeted neighborhoods and corridors with health insurance companies, hospitals, banks, cultural institutions, or community foundations to fund projects like benches, public exercise equipment, and other public space investments tied to health prevention. The City could partner with community partners and assist in securing funding opportunities, like the AARP Community Challenge, that focus on health and wellness public space pilots.
---
Many thanks to the Active Places Working Group members, who collaborated on the creation of these ideas and recommendations: Lee Altman, Marlene Camacho-Rivera, Josh Langham, Alex Moscovitz, Daniel Shack, Huanyu Chen and Jesse Weiss.