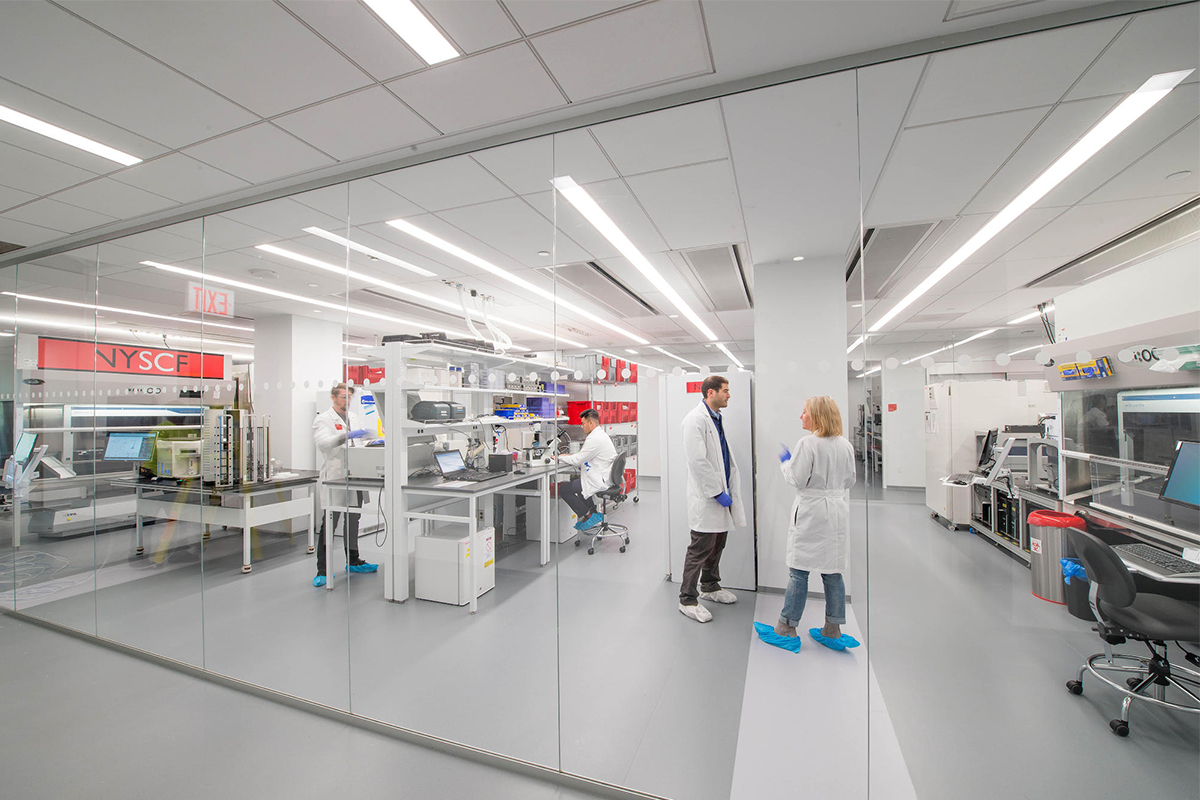 Aislinn Weidele / Ennead Architects
March 27th, 2019
6:00pm - 8:30pm
New York Stem Cell Foundation
619 W 54th St, New York, NY 10019, USA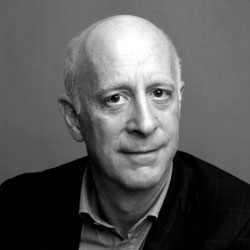 Paul Goldberger, who the Huffington Post has called "the leading figure in architecture criticism," is now a Contributing Editor at Vanity Fair. From 1997 through 2011 he served as the Architecture Critic for The New Yorker, where he wrote the magazine's celebrated "Sky Line" column. He also holds the Joseph Urban Chair in Design and Architecture at The New School in New York City. He was formerly Dean of the Parsons school of design, a division of The New School. He began his career at The New York Times, where in 1984 his architecture criticism was awarded the Pulitzer Prize for Distinguished Criticism, the highest award in journalism.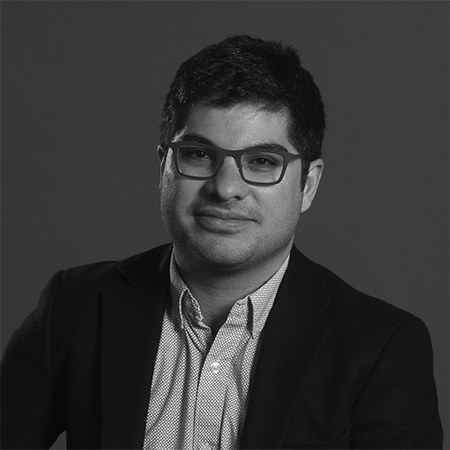 Bassam is Director at Rafael Viñoly Architects. The firm's most notable projects include Battersea Power Station Master Plan in London; The Rockefeller University River Campus in New York City; New York University Abu Dhabi; and he was Project Architect for the University of Pennsylvania Medicine Complex's latest phase: South Tower Pavilion. At Viñoly, Bassam collaborates with medical planners, MEP engineers, and structural engineers on design development, oversees the design of life safety requirements, and coordinates permit drawings and submissions to the Department of Health with the client or contractor.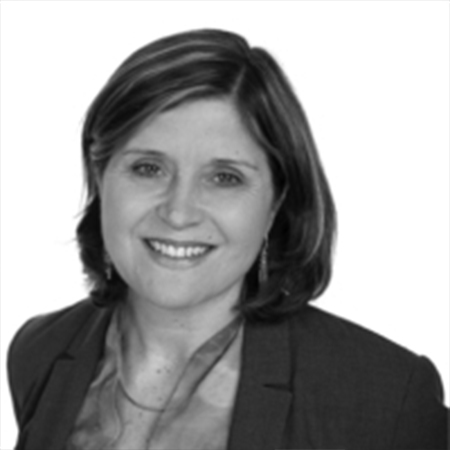 Lois is Associate Partner at Ennead Architects and has been with the firm since 1986. She has served as Project Manager on a variety of large-scale laboratory and healthcare projects with complex programmatic requirements. Projects include The New York Stem Cell Foundation (NYSCF), Research Institute Laboratory; the Weill Cornell Medical College's Belfer Research Building and Weill Greenberg Center; and New York University Langone Medical Center's New Science Building, Skirball Institute for Biomolecular Medicine, and Downtown Ambulatory Care Center.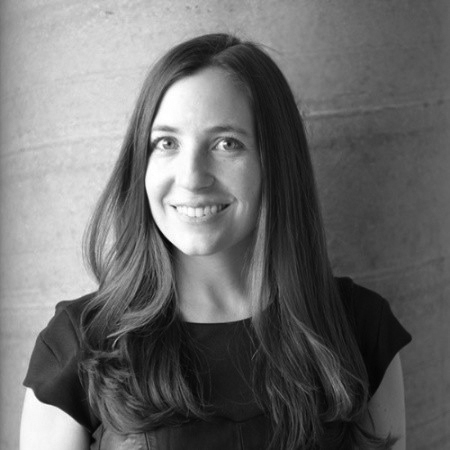 Nicole is co-founder of Keystone for Incubating Innovation in Life sciences Network (KiiLN), a non-profit accelerator for entrepreneurial scientists. She was Managing Director of BioLabs New York and ran the premier biotech co-working space BioLabs@NYULangone. A former molecular and cell biologist, Nicole performed her postdoc research at Mount Sinai and PhD work at Cancer Research UK in the London Research Institute. She is a dual US/UK citizen, grew up in Massachusetts, and attended the University of Chicago.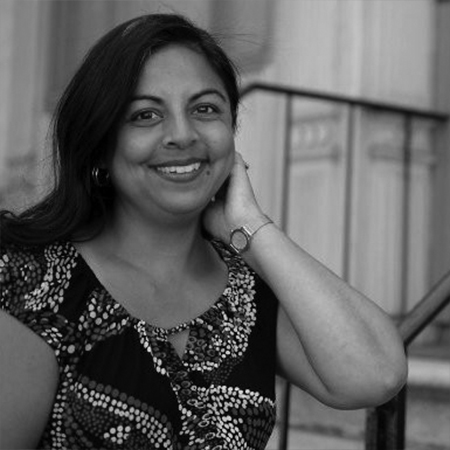 Yasmeen has 20+ years of relationship building and project management experience in the fields of real estate, non-profits, life sciences, city government, and economic development. Her recent projects include obtaining $6M+ in city and state funding for NYC-based biotech companies, and studying the feasibility of life sciences development in Queens. As a consultant, she oversaw site selection, leasing, design and construction, and interior fit-out at the New York Genome Center (NYGC). From 2003 to 2007, at NYCEDC she was the lead project manager for the disposition of the Alexandria Center, taking the project from RFP to groundbreaking.

On March 27, Fellows joined us for drinks and debate on building New York City's life sciences economy.
The growth of New York City's life science economy has accelerated in recent years. From tax incentives to flexible land use, the City and State have taken steps to facilitate this expansion, learning from established hubs like Boston and San Francisco. With leading academic institutions and available capital, research & development clusters have formed throughout Manhattan's West Side and Kips Bay to cultivate New York's talented life science workforce.
The accommodation of life science facilities requires specific building types to support laboratory space. How might we adapt old commercial zones in Manhattan to attract this new industry? With a growing startup landscape, how can we finance life science development to provide affordable and flexible space for sustainable growth? And while New York develops new clusters throughout the city, what kinds of infrastructure and open space can encourage connectivity with adjacent industries?
Event Photos ↓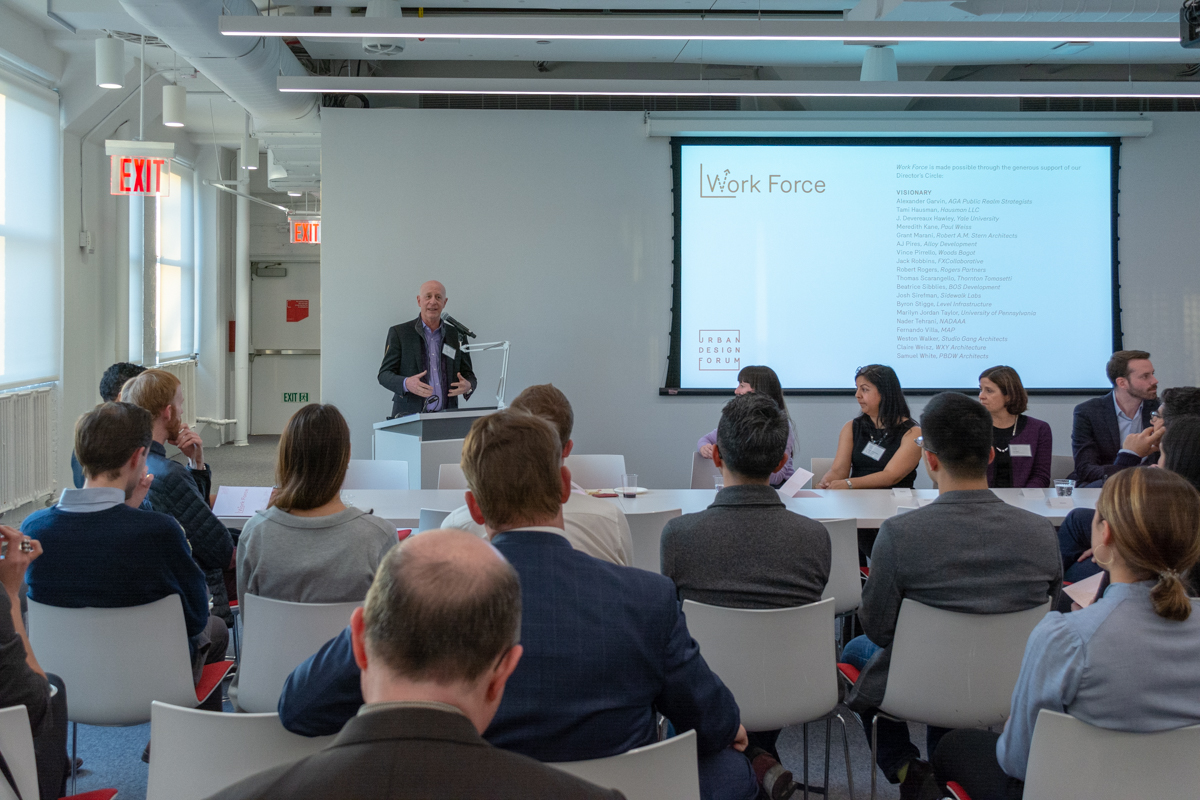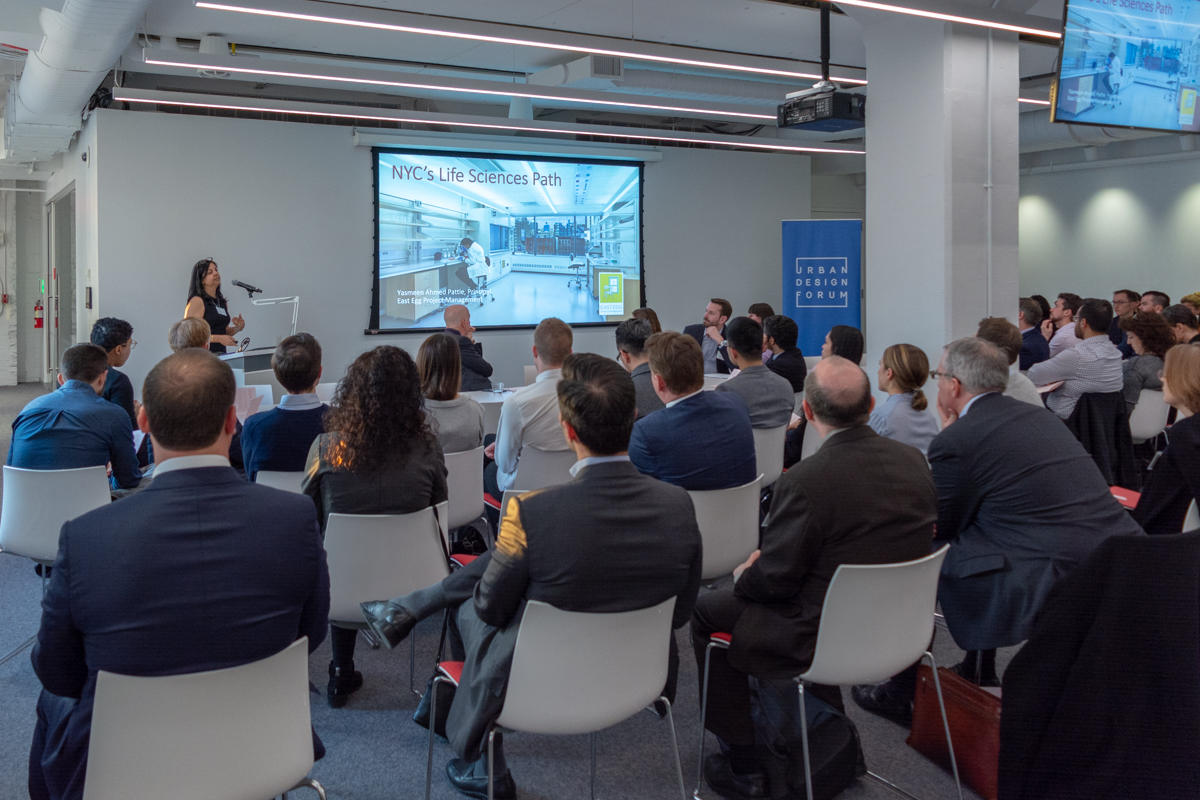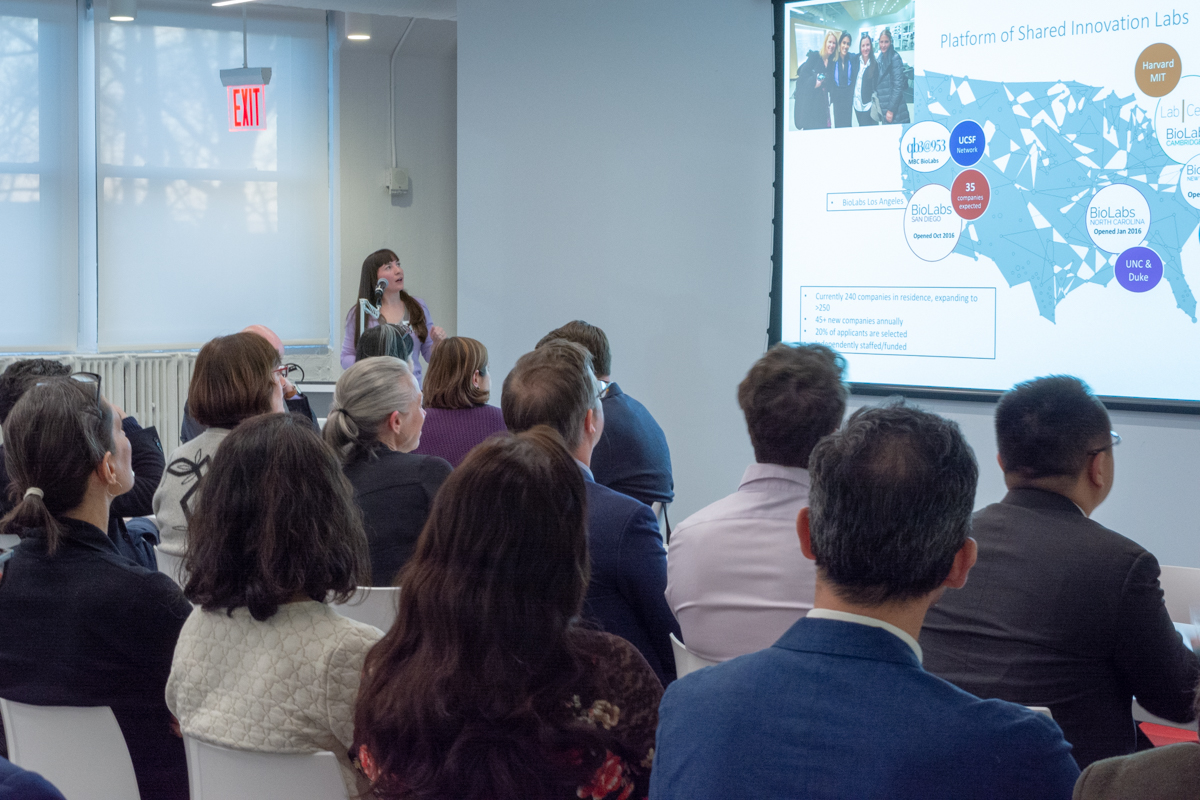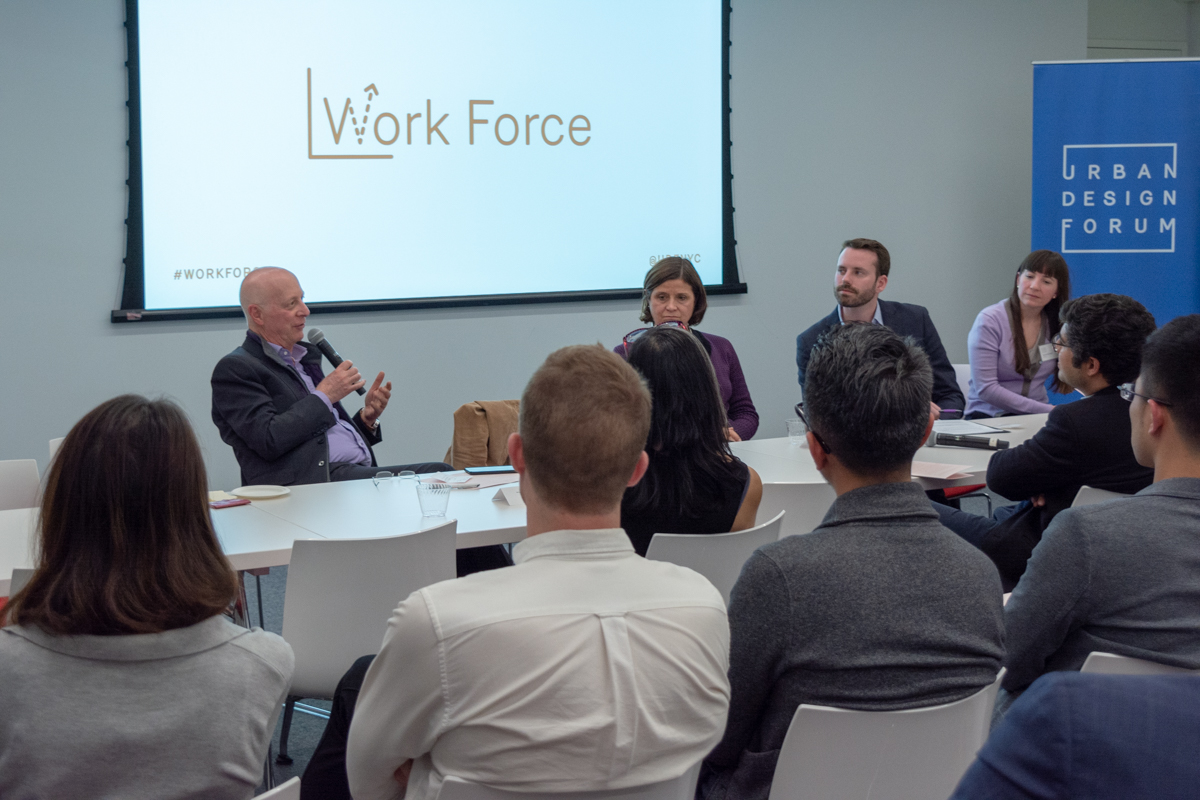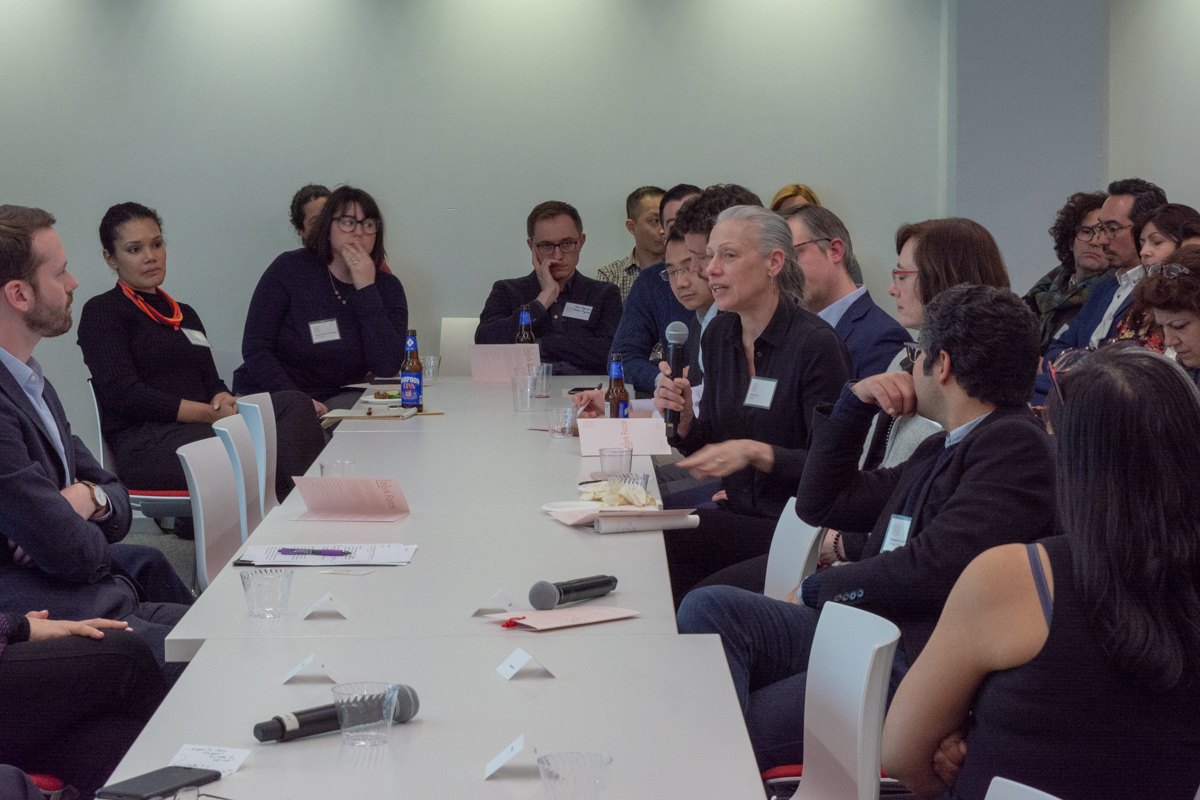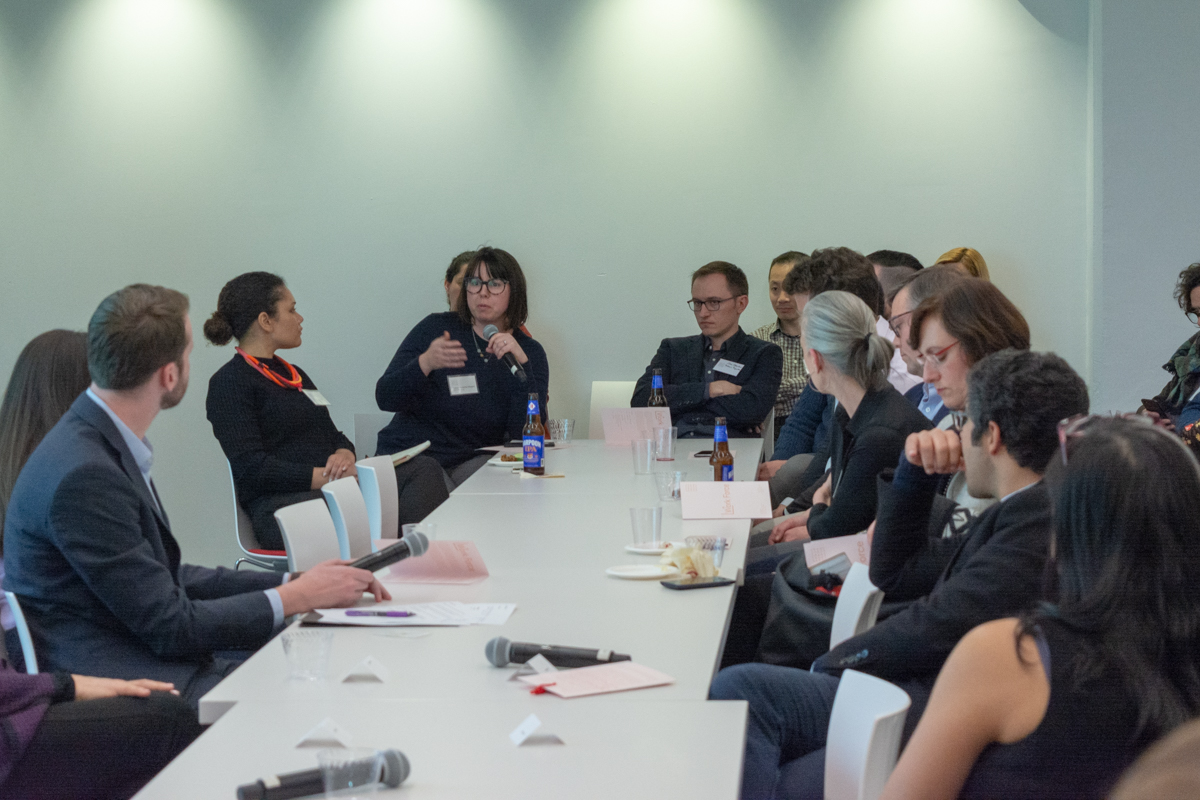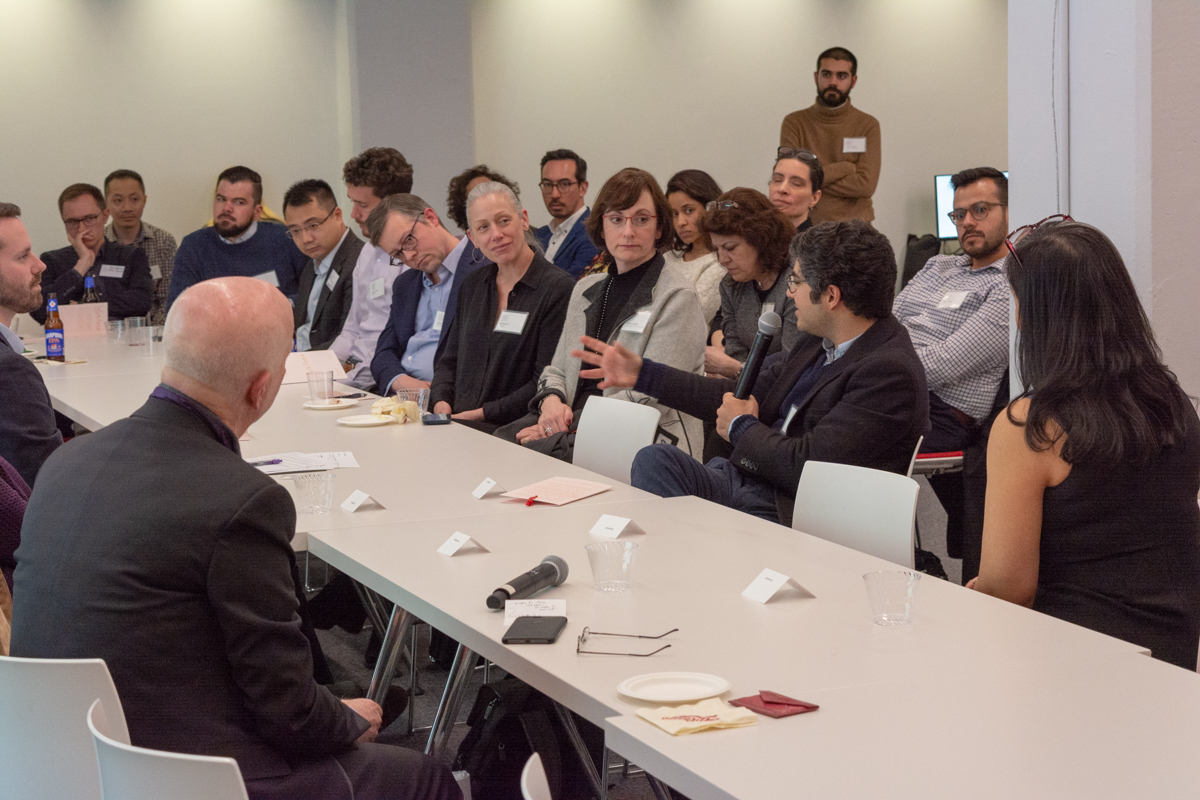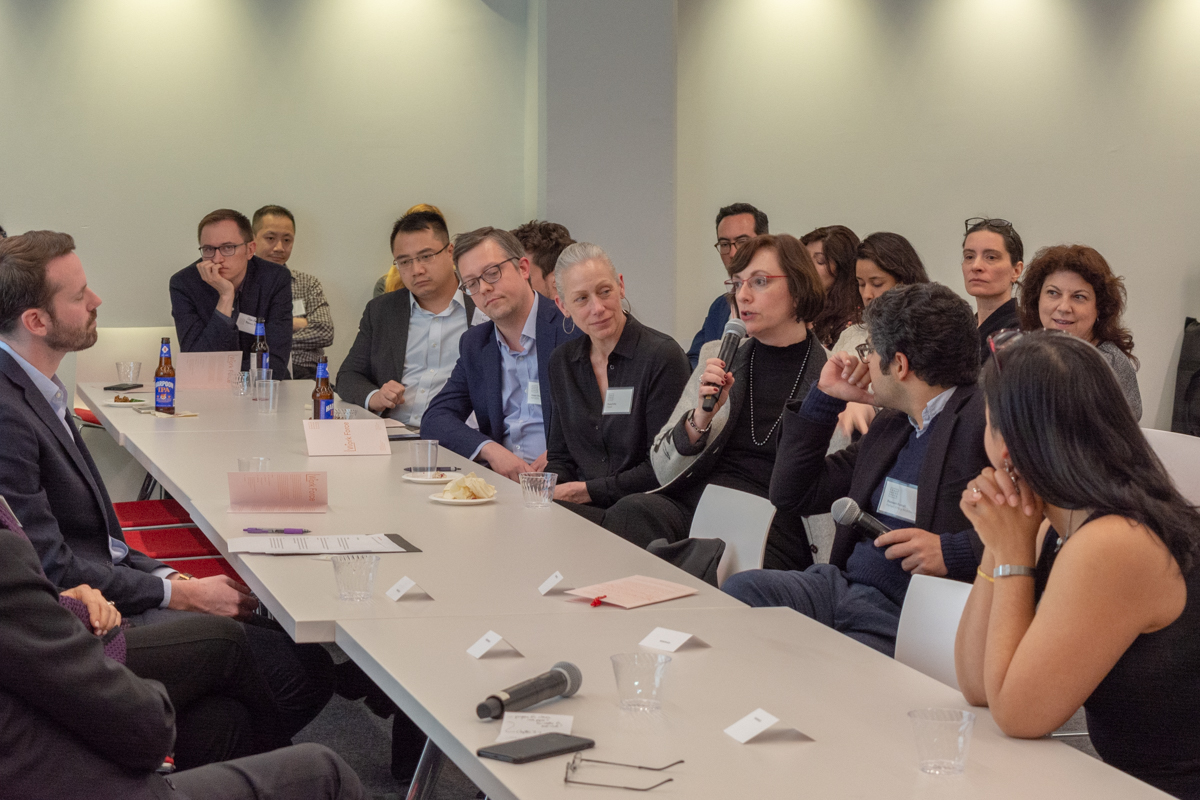 Guest Policy ↓
The Urban Design Forum promotes conversation between invited civic leaders, designers, developers and advocates. Forum Fellows are welcome to invite one additional guest to attend. Tickets to this event are non-transferable.
About Work Force ↓
Living Core is the seventh event of our Work Force series. As the City implements the "New York Works" plan and rezones outer borough business and industrial districts, the Forum considers how creative zoning, public realm investments, and new infrastructure might enhance economic outcomes for all.
This program is made possible through the support of our Director's Circle. Shape our year-long inquiry and promote conversation between our Fellows and invited decision-makers. To learn more, please contact Daniel McPhee, Executive Director, 646-928-0553 or daniel@urbandesignforum.org.
Image Credit ↓