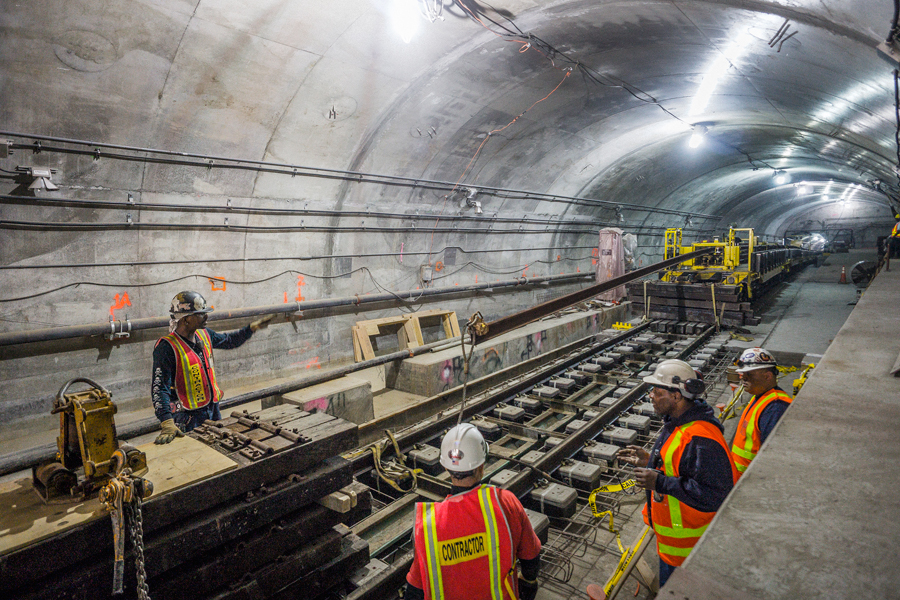 Photo: MTA Capital Construction / Rehema Trimiew
September 28th, 2016
6:00pm - 8:00pm
Kohn Pedersen Fox
11 West 42nd Street, 6th Floor, New York, NY, United States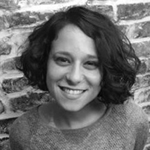 Rebecca Bailin is Campaign Manager at the Riders Alliance, a grassroots membership organization of subway and bus riders dedicated to winning better transit in New York City. She is currently organizing for the #FairFares campaign to extend affordable public transit for all New Yorkers. She has close to ten years of experience working for social justice organizations.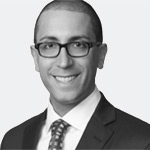 Benjamin Kabak is the author and editor of Second Avenue Sagas, a site focused on all things transit underground – and some things above ground, from fare hikes to map design, labor policies to construction, bus rapid transit to underground technology. He is also an Associate Attorney with Loeb & Loeb, LP, where he focuses on technology and outsourcing.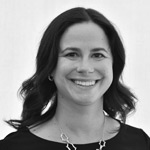 Sarah M. Kaufman is Assistant Director for Technology Programming at the NYU Rudin Center for Transportation, where she researches, advocates for and educates about cutting-edge technologies in transportation. She leads several projects related to improving transportation through technology, including Intelligent Paratransit, to rethink how we transport seniors and the disabled; and Job Access, a comparative study of how livelihoods are affected by level of access to mass transit in New York City.
Ydanis Rodríguez is the New York City Council Member representing the 10th District, representing Inwood, Washington Heights, and Marble Hill. As a Council Member, he continues to fight for much-needed services for Northern Manhattan, including immigration reform, higher quality education for all children, affordable housing and health care, and a more transparent and efficient government.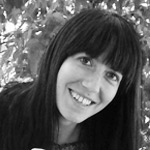 Annie Weinstock is President of BRT Planning International, LLC. She has 14 years' experience in private, public, and non-profit sector transit planning. Until 2015, she was the US & Africa Director from the Institute for Transportation and Development Policy. She has worked on bringing gold-standard BRT to Chicago, Boston, San Francisco, Montgomery County and Albuquerque, as well as Tanzania, Kenya, Uganda, and South Africa.
Emma G. Fitzsimmons is a transit reporter at The New York Times, covering New York City's subways, buses, Citi Bike, taxis and "everything that moves" in the region and beyond. Previously, she worked as a breaking news reporter and news assistant at The New York Times and a metro reporter for the Chicago Tribune.
On September 28, 2016, the Urban Design Forum invited Rebecca Bailin, Campaign Manager at the Riders Alliance; Benjamin Kabak, author and editor of Second Avenue Sagas; Sarah Kaufman, Assistant Director for Technology Programming at the NYU Rudin Center for Transportation; City Council Member Ydanis Rodriguez, representing the 10th district and Chair of the City Council's Committee on Transportation; Annie Weinstock, President of BRT Planning International, LLC, and moderator Emma Fitzsimmons, New York Times transit reporter, to debate what it would me to "finish" the New York City subway system.
City Council Member Ydanis Rodriguez gave the first presentation of the evening emphasizing a need to develop transportation projects that benefit those most in need of services, or in 'transportation deserts.' For example, the city should consider developing a shuttle train that connects the A train at Broadway and 207th Street to Fordham. By establishing this connection, the city could provide more efficient transportation for travelers living in the Bronx, but also allow travelers from Westchester and Connecticut to avoid traveling into midtown to get another subway train if they work elsewhere in the city.
Additionally, people that live in these transportation deserts essentially suffer from a 'poor tax' because traveling to work takes 1 1/2 hours, and they frequently have to pay a double fare for that trip as well. Therefore, given such regrettable conditions, Council Member Rodriguez ended his presentation with a call to action that we leave our children a more equitable and reliable public transportation system.
Ben Kabak, the second presenter of the evening, first suggested that ideally subway systems are never finished because they should always grow to meet the city's demands and growth. Therefore, to 'finish' a subway would mean either one of two things: the city is growing and developing, but the subway system does not match this growth; or that the city stops growing and developing. Therefore, what is really important is to ensure timely and affordable subway projects that can accommodate the growth of New York City.
Next, Ben ran through a brief history of the New York subway system. The current 2nd Avenue project that will finish in 2017 was actually first imagined by Mayor Hylan in the 1920's. The second system was devised in the 1930's, but was scrapped due to World War II. Additionally, until the 1960's, every subway proposal included a connection to State Island. For Ben, this history serves to demonstrate that New York has never had an issue imagining what to do with the subway, or how it should be finished. Instead, the issues the city always runs into a threefold.
First, the 2nd Avenue Subway project was the most expensive project in the world at $1.7 billion per kilometer, compared to $1 billion per km in London and $250 million per km in Paris. So we must ask how can we possibly cut costs for subway projects and make them more viable in the future?
Second, another enormous issue is the time needed to finish subway projects. The first phase of the 2nd Avenue project, which only added three stops, required nearly a decade to complete. So if we are to build more substantial projects, how can we complete these projects in a reasonable time?
Third, the city suffers greatly from a lack of a master plan or singular vision. Whereas London and Paris have one agency responsible for their systems, New York City has many agencies and power figures involved. This dilution of power essentially ensures that there is a lack of regional and structural analysis, and an abundance of 'champion' projects.
Annie Weinstock delivered a presentation on the potential of a BRT system to assuage issues with the closure of the L train, and the potential to lessen our dependency on the subway system. First, the closure of the L train will be a substantial transportation issue for the city to confront as 225,000 workers that travel from Brooklyn to Manhattan, and 50,000 that travel in the opposite direction, will be effected for 18 months. During this time, the alternative routes offered by the city will be inadequate as travelers to Union Square will now travel an additional 44 minutes. Therefore, because we cannot build another subway line in the meantime, a BRT system offers a viable alternative that is long-term, efficient, and cheap.
What is BRT? A BRT is a bus system given exclusive access to middle lanes in the road to avoid traffic; they offer level boarding to speed walking on/off and better access for individuals with physical disabilities; passengers pay before boarding; and, cars are restricted from turning through their lanes to ensure optimal BRT travel. Therefore, a BRT is not a SBS because SBSs do not have their own exclusive lane, as car frequently occupy bus lanes, and pedestrians still have to make significant steps on/off the bus, a drag on time and an obstacle for those in wheelchairs or with other disabilities.
In addition to these reasons, a BRT system is an attractive alternative because it could be built before the closure of the L train; it would be substantially cheaper than a subway system with costs at only $20-40 million per mile; substantial travel time can be recovered that will be lost from the closure of the L train; and the BRT has the potential to grow into a complete transportation system across the city.
Rebecca Bailin, from the Riders Alliance, illustrated that finishing the subway means ensuring that everybody can afford to travel on the subway. What makes affordability such a critical issue for public transportation is that it is the entry point for economic activity, jobs, doctor appointments, cultural activities, etc. Therefore, given this importance, the Riders Alliance submitted a proposal to Mayor de Blasio to give fare reductions to individuals that are below or at the federal poverty line a half-priced MetroCard's. This measure is needed because while pre-tax transit savings program, monthly MetroCards, and student programs are valuable; these programs only helped those that are middle class and can afford the loss of up-front pay.
Furthermore, this proposal is paramount because 58% of low-income individuals rely on the subway or bus (more than any other population), yet 25% of low-income riders cannot currently afford a MetroCard. This calamitous convergence means that many people attempt to jump turnstiles, which the city combats by spending $50 million dollars on fare evasion arrests. Thus, by reinvesting that money, we can offer 800,000 individuals access to affordable transportation, at savings of around $700 per year, and change turnstiles from barriers to access-points.
Sarah Kaufman, our last presenter of the evening, spoke about para-transit, which while not part of the subway, is still relevant because para-transit is really about those that the current subway system is failing in terms of accessibility. This statement is especially true because only about 20% of subways are currently available to those with mobile impairments, meaning that only a 20% have an elevator. Thus, most people with physical handicaps use para-transit or access-a-ride. Yet, are current system is broken in many ways, and new challenges are emerging that will further pressurize the system.
For starters, demand is increasing greatly, with already 160,000 subscribers across the city, and more are expected to join as the elderly population is continuing to grow, and their growth is in areas without accessible subway stations. Current users of the access-a-ride system report verbal and sexual abuse waiting for their rides. Wait-times for riders are unreliable and stressful as drivers and riders frequently have difficulty finding each other. Additionally, the system is immensely expensive, costing the state and city $500 million annually, or about $70 per ride!
Therefore, given the severity of these issues, there are important measures that the city must take to alleviate many of these problems. First, the city should partner with ride-handling/for-hire-vehicle services like Uber and Lyft. Since 85% of access-a-ride users are not in a wheelchair, the city only needs to provide education and training for these drivers, not technological improvements such as ramps and lifts. Second, riders are, amazingly, still paying for their rides in cash which is hazardous, unreliable, inefficient and does not leave a paper-trail for records. Third, to reduce wait-time and anxiety, the city should utilize real-time technology, information, and apps to inform riders how far their ride is, use wearables so drivers and riders can easily identify each other, and to provide data to understand what systems are working, and what are not. Lastly, adopting these policy measures would save the state and city $133 million annually.
After these presentations, Emma moderated a very healthy and passionate debate which led to many important questions: Why is ridership leveling off? Is it time to supplement the subway system? Who will benefit from these new transportation projects?
Photo: MTA Capital Construction / Rehema Trimiew
3 responses to "Finishing the Subway"