Critical Update: Field Reports from New City Critics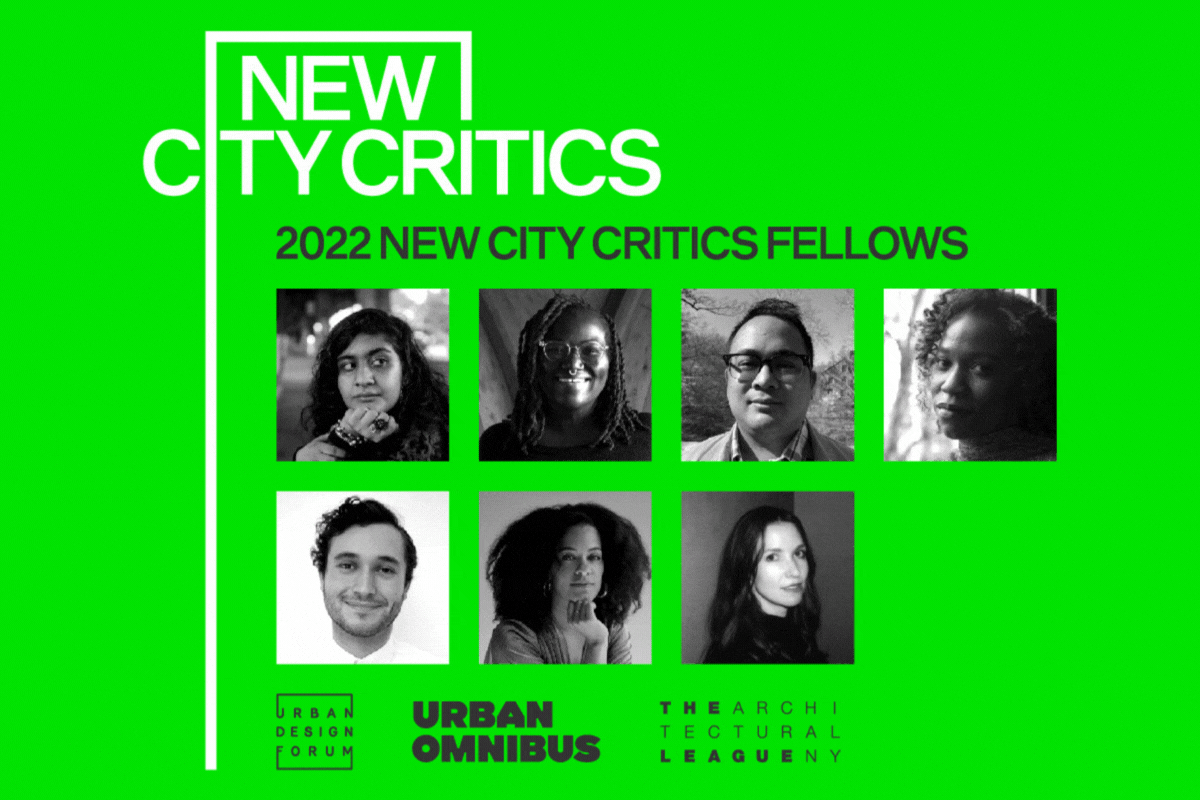 In June, The Architectural League and Urban Design Forum inaugurated New City Critics, an 18-month fellowship created to empower new, fearless, and diverse voices to challenge the ways we understand, design, and develop our cities. Our seven fellows, Sabina Sethi Unni; Calil Arguedas-Russell; Erin Sheehy; Oscar Perry Abello; and Alicia Ajayi, Sophonie Joseph, and Emma Osore of the BlackSpace Urbanist Collective; have begun a collective exploration of the varied, complex, delightful, fraught, and rich experiences of New York City and its neighborhoods.
Through writing workshops, one-on-one meetings with guest writers and thinkers, and site visits, the cohort is learning and writing about a wide range of projects and places, from a 21st century shopping mall to the redevelopment of a notorious juvenile detention center for housing and light manufacturing.
Stay tuned for their ambitious critical projects on Urban Omnibus in early 2023! In the meantime, here are some highlights from the fellowship so far, along with questions and readings to consider from wherever you are:
What is your critical voice?
What does it mean to see your voice as a way of mapping? Program advisors Garnette Cadogan and Vinson Cunningham encouraged fellows to consider criticism as a form of remapping and redescription: a way to see the city afresh. Garnette explained: "The practice is not just writing but also walking and "being in the city" but it must be a communal practice, not just an individual practice. Thinking aloud in the company of people you trust."
Recommended Reading:
Michael Sorkin, Twenty Minutes in Manhattan
Dance Theater of Harlem, Dancing Through Harlem, 2020
The Art of Summer series, New York Times 2011: Alastair Macauley, "The Fluid Human Dance That Is Grand Central" and Jon Pareles, "The Contrapuntal Sounds of Gridlock"
Carolina Miranda, "Remapping LA"
Alexandra Lange, "New York City is a Mall"
How to begin?
Carolina Miranda walked the fellows through her own process of beginning a writing project. "I set "work time" and "writing time" and I always split them. I block days on the calendar for just writing (and nothing else)… After I have all my research, I schedule a full day, turn off everything, and just read the research." Carolina emphasized that "writing is an introspective process."
What do you see?
In September, the critics walked through Essex Crossing with Alexandra Lange and had lots to say about what they saw. Sabina Sethi Unni found that "instead of the crowded spontaneity of a public space (like the fish markets just across the street in Chinatown), Essex is highly controlled, regimented, quiet, empty, and ultimately hollow." Erin Sheehy agreed: "It's not really a destination but a second-choice in-between place: you've got a half hour to kill, or a need for a restroom, and you'll have to make do." The fellows noticed a free fridge — a place where community members, conceptually, can leave food for people who need it — sitting empty. Calil Arguedas-Russell commented: "This fridge seems like an extension of the project overall: a promise that low-income people will benefit followed by infrastructure that houses nothing for those who can't pay.."
What do you hear?
Fellows also visited the Spofford Redevelopment Project–now the Peninsula–in Hunts Point. A walking tour with the first residential and light industrial buildings' super and project architect was regularly interrupted by the rumble of tractor trailers. They later talked neighborhood development with the NYC EDC at the nearby Bronx Arts Space. Oscar Perry Abello questioned "the decision to ground lease the whole site as one large project instead of breaking it up into smaller pieces. Carve up the plots and let smaller developers and smaller banks shoot their shot to build what they think the community needs." Emma Osore perceived the Peninsula to be "a little engine that could," but also observed "a stark juxtaposition between its 'social' mission and the void of actual people. 'The project is still filling up with tenants and local businesses,' they say. I was not fully convinced."
How do you talk to people?
Earlier this month, fellows met with Tanvi Misra this month to discuss the ins and outs of the interview. Tanvi explained that "questions are never leading questions: They are open ended questions. It leaves room for some conversations that wouldn't occur otherwise." She encouraged the fellows to think about their assumptions and what might challenge them, "how to represent the truth." Tanvi also urged the fellows to always come at the interviewee "From a place of genuine curiosity."
To hear much more of what the fellows have to say, stay tuned in 2023 for the New City Critics' takes on finance, air conditioning, sea level rise, queer spaces, and Black urbanism.