2022 New City Critics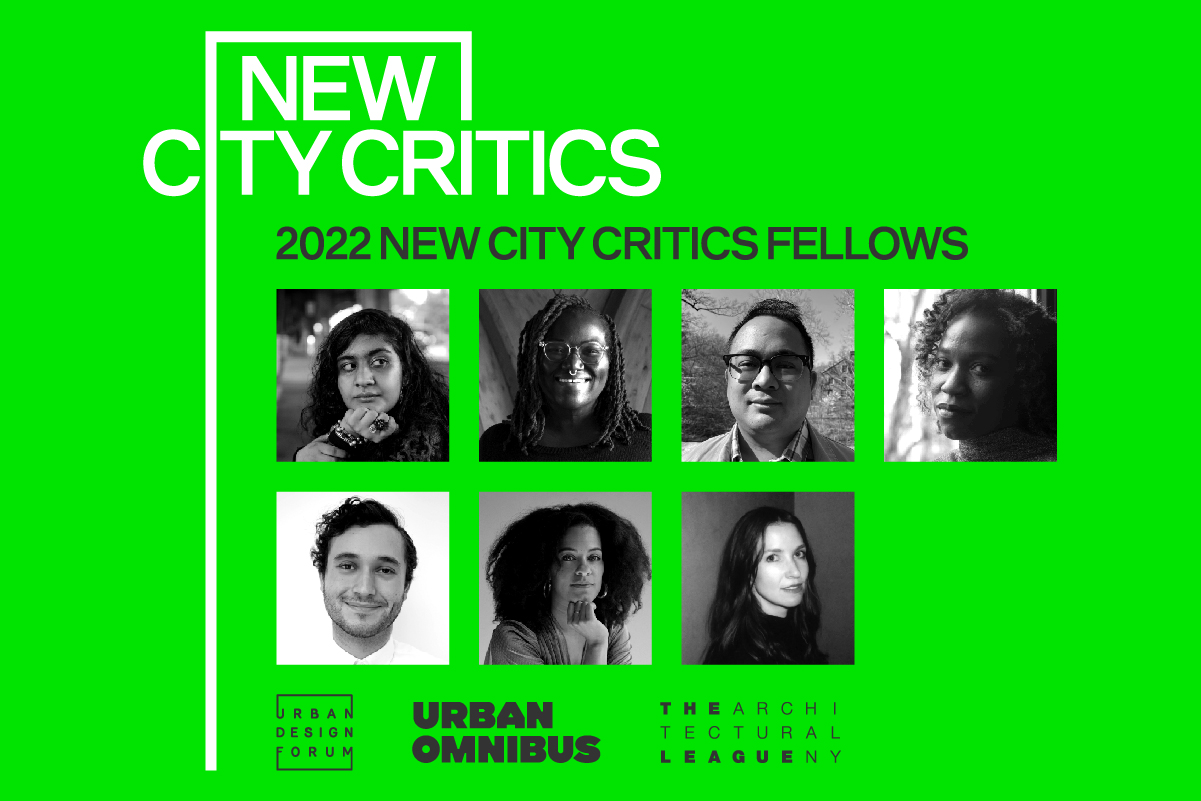 (New York City–May 26, 2022) – The Architectural League of New York and Urban Design Forum announce Sabina Sethi Unni; Calil Arguedas-Russell; Erin Sheehy; Oscar Perry Abello; and Alicia Ajayi, Sophonie Joseph, and Emma Osore of the BlackSpace Urbanist Collective as the inaugural fellows of New City Critics, a fellowship program to empower new, fearless, and diverse voices to challenge how we design and develop our cities.
The fellowship will provide the class with workshops, research guidance, mentorship, and the opportunity to produce critical projects in Urban Omnibus and other leading publications. Fellows will receive $15,000 for participation with additional allowances to support travel, research, and project expenses.
The program is supported by an advisory board of leading writers, editors, and cultural producers–Garnette Cadogan, Dario Calmese, Vinson Cunningham, Sukjong Hong, and Carolina A. Miranda–who also served on the jury to select the initial class. The program will be led by Mahdi Sabbagh, Program Coordinator at the Urban Design Forum, and Mariana Mogilevich, editor in chief of Urban Omnibus.
The 2022 New City Critics Fellows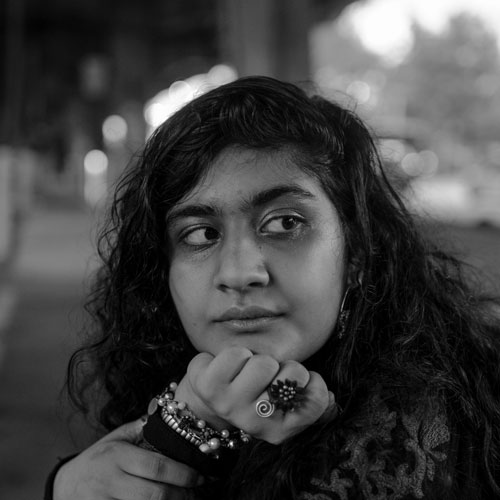 Sabina Sethi Unni is an aspiring artist-scholar, researcher, and organizer passionate about cultivating participatory open spaces through public programming and planning. She is the co-founder of Fresh Lime Soda Productions, a South Asian theater ensemble. In her free time, she is a graduate student in urban planning at Columbia GSAPP.
Through the fellowship, Sabina is excited to take "a neighbor by neighbor approach" to exploring reparative and remediative planning — "for and (most importantly) by communities of color" — in the context of managed retreat, climate justice, and public participation. Citing the words of her mentor, Michael Sorkin, she believes that "the role of an urbanist is to be an effective storyteller in the service of the 'collective work of art we call the city.'"
Calil Arguedas-Russell is a teacher and storyteller working through writings, videos, and lectures. They were previously awarded the Rhoda Lubalin Fellow at the Lubalin Center in New York. Currently they serve as a Gallery Assistant at Pace Gallery. When not doing any of the above, you can find Calil playing chess.
Calil's previous writing has covered a wide range of topics: "the Panorama at the Queens Museum, the rib vaulting of gothic architecture, the colosseum-turned-Tower of Babel as a template of cinema (and what that entails)." They hope that their work during the fellowship will "make these ideas and experiences as riveting for others as they are for me."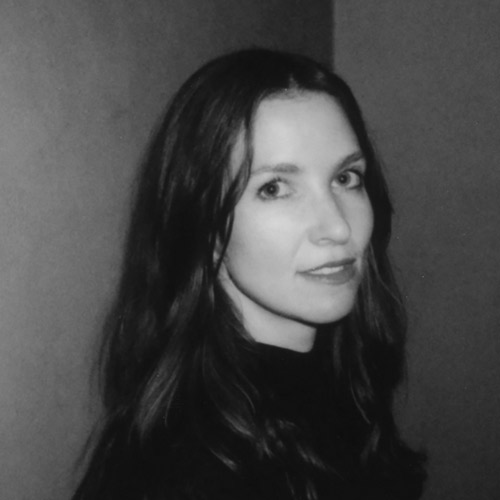 Erin Sheehy is a writer, editor, artist, and teacher living in Brooklyn, New York. She is editor in chief of Facility, a print magazine about bathrooms. Facility sees the bathroom as a small but interesting window through which to view society.
"I hope to further develop a community of people thinking and writing about built design outside of academia and the traditional architecture world." Through the fellowship, Erin seeks "to create work that is accessible and exciting to a general-interest audience, to help readers question why things are designed the way they are, and to galvanize people into dreaming and demanding that built space actually work for them."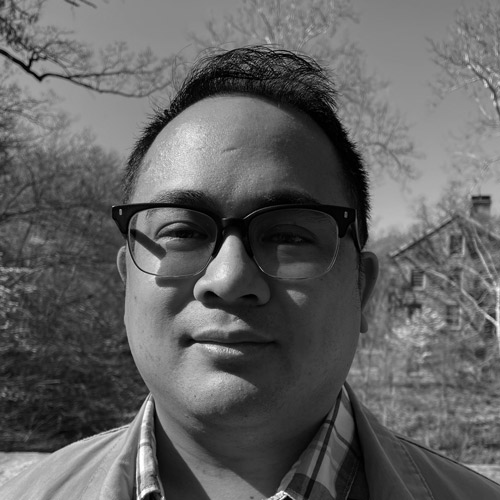 Oscar Perry Abello is a journalist in Washington Heights covering responses to economic injustice in urban areas across the country. He is currently senior economics correspondent at Next City, a national urban affairs magazine. Since 2010, Oscar's reporting has also appeared in Fast Company, Yes! Magazine, Shelterforce and other outlets.
For Oscar, "no element of the built environment is more terribly in need of a critical lens today than that of money." During the fellowship, he wants "to shine new light on the evolving relationship between money and the built environment in a way that raises the kinds of questions that can help lead to better outcomes for cities . . . For most people, the money side of things is either scary or boring. I want to help change that."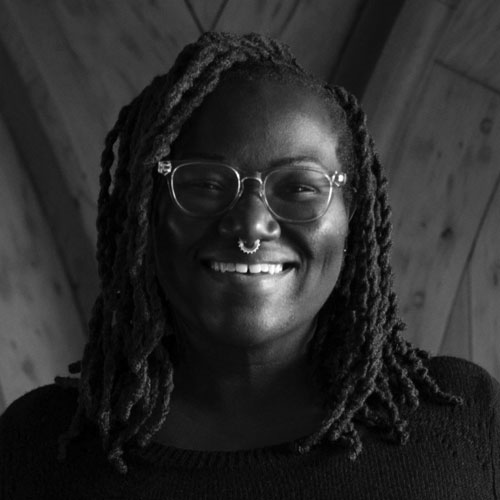 Dr. Sophonie Milande Joseph is a visual artist and community planner. She uses conceptual photography and documentary filmmaking as tools to conduct visual sociology. Her commitment to social equity informs a transformative worldview and involvement with grassroots initiatives in Haiti and North America. She is a current and founding board member of BlackSpace.
Emma Osore is a Brooklyn-based participatory designer, social impact entrepreneur, and mixed media artist. With an interest in people-centered systems change, she uses co-design and Black liberation principles to help creatives transform culture. Today, she is a founding member of BlackSpace where she is now its first Co-Managing Director.
Alicia O. Ajayi is an architectural designer, researcher, teacher, and writer based in NYC. Her work is led by a desire to uncover the layered complexities of people, place, and power. She is particularly interested in studying sites of erasure. She is currently the program strategist at BlackSpace Urbanist Collective.
As a collective, BlackSpace has "learned how important the written word is in shifting people's practice and policies related to Blackness in the built environment . . . We view critique and interrogation as a necessary art form and a pedagogical tool to demand Black people, spaces, and culture matter and thrive." Through developing content that "remixes the infrastructures of critique with influences from the commons" Sophonie, Emma, and Alicia see the fellowship as a opportunity to collaboratively "diffuse and expand our knowledge – which we hope will inspire people to action towards honoring Black presence in public space."
Project Supporters
New City Critics was founded in honor of Michael Sorkin, a shared Board Member of The Architectural League of New York and Urban Design Forum. The fellowship is made possible through support from founding donors including Joan Copjec, the Charles H. Revson Foundation, Thom Mayne, Eric Owen Moss, The Graham Foundation for Advanced Studies in the Fine Arts, Moshe Safdie, Zach Mortice and Maria Speiser, Carol and Mark Willis, and is supported in part by an award from the National Endowment for the Arts.
"Who would begin a list of things architects should know with 'the feel of cool marble under bare feet?' The same person who believed 'there is a danger in working in a single medium;' founded The Grey City Journal as an undergraduate to critique the University of Chicago's architectural plans; publish his own plans decades later; and design sustainable housing for the university's South Side neighbors," said Joan Copjec. "Persistent, optimistic and multi-talented Michael Sorkin combined lucid analysis with wit and imagination and an overriding sense that living means sharing one's existence with others. The New City Critics program embodies his spirit and projects it into the future. It honors his name."
"With this impressive group of fellows, this program is now well on its way to strengthen the voices of those who understand the challenges and opportunities of cities," said Mark and Carol Willis.
"The National Endowment for the Arts is proud to support arts and cultural organizations throughout the nation with these grants, including New City Critics, providing opportunities for all of us to live artful lives," said NEA Chair Maria Rosario Jackson, PhD. "The arts contribute to our individual well-being, the well-being of our communities, and to our local economies. The arts are also crucial to helping us make sense of our circumstances from different perspectives as we emerge from the pandemic and plan for a shared new normal informed by our examined experience."
"As part of our commitment to strengthening civic life and journalism in New York City, the Revson Foundation is thrilled to support New City Critics," said Julie Sandorf, President of the Charles H. Revson Foundation. "We congratulate the inaugural fellows whose voices will help expand the future possibilities for the city at this pivotal moment."
About Us
The Architectural League of New York nurtures excellence in architecture, design, and urbanism, and stimulates thinking, debate, and action on the critical design and building issues of our time. Urban Omnibus is The Architectural League's online publication dedicated to observing, understanding, and shaping the city. Urban Omnibus raises new questions, illuminates diverse perspectives, and documents creative projects to advance the collective work of citymaking.
Urban Design Forum mobilizes civic leaders to confront defining issues in the built environment. We are an independent membership organization that empowers professionals of diverse backgrounds, industries and perspectives to shape a better future for all New Yorkers. We investigate complex challenges in the built environment, study alternative approaches from cities around the world, and advance progressive strategies to build a more democratic city. Our history has been shaped by writers including our founder Ann Ferebee and late president Michael Sorkin, both of whom inspired legions of critics and cultural theorists.