Care for Hudson Square: Winner Announcement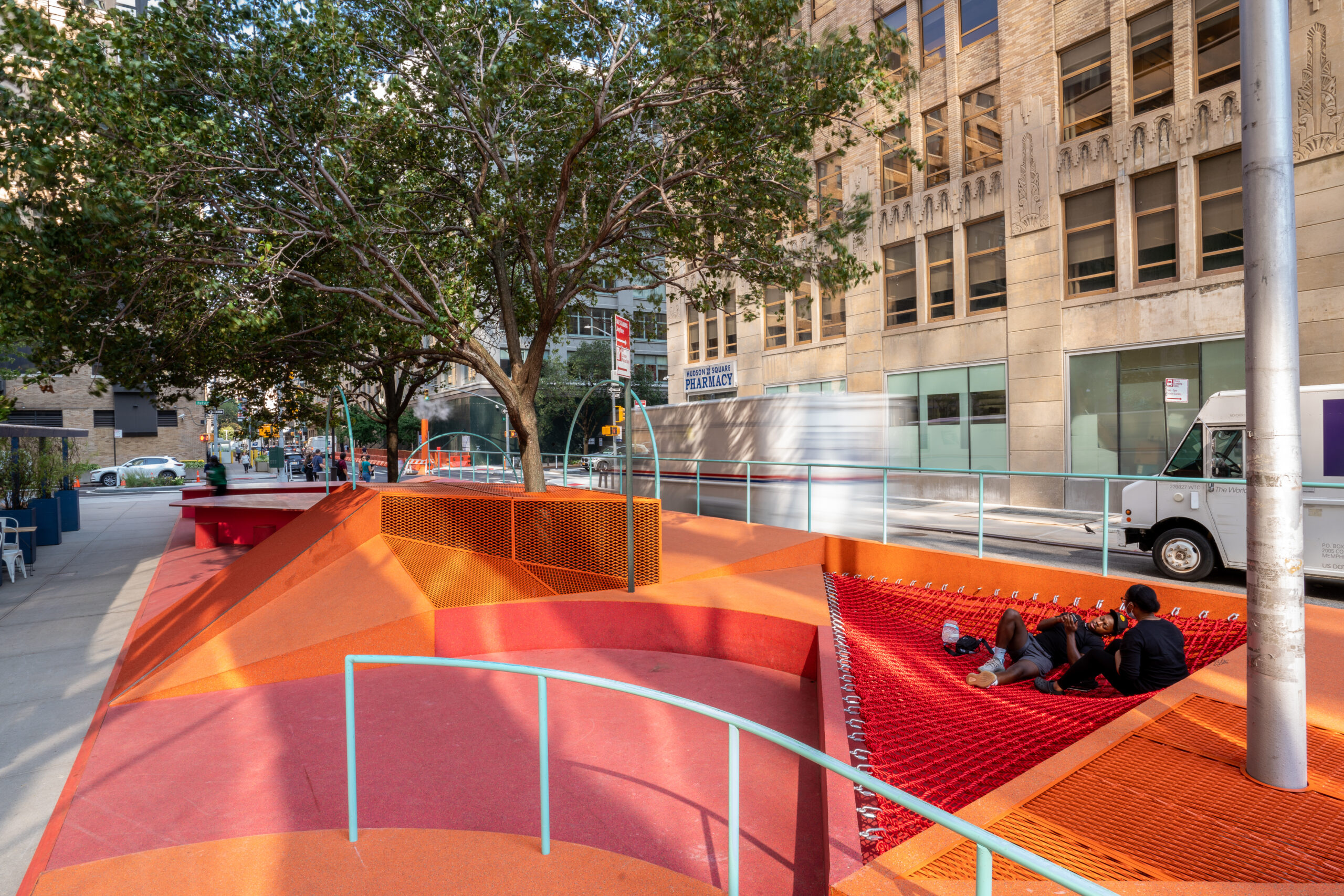 Urban Design Forum is pleased to announce that WIP Collaborative is the winner of Care for Hudson Square, a recovery initiative in partnership with Hudson Square Properties and Hudson Square Business Improvement District.
Over the summer, the Urban Design Forum joined forces with Hudson Square Properties and Hudson Square BID to launch Care for Hudson Square, a recovery initiative to reactivate the public realm with a site-specific installation.
Urban Design Forum invited proposals to strategize using the streetscape as a site for cultural reawakening after months of social isolation. After a two-round design competition that invited small and M/WBE firms based in New York City, three teams–WIP Collaborative, Taller KEN, and Dash Marshall with Public Policy Lab–proposed vibrant and community-centered designs to reimagine a placemaking installation on one of three sites: King Street between Hudson and Greenwich Streets; Sixth Avenue ("Little Sixth Avenue") between Spring and Broome Streets, and a Privately-Owned Public Space adjacent to 375 Hudson Street.
The competition's finalists and winner were selected by an interdisciplinary jury from the Urban Design Forum's network of fellows and judged proposals based on physical presence, evolving public health guidance, and inclusive design.
Care for Hudson Square–and the breadth of innovation, creativity, and community-centered approaches–serves as a call to action to replicate in other neighborhoods with new community partners in this evolving public health landscape.
Explore the winning and runner-up proposals below:
Winner ↓
Restorative Ground by WIP Collaborative proposes an installation that will act as a new destination on King Street in Hudson Square, a place for a range of experiences, activities and interactions to occur between residents, community members, and the broader public. As a dynamic platform for public life to re-emerge, the installation will create a place for individual and collective engagement, recreation, and healing.
Finalists ↓
This strategy of placemaking at Little 6th Avenue reflects the wealth of cultural and educational institutions in the area and proposes to support the outdoor movement and activities of pedestrians and residents, facilitating responsible social interactions, planned and spontaneous, and help to build engagement for other sites in Hudson Square both in person and virtually.
Dash Marshall with Public Policy Lab
Against the rush of the 24 hour news cycle and whiplash politics of the day, Dash Marshall proposes a slow space for Hudson Square. Viewsstand brings Hudson Square's history into dialogue with the present by creating a newsstand on Little 6th Avenue and converting the street to a plaza of reflection and conversation.
Selection Committee ↓
Thank you to our amazing jury from the Urban Design Forum's network of fellows.
Ellen Baer (Hudson Square BID); Tommy Craig (Hines); Michelle Delk (Snøhetta); Xenia Diente (Department of Design and Construction); Jeff Hebert (HR&A); Kendal Henry (Department of Cultural Affairs); Claudia Herasme (formerly Department of City Planning); Latoya Kamdang (Moody Nolan); David Roll (Norges Bank); Sujohn Sarkar (Trinity Church); and Weston Walker (Studio Gang)