WIP Collaborative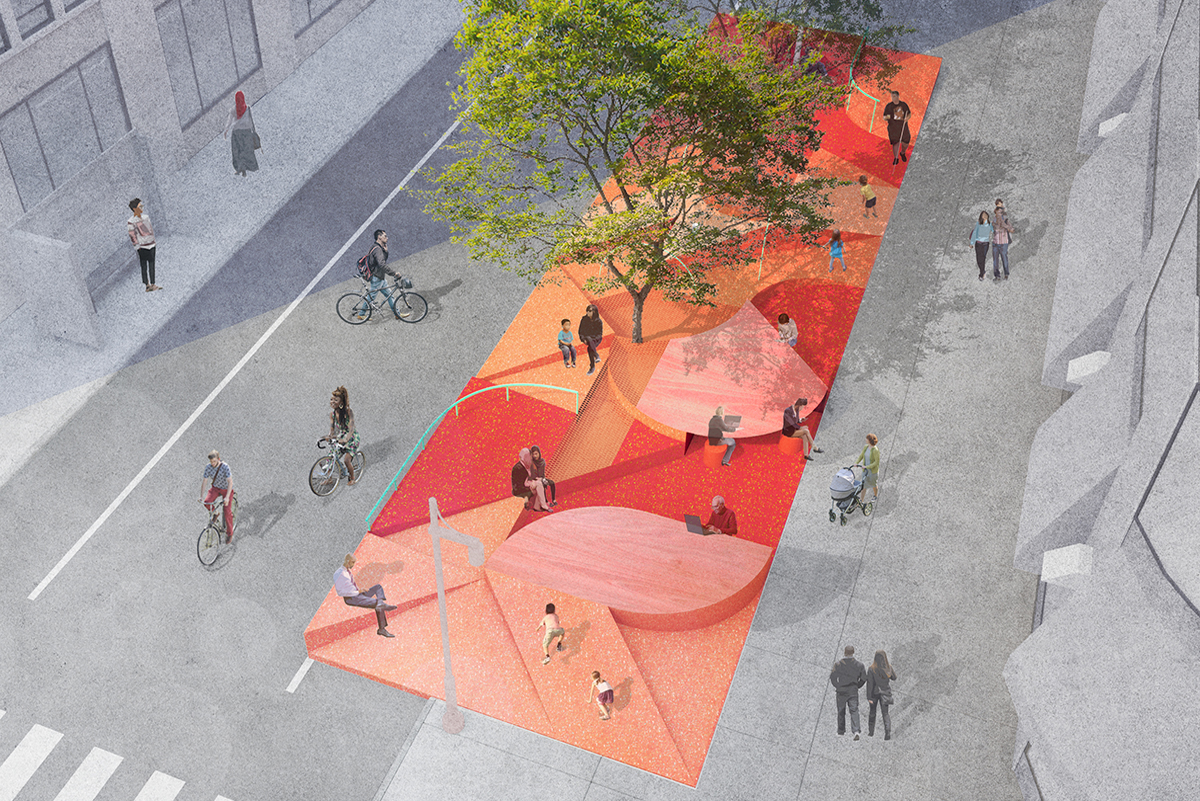 The following proposal was commissioned for Care for Hudson Square, a recovery initiative in partnership with Hudson Square Properties and Hudson Square Business Improvement District to reactivate the public realm with a placemaking installation. Urban Design Forum invited proposals to strategize using the streetscape as a site for cultural reawakening after months of social isolation on three possible sites in Hudson Square. 
Restorative Ground by WIP Collaborative proposes an installation that will act as a new destination in Hudson Square, a place for a range of experiences, activities and interactions to occur between residents, community members, and the broader public. As a dynamic platform for public life to re-emerge, the installation will create a place for individual and collective engagement, recreation, and healing. Located on King St, between Hudson and Greenwich Streets, Restorative Ground will serve as a node of activation within the network of outdoor public spaces and existing creative agencies in the neighborhood.
The design proposal draws from ongoing research by WIP Collaborative about inclusive playspaces for neurodiverse populations of all ages and abilities. Through a series of interviews with experts and self-advocates from diverse populations, WIP has gained important insights about the design of the public realm. Rather than a neutralized one-size-fits-all approach, this research has highlighted the importance of providing a range of spatial qualities – high and low stimulation, tactile materials and textures, and distinct experiential zones – in the design of a truly inclusive and supportive environment for all.
The form and materials of Restorative Ground enable a balance between a single, bold gesture and a series of differentiated environments. The overall massing of the project is a wedge, connecting between barrier height on the street side and curb height on the sidewalk side. The wedge is organized with an 8×8' grid to rationalize geometry and construction, but diagonals and arcs dance within this grid, carving and extruding dynamic shapes for seating, tables, and ramps.
Both the forms and the materials differentiate the focused, active, and calm zones, subtly indicating shifts in atmosphere through shifts in shape and texture. Recycled rubber is the primary material, bringing playful colors and textures as well as durability. But within each zone, accent materials enhance the geometry to produce different atmospheres. In the Focused zone, large curving tables with glossy paint welcome collective activities and creative collaborations, while in the Active zone, a small "peak" of sloping planes and heightened textures inspires playful exploration. Finally, the calm zone welcomes peaceful relaxation with its net hammock under the shade of a large tree.
Designed to respond to existing conditions and DOT regulations, the large gesture of the wedge creates a sectional connection between the Street Seats recommended barrier height of 36" and the sidewalk level. Geometric shapes cut into the large wedge, creating spaces for specific programs, and introducing multiple sectional options for seating and accessibility. The form is intended to be flexible to accommodate regulations and client preferences.
Lighting solutions have been carefully selected to transform the space at night while staying respectful to the environment and urban contexts. Subtle glow from integrated solar powered handrail lighting will illuminate the path as well as creating an inviting and calming atmosphere. The architectural material and forms will be enhanced by adding backlighting at perforated volumes.
The design proposal consists of thirty three 8'x8' tiles. Each tile has its own form creating a unique individual environment. The 8×8 system inspires the possibility for new configurations beyond King Street as seen at Little Sixth. Each tile is constructed with wood framing and substrate which create the base for the various materials of rubber, astroturf, wood, and metal.
WIP Collaborative is a platform that enables independent design professionals to combine their expertise and work together to realize broader impact through shared projects. Founded on feminist principles, WIP supports those who eschew patriarchal conventions and define new narratives of architectural practice through their work.
Distinct from a traditional firm built around a singular identity and authorship, WIP is centered around a way of working as an adaptable framework to meet the needs of its projects and collaborators. The WIP Collaborative team is composed of seven independent designers and their respective practices including Abby Coover (Overlay Office), Bryony Roberts (Bryony Roberts Studio), Elsa Ponce, Lindsay Harkema (WIP Studio), Ryan Brooke Thomas (Kalos Eidos), Sera Ghadaki, and Sonya Gimon.