Taller KEN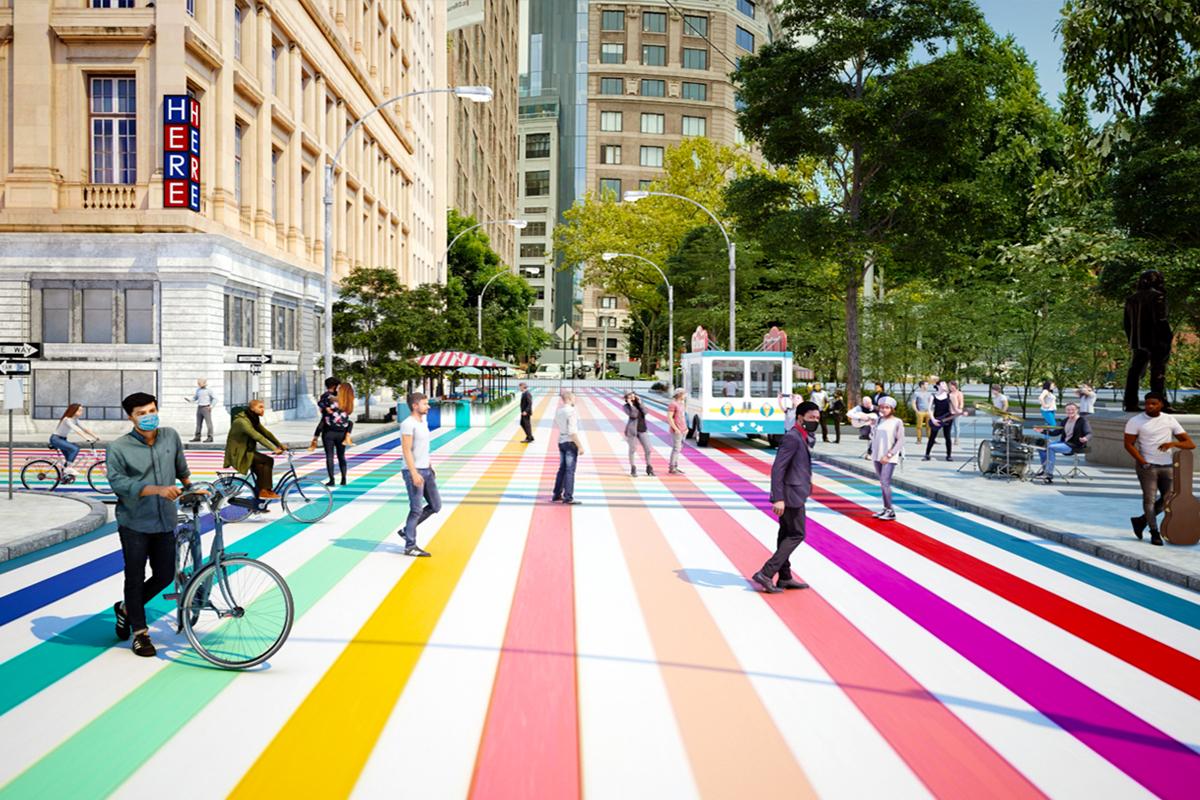 The following proposal was commissioned for Care for Hudson Square, a recovery initiative in partnership with Hudson Square Properties and Hudson Square Business Improvement District to reactivate the public realm with a placemaking installation. Urban Design Forum invited proposals to strategize using the streetscape as a site for cultural reawakening after months of social isolation on three possible sites in Hudson Square.
Our objective with Care for Hudson Square is to connect with people by enlivening the site at Little 6th Avenue between Spring and Broome streets with simple artistic means. By applying bright color stripping to the asphalt, supplemented with temporary shade tents, lighting and seating, we aim to create a playful and bold site activation that communicates vibrancy, resilience and serves as a gateway to Hudson Square.
Making connections to people and local stakeholders, including HERE performing arts organization, the Door youth organization, the Chelsea High School and NYC iSchool, is a key aspect to this process and builds on our previous experience of community outreach. Creating opportunities to include these community and educational groups in the review of the design proposal and where possible involve them directly in its construction is a great way to tie the project to the place. Specifically, hosting block-party style "painting parties" can give stakeholders a role in the execution of the site activation (health and safety permitting) and in turn presents opportunities to engage those same people in a dialogue about the potential evolution of the area, including incremental expansion to Dominick Street.
Creating a piece of public art which facilitates interaction responsibly and visually distinguishes the site should be enjoyed by everyone. As a multicultural practice, our work often reflects our diverse backgrounds using colorful, bright, graphic aesthetics. This inclusive attitude is a way of giving back to the community with a message that is playful, vital, and uplifting.
The use of colorful graphics of the site can be appreciated by a variety of groups at different scales, speeds, and importantly at all times of the day. Specifically, parklet structures with lighting at human scale is an opportunity for having a strong visual presence at night and creating a feeling of safety for Little 6th Avenue that is without the benefit of many storefronts.
We work often in the context of a developing country where "doing more with less" is a necessity. By creating a lively background for activities and providing the necessary infrastructure for lighting, sound, shade, and appropriately distanced seating, community organization can curate and use the space to ensure it stays active and safe. This flexible approach allows for a variety of scenarios to use both the street and adjacent park and for the addition over time of season elements such as shade tents, folding seating and tables to adjust the density and degree of this communal space with limited additional investment.
This strategy of placemaking at Little 6th Avenue reflects the wealth of cultural and educational institutions in the area and will support the outdoor movement and activities of pedestrians and residents, facilitating responsible social interactions, planned and spontaneous, and help to build engagement for other sites in Hudson Square both in person and virtually.
Taller KEN is a New York and Guatemala based practice focused on playful design with social relevance. Founded in 2013, by Inés Guzmán and Gregory Melitonov, the firm embraces the collaborative nature of making partnerships and connections. Incorporating a multitude of voices, our work goes beyond merely elevating elements of design to creating an architecture with broad support and appeal.