Wellness Through Urbanism: An Interview with James Nozar on Tampa's Water Street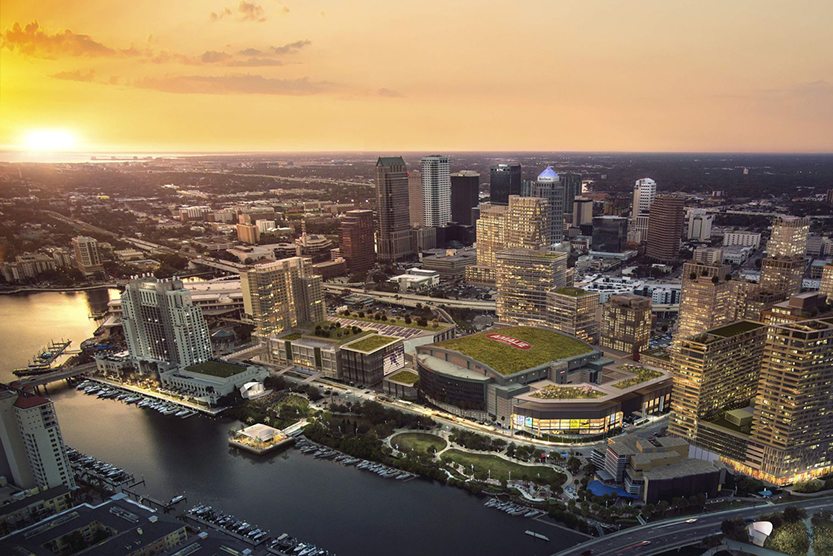 The Urban Design Forum hosted its seventh Global Exchange: Private Development, Public Good event about the mixed-use Water Street development in Tampa, Florida. Doubling the size of Tampa's downtown, Water Street reenvisions fifty-three acres of the city's underutilized waterfront as the world's first WELL-certified neighborhood. Designed to promote physical and mental health, the new neighborhood includes amenities like advanced recycling systems, outdoor physical activity programming, and a community wellness center.
Before the off-the-record event, Urban Design Forum Executive Director Daniel McPhee sat down with James Nozar, CEO of Strategic Property Partners, to discuss how he has worked collaboratively with Mayor Jane Castor to leverage Water Street's unique single investment structure to streamline design and development and build a new ground-up urban hub for Tampa.
Daniel McPhee: How did the idea for Water Street Tampa first emerge?
James Nozar: It first emerged eight or nine years ago with Jeff Vinik, one of the owners of our firm. He bought the Tampa Bay Lightning NHL team in Tampa. He saw an opportunity in the team and an opportunity in the market. He realized that to be a successful sports owner you really need to be all in on the market that you're in. We were all coming out of the recession, and some parcels around the arena in downtown Tampa became available. Before he knew it, he had amassed almost 50 acres of contiguous land around the arena.
Jeff began conducting extensive research to conceptualize the full potential for this well-located urban site on the waterfront. He knew he needed the right partner to realize that vision and so so he partnered with Cascade Investment, LLC. Both Jeff Vinik and Cascade Investment shared a long-term focus on this particular investment. They realized this long-term perspective would be necessary to truly realize a transformational opportunity in Tampa, thus a large commitment and forming a team to ensure it was done right. This is a change to the more common real estate development and investment mentality to design, entitle, develop, stabilize, then sell. We're thinking as much about what the neighborhood and our buildings look and feel like in 15 to 20 years, as we are about them at delivery.
DM: Tell me a bit about how you work with the Tampa City government. How have you worked with local officials to strengthen the project?
JN: Tampa Bay is a large market, with 3.1 million people and growing rapidly, but it still has a small-town feeling.. We're fortunate to be working closely with the Mayor and our other partners at the City on a daily basis – on things ranging from public infrastructure, to project-level entitlements, to advising on potential new policies around transportation and housing affordability. They are true collaborators and we all share the same goals around improving the lives of the citizens in our community to create a better quality of life, and hence value, for everyone. We are also dealing with Hillsborough County, that Tampa sits within, and with the state quite a bit. And, of course, we're actively involved with the Tampa Bay Economic Development Council, the Tampa Bay Chamber, and a host of other local community and civic organizations. The Mayor, the economic development team within the City, and the City Planning team have all been intimately involved.
We've been an active part of dozens and dozens of meetings over the years where the City and community have just thrown out ideas. It's an iterative process where we've fed off of each other, thinking about what the City's goals are for the urban core and surrounding neighborhoods and communitiesWe're one of many vested stakeholders who have an active seat at that table and it is exciting to be a part of that collaborative process.
DM: What do you think motivates the City the most? Is it really about reconnecting the downtown? Is it about building a new job center, or creating a new entertainment district?
JN: Like us at SPP, I think they're looking to shape the inevitable growth of Tampa sustainably. The City and larger region has definitely had its ups and downs over the years, but over the last 10 years the economy has significantly matured and diversified. There's a lot of investment coming into the market and the City has smartly been looking at how to best grow and sustain that. Particularly over the last couple of decades, the City has also invested heavily in the downtown core and waterfront, including anchors like the Tampa Riverwalk, which is a two-and-a-half mile trail on the Waterfront, to Curtis Hickson Park, to the Convention Center, to Amalie Arena, to the History Center, to the Florida Aquarium. There's now a very nice 'necklace' of activity that's proven to be very popular to residents and visitors alike, which has spurred private investments in the surrounding areas.
Until recently, a lot of public investments have been made in Tampa's downtown, but private investment lagged. With the City's support in helping us create new infrastructure and a connected public realm, we've been able to create a market-driven mix of building uses along new tree-lined streets with active ground-floor uses in a previously blighted area of the City's urban core. This is creating new housing, new office space housing new jobs, places to be entertained and recreate, and an amenity base for the existing surrounding workers and residents. We've been able to partner our resources with their goals and vision to make all of this a reality.
DM: What do Tampanians think about the project?
JN: We've had very strong support from the broader community over the years. People are excited to see progress in an area that was largely forgotten over the years, and that nobody is being displaced in the process. It does helps that it's a very transformative and visible project, currently with about a dozen cranes dotting the skyline. We also have this wonderful existing anchor—Amalie Arena—that in addition to housing the Tampa Bay Lightning NHL team, is one of the busiest concert venues in the country. The Lightning are incredibly popular locally and are seen as a broader anchor for the community, that we're fortunate to be connected to. So, there are already a lot of people coming in and out of the neighborhood quite often, who are able to see the progress and feel like part of the transformation of their City. Tampanians are watching this in real time and the excitement is palpable.
DM: I imagine there was a lot of community consultation around the project at a city-wide level. Were there certain things that you changed because of that consultation?
JN: Yeah, over the years we have had several hundred community meetings as part of the project. We're also at the table during other community and civic association meetings – just learning and listening.
Naturally, some people question the scale and need for so much new space at one time and have concerns about the neighborhood 'pricing out' many in the broader community. We are building quite a lot of new retail and office space in downtown Tampa, which hasn't seen a lot of new commercial uses built over the past 25 years. But, with all the surrounding and new residences and focus on high-quality new buildings, we're seeing quite a lot of interest from local and national tenants. We're ahead of where we thought we'd be at this time. We're also trying to be very thoughtful about the mix and type of new residential, office and retail space we're creating – making more flexible and efficient spaces for a diverse audience.
In response to dialogue about the lack of gathering places in Tampa, last year, we also opened Sparkman Wharf, which has been an incredibly popular 1-acre open-air community gathering place along the waterfront that's open to all. It includes a beer garden and ten shipping containers housing various food options, an outdoor bandshell and large-screen video wall. We have programmed everything from mommy yoga, to athletic competitions, to movie nights and live music. So, I think people are seeing that the opportunity to create something really special, even at this scale, is very possible
DM: This project is going to earn the first WELL Community Standards Certification. Why did you decide to go all in on wellness?
JN: For us, a focus on wellness is really just about being responsible long-term owners of real estate. From the outset, we planned on creating comfortable outdoor spaces, walkable blocks, open air spaces, diverse areas for recreation, and designing with wellness in mind. Our vision naturally aligned with the WELL designation.
For us, a focus on wellness is really just about being responsible long-term owners of real estate.
Our owners, Jeff Vinik and Cascade Investment, LLC are invested quite heavily in wellness. Their interest allowed us to pilot a lot of these things. We were very active in the formulation of what became the WELL Community Standard —helping pilot tests to figure out how to make the standard work in a practical sense.
We are also pursuing WELL certification on a number of the new buildings underway, and LEED certifications at the building and neighborhood-level. Again, the reason is because we believe there is great alignment in the objectives and criteria of these certifications with our long-term vision for the neighborhood and those who will live, work and visit here daily.
DM: Beyond its marketing value, wellness is something that I think everyone can agree on. How did it translate to the design, or push you further than you normally would have gone?
JN: It made us consider every single detail, especially on the programming side — the use of the spaces and offering a variety of spaces for the community. We're opening a Wellness Center with features like a demonstration kitchen that will be programmed with regular chef-led classes that will provide education on healthy cooking options that will be open for anyone to use, as well as having filtered water bottle refilling stations and regular farmer's markets. .
Wellness also informed the mix of retailers we are bringing to Water Street Tampa. It's incredibly diverse, but also neighborhood-driven. Think about the programming and activation I mentioned —like mommy yoga at Sparkman Wharf. That kind of programming has opened up the project to audiences who may not have otherwise interacted with it.
DM: It seems like a natural fit for Florida where people are looking to live well. Beyond the wellness focus, in your materials, you have promoted smart city technologies and developments that anticipate technology. With projects of this timeline, it's hard to even imagine what 10 years from now will look like. How did you forecast what technologies are going to be useful, and, and how did that shape the design?
JN: It's kind of impossible! 10 years ago, the iPhone had just been created. And everybody was designing docking stations in their apartments to listen to their music.
For us, it's more about the backbone. We've had the benefit of recreating the entire road network through downtown Tampa and putting in the utilities and all new infrastructure. We put in miles of conduit and miles of fiber, making the entire district very well-connected below the ground.
All the buildings will speak to each other, from building management systems to security and access control. You've seen this done in other masterplans —Hudson Yards has done quite a bit. We're trying to be very careful in order to understand the privacy concerns. It's not our intent to get in and control someone's day-to-day. Instead we think about things like mobility: How do you get here and around here? How does that tie into parking structures or payments? What about programming and activation? That's how we're looking at it—to reduce friction in the day-to-day life of people living, working and interacting with the district.
DM: It is amazing to see the emerging tension between privacy concerns and the flexibility that technology can allow. I'm sure that you are wrestling with it in some way.
JN: We aren't thinking of Water Street Tampa as a "smart city" because our intent is not to be farming data. We are leveraging technology to enhance efficiency and the everyday experience. We think it would be irresponsible for us to not take advantage of the great synergies we can have and these connectivity tools when we are building from scratch.
DM: I know you are also kind of constrained by the expressway. How are you envisioning transportation to and within the area?
JN: It is a natural barrier. Because it's elevated, there are ways to create some porosity between it and downtown. We own land on both sides of it, so creating that linkage between the traditional downtown and the neighborhoods around is important to us.
We recently bought a flour mill on the north end of our property that had been in operations since the 1930s, and they're relocating further south along the port. With that flour mill came rail lines that connect to all the places that you would want rail to connect to in Tampa—the airport, downtown, up to the University of South Florida. The rights-of-way are all there.
Also, we're spending quite a bit of time creating East-West and North-South linkages for a pedestrian, bicycle, and vehicular street network.
DM: Yeah, it's something that New York is wrestling with: how to connect neighborhoods that are really divided by elevated infrastructure like expressways or old subway lines.
I want to talk a little about the financing, because it's super interesting. It's so rare to have a single financier leading this kind of major urban development. What kind of flexibility does that give you?
JN: We're very fortunate to have great capital partners and owners. They own the company, as well as all the real estate. So you eliminate traditional challenges between fiduciary duties that you would otherwise have—such as when you have different capitalization on different assets within the project.
We're able to look at everything with one bottom line across the company's entire portfolio, which allows us to think creatively about anchors and retail. Retail amounts to 6% of our overall floor area, but it's driving a lot of our value across the entire neighborhood. Being able to decide what is the right type of retail or merchandising mix for the long-term success of the overall project—versus being focused on a certain credit tenant, or rent on day one—is one example of the flexibility.
Overall, the financing situation allows us to do what we think is right for the long term. To think about the long-term operations of the project, value, growth, and doing something the right way—it's changed the entire approach, and it's even led to the type of people we have on our team.
DM: I also can't help but notice that you've recruited New York and Boston firms to do the work. How does architectural excellence factor into your plan?
JN: When we came down to Tampa, we were looking for an overall vision for Water Street. It came down to things like: We live in a city that has a wonderful climate with 307 days of sun every single year, people lead a very active indoor-outdoor lifestyle, and we live in a very green atmosphere. People don't talk about Tampa as having Live Oak trees and Spanish Moss, but we do! And that really led us to a team of architects and collaborators – locally and abroad – that understood depth and context and integration of greenery into their buildings. The firms that we're working with—like COOKFOX, Elkus Manfredi, Reed Hilderbrand, Nelson Byrd Woltz, KPF, Morris Adjmi, Gensler—all spoke that language.
DM: Okay, one last question: New York City is thinking seriously about how to change up the way it does waterfront planning. I'm curious: what would you advise New York City to think about?
JN: I'd suggest considering how waterfront development can better open up to the surrounding neighborhoods. How can the buildings be designed to interact with the wider community, rather than create privatized little fiefdoms? Developers can tend to think very insularly about their specific projects, which can lead to disjointed and uncoordinated buildings and neighborhoods. The City can take a strong role in guiding planning for the greater good of the community it serves.
For more information about Water Street, please visit their site.