Announcing Neighborhoods Now: Forward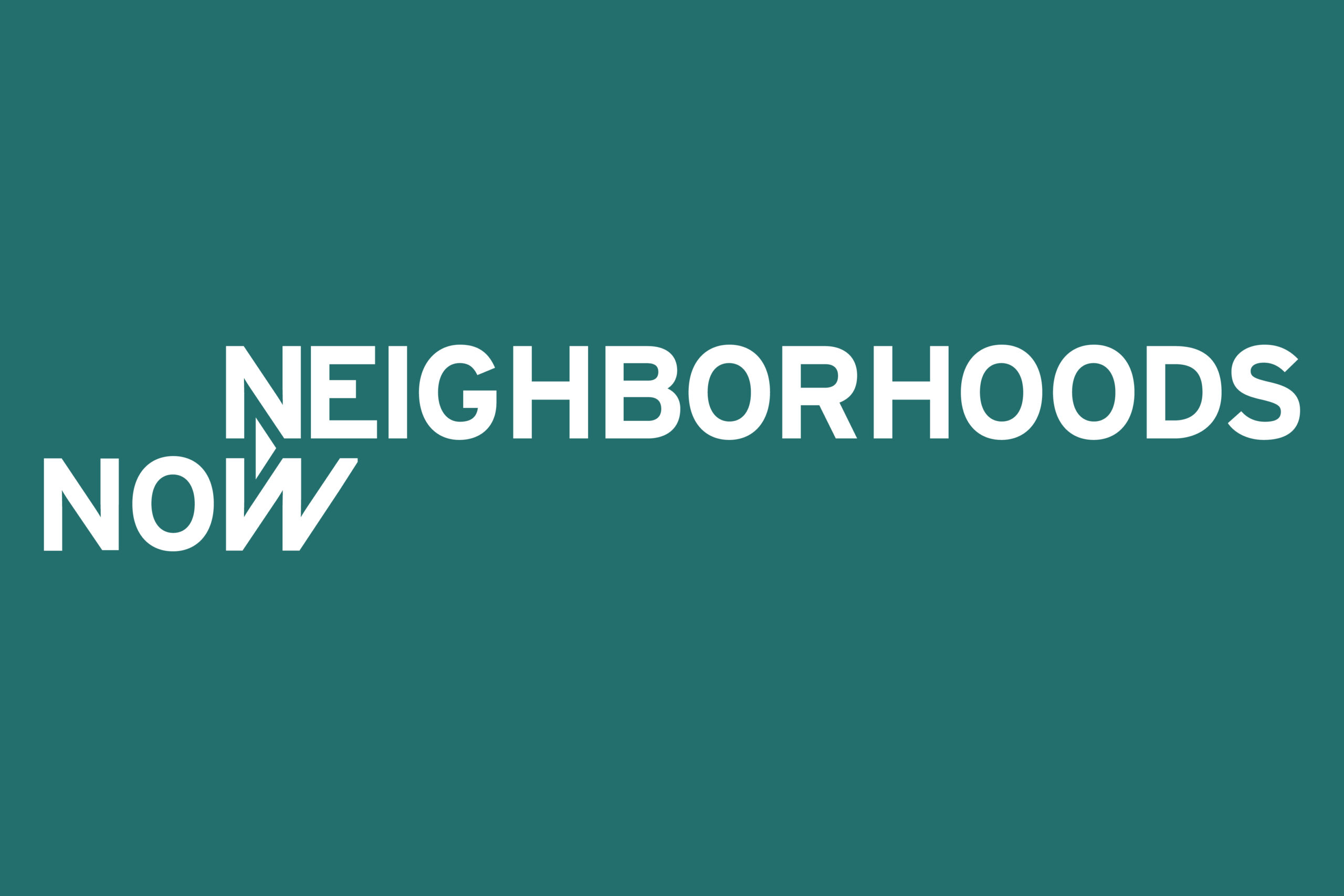 Supported by a grant from Wells Fargo, seven community-based teams will lead long-term recovery at the neighborhood scale
(New York City—March 16, 2022) — The Urban Design Forum and Van Alen Institute announce a new cycle of Neighborhoods Now, their initiative launched in spring 2020 to support local NYC organizations leading their communities' pandemic recovery. Under the heading Neighborhoods Now: Forward, the initiative will extend through the end of 2022 and transition from rapid, tactical responses to long-term recovery strategies on a wider scale. Led by community organizations, seven interdisciplinary teams will enliven and program public space, provide technical support to small businesses, and strengthen cultural activities.
Across four boroughs, teams are led by the 82nd Street Partnership; Asian Americans for Equality and Think!Chinatown; Bed-Stuy Gateway BID; Bedford Stuyvesant Restoration Corporation; Community League of the Heights; FABnyc; and the Northwest Bronx Community & Clergy Coalition. Building on the lasting partnerships forged over the past two years, these community partners will collaborate with architecture, design, economic development, legal, and planning firms. 14 firms are continuing their engagement with the initiative; firms new to the initiative include Barretto Consulting, Beyer Blinder Belle, BJH Advisors, Dash Marshall, HLW Architects, Gehl Studio, MA'AM, NHDM, Smart Design, and The Working Assembly.
Neighborhoods Now: Forward is made possible through a grant from Wells Fargo's Open for Business Fund. With yearlong funding in place, each team is developing projects to build long-term resiliency in neighborhood economies. To strengthen learnings across communities, teams will also meet up throughout the year to exchange their experiences and spark creativity.
"Neighborhoods Now started as a design sprint, and it's evolved — beyond our wildest expectations — into a platform for enduring partnerships and collective activism," said Deborah Marton, Executive Director, Van Alen Institute. "We're immensely grateful to Wells Fargo for making this level of strategic planning possible by recognizing that communities need to drive their own recovery and futures."
"Collaborating with our brilliant community partners has reassured me that the future of New York City is bright," said Daniel McPhee, Executive Director, Urban Design Forum. "We are delighted that our members are continuing to help small businesses and cultural organizations recover from the pandemic and thrive."
"Working with Neighborhoods Now and the Wells Fargo team has been a great support and opportunity for Bed-Stuy Gateway BID," said Ms. Dale Charles, Executive Director, Bed-Stuy Gateway BID. "These relationships have allowed us to engage, support, and give opportunities to the small businesses of our commercial corridors struggling because of COVID-19. This process has brought the community together in so many ways, culminating in our annual Winter Wonderland holiday market."
"Last year, through the process of developing our Vision Plan with the Neighborhoods Now team, FABnyc was able to think deeply about how we could bring together three goals — supporting local cultural organizations, activating public spaces, and advancing cultural equity — into a single vision," said Ryan Gilliam, Executive Director, FABnyc. "I'm very excited this year to be creating tools with our team to move that plan forward, building our capacity to activate public space, collaborate with community partners, and engage local artists and cultural organizations."
"We are excited to embark on a new phase of Neighborhoods Now to build upon our Chinatown Nights festival to make it into a sustained cultural night market for Chinatown and beyond," said Thomas Yu, Executive Director, Asian Americans for Equality.
Added Yin Kong, Executive Director, Think!Chinatown, "Working together with neighboring organizations and designers has catalyzed rooted change that can be seen in our free cultural programming. The spirit of Neighborhoods Now shines at Chinatown Nights."
"New York's small businesses and cultural organizations have been hit especially hard by the Covid-19 pandemic, and neighborhoods where many business owners, entrepreneurs and employees live and work have been severely affected," said Catherine Domenech, Senior Social Impact & Sustainability Specialist at Wells Fargo. "Now more than ever, we are actively investing in the communities we serve and providing meaningful support and resources for the places that need it the most. Wells Fargo is proud to partner with the Urban Design Forum and Van Alen Institute on the Neighborhoods Now initiative, which will help many New Yorkers get back on their feet and accelerate their communities' pandemic recovery."
---
Neighborhoods Now: Forward Teams and Projects
JACKSON HEIGHTS, QUEENS
Community lead: 82nd Street Partnership
Team: nARCHITECTS; SO-IL; MA'AM; N H D M
The Jackson Heights team will create a roadmap for the 82nd Street commercial corridor to rebuild from the pandemic. Jackson Heights' Dunningham Triangle is at the center of this goal, envisioned as a safer, welcoming space for children and families that encourages foot traffic to nearby small businesses.
CHINATOWN, MANHATTAN
Community leads: Asian Americans for Equality (AAFE) and Think!Chinatown (T!C)
Team: Joseph J. Barretto, Barretto Consulting; di Domenico + Partners; Leroy Street Studio; The Working Assembly
The Chinatown team will expand the night market Chinatown Nights — launched at Forsyth Plaza in 2021 with support of Neighborhoods Now — through new community outreach and a redesign to accommodate a wider array of food and arts vendors. They will also work with designers to transform a vacant storefront owned by AAFE into a cultural workshop space for T!C's ongoing public programming, gathering and organizing work for the Chinatown community.
BED-STUY, BROOKLYN
Community lead: Bed-Stuy Gateway BID
Team: Moody Nolan; Dash Marshall
The Gateway BID team will build on Winter Wonderland, an open-air holiday market supporting local small businesses launched through Neighborhoods Now. After two successful pilot markets in 2020 and 2021, the BID hopes to build this event into a hallmark of holiday activities in Central Brooklyn that strengthens Bed-Stuy's social cohesion.
Community lead: Bedford Stuyvesant Restoration Corporation (Restoration)
Team: Farzana Gandhi Design Studio; James Corner Field Operations; KPF
The Restoration team will develop new financial and spatial resources for the Brooklyn Business Center (BBC) at Restoration, in order to support small businesses in Brooklyn and build BBC's capacity to share compelling success stories that inspire other local entrepreneurs.
KINGSBRIDGE, BRONX
Community lead: Northwest Bronx Community & Clergy Coalition (NWBCCC)
Team: Dattner Architects; Scalar Architecture
The Kingsbridge team aims to complete a neighborhood assessment to understand the current challenges and long-term opportunities for small businesses and tenants along Kingsbridge Avenue & Jerome Avenue. The assessment will lead into an action plan to support the community and avoid displacement, centering the community at each phase of the process.
LOWER EAST SIDE, MANHATTAN
Community lead: FABnyc
Team: DLR Group, Marvel, Smart Design
Having completed FABnyc's 20/20 Vision Plan through Neighborhoods Now, the Lower East Side team aims to strengthen existing and new sites for cultural activity. They aim to build on existing Open Streets programming, expand the Open Arts Lower East Side event to build sustainability, and create long-term strategic plans for new sites and platforms.
WASHINGTON HEIGHTS, MANHATTAN
Community lead: Community League of the Heights (CLOTH)
Team: Beyer Blinder Belle, BJH Advisors, HLW
The Washington Heights team will conduct a needs assessment of businesses to help create a thriving and vibrant commercial corridor. The team will also provide technical support for small businesses who need to update their facades and improve their interior layouts.
WRAPAROUND EXPERTISE
As needs arise, legal firm Fried Frank, community development and research firm Gehl Studio, and graphic design studio Pentagram will support each team.
---
About Urban Design Forum
Urban Design Forum mobilizes civic leaders to confront the defining issues facing New York City's built environment. We are an independent membership organization that empowers professionals of diverse backgrounds, industries and perspectives to shape a better future for all New Yorkers. We investigate complex challenges in the built environment, study alternative approaches from cities around the world, and advance progressive strategies to build a more dynamic and democratic city.
See all work at urbandesignforum.org.
About Van Alen Institute
Van Alen Institute helps create equitable cities through inclusive design. In an equitable city, every person is civically engaged, regardless of income or personal circumstances. To achieve that goal, inclusive design supports a community-driven public realm.
For more than 125 years, our purposeful community engagement, convening capacity, and global interdisciplinary network have produced profound transformations in the public realm of New York City and beyond. With a core belief in an interdisciplinary approach to design, the Van Alen team has backgrounds in architecture, urban planning, public health, civic advocacy, community engagement, and arts and culture.
See all work at vanalen.org.