Unify Our Regional Rail Networks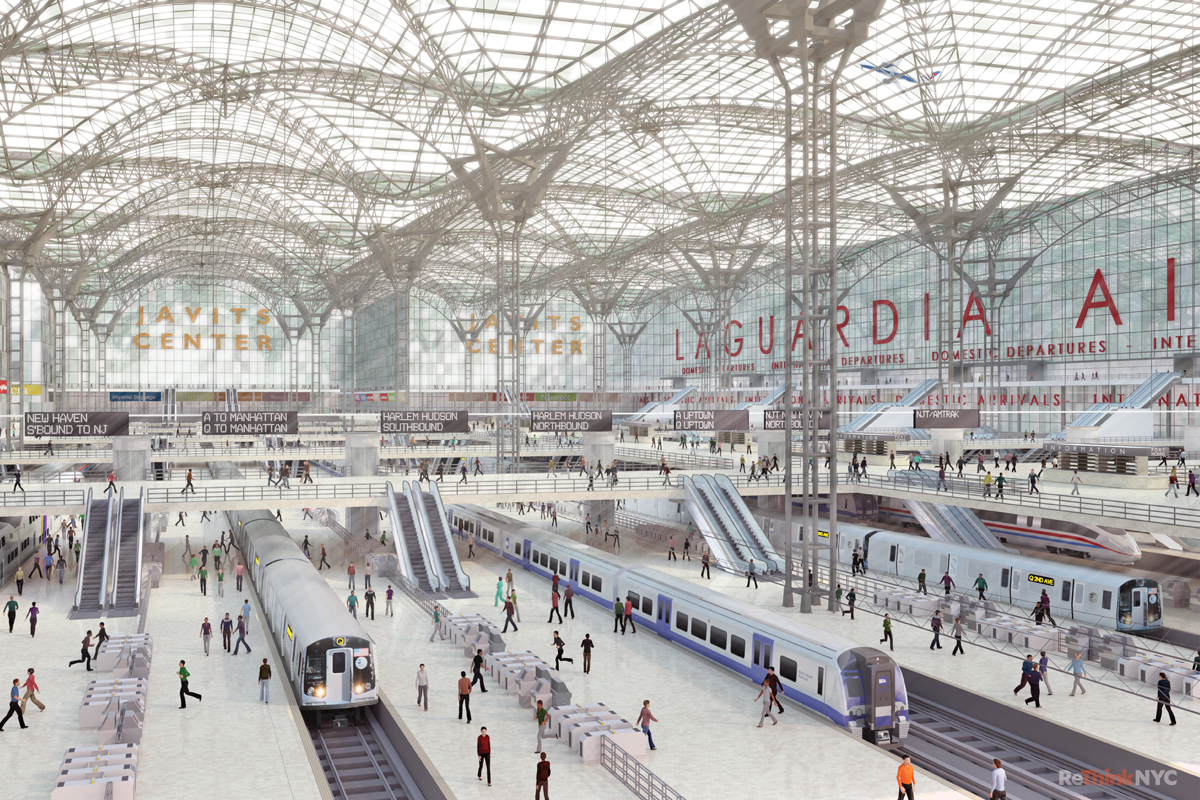 The New York metropolitan region is in the middle of a profound mobility crisis. Our transit system can't adequately accommodate current demand, much less projected growth. New York needs holistic regional planning that not only provides outlying areas "access to the region's core"—but also expands the region's core. We need to give the access that currently exists only in Midtown Manhattan to a far wider swathe of the metropolitan region.
We could unify the region's mass transit networks into an interconnected system that no longer depends on a single center. Imagine if New Jersey Transit, Metro North, and the Long Island Rail Road operated together as a Regional Unified Network (RUN). By repurposing existing infrastructure and updating historic transportation proposals, we can allow travelers to get from anywhere in the entire region to everywhere else via mass transit, either directly or with seamless and easy connections.
Here is how it would work:
First, we propose connecting Long Island Rail Road, Metro-North, and New Jersey Transit to allow new service patterns and greater access to outlying areas.
Second, we propose fixing Penn Station by establishing a through-running service, which will make operation of Penn Station and train movements more efficient. This in turn will increase train capacity, let trains run to more destinations, and create a more pleasant experience for riders.
Finally, we propose building new multimodal transit hubs outside of Manhattan at Secaucus, Sunnyside and Port Morris. Every suburban transit line in the region would service these hubs, enhancing connectivity to New Jersey, Queens and the Bronx. And terminal functions, poorly handled by Penn Station today, could be more thoroughly distributed among the new stations.
We can begin to fund RUN by reallocating the funding proposed for Amtrak's Gateway Program for a new terminal one block south of the existing Penn Station.
We need to rethink New York City's transportation system to make it possible to get from anywhere to everywhere.
Our plan is motivated by a simple premise: with a few targeted, critical investments, New York can build a world-class regional transportation network and far more locations across the region would have the benefits you can only find in Midtown today. RUN is a more efficient solution—both financially and in its capacity to serve the whole region—than the litany of smaller projects being advanced today.
–
Jim Venturi is the founder and principal designer of ReThinkNYC. Through his experiences in information technology, planning and architecture, Venturi focuses on solving the infrastructural, social and economic challenges of transportation planning.