Turning the Heat: Resiliency in New York City's Heat-Vulnerable Neighborhoods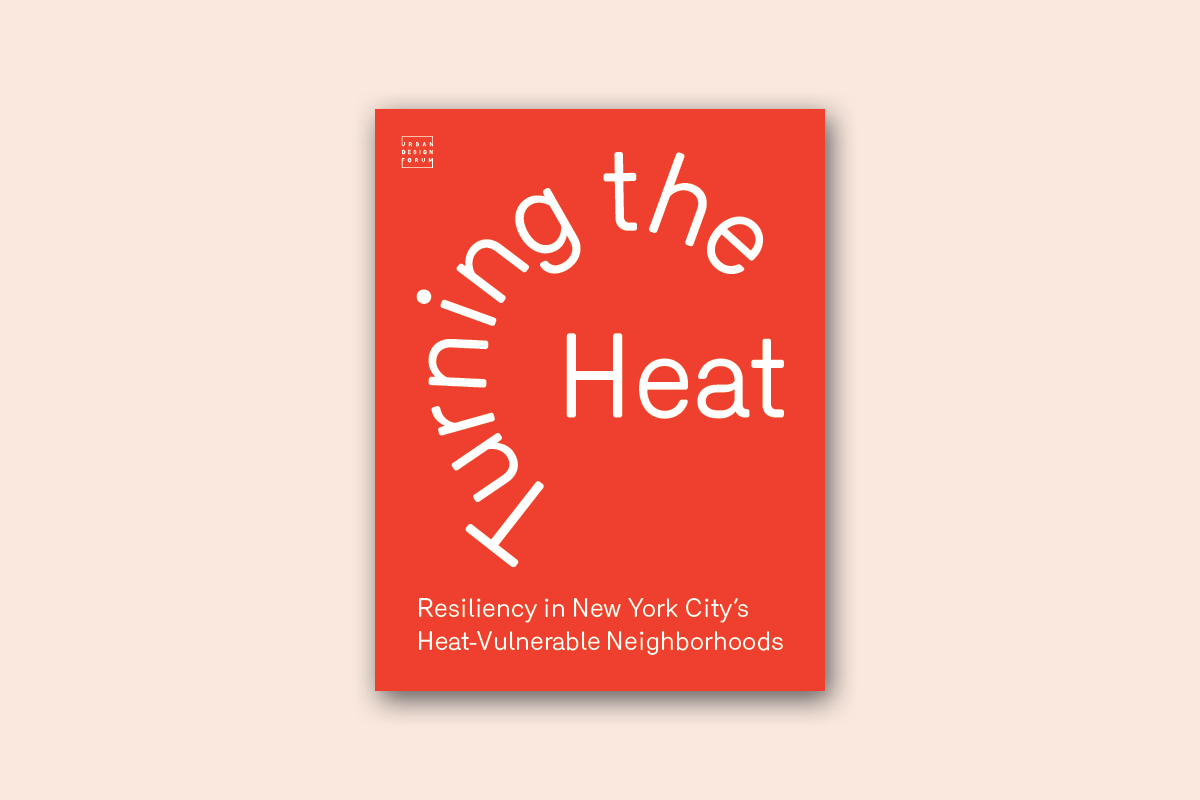 Today, the Urban Design Forum released Turning the Heat: Resiliency in New York City's Heat-Vulnerable Neighborhoods, a compilation of recommendations for addressing the threat of extreme heat through the built environment.
This report emerges from the Urban Design Forum's partnership with the Mayor's Office of Resiliency to research how urban design can mitigate the impacts of extreme heat in New York City's most heat-vulnerable neighborhoods. In the summer of 2019, the Forum convened a diverse group of 25 emerging leaders—from resiliency experts to environmental justice advocates to landscape architects and more—to tackle this challenge through the Forefront Fellowship.
Fellows spent three months studying diverse building typologies, surveying five neighborhoods, and interviewing nearly 40 New York-based and international stakeholders to produce recommendations for strengthening heat resiliency across the city.
"The built environment of New York City is a vast and ever-changing landscape, and our climate adaptation efforts must reflect the complexity of our city," said Jainey Bavishi, Director of the Mayor's Office of Resiliency. "As extreme heat interacts with the COVID-19 pandemic this summer, the innovation and creativity of the design community is more important than ever. We look forward to building on our collaboration with the Urban Design Forum to create a safer, healthier, and more equitable future."
The report highlights strategies to expand existing programs, adopt proven best practices, and pilot creative solutions. Recommendations range from introducing cool walls and green facades, to transforming pedestrian transit corridors around NYCHA campuses into cool corridors, to mandating maximum indoor temperatures. Creative proposals include establishing informal cooling centers in existing spaces, deploying cool-down pop-ups to heat-vulnerable neighborhoods, and naming heat waves to enhance awareness.
The Forum releases this report as New York faces the enormous public health and economic crises posed by the coronavirus pandemic. The pandemic has hit hardest in communities of color and low-income communities—many of the same neighborhoods that face the worst impacts of climate change, including extreme heat.
"We can keep New Yorkers safe in summertime and build a healthier city in the process," said Daniel McPhee, Executive Director of the Urban Design Forum. "Turning the Heat provides a playbook for designers, policymakers, and community leaders to focus on the neighborhoods at highest risk today."
Authors
Digser Abreu
Lida Aljabar
Abraham Bendheim
Cyrus Blankinship
Brandon Cappellari
Eileen Chen
Renée Crowley
Rhonda-Lee Davis
Dorraine Duncan
Lydia Gaby
Annemarie Gray
Gregory Harasym
Mike Harrington
Michael Izzo
Catherine Joseph
Gloria Lau
Amy Macdonald
Rebecca Macklis
Amritha Mahesh
Pallavi Mantha
Kathy Mu
Manuela Powidayko
Jill Schmidt
Mallory Taub
Autumn Visconti
Editors
George Piazza
Katherine Sacco
Editorial Support
Julia Bontempo
Andrew Pasquier
Daniel McPhee
Design
Partners & Partners
View the Posters
To accompany the report, we are pleased to release a series of six posters illustrating some of the most creative strategies our Fellows have proposed. View the posters.