Turning the Heat: An Interview with Chloe Arnow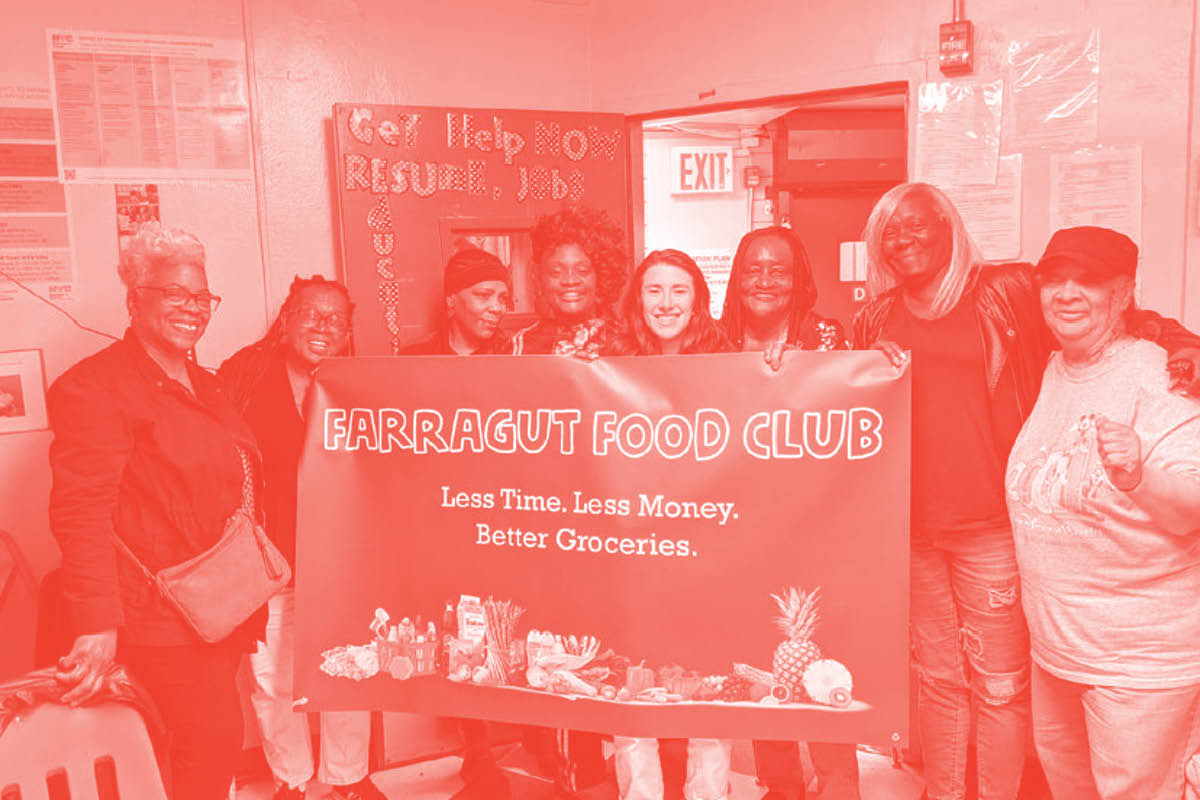 The Urban Design Forum's 2019 Forefront Fellowship, Turning the Heat, addressed ways urban practitioners can advance climate justice principles across New York City. In partnership with the Mayor's Office of Resiliency, Fellows surveyed neighborhoods, studied buildings, interviewed local and international stakeholders, and produced creative research on mitigating heat. Fellows developed original design and policy proposals on creating circular economic and sustainable models in NYC, developing community resiliency within NYCHA housing, factoring design into preventative care, and establishing a climate first approach to housing which we are pleased to publish alongside interviews with leading experts.
The following interview with Chloe Arnow, Project Manager at Enterprise Community Partners, accompanies Community Resiliency. Read the full set of Turning the Heat proposals and interviews here.
Dorraine Duncan: Could you talk about what Enterprise Community Partners is and your role there?
Chloe Arnow: Enterprise is a national affordable housing organization and has been around for 40+ years. We have an investment arm, we have a policy arm, and we have a program arm. I work on the program side with the public housing team.
Previously, I was working in different aspects of kind of food systems, and came into housing interested in the food conditions of the communities that we serve. I realized it was an untapped area of opportunity for the programmatic model that Enterprise used to create healthy and connected communities.
We have a strong health and housing platform so I started advocating for including food conditions as part of how we define health and housing. In 2014, Enterprise produced a report that outlined a number of barriers that public housing residents face with food access and affordability. NYC has one of the most prolific delivery infrastructures in the world. Time is money and for low income New Yorkers, time is even more so, money. More and more folks are getting groceries delivered, but because of a number of barriers, public housing residents typically have been locked out from the usage of this.
More and more folks are getting groceries delivered, but because of a number of barriers, public housing residents typically have been locked out from the usage of this.
How can housing be used as a platform to address some of the food insecurity?
DD: In 2019, Enterprise organized a pilot project for NYCHA residents to access grocery delivery using Supplemental Nutrition Assistance Program (SNAP) benefits. What sparked this pilot project at the Farragut Houses?
CA: The footprint of public housing overlays perfectly in New York City with the most food insecure conditions. The population that lives within NYCHA is the same as the population of Atlanta, Georgia—500,000+ people. They should actually be some of the most powerful consumers in New York City with a customer segment of that size. But these are the consumers with the least power. They have been completely isolated and cut off from quality goods and services, including access to quality, affordable groceries.
There is now a wave of corporations that are turning their attention to tapping the low-income market as the last frontier. How do we ensure that residents as users are represented at the table to negotiate the maximum benefit and set the terms of those relationships as they begin to form? We started fundraising around our idea and gained a good amount of funder interest. We then started building a project team of Enterprise, the Fund for Public Housing, NYCHA, and the CUNY Urban Food Policy Institute as our evaluators. We raised around $400,000 over 11 months. In August of 2018, the project team kicked off the site selection process and narrowed down from six hundred prospective sites to the Farragut Houses. To do that, we created a massive scorecard of criteria, aggregating data on all of the developments and Farragut came out on top.
DD: Could you speak to what criteria you used to look for which complex to look to work with?
CA: We looked at demographics and made sure that the development was representative of other NYCHA developments. For example, making sure there wasn't a disproportionate ratio of seniors to youth. Another criteria within the long list was making sure that the food conditions in the community were not extreme one way or the other. In August 2018, we decided on Farragut and then in October 2018, we started going on site to engage and recruit residents. The pilot was really founded on a philosophy of user-centered design. When users design solutions, they're exponentially more effective and outcomes are exponentially more impactful. We brought these general hypotheses, resources and expertise to the table for the residents of Farragut to design their own food access and affordability solution.
Our first job was to create relationships and build trust with influencers in the community, whether that's the Tenant Association or people who are known to be involved in different organizing efforts. We started to work with Brooklyn Community Services– they are the local operators of the community center at Farragut and they work in a number of different NYCHA communities. They assisted us with the recruitment events and met every Thursday for seven months. We landed with a Leadership Committee of seven residents who would operate the club. Currently, four of the original leaders remain and two new leaders are coming on board. The residents then used our expertise to create a service model that worked for them.
They chose to work with Amazon as it was one of three firms that have the rights to pilot the rollout of online SNAP benefits in New York City. Walmart was not an option as they do not have physical stores in NYC and theirs is a store based model. Wakefern was unresponsive. The residents chose Amazon because, if they're buying groceries online, it's an absolute necessity for a majority of the population to be able to use their SNAP and Amazon was responsive and eager to partner.
In the partnership with Amazon, the residents pointed out a number of usage and access barriers that needed to be solved in order for online delivery to be successful. In public housing developments, there are no door personnel to accept deliveries. If you're not home, there's no safe, secure delivery infrastructure that's flexible for pickup at your convenience. No one wants fresh groceries sitting on your doormat while you are at work. Also, for seniors or other homebound individuals, there was a lack of comfort to open the door for delivery personnel that they didn't know.
Virginia, the director of distribution, received all the orders at the community center. We have a commercial fridge and we have a lock storage. She receives all the deliveries, sorts them, makes sure they're stored equally, and keeps them fresh. She also coordinates either a familiar face to make the home delivery or she coordinates a convenient pickup time for folks to come to the community center.
The other barriers that had to be addressed in the partnership with Amazon were all of the fees with buying groceries online and getting them delivered. The Farragut Food Club said we need the Prime membership fee waived and delivery minimums lowered. Amazon eliminated minimums in all grocery categories except Amazon Fresh. They also requested that the packages come at a desired day and at a desired time. Amazon built out an aggregation mechanism to ensure all the packages came in an efficient manner. Service is also provided with their second partner, which they selected as Western Beef. The residents love the price and quality, and wanted to be able to get that delivered. That partnership is actually made possible through a third party. Instacart also agreed to waive the membership fees and the delivery fees, and they deliver the Western Beef groceries to the food club.
There's a ton of computer literacy and digital equity issues that go into enabling this population to take advantage of online SNAP and grocery delivery. The food club helps people register, make Amazon or Instacart accounts, make an email to make those accounts, and make sure folks have access to a computer, either in the computer lab of the community center or using a hotspot in their home. An important role is also assisting members in price comparisons and other bargain hunting tactics which are not easy to navigate on Amazon's platform. They will also go and make home visits to make sure that people know how to use their EBT card on Amazon. There's a wealth of computer literacy training that needs to happen to connect these dots.
DD: This is an amazing program. What kind of metrics are you using to evaluate the impact? Are cost-saving or timesaving metrics taken into account?
CA: From July to November, we operated the prototype. During that time, over 250 orders had gone through the club. We had originally had metrics of serving 30 to 50 people in that window, but we don't actually know how many unique users are in that 250 number because Amazon didn't give that to us. Still, 250 orders going through was far beyond kind of our metrics of success.
Having such a short pilot didn't give us the ability to measure health outcomes. However, I think we all agree on the philosophy that if people can afford healthy food and it is very convenient for them, their chances of actually making healthier choices go up.
In terms of actually quantifying the time and money saved, we know that people who shop are using an entire Saturday to get onto trains and a bus to go to your Costco or BJs, or go and bargain hunt at four different supermarkets, and then pay to transport groceries with a car service. We know for a fact that this intervention eliminates that time and those transportation costs for folks. If you compare that to the 30 minutes that it takes someone to shop online, time savings there is helpful. We did see that the price points aren't radically different, so I think the money savings really comes with the lack of need to pay for transportation going to and from the store.
How do you actually quantify those values? How do you quantify being able to spend a whole day with your family? In the long run, it's going to be interesting to see how we can quantify time and money savings that we see over a longer period of time.
DD: As this pilot study moves on and you begin assessing it with the funders, have you talked about the idea of scaling up and the ability to then negotiate more favorable terms with either Western Beef or Amazon?
CA: The goal is to find how we can position housing residents to design and own their own solutions, and then create value and revenue to sustain them, creating income and potential job opportunities.
The goal is to find how we can position housing residents to design and own their own solutions, and then create value and revenue to sustain them, creating income and potential job opportunities.
Essentially, the Farragut Food Club realized that convincing their neighbors to try something new translates to people essentially being the brand ambassadors for this new service. Brand ambassadors and influencers get paid to introduce new services and they will kind of be the currency of trust that's behind behavior change. The residents realize that the brand ambassador service that they're providing— outreach, awareness, education, screening, and computer literacy —are what people in the marketplace get paid for. We're currently exploring the different revenue streams that could potentially turn into a sustainable business model, the mechanism that will allow for replication and scaling, and providing an incentive to grow it at the current site.
The Farragut Food Club model is the only current model that is dealing with this gap in the consumer chain that is crippling uptake of Online SNAP. There is a huge opportunity to negotiate with retailers that are rolling out online SNAP in some other cities. We have a massive opportunity to also collectivize our leverage to create standards and negotiate the maximum community benefits and investment in these models. We are advocating for residents that is based on all of the areas I described: brand ambassadorship, the theater with the digital access, the last mile delivery, and the exploration of employment pathways. We are also looking at other cities and serving as an example to roll out similar models such as Seattle and Baltimore. Coordinating with other cities is important so that when these retailers like Amazon do approach, there are standardized terms and communication infrastructure to reply upon.
One thing I want to point out is that as we explore a revenue stream that would be possible to support this, where we're also in parallel exploring a cooperative model as a viable structure.
DD: As this pilot grows and maybe other cities jump on board, do you think that this kind of delivery model is transferable to other goods and services outside of food, such as resilience-related services?
CA: The Farragut Food Club created a hub of collective advocacy within a community. It doesn't matter that food was the impetus for this. What matters is the strength that all-women-run groups have created between themselves and with their community members.
What if everyone had a monthly or bi-monthly purchasing match of an extra canned good and it was stockpiled in a reserve in case of any extreme event facing the community? Could we use this Farragut Food Club network as a communication hub in times of emergencies such as extreme weather events? It's a grassroots form of creating really strong networks and communication networks for maintenance that are trusted and community based.
DD: How do you attract someone to something like this? What's the organizing mentality?
CA: I see it in a multitude of ways. The president of the club has had this organizing spirit her whole life, which is very unique. I also think the club gives a sense of purpose and a sense of community in some of these women's lives that are extremely difficult in a lot of other ways. They have gotten to know each other and they've gotten to know a lot of their other community members that they didn't get to before. I think on a human level, it's what people look for.
Chloe Arnow is a co-founder and CEO of the Farragut Food Club. Chloe has worked at the intersection of sustainable and just food systems, community development and public health for the entirety of her professional career. During her time at Enterprise Community Partners as a Project Manager, Chloe co-founded the Farragut Food Club. Prior to her role at Enterprise, she pioneered food waste management strategy for Sodexo at Tulane University- launching a food recovery program as well as a reusable container program that continues to divert over 200,000 plastic containers from landfills each semester. In Brownsville Brooklyn, at Community Solutions, Chloe worked closely with public housing residents to design food programming ranging from cooking demonstrations to tailoring the NYC Healthy Bodega Initiative to preferences defined by the community.