Turn Crisis into Opportunity with BRT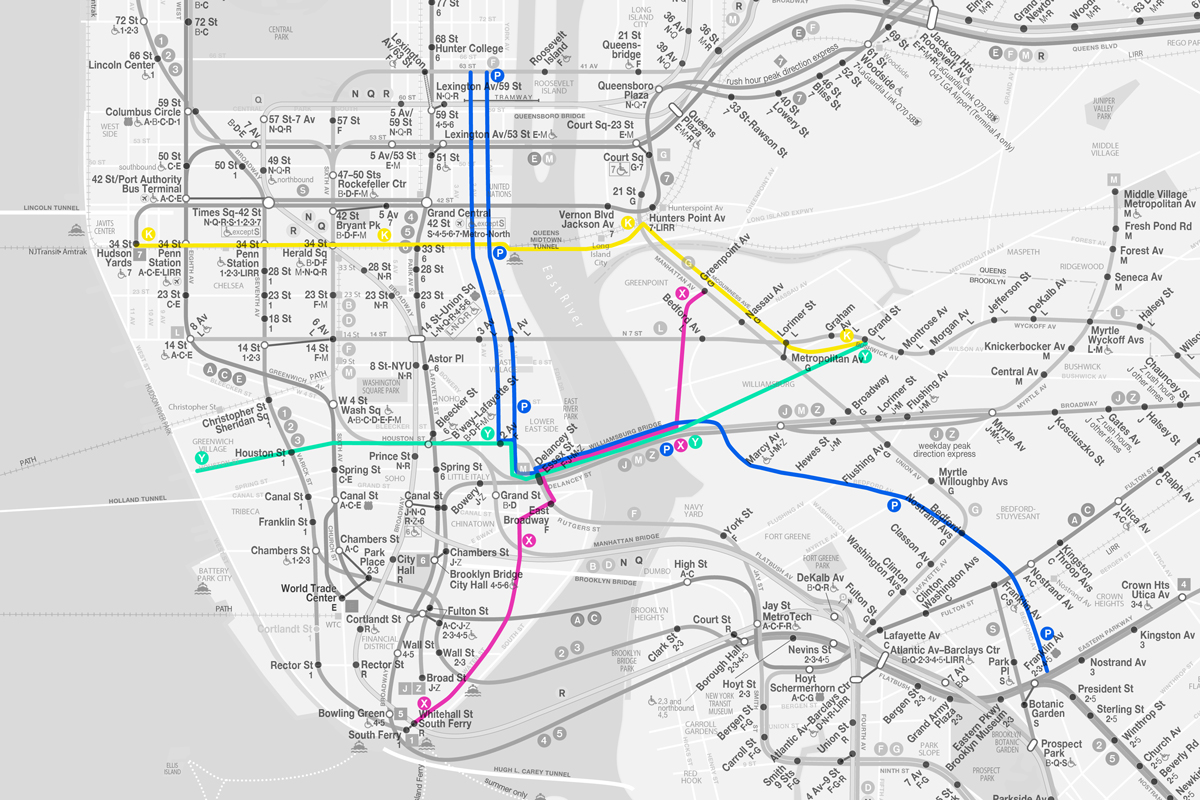 The L Train shutdown is the most significant transportation-related crisis to hit New York City in decades—and an unprecedented opportunity to solve subway overcrowding.
The 18-month closure of the L Train from Brooklyn to Manhattan is an all-out crisis that will affect up to 300,000 New Yorkers every day come 2019. People whose current commutes take just ten minutes—for example from Graham Avenue in Williamsburg to First Avenue in Manhattan—could face estimated travel times approaching one hour (44 additional minutes). Meanwhile, the rapid pace of new development along the Williamsburg and Greenpoint waterfronts, Bushwick, and into Brownsville has placed a severe strain on the L Train. Trains during the morning commute are already experiencing crush loads and more people keep coming.
Gold-standard Bus Rapid Transit (BRT)—well beyond what we've seen on Select Bus Service—can be built in two to three years. Dedicated lanes fully separated from traffic, world-class stations with prepaid boarding, and station platforms level with the bus floor can help to reduce the time lost from the suspension of the L Train. BRT is also strong enough to stand alone as a long-term public transportation alternative for people tired of dealing with subway crowds or looking to reach new destinations.
Two clear alternatives could be built:
Alternative 1—Williamsburg-Williamsburg Bridge-Houston/14th St
A gold-standard BRT from Grand Street across the Williamsburg Bridge, plus a dedicated, transit-only spur up Roebling and Bedford could connect provide a quick connection from Brooklyn into Manhattan. By heading up to 14th Street, using existing or upgraded Select Bus Service lanes, this alternative would most closely mirror the lost L Train. Alternatively, or additionally, a link across Houston Street could provide new connections.
Alternative 2—McGuiness-Queens Midtown Tunnel-34th/23rd/14th
A gold-standard BRT through Greenpoint and up through the Queens Midtown Tunnel is another good alternative. While it less directly mirrors the L Train, this routing provides new connections into Midtown. Whether it uses 34th, 23rd, or 14th Streets (or a combination of the three), it connects L Train riders to nearly every subway line across Manhattan, serving many of the same functions that the L Train provides today.
A combination of Alternatives 1 and 2 would offer the most long-term options for New Yorkers both in Brooklyn and Manhattan.
The L Train closure might be a crisis, but it could also be an incredible contribution to the public realm in New York City.
—
Annie Weinstock is the President of BRT Planning International, LLC. She has 15 years experience in private, public, and non-profit sector planning. With the Institute for Transportation and Development Policy, she worked to bring BRT to Chicago, Boston, San Francisco, Montgomery County (MD), Albuquerque, and Dar es Salaam.