Support Connections to Strengthen Life Sciences Hubs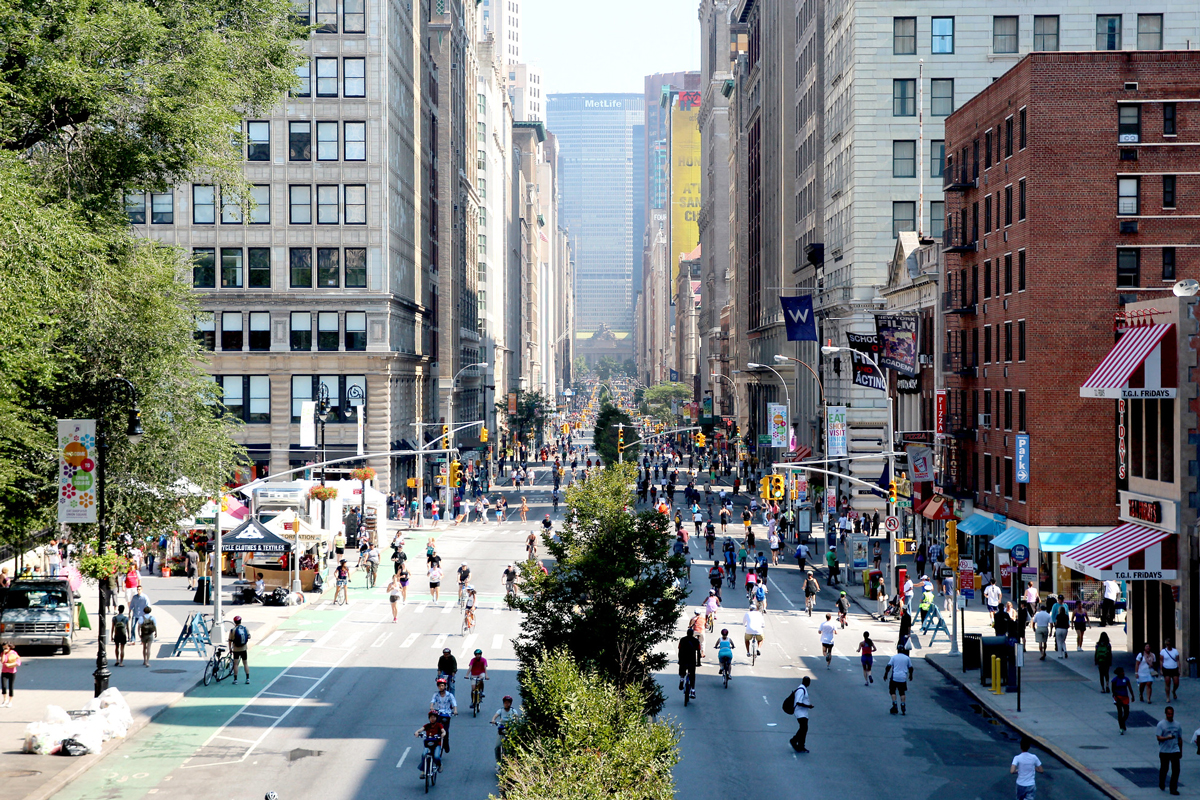 Public investments in open space, retail, and streetscapes can promote economic development by connecting and enriching New York's life sciences hubs.
By Yasmeen Ahmed Pattie, East Egg Project Management
–
Over the last 15 years, New York City has been making concerted efforts to grow a commercial life sciences cluster in order to diversify its economy, create and retain jobs, and compete with premier biotech centers like Cambridge, MA and the San Francisco Bay Area. For much of that time New York lacked three critical elements to growing a life sciences sector: space for life sciences companies, experienced managerial talent, and availability of venture capital funding. Following major City and State initiatives in 2016, however, numerous new biotech incubators have opened in Manhattan, the entrepreneurial environment is growing, and there is increased interest from sector-specific developers and investors.
While these individual components are tremendous steps forward for New York's emerging life sciences ecosystem, we also need to connect the components in order to create a truly sustainable market here. In today's innovation economy, investments that foster networking and communication, that inspire creativity and community building, are critical. These investments – whether from the City, the State, the private sector, or (ideally) a combination thereof – can take many forms, and can benefit life sciences users as well as those in other fields. Attractive retail corridors and streetscapes, inviting public open spaces, clear wayfinding, sufficient transit access, and versatile event spaces with creative programming all serve to bring people out and bring them together.
New York's commercial life sciences sector was sparked in 2010 by the development of the Alexandria Center for Life Science along Manhattan's traditional hospital corridor on the far East Side. Since that time, however, a few mini-hubs have begun to emerge in other parts of the city that offer more of these connecting elements and may serve as guidance for future growth. Hudson Square – now home to New York Genome Center, JLabs, and Biolabs – has become an attractive location for life sciences companies because of its rich retail offerings and the many subway lines that serve it. In West Harlem, CUNY's Advanced Science Research Center and Harlem Biospace offer networking and STEM events, while the retail, streetscape, and open space fronts are progressing slowly. Long Island City, with recent investments by premier life sciences developers like Alexandria Real Estate Equities and King Street Properties, is proving to be a third budding subcluster. The neighborhood is extremely well-connected by transit to Manhattan, Long Island, and the airports, and has benefited from new streetscape and greening improvements. Though retail offerings are slowly sprouting up, like West Harlem, there remain pockets of inactivity or "dead spots" around LIC, especially between transit stops.
The State, City, and the private sector should invest in new public plazas, clearer wayfinding, and more open space near transit hubs and commercial buildings to bring people together in places other than conference rooms. Such investments would also demonstrate that New York is committed to promoting growth in this sector (and others) not just through tax credits but through the physical environment as well. The State should use funding from its Downtown Revitalization Initiative, for example, in LIC or West Harlem to invest in and coordinate improvements in these emerging subclusters. These infusions of resources would elevate the visibility of these neighborhoods as industry hubs, incentivize greater public and private investment, and result in connected, collaborative environments for innovation.
–
Yasmeen has 20+ years of relationship building and project management experience in the fields of real estate, non-profits, life sciences, city government, and economic development. Her recent projects include obtaining $6M+ in city and state funding for NYC-based biotech companies, and studying the feasibility of life sciences development in Queens. As a consultant, she oversaw site selection, leasing, design and construction, and interior fit-out at the New York Genome Center (NYGC). From 2003 to 2007, at NYCEDC she was the lead project manager for the disposition of the Alexandria Center, taking the project from RFP to groundbreaking.