Rooted Resiliency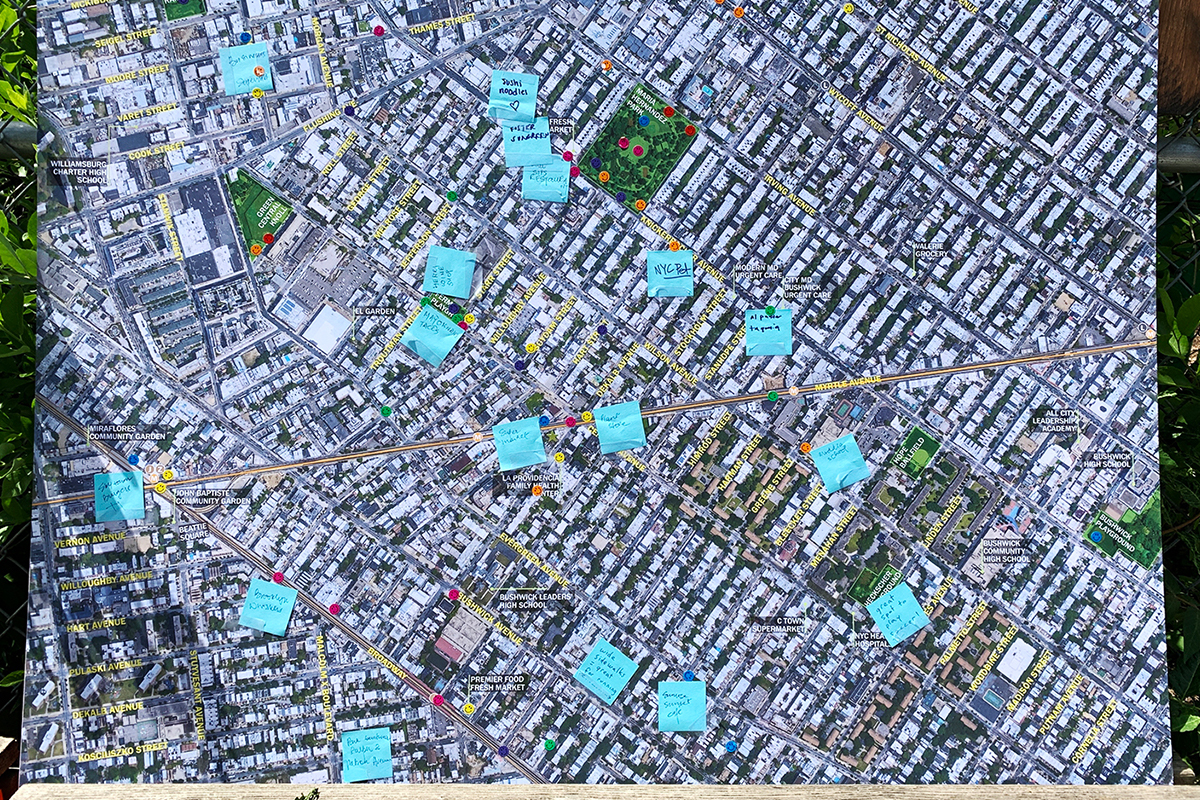 The Urban Design Forum's 2020 Forefront Fellowship,
Cooperative Works
, explored how to support minority-owned businesses and workers of color, expand worker cooperatives, and democratize economic resources to build a more inclusive economy. In partnership with the Deputy Mayor for Strategic Policy Initiatives and the Mayor's Office of M/WBE, Fellows investigated how to create economic opportunity for MWBEs and employee-owned businesses through climate investment, leveraging Local Law 97.
This spring, Fellows developed original projects that explore how to build local power through composting, develop innovative financing for green cooperatives, and scale green entrepreneurship. Explore all proposals here.
by Jhordan Channer, Andrew Harris, William Hsu, Sheila Lin, Stefanie Loomis, Priya Mulgaonkar, Shachi Pandey, Alexandra Paty-Diaz, Ebony Wiggins
Our project Rooted Resiliency explores ways to build community power through connected hyper-local networks. It anticipates a post-capitalist vision of a shared, participatory economy that embraces the idea of abundance to form harmonious relationships. This stands in contrast to the emphasis on scarcity, competition, and unequal exchange that is typical to our understanding of economics today.
Every recent crisis — COVID-19, Sandy, the Great Recession — has glaringly exposed the inequities in our society and the inadequacies of our systems to address them. The stark differences in the distribution of resources and services translate directly into the challenges neighborhoods and local communities face when addressing the green transition and climate change.
Many have touted the implementation of walkable "15-minute neighborhood" concepts as a possible solution for providing equitable access to basic needs. However, our conversations with on-the-ground organizers revealed deep systemic issues. These include an over-reliance on centralized supply of services and production of goods as well as top-down funding priorities and policies that are out of sync with ground realities. Take for instance the staggering number of small businesses – 97,966 to be precise – that permanently shut down in 2020, despite resources meant to directly support them.
Over the last few months we partnered with BK ROT to explore the challenges, benefits, and needs to strengthen bottom-up initiatives and move us closer to a vision of resilient local power.
BK ROT is a community-supported, fossil fuel free, food waste hauling and composting service. Through their operations, they are advancing values of environmental justice and creating space for youth leadership in communities of color, while creating a localized green economy. Last year, when the Department of Sanitation (DSNY) halted its curbside composting and food waste collection program, organizations like BK ROT stepped up to fill the gap. Not only did BK ROT continue to provide uninterrupted local services to existing users, they also accommodated a much wider community of users whose services were discontinued by our centralized waste management system.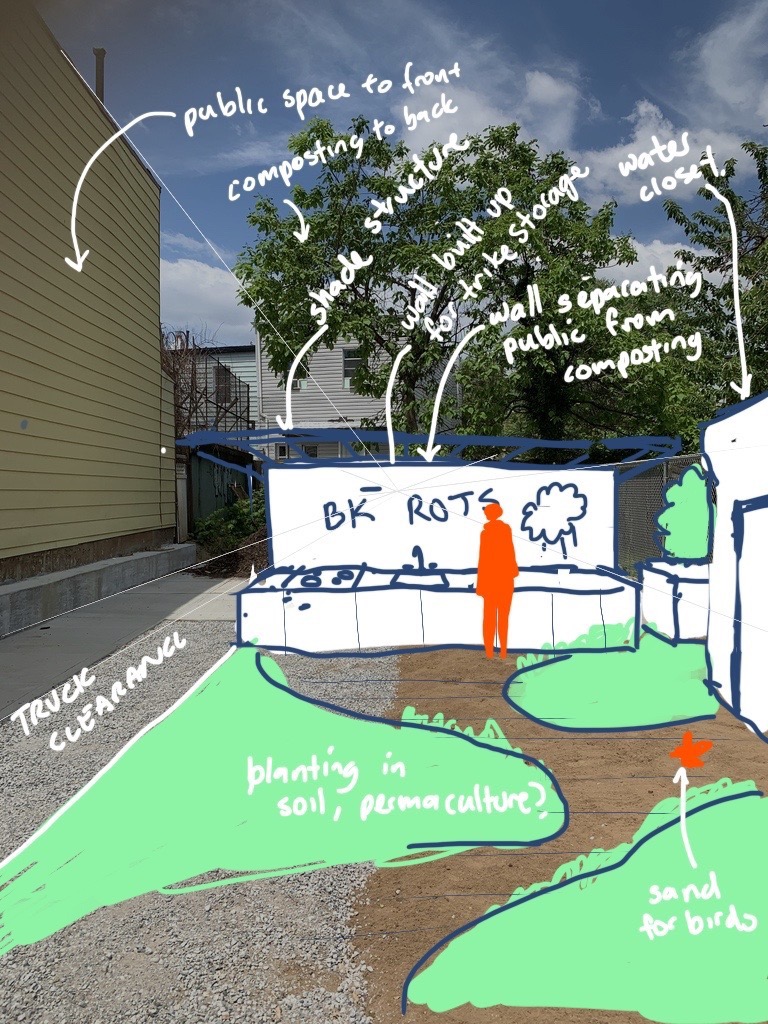 We engaged directly with workers, users, neighbors, board members, and executive staff of BK ROT through a series of design and mapping workshops, as well as in-depth one-on-one conversations. At the heart of our engagements is the idea that strengthening local community and infrastructure networks can greatly empower bottom-up initiatives to succeed and give them staying power in the long run. Additionally, we recognize that with their deep roots in the surrounding communities, these organizations are keenly aware of and care about local needs. They offer holistic solutions for communities to evolve as one, versus embracing a tunnel-vision approach of providing services to extract profit.
With this in mind, we co-created programmatic and site design propositions specific to BK ROT that aimed at strengthening their networks of users and collaborators. We also explored models of co-operative ownership and governance to empower their youth leaders and staff to drive impact for the organization. We believe our approach can help organizations like BK ROT become more resilient and act as roots for their communities to thrive.
Residents, leaders, community organizations, local agencies, and governments all have a role to play in this transformation towards a post-capitalist vision of a shared, participatory economy. It is imperative that our government agencies engage with the community at large to facilitate an understanding of local needs. More importantly, local governments need to provide clear and innovative avenues for participatory resource and budget planning in response to those needs.
As members of the community, we need to be aware of our choices and how they support or negatively impact critical local initiatives. For BK ROT, this means listening to their needs and challenges, supporting their site development, expanding their network of composting sites, and their integration into the surrounding neighborhoods through community events. The development and strengthening of a potential cornerstone like BK ROT is, and will be, how we root in resiliency and community power.
Download the Report ►

Authors ↓
Jhordan Channer currently works as a designer at WXY where he engages with urban issues across multiple scales by borrowing a set of tools from planners, policy analysts, urban designers, and architects. Prior to WXY he worked with the Mona Social Services to plan the distribution of civil infrastructure to informal communities in Kingston, Jamaica. He is interested in the socio-economic dynamics of community and the role cooperative economic systems can play in building resilient communities.
Andrew Harris is an Architectural Designer at Dattner. A native New Yorker, he is deeply invested in the rich cultural traditions of New York's neighborhoods. Through sensitive design, Andrew aims to celebrate their significance and preserve their value for the community. He holds an M.Arch from Pratt Institute and a B.A. in Architecture from the University of Pennsylvania. In his spare time, Andrew enjoys biking around the city, salsa dancing, and anything related to coffee.
William Hsu is the lead for CDP's strategic initiative to accelerate equitable climate and environmental action through partnerships between cities and businesses. William is driven by his desire for social equity in the new economy and draws on his experiences in sustainable finance, urban planning, real estate, and environmental sciences. He holds a MPA from Columbia, a MA in Environmental Social Science from ASU, and a BA in Biology from Washington University in St. Louis.
Sheila Lin is a Project Team designer at Adjaye Associates and a board member of the gender equity nonprofit Architexx. An advocate of equitable architectural practice and public service, her research has focused on developing speculative design methodologies to promote inclusion and participation in urban spaces. She is interested in working closely with communities of color to cultivate grassroots approaches to resiliency. She holds an M.Arch I from Princeton University and a BA from UC Berkeley.
Stefanie Loomis is a Landscape Architect at Snøhetta. Throughout her career she has worked with others to facilitate and design for equitable, environmentally conscious and loved landscapes, places and communities. She earned her Master of Landscape Architecture from University of Pennsylvania and holds a BA in Painting and Drawing and Community, Environment and Planning from University of Washington.
Priya Mulgaonkar is a climate justice activist and urban planner based in Brooklyn, NY, working as a Project Manager at Hester Street Collaborative. She also serves as Board Secretary for BK ROT, NYC's first bike-powered waste hauling and composting service. She was named a 2020 GreenBiz 30 under 30, recognized for her contribution to passing the NYS Climate Leadership and Community Protection Act.
Shachi Pandey is a people-centric urban designer dedicated to the regeneration and revitalization of neighborhoods. Her projects embrace different scales and disciplines and she is most interested in advancing ideas that embrace the complex dynamics of our urban, social and economic contexts. Shachi is founding principal of Metropolitan Urban Design (MUD) Workshop and an adjunct professor at Columbia's GSAPP.
Alexandra Paty-Diaz is a Venezuelan urban designer at the NYC Department of City Planning. Her work entails advocating for the use of participatory design to achieve social equity. Prior to DCP, she led the transformation of public spaces and developed urban policies in Caracas. Alexandra holds a degree in Architecture from Universidad Simón Bolívar and she earned her Master's degree in Urban Planning from Columbia University.
Ebony Wiggins is an independent workforce consultant. Previously, she supported over 400 small businesses in developing and implementing critical workforce services at the Brooklyn Navy Yard Development Corporation and managed volunteer engagement for 1000+ volunteers at Student Sponsor Partners. Ebony received a M.S. from The New School in Nonprofit Management.