Ring Around the Harbor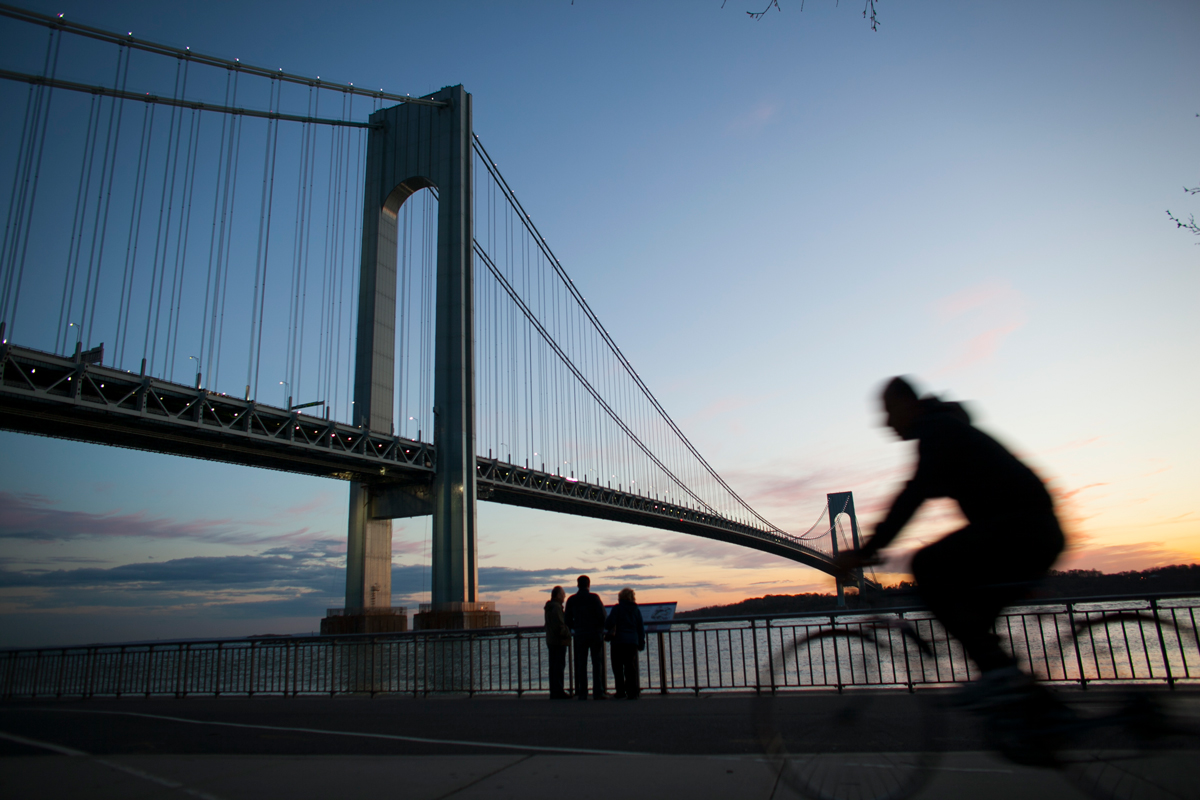 Today, there are more than 30 miles of existing shared-use paths and bikeways linking Manhattan, Brooklyn, Staten Island, Bayonne, Jersey City, and Hoboken. If they were connected, we could cre-ate the Harbor Ring: a single 50-mile route for pedestrians, cyclists, runners, and skaters that would encircle New York Harbor and offer stunning skyline views.
The Harbor Ring would transform the New York City region into one of the most bike-friendly in Ameri-ca, increasing commuting options, improving access to numerous business and cultural districts, and connecting to spectacular waterfront destinations. It would also establish a key node in the emerging East Coast Greenway, a 3,000-mile bicycle path linking Key West, Florida to Calais, Maine. It could be tied to Governor Cuomo's vision of the Empire State Trail, a 750-mile route linking New York City to Albany, Buffalo, and Canada.
To achieve this vision, we must integrate the Hudson River Walkway, the Hudson River Greenway, the East River Esplanade, the Brooklyn Greenway, Fort Wadsworth, and the Bayonne Bridge path-way, and retrofit another 20 miles of streets for walking and cycling.
We are just a few miles away from becoming the most bike-friendly region in the country. Let's get there by completing a continuous route around New York Harbor!
Making those connections would generate jobs and connect to existing rail, subway, bus, and ferry services, but the route would still be missing one critical link: The Verrazano Bridge.
Although the bridge was initially engineered to include pedestrian and bike pathways, they were never completed during its construction (1959-1964). The current effort to improve the approaches to the bridge provides the ideal opportunity to build the final link, in conjunction with the other planned work. In 2013, we urged the MTA to commission an engineering feasibility study for this, and two years later they shared their preliminary cost estimates of $300-400 million. Unconvinced, we worked with a bridge engineer to produce an alternative estimate of under $60 million.
We call upon the MTA to partner on a collaborative effort to develop an economically feasible plan. The Harbor Ring would be tremendously beneficial for the region, boosting recreational opportunities and spurring regional development. The Verrazano Bridge pathway is all that's left!
–
Mike Lydon is a Principal with Street Plans, an award-winning urban planning, design, and re-search/advocacy firm with offices in Miami, New York, and San Francisco. He is also a member of The Harbor Ring Committee, an independent initiative that works with Transportation Alternatives to advocate for a 50-mile recreational route around the New York Harbor.