Rework the BID as a Kit-of-Parts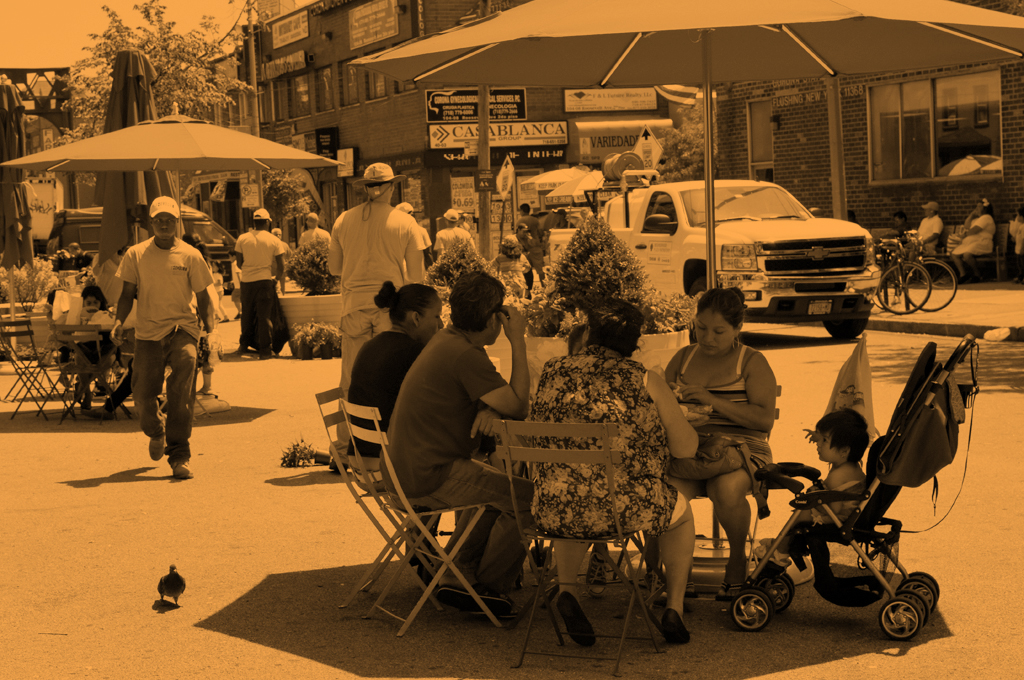 In neighborhoods with fewer resources, the BID model can be unpacked and adapted—sharing its functions among community organizations, government, and other supportive partners.
By Laura Hansen
New York City was an early adopter of the Business Improvement District (BID) concept in the late 1970s. Today, its 75 BIDs generate millions of private dollars for sanitation, security, and streetscape improvements in commercial districts. While widely replicated, this model has created a reliance on the private sector to fund and manage public space, as well as an expectation that all partnerships will perform in the same way.
The reality is that resources in low-income communities are rarely comparable to affluent areas. In neighborhoods not served by BIDs, public realm fortunes ebb and flow without the infusion of private dollars to ensure cleaner, safer spaces. Many communities have the social infrastructure to engage in BID-like ways, but lack the capacity, or desire, to host one. For these communities, there are aspects of the BID model, which, when unpacked and repurposed, can benefit them.
First, we must collectively acknowledge the inherent bias of the model toward affluent locations—something many of us know intuitively and from experience, but is not central to public conversation about partnerships and placemaking. With that acknowledgement, shifting the public-to-private funding ratio can happen in a rational, equitable way.
We should evaluate New York City's public spaces to understand which cannot benefit from private sponsorship, and rebalance our public funding, technical expertise, and attention. And we should build support systems to expand access to expertise, information, and agency relationships—all key factors in the success of BIDs—to enable community-based organizations to play a substantive role in creating and managing their own public spaces. This support can come from government, but also via organizing among private partners. Imagine a sister organization modeled on the NYC BID Association and recognized by city agencies in the same way—one designed to provide community-based groups with a collective voice and the benefits that come from coalition. When community-based organizations are effectively networked and have consistent support from government as partners, they also become more appealing to sources of private funding.
Some of this is happening now, via the Department of Transportation's (DOT) Plaza Program. Created in 2008, as a part of Mayor Bloomberg's PlaNYC, the program has seen acres of underused streets transformed into over 70 pedestrian plazas.1 Each is maintained by a self-selected Plaza Partner, close to half are located in low- or moderate- income areas, and many are managed by non-BID community-based organizations.
Because DOT has prioritized high-need neighborhoods, the plazas are testing this form of public-private partnership every day. In 2015, Mayor de Blasio's OneNYC Plan recognized the benefits and the challenge of asking low-income communities to operate within the same framework as BIDs. DOT created the Plaza Equity Program, which classified the partnership capacity of each plaza, enabling the agency to allocate funding based on need. DOT now covers the cost of sanitation and horticulture for all high-need plazas, while also funding technical assistance, including peer-networking and coalition-building.
DOT's neighborhood plazas are proving to be an important laboratory for rethinking the partnership framework, which for many decades has been the de facto model. DOT asks communities to have "skin in the game," and through the Plaza Equity Program the agency is exploring the follow-up question: what is reasonable to ask of a neighborhood that wants to participate in placemaking but faces daunting challenges? While many challenges remain, DOT is demonstrating is that with the right mix of support, every neighborhood can have the quality public realm we all deserve.
–
Laura Hansen is Managing Director of The Horticultural Society's Neighborhood Plaza Program. Created in 2013, the program assists community-based organizations serving as DOT Plaza Partners—providing sanitation and horticulture services using a workforce development model, and helping build local capacity for public space operations.