Reveal Penn Palimpsest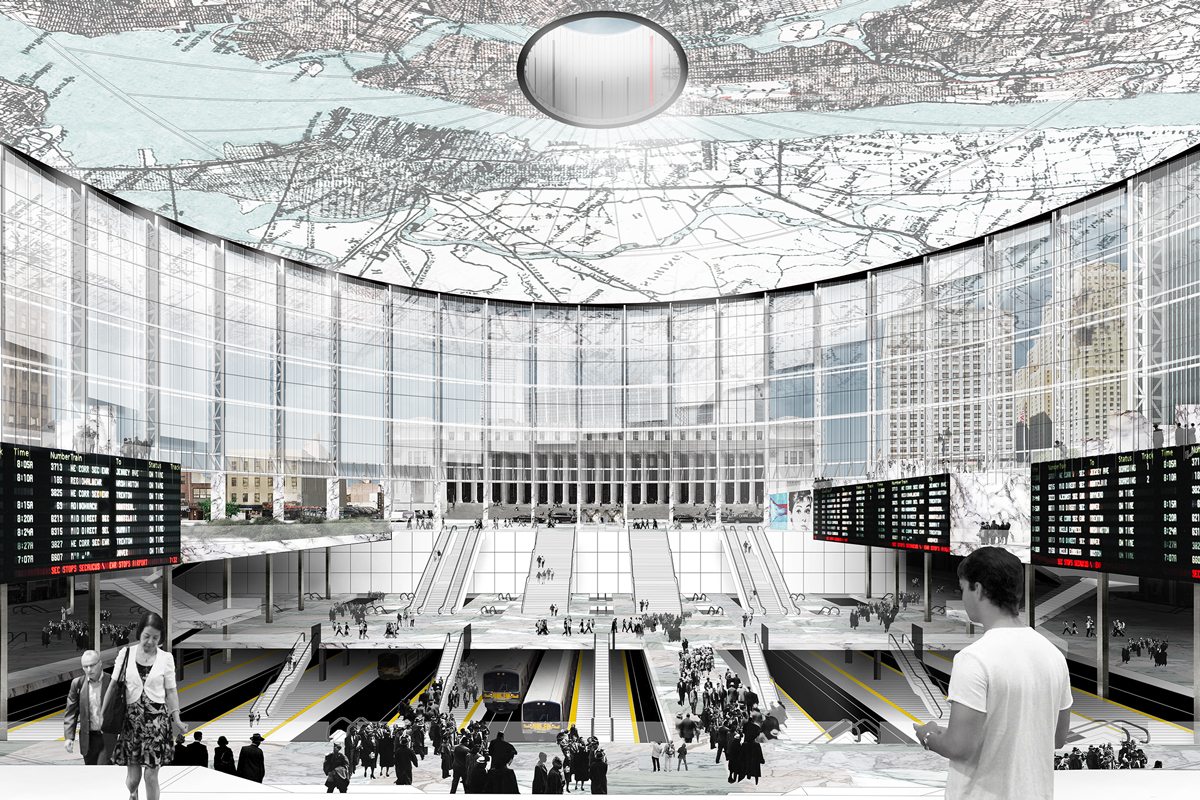 New York's Pennsylvania Station is much more than a transit hub. It is the busiest transportation facility in the Western Hemisphere, the heart of a city and region, and the lynchpin to reimagining its surrounding neighborhood. For better and for worse, Penn Station has symbolized who we are as a society through the times. It was built in an extraordinary feat of engineering in 1910—topped with a Beaux Arts spectacle by McKim, Mead & White—then demolished in a 1960s wave of renewal, and its disposition in the years since presaged the miserable space we have today. If we still believe in the idea of 'the public'—in a shared civil society—we must come together to imagine a brighter, more collective future for this symbol of our metropolis and culture.
Penn should be a new public commons, a grand commuter pavilion that reinforces recent proposals in the area to transform the neighborhood, providing civic dignity, public safety, and new rail capacity. Once Madison Square Garden has relocated, we propose recycling the Garden's existing structure, roof, and foundations to create a new vision for the station at minimal public cost and disruption. Our proposal would complement plans for an Amtrak terminal in the east end of the Farley building, improved entrances and concourses to the north and west of the existing station, and most importantly, new tracks and platforms to the south as part of the Gateway tunnel project.
Penn Station is a symbol of our city, yet now stands a neglected opportunity. It should be a shared civic space for us all!
We could create a civic space, both sober and soaring, that rises through the palimpsest that is Penn. Imagine the layers of history revealed, from McKim's balustrades to the original station's mezzanine, under a new ceiling with a spectacular mosaic mural of New York. We envision the existing structure of the Garden being reclad in a double-skin glass wall that transmits light but not heat, allowing the station to be passively heated and cooled, and a 25- foot high open entry threshold to run along its entire perimeter. A saw tooth pattern in the blast-proof glass would pick up changes in light through the day, acting as a sundial for travelers as they ascend from the platforms.
This vision would organically yield a reimagined neighborhood with a revitalized station at its heart, with offices; housing; hotels; eateries; a public park; and at the very center, a grand public space without a grand public price tag. It is a chance to reaffirm our belief in civic infrastructure and a shared public realm! Let's reveal the Penn Palimpsest!
–
Vishaan Chakrabarti is an architect, scholar and founder of PAU. PAU designs architecture that builds the physical, cultural, and economic networks of cities, with an emphasis on beauty, function, and user experience. PAU simultaneously advances strategic urbanism projects in the form of master planning, tactical project advice, and advocacy.