Reimagine the Brooklyn Strand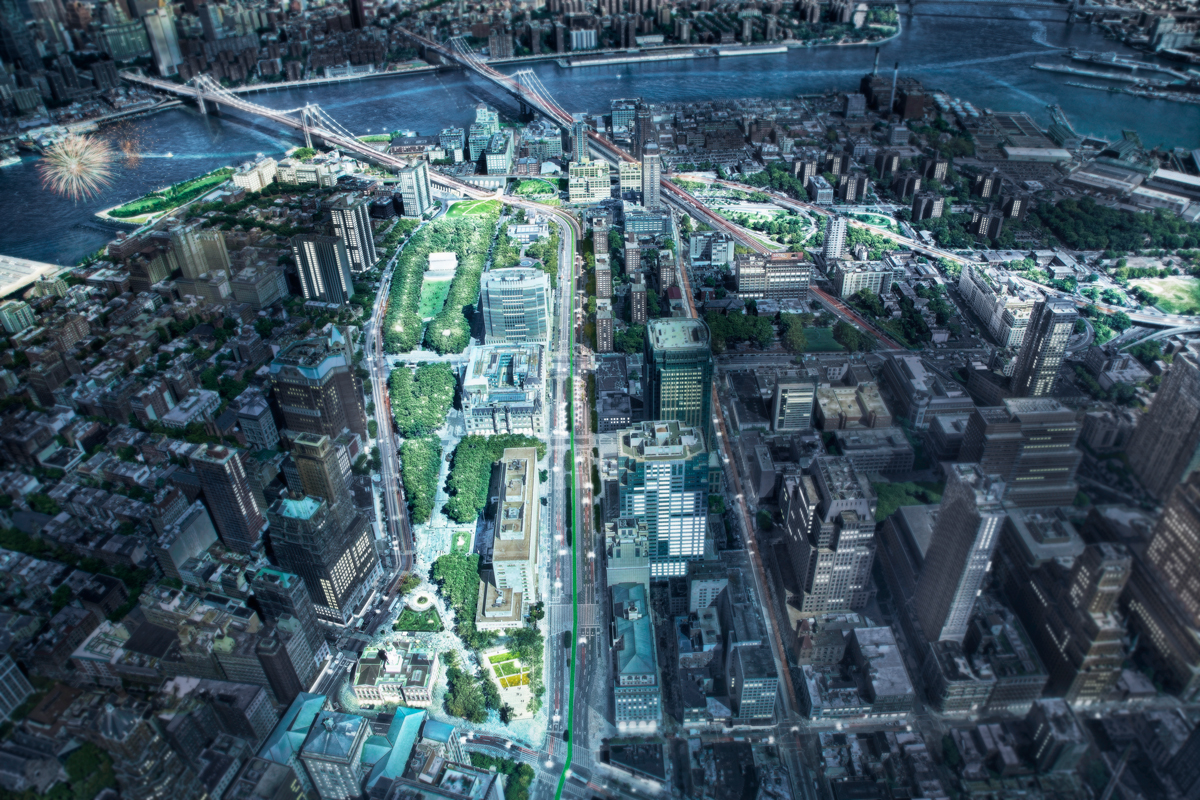 In July 2014, in response to Mayor Bill de Blasio's vision for Downtown Brooklyn, over 40 stakeholder groups from the community worked together over two years to offer suggestions on how to re-invent the public realm in Downtown Brooklyn. This community planning effort included more than 250 stakeholders, 50 site walkthroughs, numerous meetings with individuals and organizations, and five public workshops that engaged more than 200 community members overall.
The Brooklyn Strand should be a new gateway to the borough, connecting the waterfront with a series of parks, plazas, and greenways that will animate the thriving heart of Downtown Brooklyn!
We translated this research into a strategic design framework for this 21-acre series of spaces, creating the Brooklyn Strand Action Plan. It presents several physical and programming proposals to transform this area—including spaces like Cadman Plaza, Walt Whitman Park, the Korean Veterans Plaza, Columbus Park, and various vacant municipal lots and lawns – into an active belt of parks and plazas.
Through our community outreach, it became clear that the original area of study—the Cadman Connector: Borough Hall to Fulton Landing—did not represent the full area of need; and that the city must also consider the area from Commodore Barry Park to the Brooklyn Bridge alongside the Brooklyn Queens Expressway (BQE). Not only is the BQE a strong east-west link for Brooklyn, it represents a chain of undervalued open spaces that have the potential to better serve local communities—such as NYCHA's Farragut, Whitman, and Ingersoll Houses.
We call on the city to invest in physical strategies to improve public realm connectivity in these neighborhoods, particularly across infrastructure barriers. Imagine land-bridges, continuous promenades, adaptive-reuse programming of infrastructural spaces, enhanced landmarks, and improved way-finding through the Brooklyn Strand! In addition to these strategies, we have found several opportunities to create affordable housing and active ground-floor uses.
The Brooklyn Strand Action Plan aims to create a world-class gateway into the borough of Brooklyn; to create real access to the Brooklyn Bridge Park for a wider swath of Brooklyn residents; and to repair the area's neighborhood fabric from the mistakes of urban renewal. We call for public investment in these open spaces to advance equity in the area, and for new affordable housing development throughout the Strand.
–
Claire Weisz is Principal of WXY, an award-winning multi-disciplinary practice specializing in the realization of urban design, planning and architectural solutions in challenging contexts. Jacob Dugopolski is a Senior Associate who managed the Brooklyn Strand Action Plan with the Downtown Brooklyn Partnership.