Reform the Curb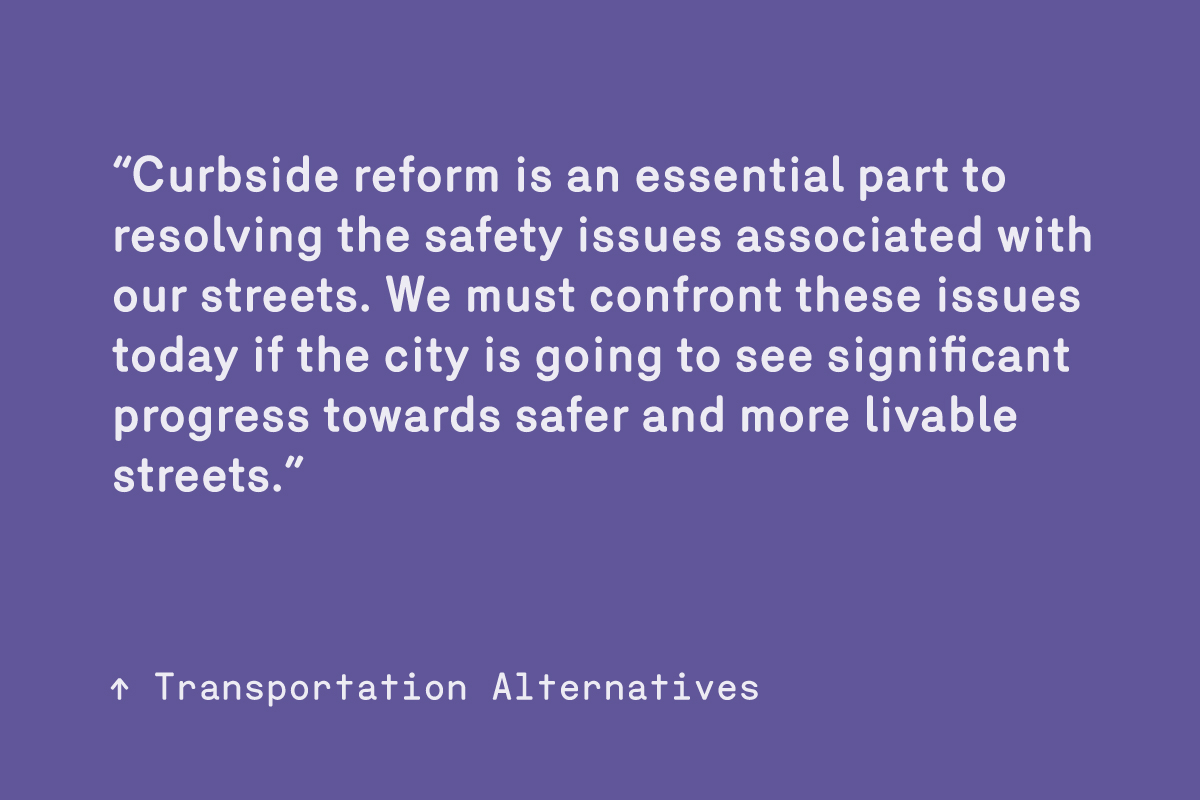 New York City is one of the most pedestrian-dense cities in the world, yet approximately 80% of our public space—our streets—is designed for automobiles. We must reform our curbside parking policies to create a more livable city.
Today, New York City's curbsides prioritize private car parking and offer a paucity of space for commercial vehicles. Antiquated parking regulations, abuse of parking permit placards, and chronic underpricing all contribute to curbside vacancy rates that hover close to zero in Manhattan. As a result, commercial drivers seldom find a legitimate space to park to complete deliveries or service calls, and often resort to double parking or parking in crosswalks, bike lanes, hydrant zones, and even on sidewalks.
This illegal behavior exacerbates traffic congestion and endangers everyone on city streets. Large trucks, while a minority on the road, are disproportionately responsible for injurious and fatal crashes involving pedestrians and cyclists in the city. In the first year of Vision Zero, pedestrian deaths caused by truck and bus drivers increased by nearly 30% compared to recent years. To improve the safety of our streets, we need to reform our curbside parking.
We propose four key priorities:
Data-Driven Parking Meter Rates: Today, parking ticket revenue outpaces meter revenue by a ratio of 3 to 1. We call for higher meter rates in busier areas to increase vacancy at the curb, decrease illegal parking behavior, and reduce attendant summonsing.
Abolish the Stipulated Fine Program: This program allows participants to pay one lump sum to the city to double-park in bike lanes, sidewalks, and pedestrian ramps, incentivizing commercial delivery companies to break traffic laws. Parking in space used by pedestrians and cyclists is dangerous, and this program makes real enforcement impossible.
Improve Loading Zones and Commercial Parking: We call for the provision of further incentives for car and bike sharing spaces, the enforcement of laws against fraudulent placard parking, the conversion of general and residential parking spaces for these purposes, and the expansion of the off-hours delivery program.
Innovative Technology: Finally, we recommend the use of pay-by-phone mobile apps, license-plate-recognition (LPR) software, and electronic space sensors to allow enforcement officers to implement these proposals with ease.
Curbside reform is an essential part to resolving the safety issues associated with our streets. We must confront these issues today if the city is going to see significant progress towards safer and more livable streets.
–
Transportation Alternatives is New York City's leading advocate for bicycling, walking, and public transit, with more than 150,000 active supporters and committees of volunteer activists working in all five boroughs. TransAlt fights for the installation of infrastructure improvements that reduce speeding and traffic crashes, save lives, and improve everyday transportation for all New Yorkers.