Reclaim Street Space in the Driverless City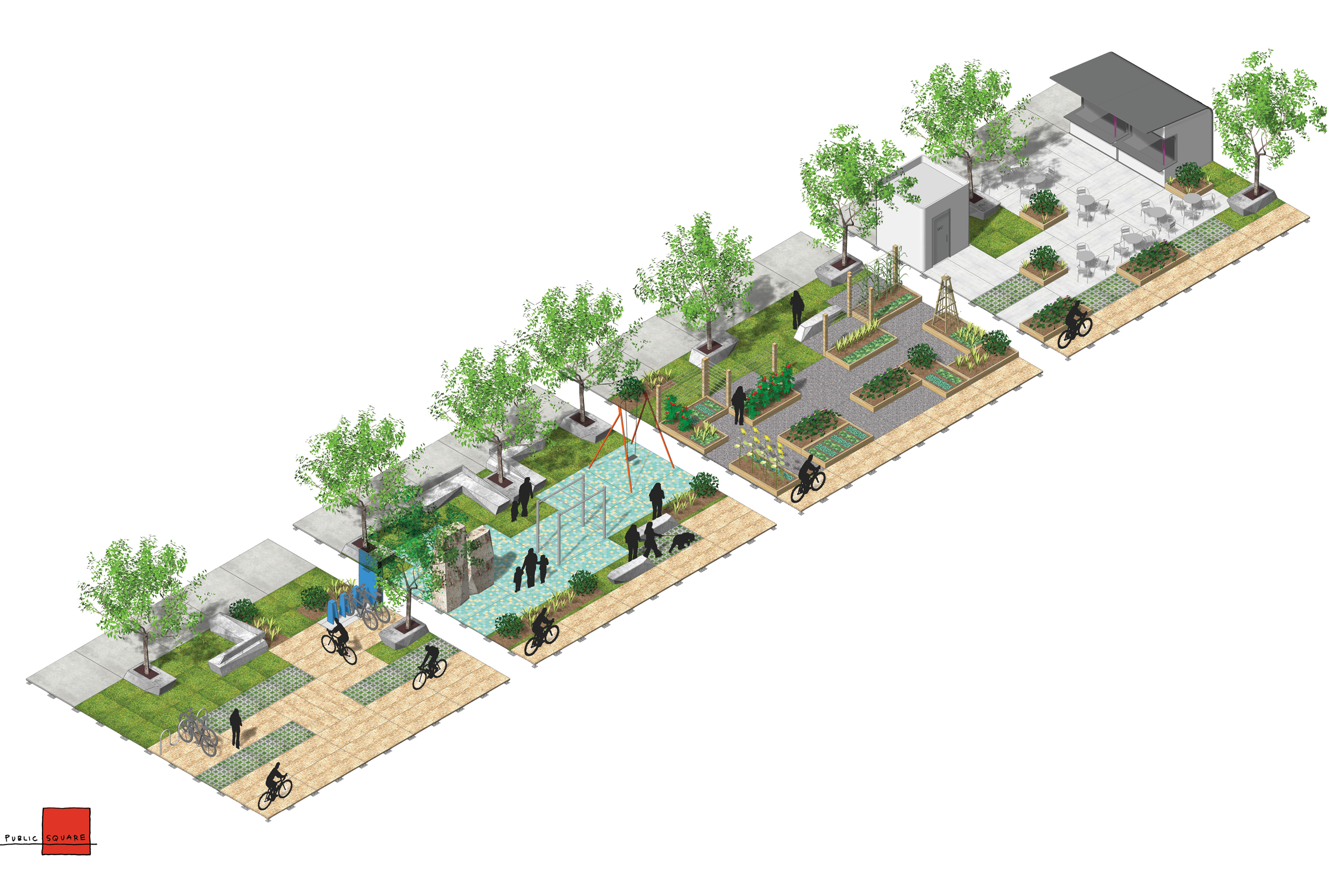 The future of automated vehicles is coming. We don't know exactly what that future will look like, but most experts agree that driverless cars, combined with increased car sharing, will mean less on-street parking. Narrower travel lanes and more efficient traffic patterns will mean moving traffic will need less road space too. Street space once used for cars will become available, but for what?
Cities own their streets, but they must develop new policies to easily claim street space for uses that serve the public good. They must develop these tools before the driverless vehicles take to the streets. We propose Public Square, a system that provides New York City and cities everywhere, with a way to rethink their streets and reclaim parking spaces for pedestrian activity.
With automated vehicles on the horizon, it's time to envision the cities that will accommodate them.
Public Square is a plug-and-play system of interlocking unitized squares, roughly 8'x8' in size, that provides a platform for a wide variety of surface module programs. Applications range from seating to retail stands, to play equipment, to gardens and green space. Public Square can be assembled in endless configurations in order to suit the needs of different neighborhoods, or change incrementally as cities adapt to automated vehicles. The system allows for easy access to utilities, works with existing drainage paths, increases stormwater retention, provides bio-filtration, and can embed smart-street technology.
Parklet programs have proved successful at transforming parking spaces into public spaces in cities across the country including New York. Yet these have been small-scale, piecemeal interventions, often done on a temporary basis. Bike share systems like Citi Bike have shown that street infrastructure can be designed in a unitized, flexible, easily deployable and removable way. Public Square builds on these successes, bringing Citibike's systemization to the parklet's many public realm benefits, and expands on the idea with a broad range of program modules.
The transition to driverless vehicles will require incremental change, and Public Square allows the public realm to be responsive to changes in how we drive, however fast or slow those changes may occur.No one knows exactly how automated vehicles will change the way we live. But whatever the driverless future looks like, Public Square can help cities shape a greener, more walkable, more bikable, and more lively public realm.
–
Public Square was a collaborative effort of over 20 designers at FXCollaborative with help from Sam Schwartz Engineering. FXCollaborative is an architecture and urban design firm based in New York and working to improve cities everywhere. Sam Schwartz Engineering lives and breathes traffic and transportation, offering comprehensive planning, engineering and design services to public and private sector clients worldwide.