Provide On-Demand Paratransit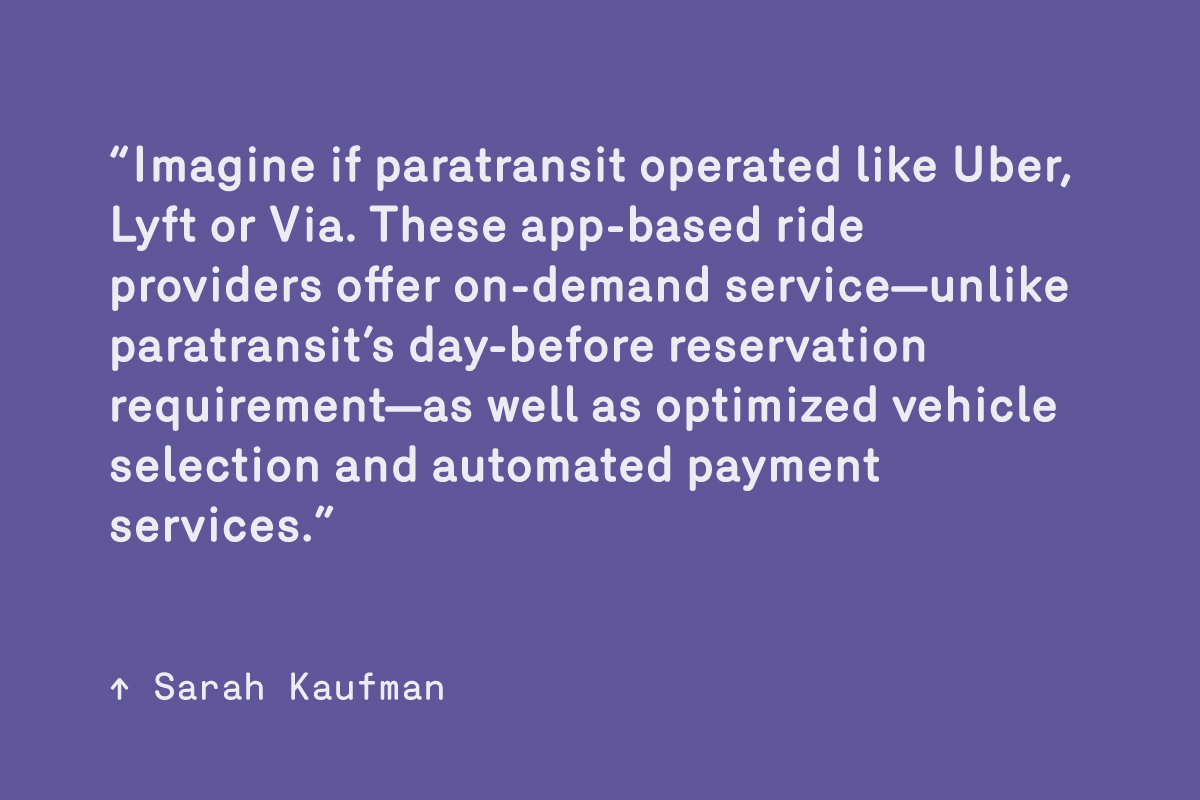 As older Americans grow to 20% of the population by 2030, cities across the United States will face an unprecedented transportation crisis.
Urban residents who are physically unable to use public transportation are shuttled by paratransit services, usually in the form of pre-arranged vans. Our paratransit system is massive: in New York City, Access-a-Ride provides an average of 6,188 rides to the elderly and disabled.
As our aging population grows, current paratransit models cannot afford to meet increasing demands. In New York City, Access-A-Ride is the MTA's fastest growing expense, costing the authority $455 million in 2014. Across the nation, paratransit services cost $5.2 billion each year, or 12% of the total cost of all transit services despite carrying only 2% of the trips. Skyrocketing costs are rooted in the inefficient systems that manage the service—reservations, vehicle sourcing, dispatch, routing, billing, operations, and maintenance—all of which are currently performed manually.
Imagine if paratransit operated like Uber, Lyft or Via. These app-based ride providers offer on-demand service—unlike paratransit's day-before reservation requirement—as well as optimized vehicle selection and automated payment services.
Paratransit today is managed inefficiently. It's time to rethink how our future senior and disabled population will access their rides.
They operate at orders of magnitude larger—Uber provides 141,000 rides per day as compared to Access-A-Ride's 6,188. Yet they cost far less per ride—the average Uber trip in the city costs $27 while Access-A-Ride is $68. Although paratransit trips do require more labor—assisting passengers into the vehicle, securing wheelchairs, etc.—this vast difference in cost should be pursued.
Paratransit should tap into the reservations, dispatch, routing, and payment systems used by these app-based rider providers. This change would slash current administrative costs; improve vehicle dispatch, routing, and ride matching; and make the service more convenient to users. It would also allow private companies and the taxi industry to more easily enter this market, augmenting the local supply of paratransit, further driving down costs, and bringing this industry into the twenty-first century.
Joining paratransit, app-based services and the taxi industry will improve efficiency and bring the industry into the twenty-first century. This partnership will usher in a new era of mobility for our future aging population, which will already be accustomed to on-demand rides, smartphone services and seamless billing. It's time to help them get around without breaking the bank.
–
Sarah M. Kaufman is Assistant Director for Technology Programming at the NYU Rudin Center for Transportation, where she researches, advocates for and educates about cutting-edge technologies in transportation. She is also an Adjunct Professor of Planning.