Plant the FOREX
In 1929, the Regional Plan Association proposed two cross-Manhattan links that would later prove unattainable for New York's mid-century master builder Robert Moses. The Lower Manhattan Expressway (LOMEX) and a similar proposal for a mid-Manhattan cross-island route were controversial erasures of urban fabric. Today, these rejected plans offer new scenarios for speculation. Imagine these highway arterials as ecological opportunities, a series of canopied corridors extending from north to south along the avenue spines of Manhattan.
Let's expand the idea of the 'street tree' into a 'street of trees' to create a forest expressway.
We propose FOREX, the forest expressway, as a provocation to rethink our roads as ecological infrastructure. This urban forest would occupy the linearity of the city's street grid as a dense upland filter belt, extensive carbon sink, and coastal flood buffer. Drawing inspiration from the circumferential reach of Moses's urban parkway initiatives and the programmatic shape-shifting of Janette Sadik-Kahn's more recent pedestrianized midtown streets, FOREX will operate at the full scale of New York City.
The benefits of enhanced tree canopy within the urban environment are well known. Trees improve both air and water quality, reduce the heat-island effect and air temperature, and emit oxygen into the atmosphere. They capture storm water, sequester carbon in their woody tissues, and are capable of significantly buffering storm surges. The biomass of a maritime coastal forest could reduce inundation on land by up to forty percent. In a post-Sandy New York City, these performative effects cannot be ignored.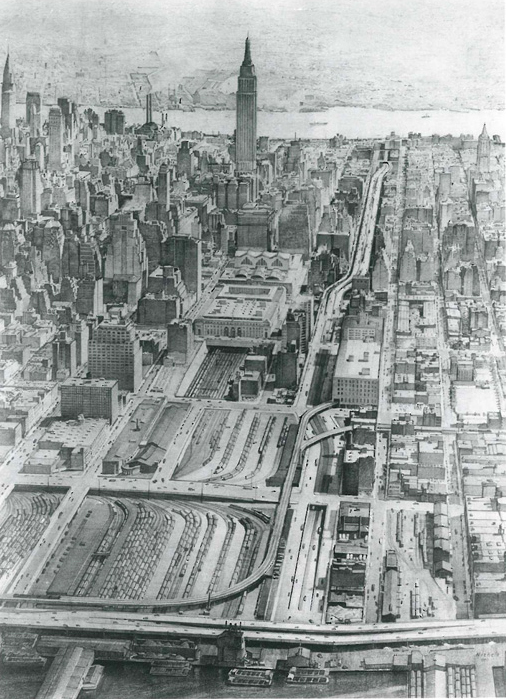 Today, the vulnerable back-bay communities at Jamaica Bay are at severe risk from storm surge. The US Army Corps of Engineers' preferred option for protecting the area is a storm surge barrier at the Rockaway Inlet, but this massive closure structure will negatively impact the water quality and environmental health of Jamaica Bay. There is a better option, and once again, Robert Moses's work provides inspiration for transformed infrastructure.
The twenty-five mile long Belt Parkway—wrapping from Brooklyn's Owl's Head Park along the waterfront to Jamaica Bay in Queens—is the ideal location for a wave-attenuating filter belt. A Belt Parkway FOREX would be a continuous attenuation forest defending these communities from dangerous storm surges, with the potential to provide protection for the 100-year flood event at the neighborhood scale. With new sea-level rise and storm surge data developed by Michael Oppenheimer and Ning Lin at Princeton University, we have tested this deployment of FOREX under future storm conditions, digitally modelling its effectiveness.
FOREX here will serve to protect our city from storm surges, sequester carbon, enhance air and water quality, provide additional public space, and redefine how we think about movement and infrastructure. This is our opportunity to reimagine our city.
–
Catherine Seavitt Nordenson, ASLA, AIA, is an associate professor of landscape architecture at the City College of New York. Her research explores design adaptation to sea level rise in urban coastal environments and examines novel landscape restoration practices addressing climate change. Her book Structures of Coastal Resilience is forthcoming from Island Press, 2018.
Figure 01a / 01b. Cross Manhattan Arterials: LOMEX versus FOREX
Credit: Courtesy of Metropolitan Transportation Authority (MTA) Bridges and Tunnels Special Archive. FOREX adaptations by the author, with permission of the MTA.