Open Call for Partners: City Life After Coronavirus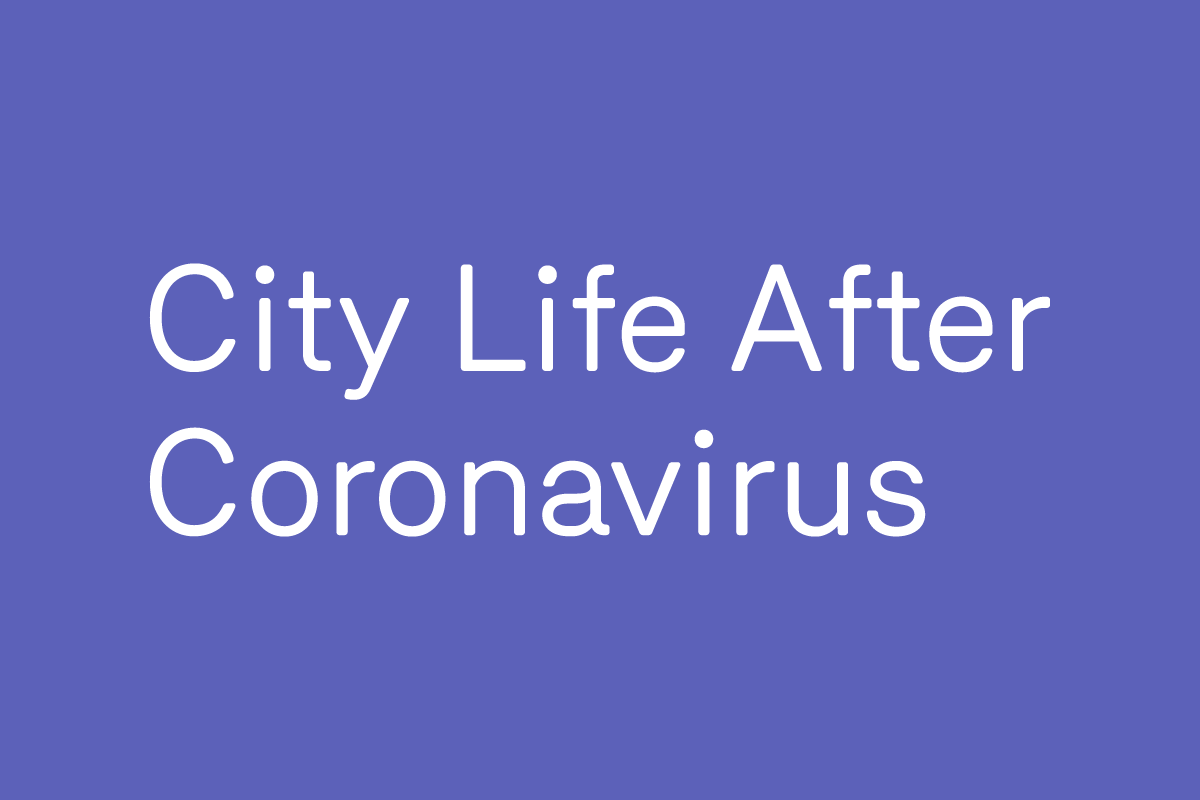 Introduction ↓
The coronavirus pandemic has upended urban life. The coming months will have an enduring impact on the way we live, work, and gather in cities.
During this historic moment, the Urban Design Forum is launching a new inquiry, City Life After Coronavirus. We plan to convene international experts to document global responses to the crisis and strategize a road to recovery for New York City.
What does the pandemic reveal about urban design, infrastructure, and governance? And how can we build a more just city for New Yorkers hardest hit by the public health and economic crisis?

Partner with Urban Design Forum ↓
In April, we released a Call for Ideas soliciting a broad range of submissions from our Fellows and the general public to inform us about potential ideas to showcase, ongoing initiatives to study, and experts to invite. Though our initial submissions deadline has past, we recognize that we are learning new information every day about how the pandemic is changing city life. As a result, we continue to welcome proposals for collaboration from public, private, academic, and community partners on a rolling basis.
We seek to engage partners that amplify the impact and reach of our City Life After Coronavirus series, with a focus on organizations advancing a just and equitable recovery for communities most impacted by the crisis. While the scope of engagement can vary, UDF would welcome collaborating in some of the following ways:
1. Share Design, Public Health, or Policy Expertise
As New York City plans to safely re-open businesses and public spaces this summer, we seek to connect affected communities and agency partners with resources and sectoral expertise through working groups, digital convenings, and consulting partnerships.
2. Co-host an Event
We welcome local and international collaborators as we digitally convene discussions around the range of key questions outlined below.
3. Editorial Collaborations
As we gather reflections, policy proposals, and design recommendations in response to the current crisis, we welcome editorial partnerships as we publish the ideas that emerge and seek to reach audiences beyond our network.
Please direct all proposals and questions to:
Andrew Pasquier
Program & Development Associate
646-928-0550
andrew@urbandesignforum.org
Key Questions ↓
As our inquiry unfolds, we will interrogate how this crisis impacts and challenges many facets of urban life. We plan to explore a range of key questions as we envision a roadmap for recovery in New York City.
Response
Knowledge Exchange: What can New York learn from city leaders around the world responding to coronavirus?
Small Business: As retail stores and restaurants shutter, how can we support workers and small business owners during the crisis?
Local Industry: How can we retool local industrial zones to address supply shortages?
Social Equity: How should we address the uneven distribution of healthcare facilities, jobs, and food security across the five boroughs?
Labor: How should we support the health and well-being of "essential workers" as they continue to serve our city?
Digital Access: How can we minimize the digital divide exacerbated by the increase in remote work, education and recreation?
Housing: How will crisis response legislation on mortgage payments, rent, and evictions impact New York City neighborhoods?
Sponsorship ↓
The Urban Design Forum is a small civic and cultural organization. We are pleased to recognize the support of any foundations or corporations interested to support our effort. If you are interested to learn more, please direct all inquiries to:
Daniel McPhee
Executive Director
646-928-0553
daniel@urbandesignforum.org
We also welcome you to consider personally supporting our work with a contribution of $50, $100, or $250. Your generous support will make this project possible.