NYCHA LiveWorks: Incubating Affordable Workspaces within Affordable Housing Communities
Activate underutilized NYCHA spaces with workspaces for residents.
By Stephen Fan
–
Entrepreneurship is already at home in New York City Housing Authority communities. Four thousand NYCHA residents are self-employed, and an estimated 88% of those operate informal businesses ranging from craft and food production, hair salons, childcare, to network marketing enterprises. Imagine the business talent, ambition, and energy of NYCHA's 400,000 residents that remain unrealized because of the Authority's policies that restrict the types of home-based business activities, and because of the lack of space, resources, and opportunities. NYCHA LiveWorks, a proposal developed in fellowship with the Institute for Public Architecture, seeks to realize that economic potential by bringing business support services and affordable workspaces to affordable housing.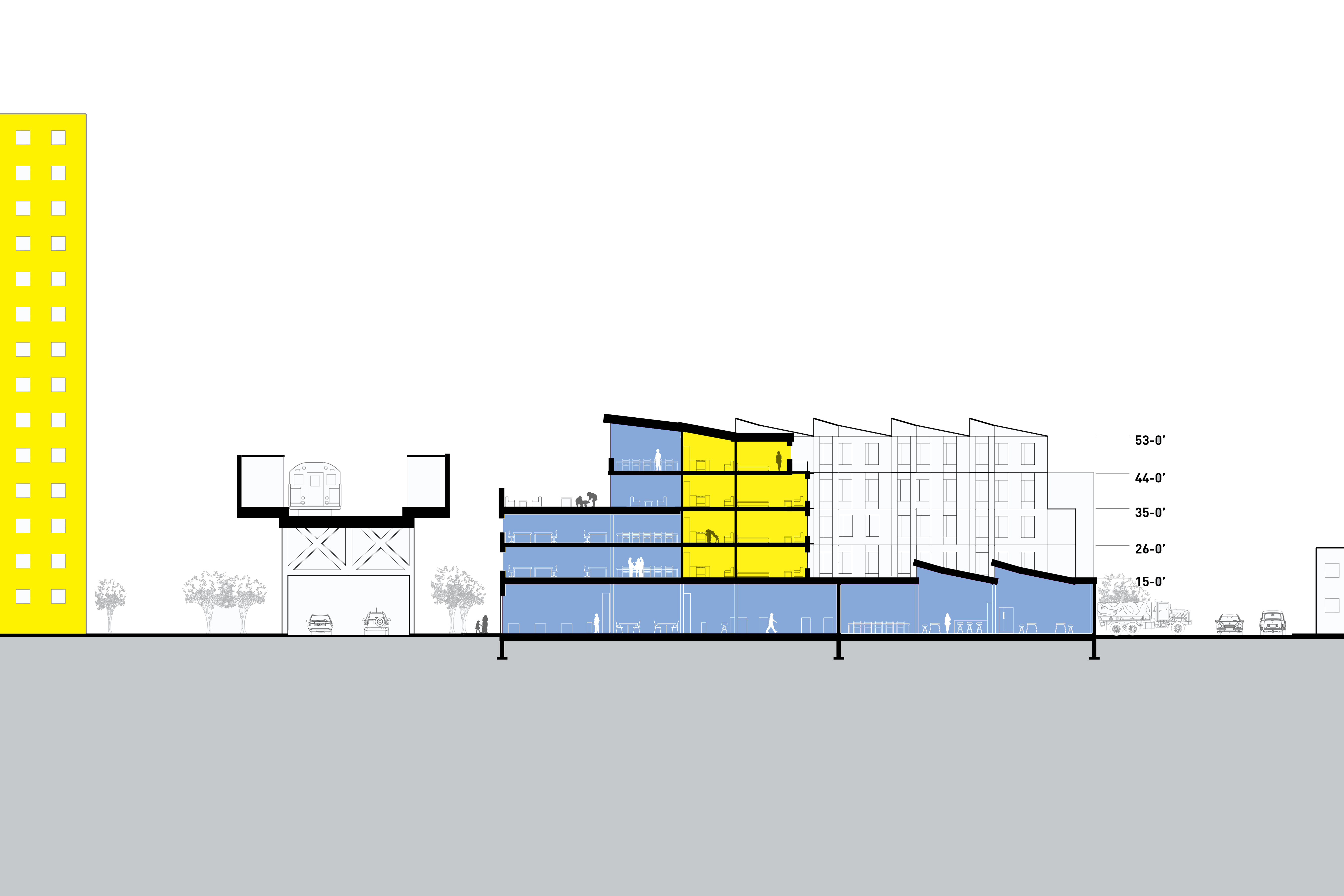 Tailored to NYCHA tenants, we propose a network of workspace incubators operated by experienced partners that combine shared workspaces with shared resources to serve the Authority's and its residents' needs. By formalizing existing informal businesses, NYCHA LiveWorks helps address the Authority's legal and safety concerns over those home-based enterprises. By providing affordable, short term leases, NYCHA LiveWorks offers flexibility and a lower risk of entry to existing and new resident-entrepreneurs. By combining resources among microbusinesses; facilities, equipment, and benefit plans can be pooled; training, networking, and mentoring opportunities can develop; and legal and financial services can be better accessed. Though the scope of these workspaces could range from offices and commercial kitchens, to salons, markets, and makerspaces, the specific functions would depend on the community's and operating partners' assets and needs.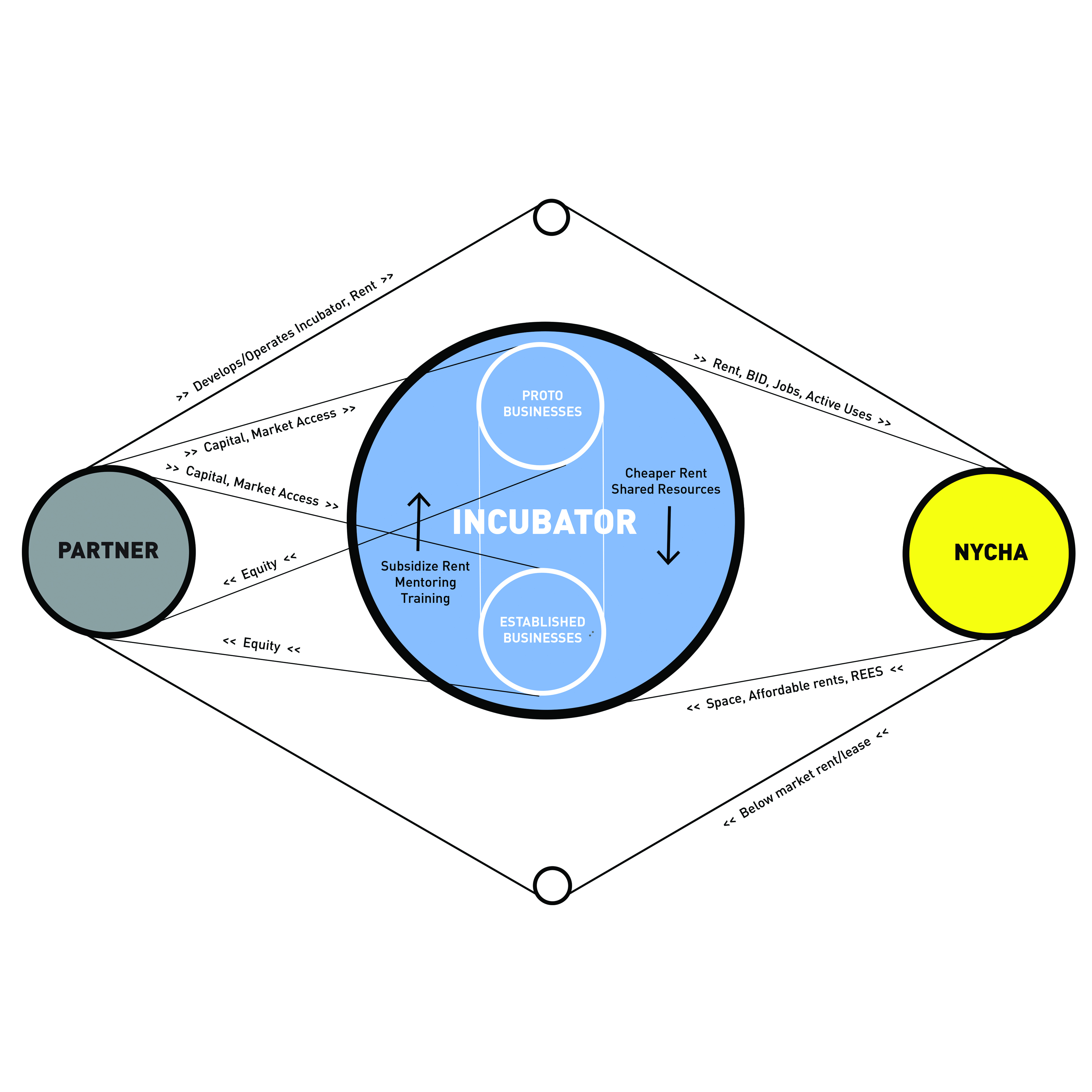 What distinguishes NYCHA LiveWorks from other entrepreneurship initiatives is its physical proximity to participants' dwellings and communities. The promise of live/work includes having more control over one's schedule and a zero commute, helping to overcome a significant employment barrier for those responsible for the care of others, including single-headed households. These workspaces can be placed within NYCHA campuses, in vacant lots and forty-seven underutilized or vacant NYCHA community facilities, Next Gen ground floors and ground floor rehabs. These spaces would be re-activated by work, increasing activity and residents' perception of security. Incubators could also be located in surrounding neighborhoods as additions to physical and/or social infrastructure: under elevated highways, in existing schools, libraries, or police stations, and in adjacent manufacturing zones, of which many NYCHA developments abut. NYCHA LiveWorks' physical proximity to its business owners, employees, and customers would promote local social networks and stimulate local economies.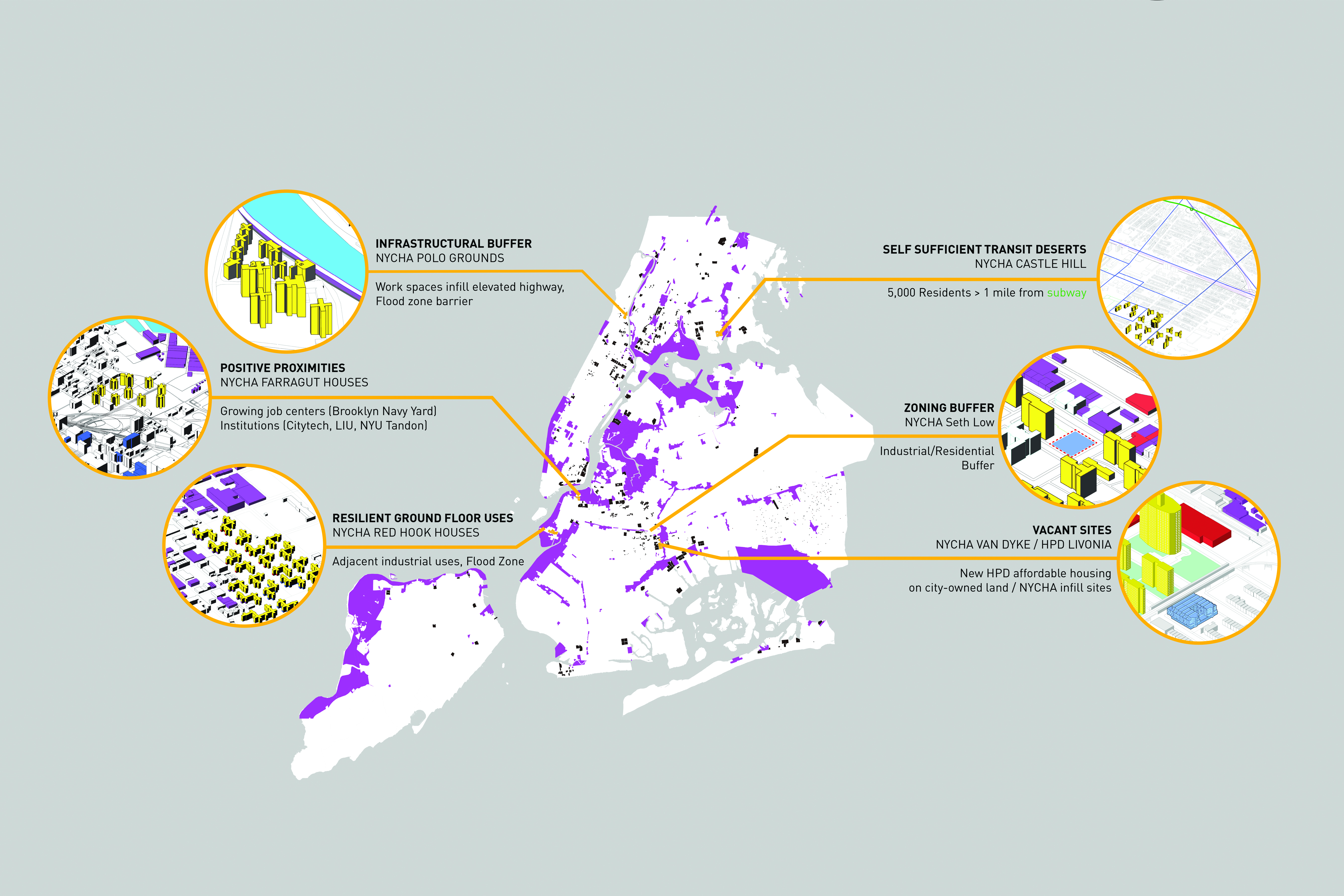 In all these spaces, incubators would create not only new jobs, but foster new synergies with the architecture, public space, and infrastructure of the city. Benefits would include active, more public ground floor spaces with more resilient uses, positive proximities to economic hubs, strengthened self-sufficient live-work communities in transit deserts, buffers to transportation and industrial nuisances, and fuller use of vacant and underutilized sites.
Expanding the live/work model at the building scale for higher income individuals , NYCHA LiveWorks proposes an equitable live/work model at the community scale, for people of limited means, but great potential—to drive local community investment, local development, and local empowerment.
–
Stephen Fan is a former fellow of the Institute for Public Architecture, where this proposal was first developed. As a designer, educator, and curator, his research focuses on informal architectural and urban systems. The recipient of awards from the American Planning Association and Vernacular Architecture Forum, this research has been featured in the New York Times, the New Yorker, Metropolis, Next City, City Lab, Journal of the Society of Architectural Historians, and Buildings & Landscapes, and exhibited at the Oslo Architecture Triennale and Venice Architecture Biennale.