Welcoming Our New Board Members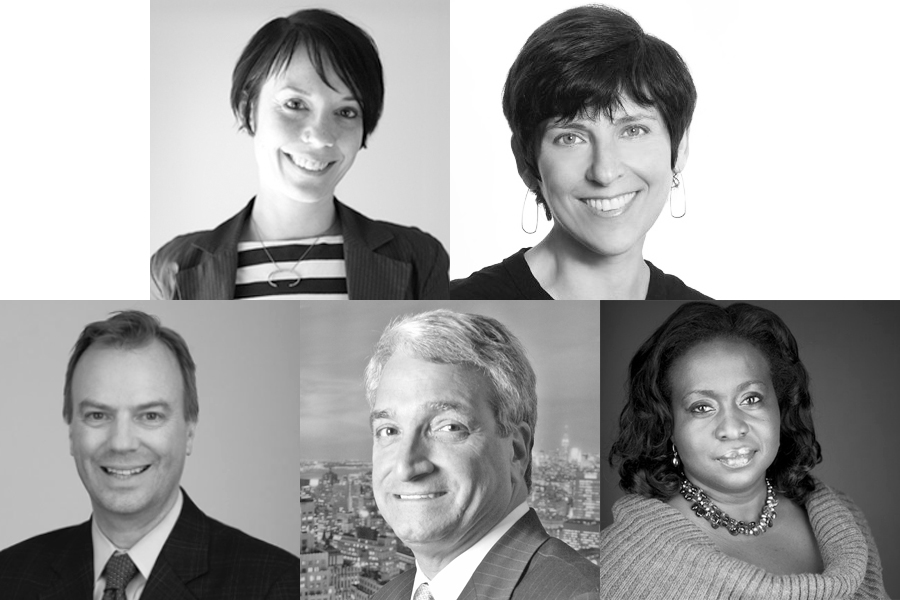 The Urban Design Forum is pleased to announce the addition of five new members to its board of directors: Michelle Delk, Abby Hamlin, Dev Hawley, Frank Sciame, and Beatrice Sibblies.
"We are proud to welcome these five members, whose expertise on cultural projects, housing development, and public space design will enrich our conversation on the future of urban life," said Hugh Hardy, President of the Urban Design Forum.
The Urban Design Forum Board of Directors includes James Corner, Timur Galen, Alexander Garvin, Paul Goldberger, Hugh Hardy, Tami Hausman, Meredith Kane, Michael Sorkin, Byron Stigge, Marilyn Taylor, James von Klemperer, and Thomas Wright.
About our new Board Members:
Michelle Delk is Partner and Discipline Director of Landscape Architecture for Snøhetta's New York office. Michelle has led diverse projects with extensive engagement of community and client groups, including master plans for campuses, urban infill areas and brownfield developments, as well as downtown places, urban parks, and streetscapes. Currently, Michelle is leading the design of Willamette Falls Riverwalk in Oregon, the New Central Library Plaza & Gardens in Calgary, and Oak Plaza, part of a development project in downtown San Francisco. She is also leading several other design efforts, including the French Laundry Garden Renovation, the Penn District Master Plan, and the Temple Library Landscape.
Abby Hamlin is a New York City based real estate developer and civic thinker. She is founder and president of Hamlin Ventures, a development company that focuses on select, design-driven projects that engage urban issues. Her recent projects include townhouses and supportive housing in Downtown Brooklyn, a landmark building in Manhattan's Soho district, and the development of an industrial fabrication center in Gowanus, Brooklyn. Prior to forming Hamlin Ventures, she was president of Swig Weiler & Arnow Mgt. Co., a commercial real estate company managing 8 million square feet of office properties in New York and San Francisco, as well as the Fairmont Hotels. She currently serves on the Board of the Brooklyn Navy Yard Development Corporation, Community Solutions, the Actors Fund Housing Development Corporation, and Art Omi.
J. Devereaux Hawley is the Global Head of Capital Projects at Goldman Sachs, where he manages one of the world's largest LEED-accredited portfolios covering 170 offices in 92 cities and 30 countries. In this role, he managed the development of Goldman Sachs Worldwide Headquarters in New York as well as campuses in London and Bangaluru. Previously, he served as Director of Real Estate Development at The Walt Disney Company, where he helped develop the Hong Kong Disneyland Resort and Downtown Disney at the Disneyland Resort in Anaheim, among other projects. He currently serves as Vice Chair of the Salvadori Center.
Frank Sciame is CEO and Chairman of Sciame Construction, one of the tri-state's leading construction management firms. With a degree in architecture from City College of New York, Frank is sought out by top designers as a construction partner. His recent projects include the addition to the Morgan Library and Museum, the new Academic Building for Cooper Union and the FDR Four Freedoms Park Memorial on Roosevelt Island. Current projects include buildings for Columbia Medical Center, Princeton University, and The Shed at Hudson Yards. In 1996, Frank formed the real estate development firm Sciame Development. Among his commitments, he is a current Executive Committee Board Member and Past-Chairman of both the New York Landmarks Conservancy and the New York Building Congress.
Beatrice Sibblies is the managing partner of BOS Development, a community-focused real estate development firm based in Harlem, New York. Founded in 2005, BOS Development develops the spectrum of projects necessary for a vibrant community, including residential, religious, cultural, educational, hospitality, and commercial developments. She is actively developing church-anchored development projects in the Central Harlem core and Sugar Hill. Previously, she had a successful career in finance at J.P. Morgan and Morgan Stanley and served as Assistant Vice President for Economics for the Lower Manhattan Development Corporation.