Neighborhoods Now Spotlight: Libreria Barco de Papel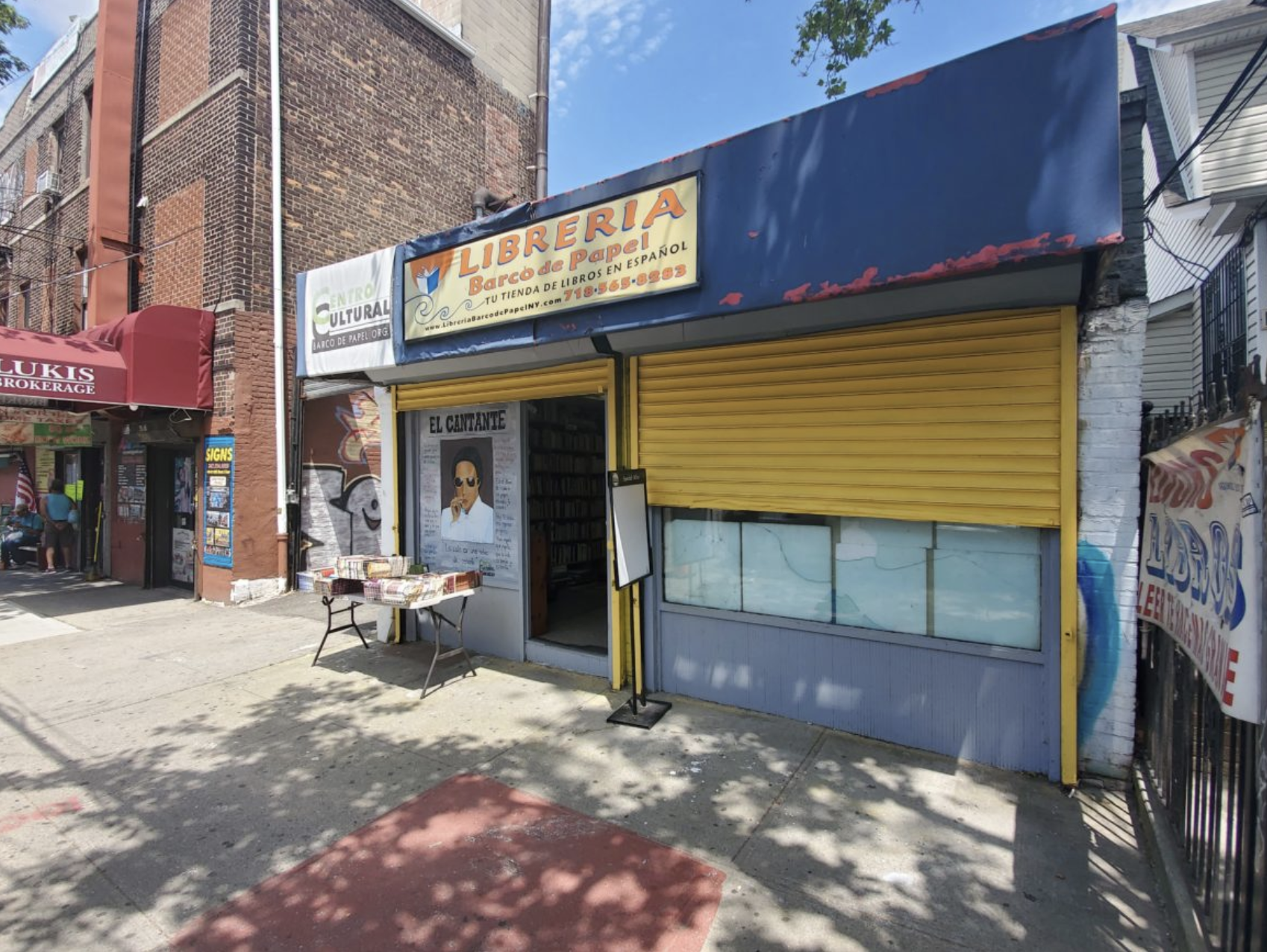 Libreria Barco de Papel is a nonprofit bookstore and cultural center mere footsteps from the bustling Roosevelt Avenue in Jackson Heights, Queens. Founded in 2003, it is now the last Spanish-language bookstore left in New York City and is a beloved cultural hub in the neighborhood. Since the COVID-19 pandemic hit, Barco de Papel has faced an economic crisis and is currently raising support on GoFundMe.
While more than 10,000 restaurants in New York City are participating in the city's Open Restaurants program, there is not a similar program for other types of businesses. As part of Neighborhoods Now, the Jackson Heights working group created a proposal for the city's Department of Transportation (DOT) to implement street seating for Libreria Barco de Papel. DOT informed them that the city is now exploring avenues for outdoor seating for non-restaurant businesses and to submit an application at a later date. At the time of publication, that application process is not yet in place.
Launched in response to the COVID-19 pandemic, Neighborhoods Now is a collaboration between the Urban Design Forum and Van Alen Institute to channel pro-bono resources from New York-based design firms into community-driven recovery. Emma Silverblatt of SO-IL, one of the participating designers in Neighborhoods Now, recently spoke to Paula Ortiz of Libreria Barco de Papel about the center's history, role in the community, and challenges in the wake of the pandemic.
Interview with Paula Ortiz ↓
Emma Silverblatt, SO-IL: I understand the bookstore began in 2003. Why did you choose to open it in Jackson Heights? What is your relationship to the area?
Paula Ortiz, Libreria Barco del Papel: Ramon Caraballo is the founder of the bookstore. The only Spanish-language bookstore [in New York City] was in Manhattan, and many Spanish-speakers living in Queens didn't have the time to go all the way there. He started by selling books in the street. From there, he got to know the needs of the neighborhood and thought about a children's bookstore, because many parents were looking for books for their kids to reconnect with their culture and for the folktales that they read.
There was a need for a program for kids to connect their parents' roots, so we started doing La Hora del Cuento (Storytelling Hour). Each month, we highlighted stories, artists, festivities, and holidays that were relevant to the Hispanic community. It was all free — what we were doing was to promote the culture. We then started our program La Centro Cultural to connect our community to communities elsewhere. We started with open mics and readings, and then we began hearing from writers in Spain, Belgium, and Mexico, saying, "I have my book, I'm coming to New York, can I present it there?" Because we give opportunities to authors who are not well-known, they have a space to share their knowledge with others. If people can gather here, get to know your work, and access your book for a decent price, that's what it's about. This is our humble philosophy.
Our community started seeing us not just as a business, but as a place where they're able to connect with their culture, a place where they can meet, a place that people feel is part of their everyday. It's not just the inventory — although we have an inventory that is unique in the city, because we are the only Spanish bookstore left. It's the persistence and resilience of our community that makes us stay.
ES: How do you engage with the community here in Jackson Heights today?
PO: Jackson Heights is the most diverse neighborhood in New York City. You can be in so many countries at the same time just by walking in one block — it's magical to be here.
[When you come to New York City as an immigrant,] you come here with one goal: to work and to help your families succeed in their country. That can create a sort of individualism, because you need to fight for your own survival. There can be a lack of communication as to how our communities can help each other. We come here to work, but we also bring our culture with us. We bring our food, our stories, our history.
So Barco del Papel is a hub and venue for people to maintain their roots, to have a place where they can pass their traditions to others. If we have spaces that promote our culture, people will feel connected. That's the value that any cultural center has. It's a spot where you can learn about and connect to your past.
This space is always welcoming for whoever wants to come. We evolve as the community has been evolving. We went from having children's books to having adult and children's books; from having only Spanish books, now to having Spanish and English books. The community is growing and parents want their kids to learn a second language. So we have been evolving into a store that is adapting to the needs of the community.
ES: How can people support you through this time?
PO: Elmhurst, Jackson Heights, and Corona were among the most hard-hit neighborhoods in New York City by COVID-19. We're one block away from Elmhurst Hospital, and the pandemic has had a huge impact on our community. We lost a lot of people, a lot of close friends. We're good at supporting each other, but it's been a rough road.
Before the pandemic, all this dust was under the carpet. What the pandemic did was to lift the carpet and expose our social differences — including economic differences, differences in food access, and the lack of access to resources for small, minority-owned businesses. As a small business, we tried to get an SBA loan but didn't receive one. We encountered a lot of red tape, and many loans went to businesses with more employees. We're not a big bookstore, so we have to deal with that. Instead, we started a GoFundMe campaign and have gotten a lot of support. People can donate books and we are looking for new inventory software. But the main needs of the store right now are our rent and utilities. Donations — it can be five or ten dollars — can help us a lot.
We appreciate what Neighborhoods Now is doing for us so much. As immigrants, there are not a lot of people that are going to advocate for us. There's a preconception and a presumption that immigrants have a lack of ownership or care for their communities. But there are a lot of immigrants doing good in our community, and they need to be supported. We need to make sure they're getting help, advice, and ideas on how to navigate the pandemic.
---
This interview was adapted from a conversation with Emma Silverblatt, and has been edited for clarity.