Look to the Sky in Staten Island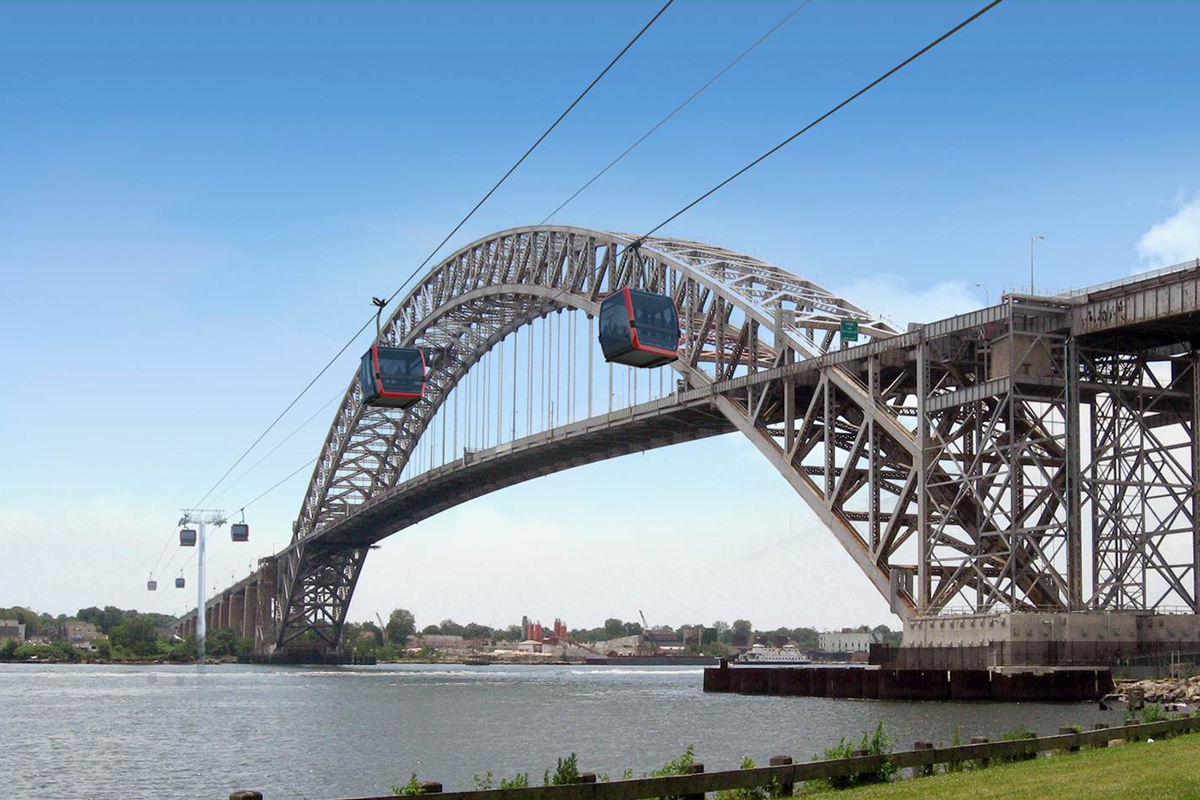 Staten Islanders have one of the longest average commutes in the nation, with public transit users routinely traveling over 90 minutes one-way to reach Manhattan. We propose creating a fast and efficient link between the municipalities of Elm Park, Staten Island and Bayonne, New Jersey via an aerial gondola system. This viable plan will connect future light rail and bus rapid transit on Staten Island with the proposed extension of the Hudson-Bergen light rail in Bayonne, creating a new route from Staten Island to Manhattan.
Staten Island residents have serious transit inequities. To solve them, we must leave behind rails and roads and look to the sky with the SI Gondola.
Aerial gondolas are one of the most reliable, weather resilient, and safe mass transit systems in the world. Their initial cost is lower than all other modes of transit, and their long-term maintenance costs are lower than buses and ferries. Aerial gondolas are also profitable transportation systems—the Roosevelt Island Tram is the only profitable mass transit system in New York City—which means the SI Gondola could be entirely funded through private investment.
This project will reduce commute times for residents and create new access to jobs, especially those for Staten Islanders who are transit-reliant in the relative transit desert of the North Shore.
It will expand redundancy across the entire network and create new access in Bayonne to both the existing light rail system as well as a proposed mixed-use development. Other possible benefits include new access to the waterfront, new recreational opportunities including bike trails, and new retail opportunities at the stations.
As of this writing, the Staten Island Economic Development Corporation (SIEDC) is working with city and state agencies as well as local elected officials to fund an engineering and feasibility study for the project. SIEDC will also be working to coordinate with New Jersey Transit regarding station relocation and other transit-oriented development opportunities in Bayonne which can be enhanced by the gondola.
The SI Gondola is not the alone. There are several proposals for aerial gondola systems in New York City, including a new connection from Williamsburg to the Lower East Side, and another from Red Hook to Governors Island. Cities across the country are all in serious talks to build their own. This opportunity for urban transportation is the wave of the future—Staten Island should be riding it.
–
Steve Grillo serves as First Vice-President of the Staten Island Economic Development Corporation, a nonprofit organization that promotes public and private investment, and encourages responsible and sustainable development across the borough. He manages a variety of industrial/manufacturing, environmental sustainability and neighborhood development projects.