Justice for All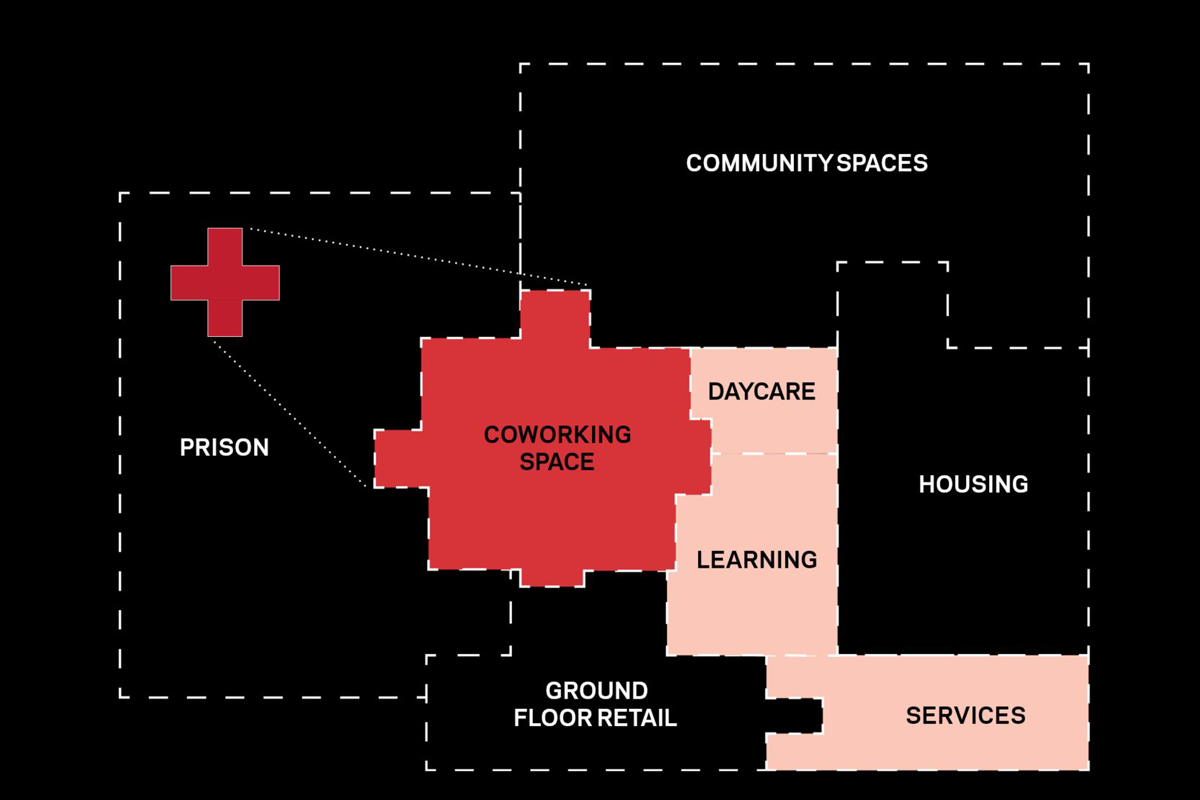 The community-focused approach of coworking can benefit justice design for a better inmate, visitor, and neighborhood experience.
By Bill Bouchey
–
The past decade has brought dramatic change to both workplace and justice design. In the workplace, the rise of coworking has led to the creation of communal office environments that offer more choice and flexibility. In justice design, a renewed emphasis on rehabilitation has led to the design of facilities that reduce recidivism and better prepare inmates for reintroduction to society.
For the most part, these two design fields—workplace and justice—exist as distinct and separate practices. Yet one wonders, could the coworking model offer new solutions to the way we design prisons and detention centers? And could that model benefit the rehabilitation of inmates and help make corrections and jail facilities more of a civic asset than they are today?
These are interesting questions to ponder, especially for those of us in New York as the city considers replacing the Rikers Island jail complex with four smaller detention centers. Such a move would automatically make the city's jail facilities more accessible, allowing for greater interaction within the community.
At its core, coworking is about community. The primary benefit of coworking is that it provides alternative workplace ecosystems that accommodate a diverse range of business models and working styles—providing areas for individual work, group collaboration, socializing and networking. Unlike many traditional workplace environments, the coworking typology is also transportable, flexible and scalable.
Given its adaptability, it's not a stretch to imagine how coworking could benefit justice design in the following three ways:
1. Better Inmate Experiences. A coworking approach to justice design could help eliminate the monotony of incarceration by providing inmates a choice of different environments, including areas for alone time, group learning, relaxation, consultation or relaxation. Offering people a choice or settings helps improve well-being and mitigate stress. Other elements borrowed from coworking and workplace design—daylighting, tempered acoustics and (detention-grade) carpeting and wood—also create more normative environments that could benefit inmates, staff and visitors.
2. Better Visitor Experiences. Inmates, particularly those held in detention centers and awaiting trial, need areas to visit with family, friends, attorneys, counselors and others. A coworking approach could help accommodate such visits with flexible spaces to support one-one-one meetings or larger gatherings. Coworking design could also make visiting the jail more convenient for families and professionals who could use the space to take care of business or personal needs.
3. Civic assets. A mixed-use approach could make justice facilities (particularly jails) less isolated and a greater part of the community by combining elements such as coworking, social services, daycare, retail, job training and even transitional housing within the same building or complex. One could envision coworking at the heart of such a facility (see above image), providing a transition area that connects the inmate population to the people and services outside. An integrated, mixed-use development like this also could support the justice facility visiting population and local community and serve as a neighborhood anchor.
–
This work was developed as part of HOK's Justice Practice and is a topic under further exploration in 2019.
Bill Bouchey is Director of Design at HOK, bringing over 25 years as a thought leader in workplace, showroom, and lifestyle & Hospitality environments, emphasizing innovation and brand presence. At HOK, Bill guides clients collaboratively in creating a sense of place and a commitment to concept-based design excellence. His design sense is driven by the belief that interior design empowers people and transforms organizations. Recognized as one of the industry's relevant designers his work has received numerous honors and appeared in many media outlets and design publications, including speaking engagements and editorial blogs. His work with teams has appeared in Interior Design magazine, Contract Magazine, The New York Times among others. Bill serves on the Editorial Advisory Board of Contract Magazine, is a graduate of The Fashion Institute of Technology.