Introducing the 2020 Class of Forum Fellows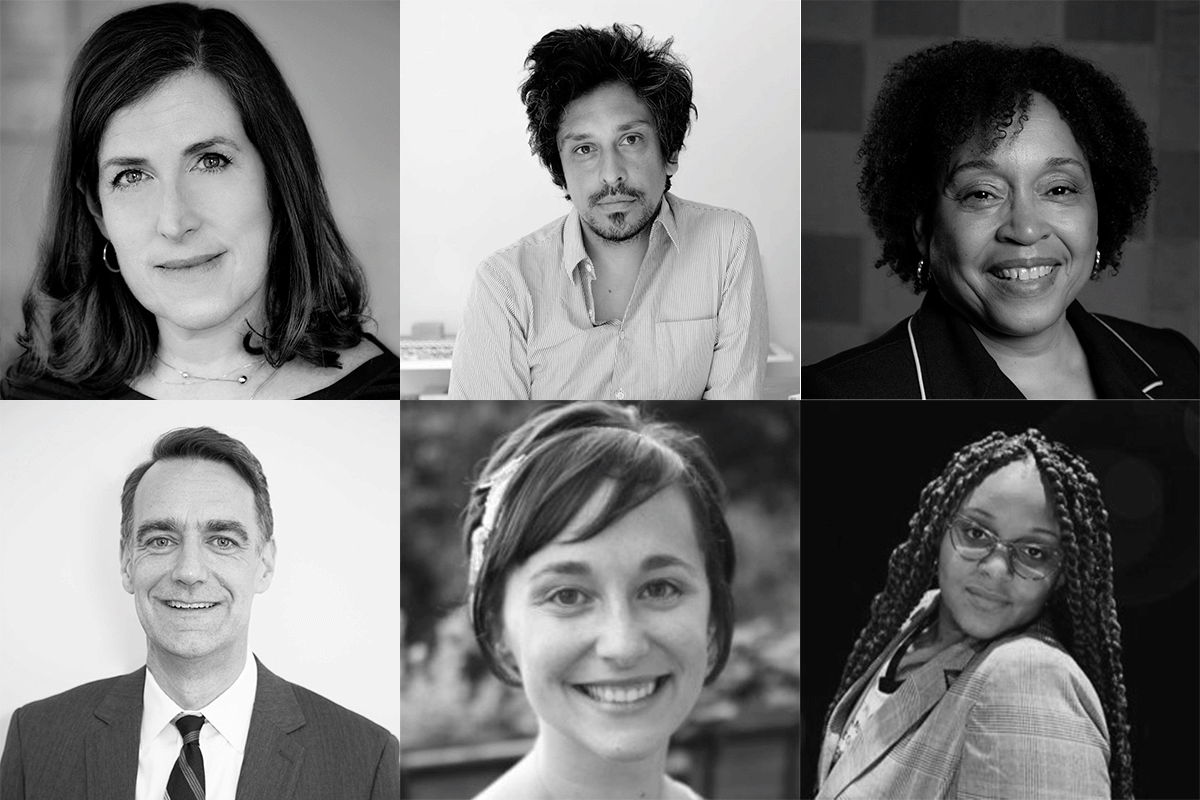 The Urban Design Forum is excited to announce our 2020 Class of Forum Fellows! Our 82 new Fellows are civic leaders shaping dynamic, equitable, and resilient cities around the world. As we build a community of experts wrestling with today's complex urban challenges, we strive to highlight their creative solutions and exemplary projects across our yearly programming.
Our 2020 Class of Forum Fellows are confronting many urgent issues in New York City, from forming a network of designers in service of the public good to designing "recharge rooms" in hospitals to support the health and resilience of frontline workers. They are planning a resilient transit-oriented development on Governors Island and organizing the stakeholder engagement process for NYSERDA's offshore wind projects. They are reimagining the streetscape in a vision plan for Union Square and championing community and economic development in the South Bronx.
Our Fellows are also working in cities around the world from San Juan to Copenhagen. They are designing new public podiums in Seoul and natural history museums in Shenzhen. From promoting mobile app literacy through interactive outdoor classroom infrastructure in Dakar to forming a national coalition of urban forestry researchers to promote climate action in U.S. cities, our Fellows' work is tackling some of the most pressing urban issues here and abroad.
We welcome the 2020 Class of Forum Fellows and look forward to sharing their ideas for the future of the city!
Learn more about becoming a Fellow of the Urban Design Forum.
Meet the 2020 Class of Fellows
Ibrahim Abdul-Matin, Urban Strategist, Living Future
Matthew Acer, Architectural Designer, MOS
Anam Ahmed
Shane Algiere, Project Manager, LTL
Rebecca Amato, Director of Teaching & Learning, Illinois Humanities
Alexandra Barker, Architect, Barker Associates Architecture Office
Michele Busiri-Vici, Co–Founder, Space 4 Architecture
Benjamin Cadena, Founder, Studio Cadena
Tei Carpenter, Founder, Agency-Agency
Maria Antonieta Castro-Cosio, PhD, Consortium for Sustainable Urbanization
Brendan Cavender, Senior Vice President, CBRE
Kathleen Cayetano, Designer, Kohn Pedersen Fox
Sarah Charlop-Powers, Executive Director, Natural Areas Conservancy
Michael Chen, Founder and Principal, Michael K. Chen Architecture
Dana Chermesh, Founder, inCitu
Runit Chhaya, Principal, Grain Collective
John D'Onofrio, Staff Architect, FCA
Betsy Daniel, Associate Urban Designer, HOK
Leslie Davol, Co-Founder/Executive Director, Street Lab
Mark Dicus, Executive Director, SoHo Broadway Initiative
Jake Elghanayan, Senior Vice President, TF Cornerstone
Nels Erickson, Designer, Kohn Pedersen Fox
Ana Fisyak, Deputy Director of Planning and Development, Rockaway Initiative for Sustainability & Equity
Neil Gagliardi, Director of Urban Design, NYC Department of Transportation
Julia Gamolina, Directory of Strategy, Trahan Architects
Farzana Gandhi, Principal, FG Design Studio
Esteban Girón, Member, Crown Heights Tenant Union
Andrea Goldwyn, Director of Public Policy, New York Landmarks Conservancy
Amalia Gonzales Dahl, Director of Business Development, Henning Larsen
Terese Gonzalez, Principal, DalyGonzalez
Kiki Goti, Founder, SomePeople
Bernell Grier, Executive Director, IMPACCT Brooklyn
Kei Hayashi, Partner, BJH Advisors
Bill Heinzen, Deputy Commissioner, NYC Taxi & Limousine Commission
Mimi Hoang, Co-Founding Partner, nArchitects
Ijeoma Iheanacho, Senior Project Designer, Urbahn Architects
Priyanka Jain, Principal and Founder, 3×3 Design
David Karnovsky, Partner, Fried, Frank, Harris, Shriver & Jacobson LLP
Vanessa Kassabian, Principal, DLR Group
Cali Kay Williams, Principal, Karp Strategies
Musa Klebnikov, Consultant, OneL
Daniel Kuehn, Architect, ARO
Ellen Lehman, Associate, Fried, Frank, Harris, Shriver & Jacobson LLP
Christopher Leong, Co-Founder, Leong Leong
Nadine Maleh, Executive Director, Capital Projects, Mayor's Office of Criminal Justice
Patrick McAffrey, Project Architect, Dattner
Deirdre McDermott, Co- Founder, FUTURE EXPANSION
Nick McDermott, Co- Founder, FUTURE EXPANSION
James Mettham, Executive Director, Flatiron/23rd Street Partnership
Jenna Miller, Principal-in-Charge, RUEd' ARCH LLC
Ankita Nalavade, Assistant Urban Designer, NYC Department of Design and Construction
Megan Nesbeth, Strategist, frog design
Tiasia O'Brien, Founder, Head of Strategy co:census
Eamon O'Connor, Urban Designer, Gehl
Mirelle Phillips, Founder and Principal, Studio Elsewhere
Zach Postone, Urban Planner, Arup
Christopher Riale, Principal and Founder, Local Form Studio
Yadiel Rivera, Architectural & Landscape Designer, Marvel Architects
Laylee Salek, Co-Founder, MA-MA
Traci Sanders, Founder and Principal, Pax Design Lab
Harris Schaer, Director, Energy and Sustainability, NYC Department of Cultural Affairs
Samuel Schwartz, President & CEO, Sam Schwartz Engineering
Daniel Serviansky, Mediator, DSSADR LLC
Peggy Shepard, Co-Founder and Executive Director, WE ACT
Joe Smith, Co-Founder, Smith & Sauer
Gary Sorge, Vice President of Communtiy Development, Stantec
Julie Stein, Senior Vice President, Asset Management, NYC Economic Development Corporation
Lorena Galvao, Business Development Manager, Scape Studio
Richard Chou, Urban Design Technologist, Kohn Pedersen Fox
Marquise Stillwell, Founder and Principal, Openbox
Jen Switala, Associate, Dattner
Ben Carlos Thypin, Co-Founder, Quantierra
Lexi Tsien-Shiang, Partner, Soft-Firm
Allison van Hee, Director of Asset Management, Joint Ownership Entity NYC
Geraldine Vargas, Project Designer, T+E+A+M
Lindsay Weiss, Director, Weiss Turkus Projects
Nicholas Williams, Associate, Fried, Frank, Harris, Shriver & Jacobson LLP
Laura Wolf-Powers, Associate Professor, CUNY Hunter
Michael Yarinsky, Founder, Office of Tangible Space
Lianyuan Ye, Junior Architect, Obra Architects
Lourdes Zapata, President & CEO, South Bronx Overall Economic Development Corporation
Pablo Zevallos, Excelsior Service Fellow, NYS Homes & Community Renewal