New York City must transition from a "take, make, waste" model into one that uses waste as an opportunity.
The More Jobs, Less Waste team embarked on a journey to elevate the waste reduction jobs already existing in NYC communities. Our "take, make, waste" model of a linear economy encourages consumption culture and discourages producer responsibility. A circular economy breaks this mold, where people can repurpose "waste" into goods and close the loop.
Our project mission is to identify circular jobs of the future by elevating circular jobs of the present. Though these jobs existed, they were not clearly communicated within communities nor did they highlight the people doing this work. We worked with the Pitkin Avenue BID in Brownsville, Brooklyn to produce the pilot issue of our educational zine, Waste to Wealth Volume 1, which illustrates the transformation of a local linear food waste stream into a new circular model.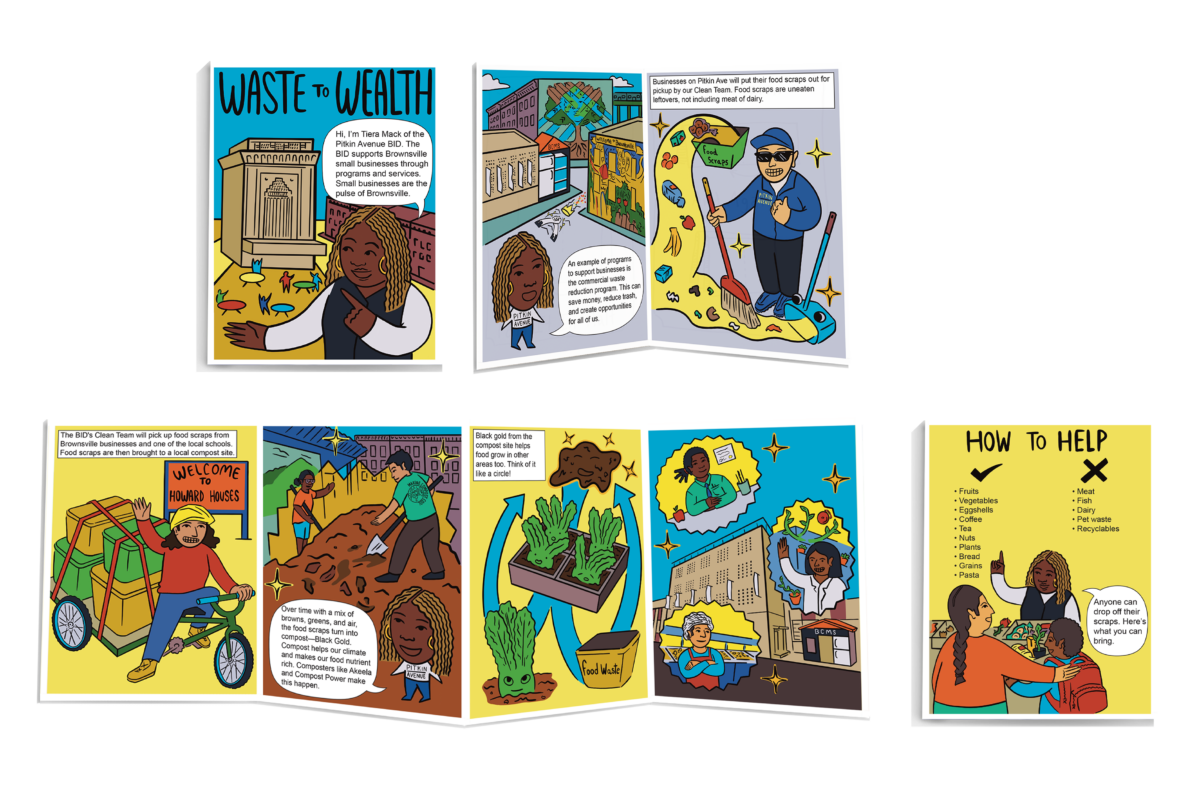 This zine focuses on food scraps and features our partners Compost Power, the Brownsville Collaborative Middle School for Agriculture & Technology, and several members of the Pitkin BID. This issue is illustrated by Angel Garcia and narrated by Tiera Mack, executive director of the Pitkin BID and visionary behind the commercial compost pilot program.
Along with this zine, we have created a community resource guide, which identifies how New Yorkers can get involved and find opportunities within their own communities. We've highlighted organizations across the city doing the work to grow a circular economy for food and support communities through both jobs and other resources with the hope that folks can find inspiration and create connections.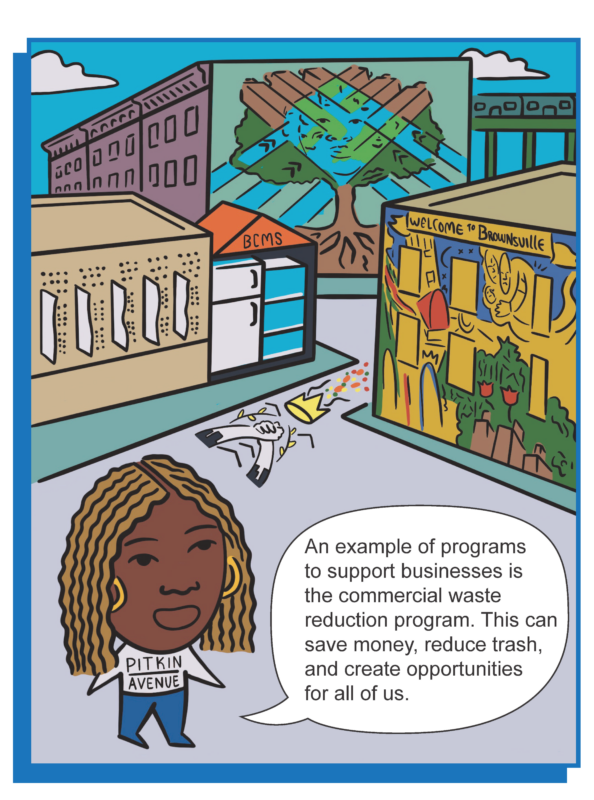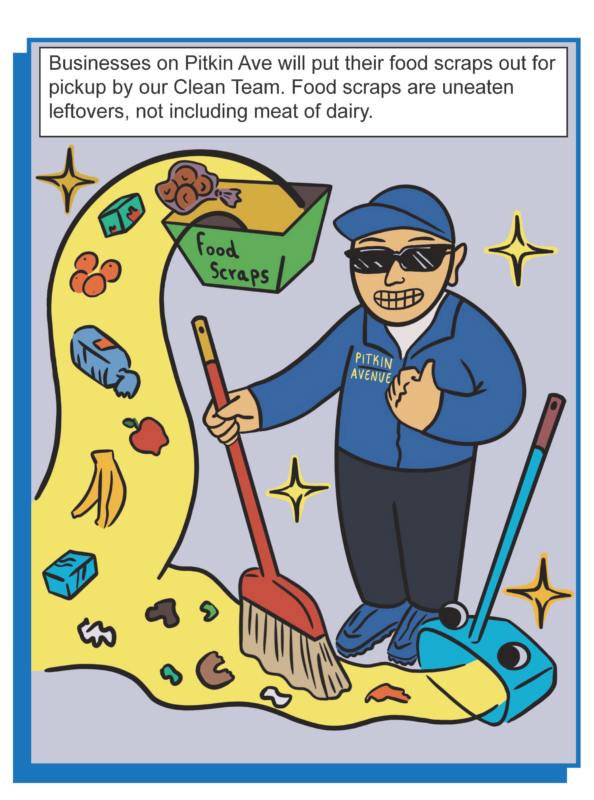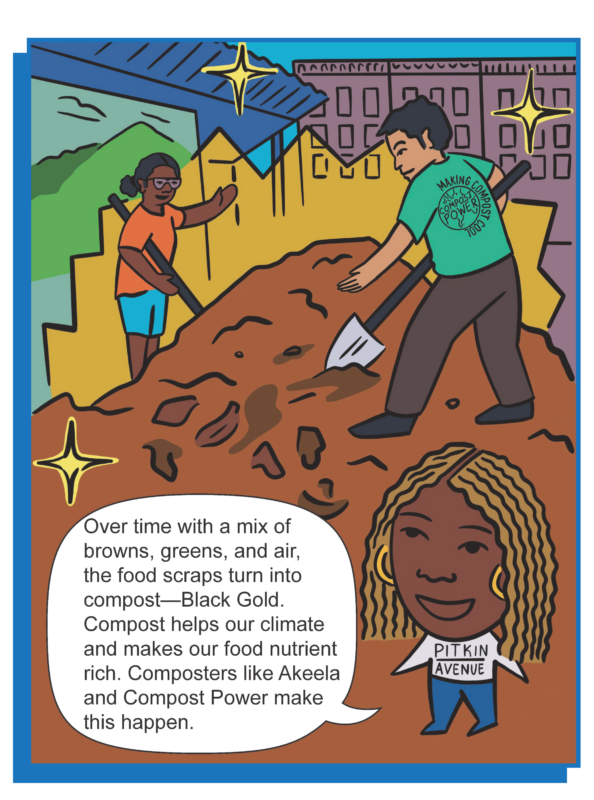 Check Out the Zine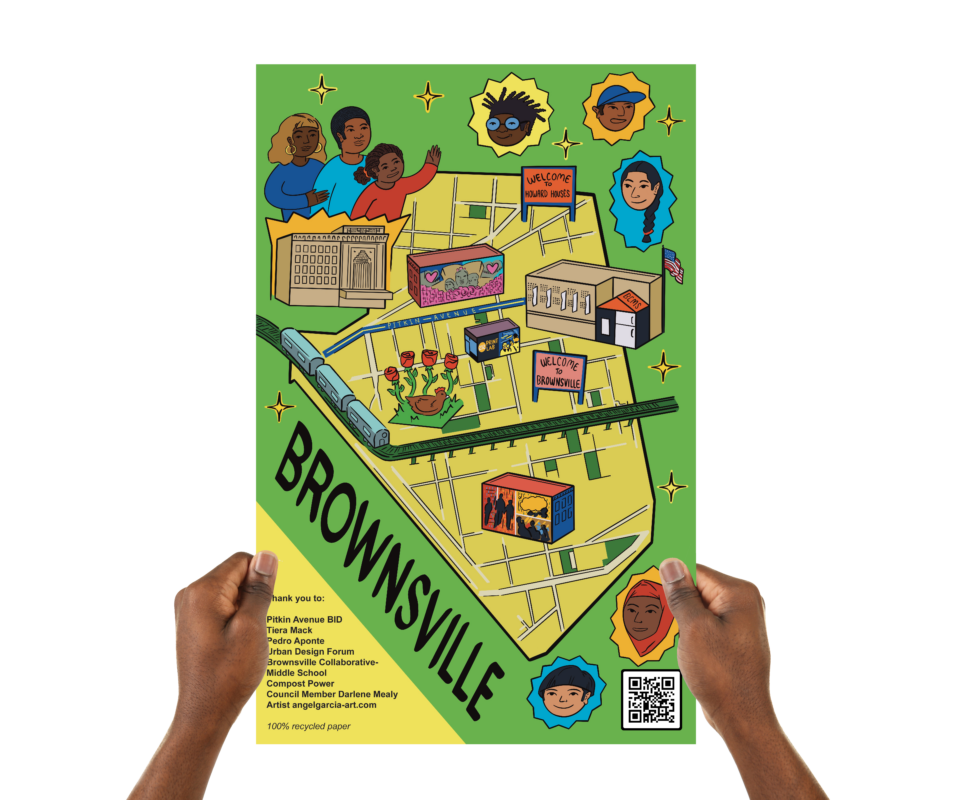 In the future, we aim to release additional volumes that highlight other waste streams, including textile and construction waste. We hope that you connect your story and local heroes within your communities with this work.
Resource Guide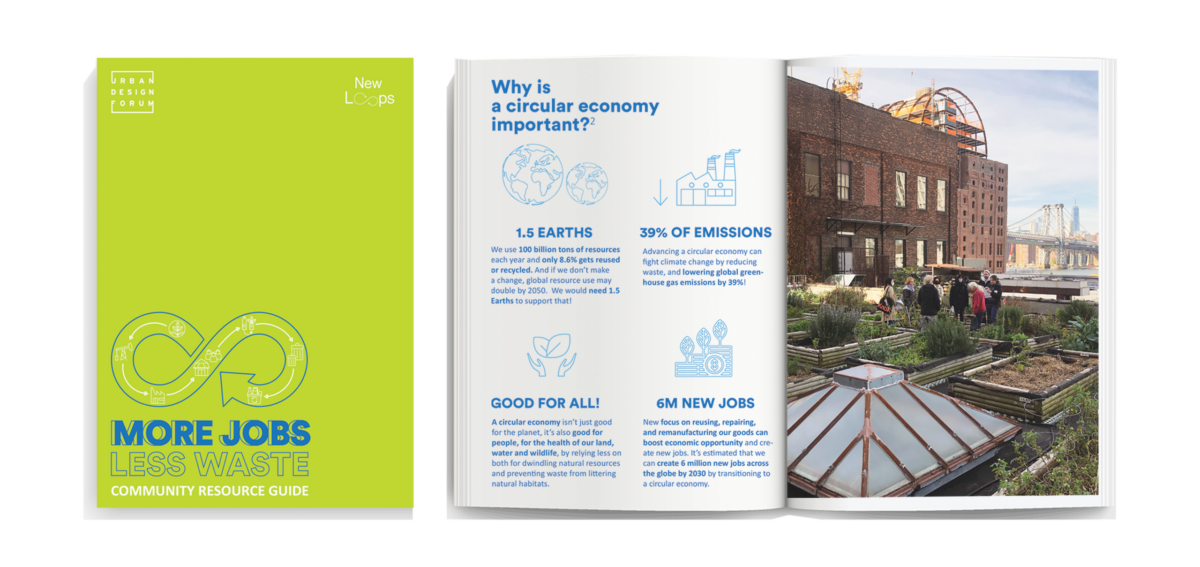 Our resource guide offers communities a playbook to transition from a "take, make, waste" linear model into a more circular model that uses waste as an opportunity.
Meet the Project Team
Betsy Daniel is a community-oriented urban designer, who strives to have the built environment be inclusive, healthy, and accessible for all people. Through her professional career, resiliency and sustainability research, civic leadership work, and design for equity efforts at her workplace, Betsy aims to collectively work together to envision a brighter, environmentally just, and livable future for our cities. She is currently Senior Project Manager (Urban Design), Neighborhood Strategies at NYCEDC.
Gabriella Malavé is an educator, creative strategist, and program designer at the High Line. She grew up in Queens, New York. Gabriella loves to explore how the spaces we create and the designs we develop impact communities through our understandings of justice and nature.
Dana Moore is an artist, activist and architect from San Antonio, Texas passionate about beautifying cities. She holds bachelor's degrees in architecture and liberal arts from the University of Texas at Austin and now designs transportation and infrastructure for the city of New York as an architect at Dattner Architects.
Peter Rampulla is a land-use specialist at Rampulla Associates Architects, where he leads strategic planning for zoning conflicts and analyzes complex regulations affecting properties throughout New York City. Peter is also a licensed Class 2 Code and Zoning Representative with the NYC Department of Buildings.
Veronica Rivas Plaza is a project designer at Street Plans Collaborative. She has a background in architecture, urban design, and sustainable city-making. She holds a degree in architecture from The City College of New York and a master of science in the Urbanism Studies Programme at KTH, Royal Institute of Technology in Stockholm, Sweden. She believes that design should be informed by the social, ecological, and cultural environments that shape our lives and advocates for creating more walkable communities to improve quality of life for all.
Akemi Sato is co-founder and principal at Sustrato, a non-profit focused on collaborative design and implementation of community-led projects. In addition to her work at Sustrato, she is a senior urban planner and designer at the Design Trust for Public Space. As an architect and planner, she has directed internationally recognized sustainable development projects, including: an ecologic restoration strategy for Barrilaco Ravine in Mexico; a campaign to crowd-source Mexico City's first transit map, called "MapatonCDMX"; and an SMS-based mental health program for disaster survivors in Peru and Puerto Rico, called "Libremente.
Nicole (Nic) Spina is an assistant vice president at NYCEDC and a native Brooklynite. She leads programs that address pressing climate challenges and shape a more inclusive and sustainable New York City, with expertise in circular economy, clean energy, and food tech. In her free time Nic loves riding bikes and taking care of community cats.
Urban Design Forum's 2022 Forefront Fellowship, New Loops, explored new approaches to New York City's waste. Through a year of immersive research, Fellows explored best practices in residential waste management in partnership with the Department of Sanitation, then developed independent projects exploring how the city could build a more circular waste system.