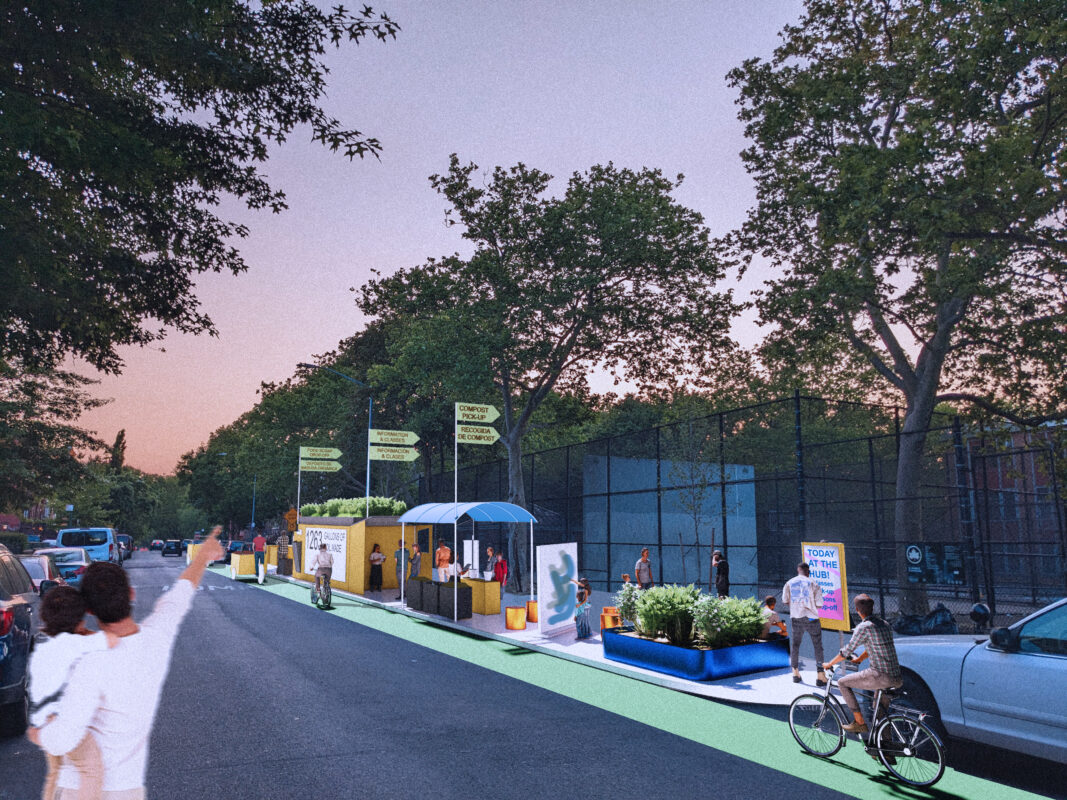 We envision an equitable, circular system for managing neighborhood organics that redefines the relationship between organics and our streets.
Historically, organics collections and processing in New York City has been a community affair, powered by the people. New Yorkers compost within our neighborhoods at community farms, compost sites, and community gardens. As New York City prepares for mandated residential organics separation by 2024, we believe that these existing local networks need to be fully integrated into the City's plan.
We imagine establishing neighborhood street-level hubs connected to existing networks of organics producers, collectors, haulers, and processors. This public realm infrastructure will support the City's curbside service and zero waste goals.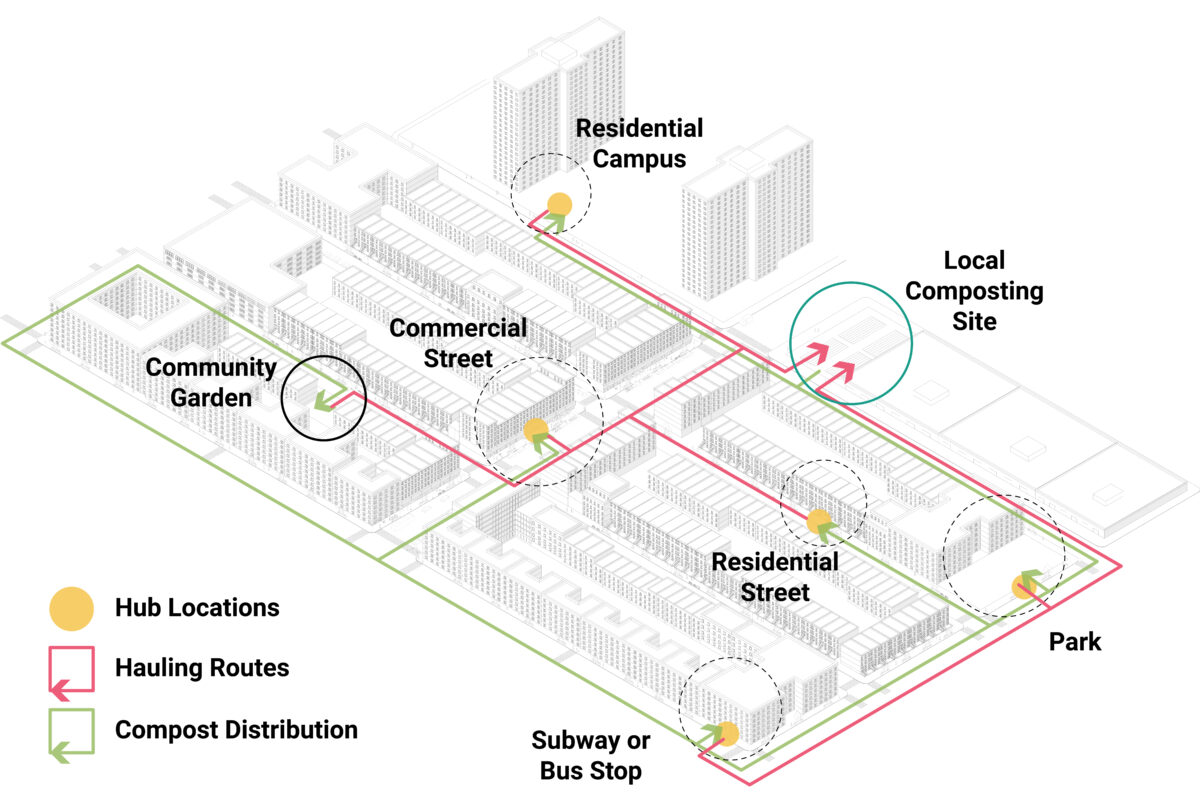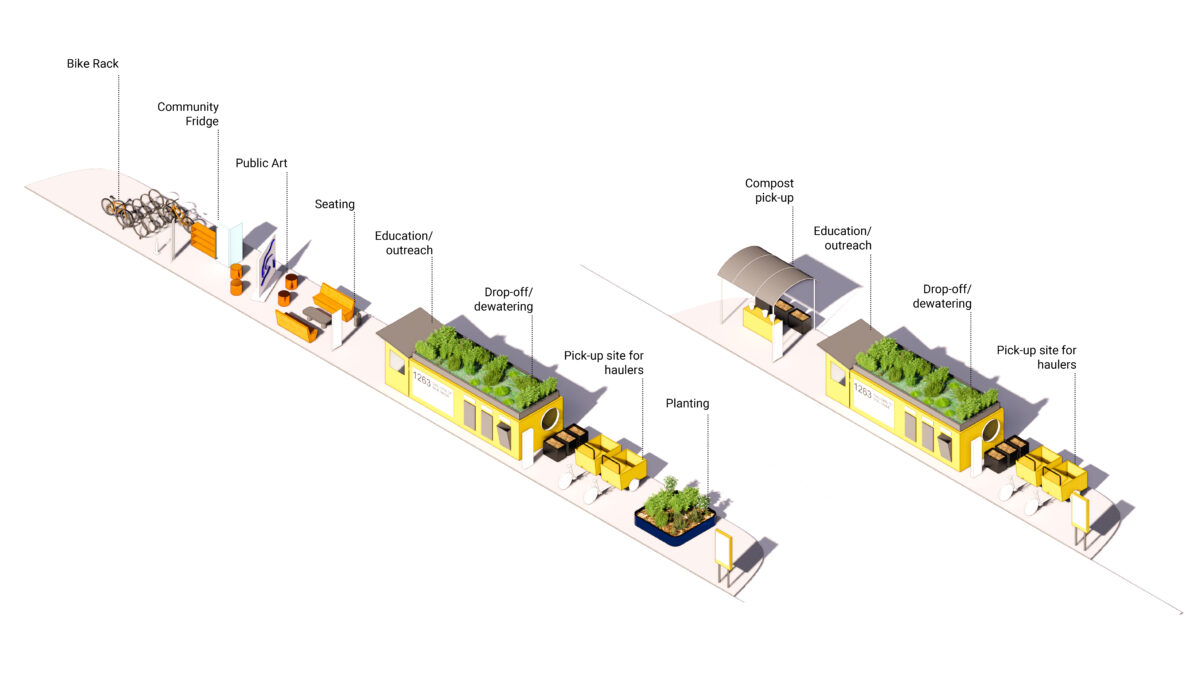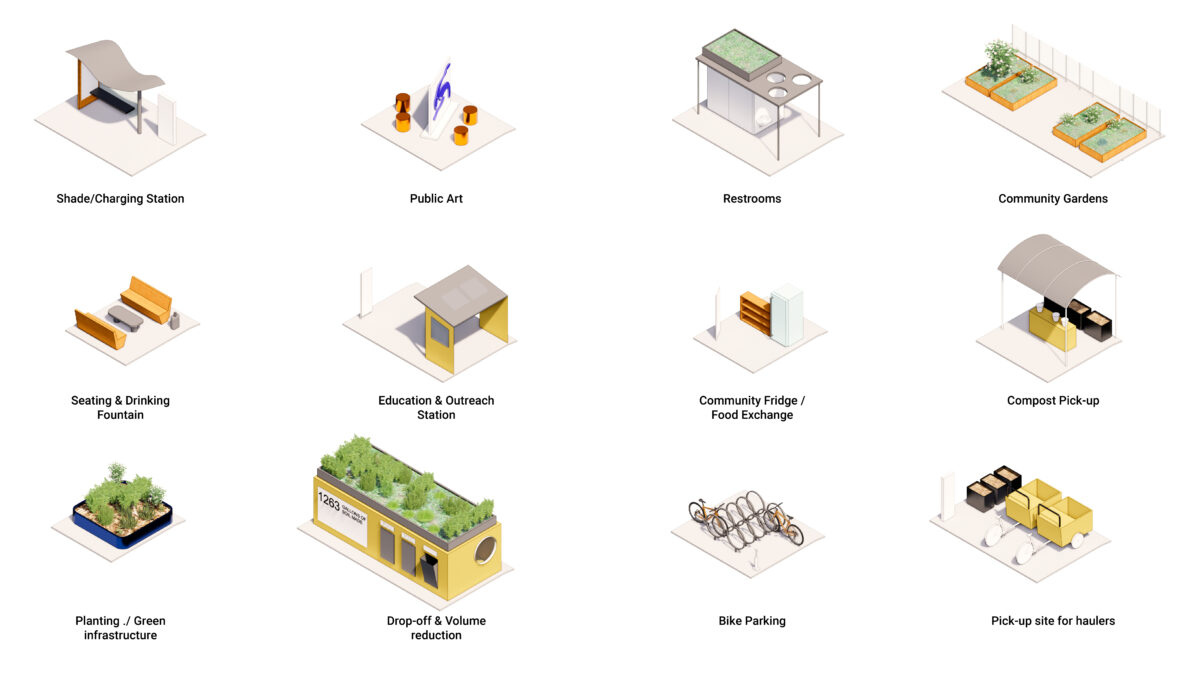 These hubs could reduce DSNY truck traffic and emissions, provide opportunities for micro-hauling, decentralize organics processing, and create an unlimited local resource —- compost —- to care for much needed green spaces.
Parts of the organics management process could take place in street and sidewalk spaces, similar to parklets or Open Restaurants, providing a variety of public realm benefits.
These hubs, designed by residents and community composters, would serve as points of collection, education, and gathering. Making organics management visible would engage residents with the organics recycling process and foster participation, reinforcing that there is no away and all residents have a role to play.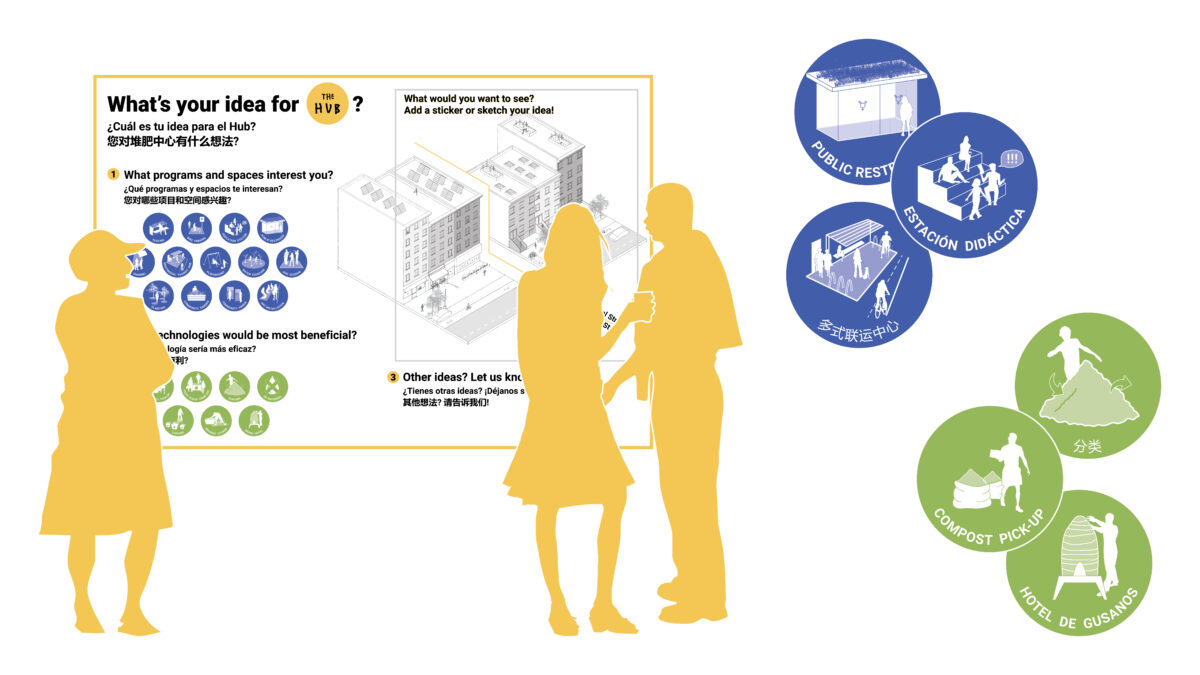 We propose a comprehensive engagement process and the issuing of an interagency RFP for a pilot program to design and operate the hub; increase capacity for micro-haulers and small- to mid-scale processing sites; and explore the potential of processing in municipal parks.
Meet the Project Team
Rafael Berges is a Dominican/Puerto Rican designer and artist, originally from Queens. He is currently a Senior Urban Designer at the NYC Department of City Planning. His work focuses on how our built environments form our cultural identities and how, in turn, our environments are shaped by our inhabitation. Rafael holds an M.Arch from the California College of the Arts and a B.A. from SUNY Albany.
Alexandra Burkhardt is an urban designer with a passion for equitable, livable, and resilient cities. With a background in architecture and urbanism, her work focuses on community engagement, climate resilience, and visual storytelling. She works as a project manager at Skidmore, Owings & Merrill where she leads interdisciplinary projects and teams within their City Design Practice.
Fernando Canteli de Castro is a licensed architect from Madrid who works as a senior urban designer for the Predevelopment Planning Unit at NYC Department of Housing Preservation and Development. He envisions the design of 100% affordable housing developments bringing much-needed services to the neighboring communities while reimagining the public space around them.
Graci Mills is a licensed architect, urban designer and educator with over a decade of diverse experience across New York City and Aotearoa, New Zealand. Focused on public realm, housing and infrastructure design, Graci's work is unified by a constant interrogation of how publicness can infiltrate all facets of the built environment, no matter the project type or scale. Graci is an architect at COOKFOX Architects, where she brings her expertise as a Certified Passive House Designer to multi-family housing projects.
Marisa Prefer works on projects related to environmental justice and stewardship, drawing from alternative pedagogies, deep observation and ancestral wisdom to engage in tactile experiments that cultivate care among multi-species communities. Marisa is a NYC Master Composter, NYC Trees Community Pruner, NYC Parks Super Steward and stewards unceded Canarsie and Munsee Lenape lands in Red Hook, Brooklyn as the manager of sustainability and environmental engagement at Pioneer Works.
Miryam Shemwell learned early on the value of reusing and repairing stuff. In New York City, she saw the need for sustainable waste management systems and wanted to contribute to the transition. After her master's in Sustainable Development, she started working with GrowNYC's Compost Program in 2018. As the compost program team manager, Miryam has been focused on implementing equitable hiring and training practices for Compost Program staff.
Urban Design Forum's 2022 Forefront Fellowship, New Loops, explored new approaches to New York City's waste. Through a year of immersive research, Fellows explored best practices in residential waste management in partnership with the Department of Sanitation, then developed independent projects exploring how the city could build a more circular waste system.