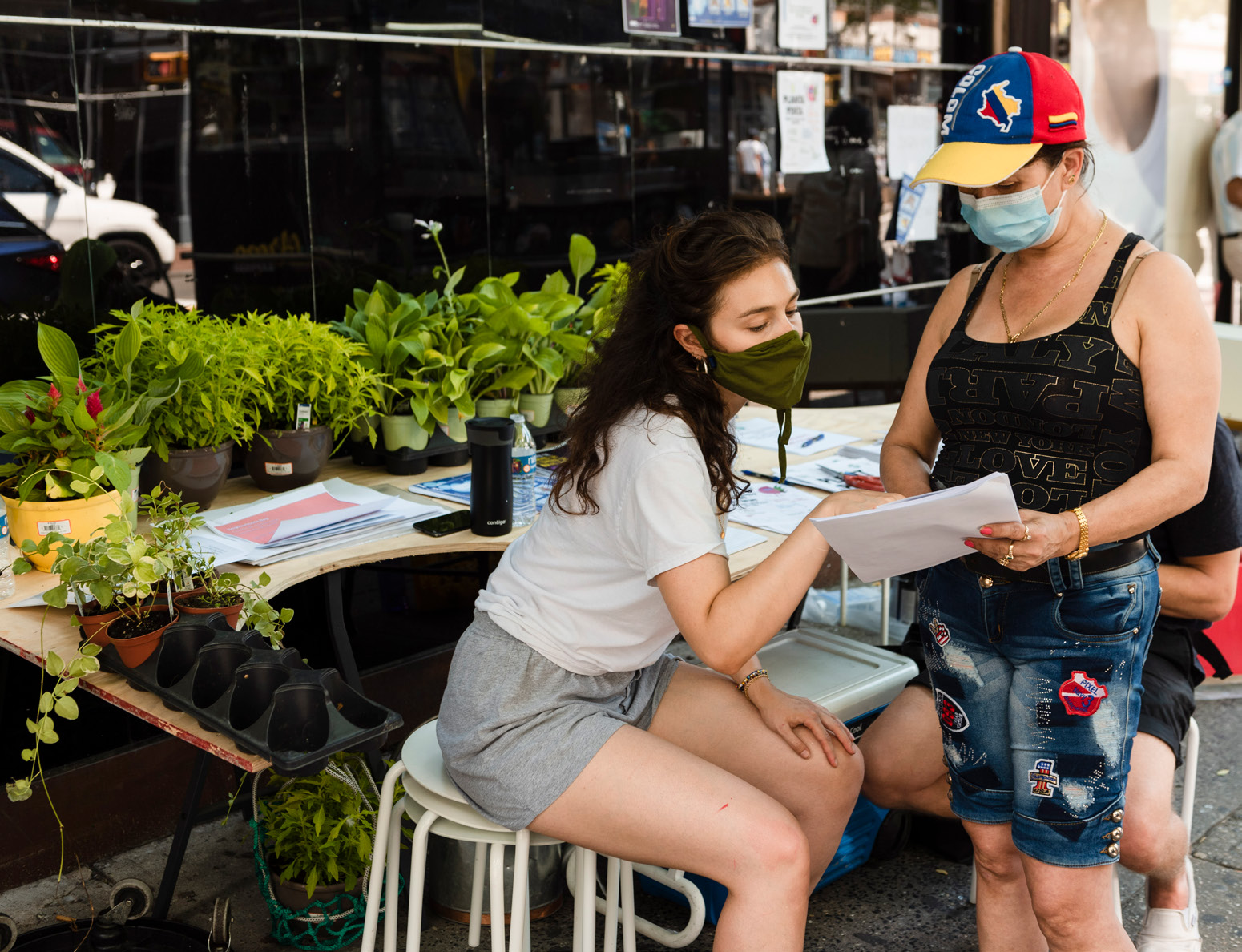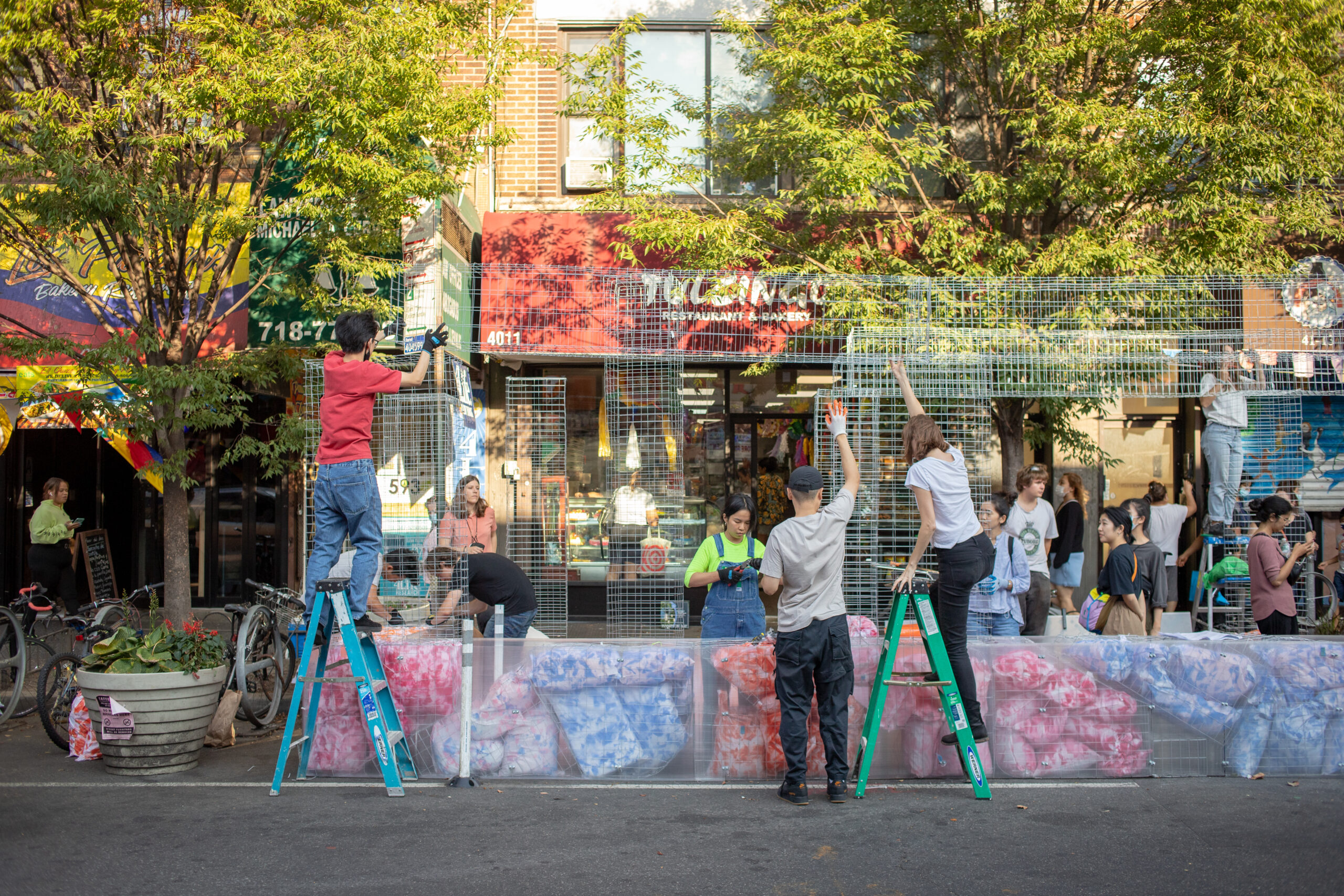 Current Project Scope
The Jackson Heights team, led by the 82nd Street Partnership, is creating a roadmap for the 82nd Street commercial corridor to rebuild from the pandemic. Jackson Heights' Dunningham Triangle is at the center of this goal, envisioned as a safer, welcoming space for children and families that encourages foot traffic to nearby small businesses. To address concerns about safety in the neighborhood, the Partnership has begun by organizing family-friendly activities at the triangle, including Zumba classes, salsa lessons, and lunchtime musical performances. With these activities, they have already observed more women, elderly residents, and children coming back to this public space.
The team is also developing several design solutions to further encourage use of the public realm, including a shade structure conceived by nARCHITECTS in an earlier phase of Neighborhoods Now. N H D M is currently surveying residents about better uses for the neighborhood's Manuel de Dios Unanue Triangle, and collaborating with beloved bookstore Librería Barco de Papel on ways to extend their programming outdoors. SO-IL is developing a set of modular furniture that can be reconfigured for diverse community activities in public spaces, and graphic design studio MA'AM is creating a new brand identity for the 82nd St Partnership and its flagship event, the Viva La Comida festival.
Participants
Community Partner: 82nd-Street Partnership
Current Firms: SO-IL, nARCHITECTS, N H D M, MA'AM
Past Firms: ARO, Design Advocates, LTL Architects, MOS, VHB
In-kind donations were provided by: Baggu, Future Green, Gilbane, Herman Miller, Julien Leyssene & Cristina Webb, MillerBlaker, Noble Construction Group, Sherwin Williams, SIKI IM STUDIO, Spinneybeck, Uniqlo, and We Plant NYC.
2020-21 Goals and Outcomes
In 2020-21, ARO, Design Advocates, LTL, MOS, nARCHITECTS, SO-IL, and VHB collaborated with Jackson Heights' 82nd Street Partnership. Together, they helped over 20 restaurants participate in the city's Open Restaurants program and supported the neighborhood through exploration of new public plaza designs and usage of the Street Seats program. They also looked toward the future with a pandemic-era reinvention of the beloved annual Viva La Comida festival.
Open Restaurants
The team aimed to address the immediate needs of the neighborhood's restaurants with proposals for responsive set-ups and shading along the street, ultimately helping over 20 businesses participate in the city's Open Restaurants program.
Community Building
The team opened a field office to create an on-the-ground presence and pilot a model for temporary uses of vacant storefront space. The field office served as a hub to distribute information, goods, and services to businesses and individuals during the pandemic.
Open Space
The team developed original designs to use parking and sidewalk lanes for public seating for three locations at Barco de Papel, Tulcingo, and Centro Mistico. At Libreria Barco de Papel — which serves not only as a bookstore, but as a community hub for cultural and political activity — the team supported additional strategies to shift programming and browsing to outside.
Neighborhood Beautification
The team hosted multiple days dedicated to sprucing up the streetscape through new plants and fresh coats of colorful paint for benches in the area.
Viva La Comida
Viva la Comida! is an annual festival highlighting the cultural diversity of Queens, combining food with music, art, dancing, entertainment and more on a street known for its outpouring of vibrancy. Even though the future is uncertain, the team worked to create parking and restaurant seating plans to accommodate the large gathering.
2021 Report