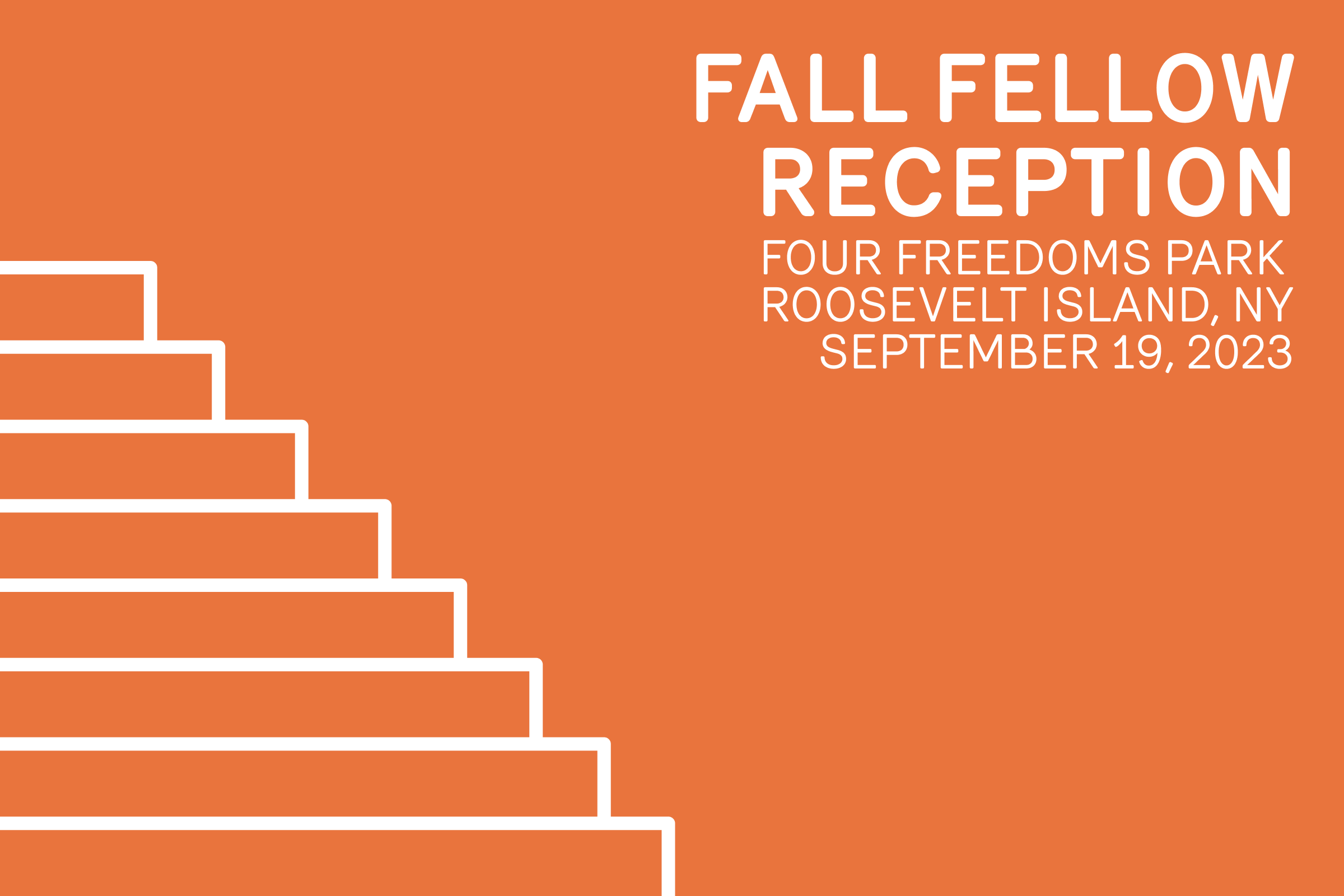 September 19th, 2023
5:30pm - 7:30pm
Franklin D. Roosevelt
Four Freedoms Park, New York, NY, USA
Join us to welcome a new class of Urban Design Forum Fellows. For the first time, our reception will be open to our entire community of fellows and friends.
We look forward to celebrating our last year of work together. We advanced ideas and proposals to shape a healthier city, re-envisioned how we keep our city clean, shared new critical perspectives on the city, and began to transform public space across New York City for new cultural celebrations.
Our event will take place at sunset at Four Freedoms Park, one of the last designs by Louis Kahn. The park's updated design was completed by Mitchell Giurgola with construction led by Sciame. We will be hosted by Four Freedoms Park Conservancy.
If you've been meaning to get involved in the Forum, now is the perfect time. Admission is free for new Fellows who have joined the Forum within the past year. If you're not yet a Fellow, you can purchase a membership when you RSVP via Eventbrite. Existing members should purchase an admission ticket for the event.
If you'd like to learn more about Forum membership, please be in touch with Miranda Bellizia, our Director of Member Engagement, at miranda@urbandesignforum.org
Rain Date: September 21.
Guest & Accessibility Policies ↓
This event is open to Forum Fellows and their guests. Admission is free for Fellows who have joined the Forum within the past year.
Tickets are available for existing members, or with the purchase of a Forum membership, which can be purchased through the Eventbrite. Registration will close the day before the event, so be sure to reserve your spot in advance.
We strive to host inclusive, accessible events that enable all individuals to engage fully:
The event will be outside
Accessible bathrooms are located at Southpoint Park, adjacent to FDR Four Freedoms State Park
An independently operable platform lift is available at the Grand Stairs
The park does not have on-site parking
Service animals are welcome at the park
If you require additional assistance please let us know so we can make accommodations.
About Urban Design Forum Membership ↓
The Urban Design Forum is a network of urbanists working across disciplines to shape a more vibrant, verdant, and just New York City. With backgrounds spanning architecture, planning, arts, academia, journalism, advocacy, and more, our Fellows are engaged in work confronting the defining issues facing cities.
The Forum's programming is made possible through the continued engaged support of our members, our Board of Directors, and Director's Circle.
To learn about becoming a member or how you can deepen your support for our work, please contact Miranda Bellizia, Director of Member Engagement at miranda@urbandesignforum.org.
Image Credit: Sam Lahoz