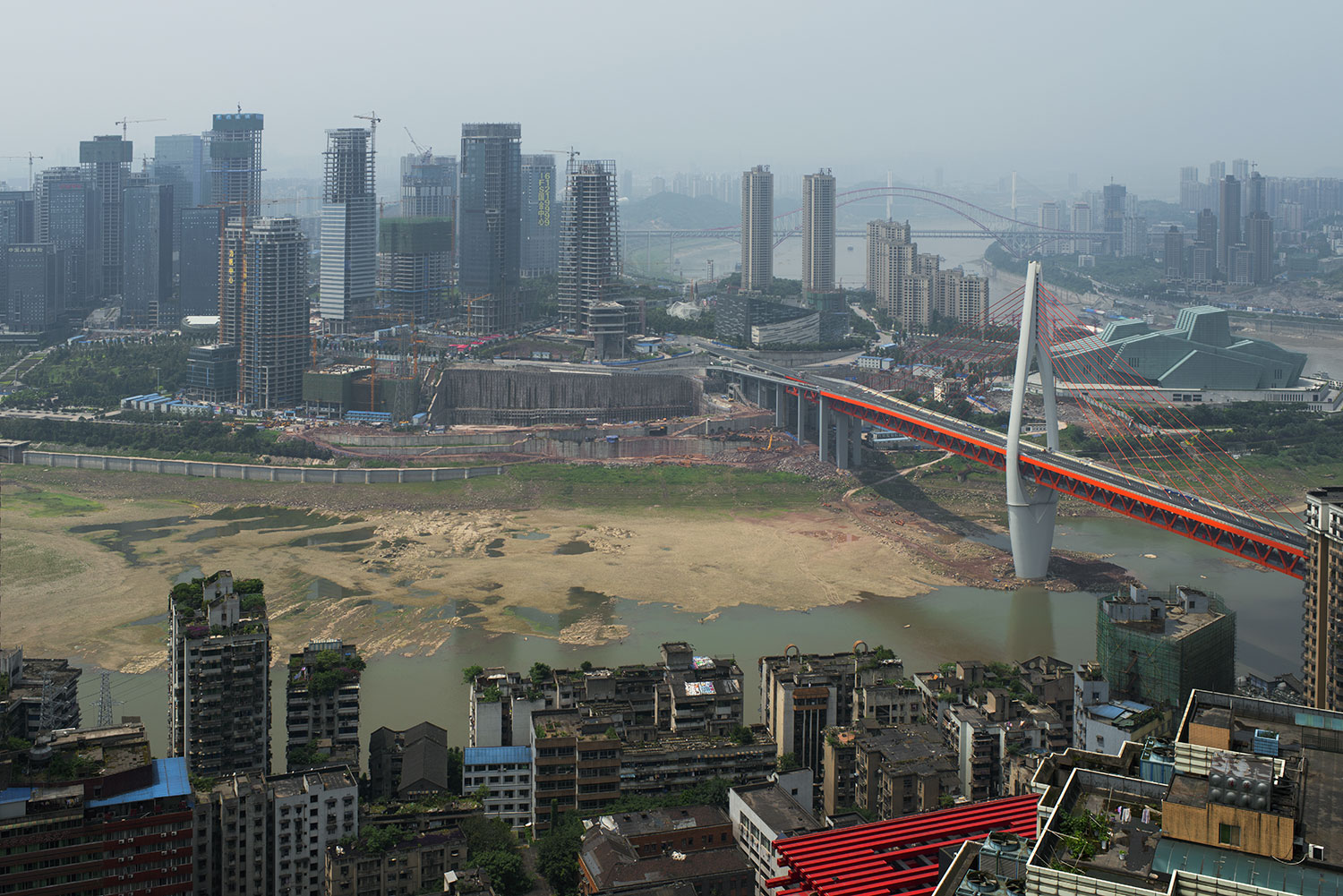 Chongqing Cityscape, courtesy of Raphael Olivier
May 6th, 2015
6:30pm - 9:00pm
The Century Association
7 West 43rd Street, New York, NY, United States
Kongjian Yu is founder and president of Turenscape, the foremost landscape architecture practice in China today. He is also Professor of Architecture and Landscape Architecture at Peking University. He is the recipient of numerous international awards, including 8 ASLA Awards, 2009 ULI Global Award for Excellence, and the Chinese National Medal of Fine Arts. He serves as a consulting expert for China's Ministry of Housing and Urban-Rural Development, Ministry of Land and Resources, The City of Beijing, and The City of Suzhou. His writing has been published widely, including The Art of Survival: Recovering Landscape Architecture, The Big Foot Revolution, and The Good Earth Recovered.

James von Klemperer is President and Design Principal at Kohn Pedersen Fox Associates, one of the world's preeminent architecture firms. His work ranges in scale from a house to a city, and he contributes closely to these efforts from conception to completion. As President of the firm, he is responsible for leading the staff of 700 people in 6 offices around the world. A major focus of Jamie's work has been to heighten the role that large buildings play in making urban space. He has explored this theme in major projects in Asia including Plaza 66 and the Jing An Kerry Center in Shanghai and China Central Place in Beijing. His designs have been recognized for the marriage of efficient program with adventurous form and his work has garnered several AIA design awards.
Clifford Pearson is Deputy Editor of Architectural Record. From 1993 to 1997, he edited Record's annual section on architecture in the Pacific Rim and from 2005 to 2013 he oversaw the magazine's Chinese edition. He serves as a director of Asia Design Forum, a nonprofit think tank that organizes events and generates dialogue among the design community and the general public. He is the author of Indonesia: Design and Culture, and the editor of Modern American Houses.
Over the last 30 years, more than 200 million people have migrated from the countryside to China's cities, and officials plan to relocate another 250 million rural residents over the next decade. 55% of China's population is now living in cities. What are the consequences of this vast urban shift?
On May 6, the Urban Design Forum invited Kongjian Yu, founding principal of Turenscape, James von Klemperer, President of Kohn Pedersen Fox, and Clifford Pearson, editor of Architectural Record, to discuss the enormous challenges and opportunities presented by China's rapid urbanization.
Kongjian Yu urged attendees to look past the narrative of economic and urban growth in China to see how the last 30 years of development has impacted the environment. Citing widespread water pollution and conversion of arable land to development, Yu called for a renewed environmental ethic to guide urban development, what he termed "big foot urbanism." Unlike the manicured gardens that have historically dominated Chinese landscape architecture–which Yu compared to the practice of foot binding–he advocated for 'big foot urbanism,' a return to native, restorative, and productive landscapes in the heart of Chinese cities.
Yu presented several of Turenscape's projects that exemplify 'big foot' strategies, including Qunli Stormwater Park and Minghu Wetland Park. In Qunli, Yu restored a wetland ecosystem, channeling stormwater that otherwise would cause urban flooding into a "green sponge." The park is now the center of a booming urban development, demonstrating what Yu calls 'reverse planning,' or the prioritization of ecological infrastructure as the first step in urban development. In Minghu Wetland Park, Yu removed concrete channels that had previously enclosed the Shuicheng River and adding elevated paths above the park, allowing the river to flood while ensuring users to access the park during the rainy season. At Shenyang Architectural University in Northern China, Yu took a different approach, integrating rice fields into the campus to create a productive landscape.
Despite his warnings about the state of China's environment, Yu remains optimistic about the potential to address these issues. As part of his strategy to change China's path of development, Yu has presented lectures about ecological design to thousands of mayors from around the country and maintains faith that interest in 'reverse planning' is growing.
James von Klemperer, who joined Yu in conversation, stated a similar optimism about the Chinese government's commitment to reducing environmental impacts, and noted the proven ability of China's centralized authority to affect rapid change. During his presentation of several tall, dense, and high impact development projects designed by KPF–which he lightheartedly described as "high heel urbanism"–von Klemperer outlined the complex interplay between government and private interests and the key role the central government plays in shaping new growth. The central government owns all land, which means that absent property taxes, land leases account for the majority of revenue for city governments. Given such a unique political context, what lessons can Americans learn from China?
One attendee professed her envy of Yu's ability to complete large-scale projects within a timeframe unthinkable in the United States. If Yu could collect data about the impact of 'big foot' solutions, it would inform landscape projects in cities around the world confronting drought, pollution, and sea level rise.
Both Yu and von Klemperer were less enthusiastic about what the Chinese had imported from American urbanism. Prior to 1970, most urban areas in China were mixed-use with inhabitants biking to work or school, but recent zoning has dramatically altered the historic urban fabric, enabling sprawling development along concentric ring-roads. However, von Klemperer claimed that even in sprawling systems like Shanghai's superblocks, he has seen tremendous progress toward dense, human-scale development.
Another attendee noted the extraordinary contrast been von Klemperer's mixed-use developments and Yu's urban parks. Both speakers agreed that both 'big foot' and 'high-heel' urban strategies could work in tandem, balancing the dense urban cores needed to house new urban populations with active and restorative open spaces.
Photos
Michael Sorkin
Kongjian Yu
Kongjian Yu
James von Klemperer
James von Klemperer
Clifford Pearson
Event Photography: Sam Lahoz
Invitation Photography: Paul Raphaelson