Downtown Brooklyn: A Long-term Vision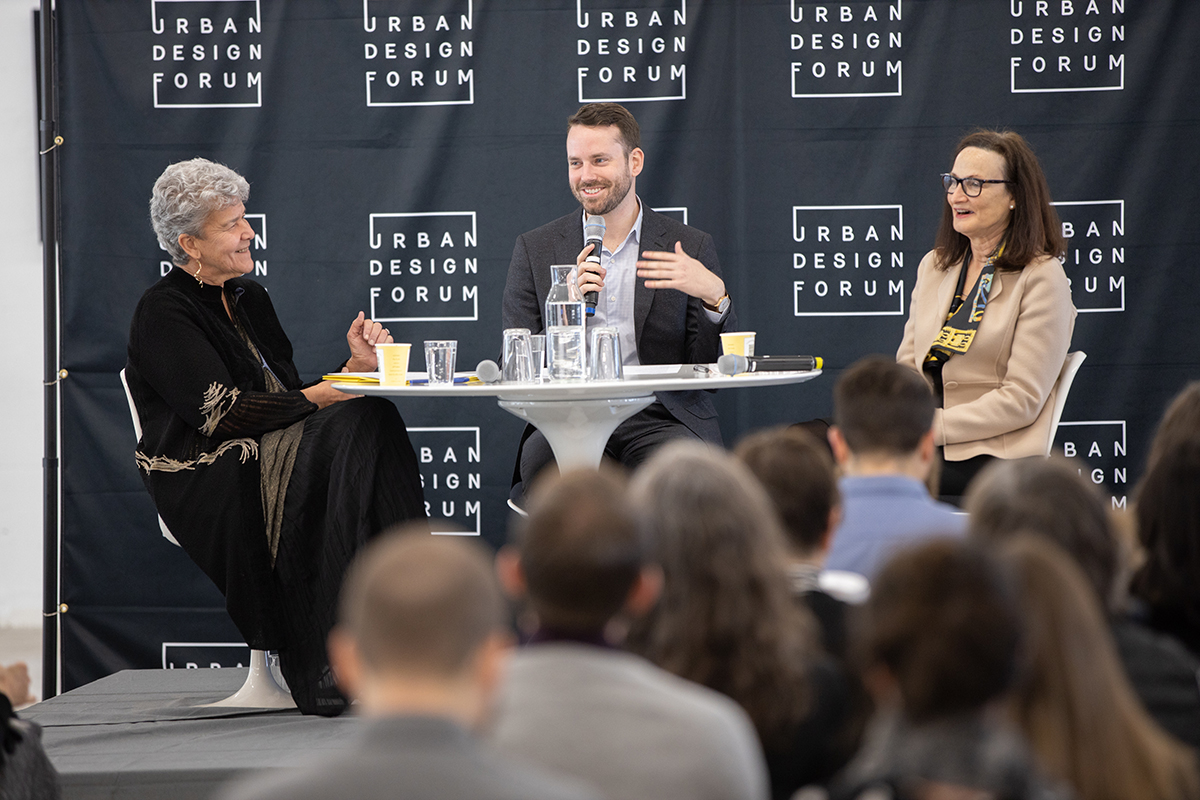 On January 25th, the Urban Design Forum hosted a half-day forum on transforming Downtown Brooklyn into a thriving live-work neighborhood. In our first panel of the day, UDF Executive Director Daniel McPhee moderated a discussion between two distinguished voices in planning: Marisa Lago, Chair of the New York City Planning Commission, and Regina Myer, President of Downtown Brooklyn Partnership. In this conversation, both leaders reflected on the neighborhood's previous rezoning and investments, and strategized ways to stimulate economic growth for all. The transcript has been lightly edited for clarity and concision.
Daniel McPhee: It's great to have the two of you here, not just because of the work you're currently doing, but because you've been living and working in the area for years.
Regina, you've been here for many years thinking about the neighborhood, both with Brooklyn Bridge Park and as Director of the Brooklyn office of City Planning. I think we've all been amazed to see the staggering changes in the neighborhood that have taken place over the past few years. And, this is after a half century of trying to rebuild Downtown Brooklyn as a jobs center. What's different this time?
Regina Myer: Well a lot of things are different this time.
Leading the rezoning, when I was at the Planning Office, we knew that Downtown Brooklyn was on the verge of something great. But I think when we look back to the early 2000s, we all knew that New York City was on the verge of something great.
The level of the investment that we had seen in the 1990s and the incredible, new, safe city realized through Mayor Giuliani's neighborhood-by-neighborhood commitment to make New York City safe, really had to start with certain opportunities affecting the Borough of Brooklyn, where there was finally a level of interest and level of reinvestment that frankly the borough hadn't seen in probably 30 or 40 years.
Most other projects in the '90s in the Borough of Brooklyn were largely public initiatives. Starting to see the private sector think about – whether it be in brownstone Brooklyn or something as big as DUMBO on David Walentas' initiative, or Greg O'Connell's initiative in Red Hook – made us feel that Brooklyn was going to be something different in the next era. So, the idea of rezoning Downtown Brooklyn really came to us from thinking towards the future.
And when we think about that rezoning, we also should remember that Downtown Brooklyn was also a cultural district, it was also a transit district, it was also a shopping district – and all of those things I think really come together here. Marisa, what's your perspective?
Marisa Lago: My perspective actually spans way, way back. I was born in Brooklyn Heights at a time when the edge of the Heights was full of rundown tenements full of families who, like mine, walked over to the factories in Red Hook. So, for me this transformation has been a large part of my life.
It's important to spark the conversation by giving a couple of facts about what Downtown Brooklyn is today so that we think about the past, but more importantly about the future. We can live here; we can work here; we can learn here; we can shop here; we can play here.
At the time of the 2004 rezoning there were fewer than 1,000 homes in Downtown Brooklyn. Today, we have 12,000 homes, 2,000 which are affordable. So, think: there are twice as many affordable homes as there were total homes just 15 years ago.
On working, from 2002 to 2015 – that's the data set that we have – Downtown Brooklyn's private sector jobs went from 48,000 to 58,000 – a 20% growth. These are jobs from across many great sectors.
The beauty of Downtown Brooklyn is that it has really varied retail. We have everything from big box stores to small boutiques to neighborhood-serving retail. One of our challenges going forward is: how do we keep the unique identity of our different retail stores?
And what I love, playing in Downtown Brooklyn can mean so many different things. It can mean relaxing in a park. Regina and I actually first worked together in taking the concept of Brooklyn Bridge Park from a planning exercise to putting the shovels in the ground. It can mean enjoying one of the many independent art spaces in the Brooklyn Cultural District that had 3 million visitors last year.
My takeaway from all of this is that Downtown Brooklyn is a city in it of itself. It's a microcosm of greater New York.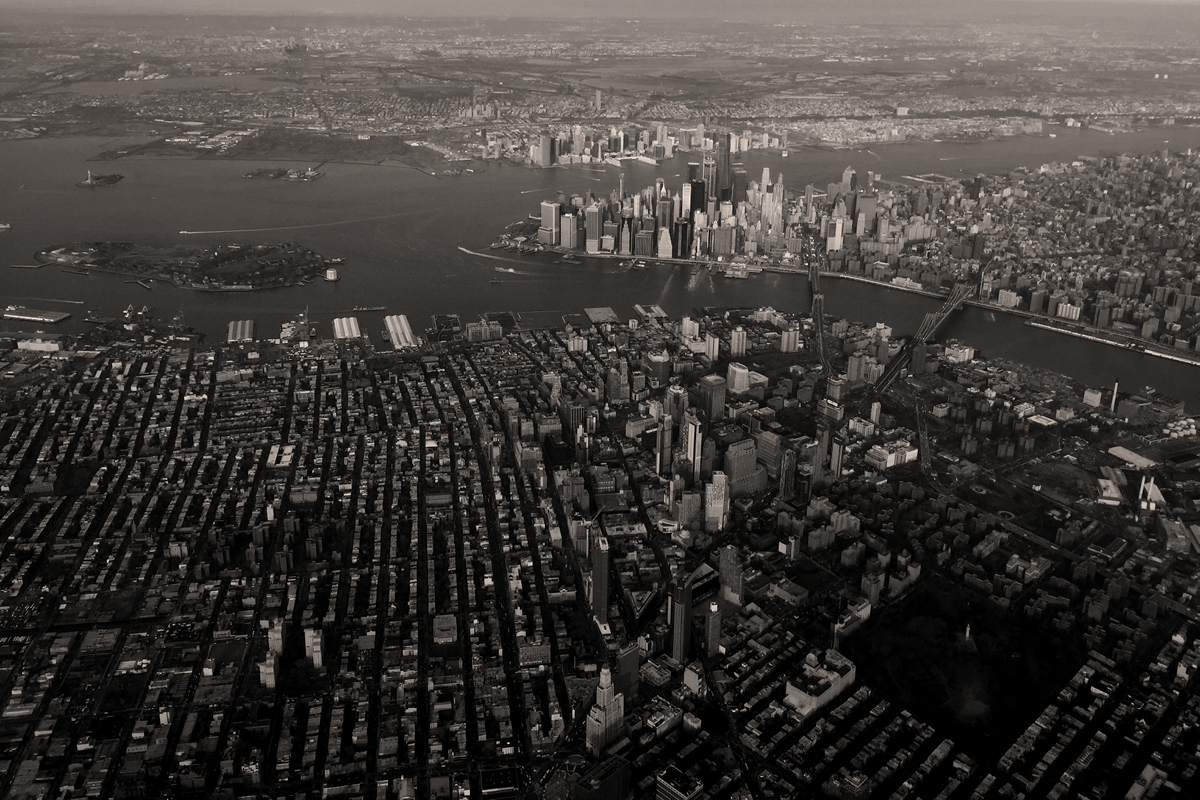 DM: So, a lot of ink has been spilled lately about the consequences of the 2004 rezoning. You mentioned that the result in the last couple of years has primarily been a surge of housing, whereas the City really tried to bring in more commercial space. What kinds of new infrastructure do we need to see here, then, to accommodate that new residential population? And, who should be held responsible for those improvements?
RM: Even though we have a really active streetscape and great transit, we could see a more unified and improved streetscape in certain places, and of course improved service by the MTA.
I'd like to see more retail. We all want to see more restaurants. We want to see more places to hang out after work. We had this great announcement last week that Gage & Tollner's will finally be reinvested in on Fulton Street, which will be incredible.
But the reason a lot of people are coming to live here is for work. A chief concern for us is making sure the new office projects are tenanted. If you haven't already, listen to the podcast Reply All, produced by our own Gimlet Media – it's symbolic of what's going on here. The creative industries are happy to be part of Downtown Brooklyn because of all the incredible investment here. You have a cultural district with a lot of arts institutions, so it makes a lot of sense that creative business has come to Downtown Brooklyn.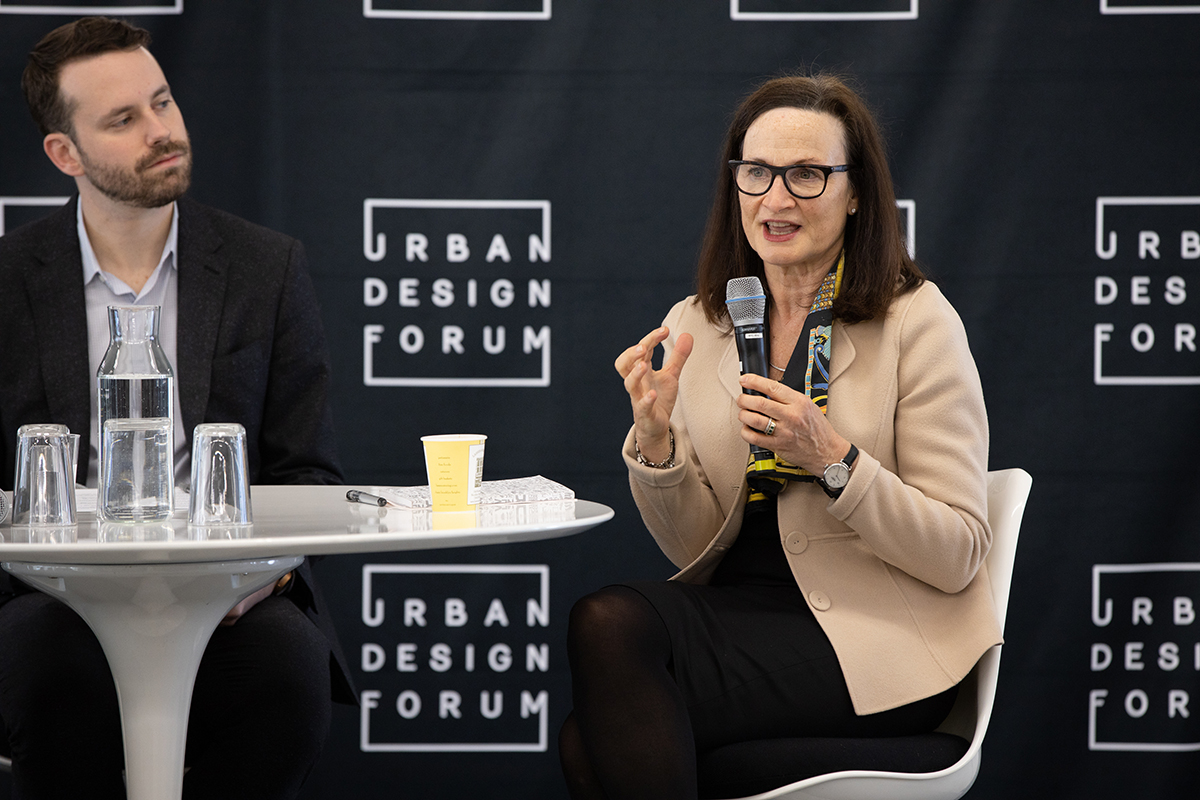 ML: Building on what Regina said, I think we have to continue to focus on public realm. We have the ingredients here. People have jobs, so we should think instead about connections. If Downtown Brooklyn is a city itself, we should think about connections to our suburbs. What about our connections to the parks: how do we get from Downtown Brooklyn to Brooklyn Bridge Park? Or even closer – Fort Greene Park is so close and yet the streetscape in getting there isn't quite inviting enough. So, I think we should think about how to enliven these places even more. The Urban Design Forum – the folks who are in this room – are a part of it.
DM: Let's discuss the commercial projects that are coming online in the neighborhood. We've got One Willoughby, The Wheeler, and 80 Flatbush. There are the proposed 570 and 625 Fulton Street projects. And there are renovations of projects like 57 Willoughby, and the Pioneer Building where we're sitting. What's needed to keep the momentum going to keep making this a thriving city?
RM: Projects like The Wheeler, One Willoughby Square, and 80 Flatbush are really going to be the next generation of office space in Downtown Brooklyn. Brookfield is also going to be making a tremendous reinvestment in MetroTech. We also have a few things in the pipeline that are equally as important. And a lot of these projects are construed as main streets projects, and that makes perfect sense for the downtown.
I know Marisa will talk about this more because a lot of this is under her purview right now, but there's a ULURP project that has just moved through the Planning Commission. Along Fulton Street there's a proposal that's just starting the process, 625 Fulton. And seeing these new projects construed as both residential and office makes perfect sense, as long as you have the site where you can supply the core and the entrances and the visibility.
Zoning can be a part of this issue though. Residential is frankly penciled a lot quicker on a lot of these sites. And the development community is obviously drawn to that financing. When we think about furthering commercial development: can we change the zoning to make that sale? Are there tax dollars that can be changed or invigorated? A lot of tax incentives should be directed to Brooklyn and Queens, versus perhaps the tax policy that still exists for Lower Manhattan.
DM: On a similar question, a lot of these projects – 80 Flatbush, 625 Fulton – they all ask for more density in exchange for a commercial component. Is height the right incentive to attract commercial or do we need different land use policies and other tools?
ML: We've reached the tipping point in Downtown Brooklyn where we're seeing projects that are seeking more density, but seeking density in an area that can accommodate it. We have absolutely unrivaled transit infrastructure here. The East River has emerged as the new spine of the city, given the activity on the Brooklyn waterfront and the new ferry service. We're rethinking how the city is connected, and that is for the benefit of Downtown Brooklyn.
I couldn't agree more with Regina. If you look at the Mayor's New York Works plan, it is focused on business centers outside of Manhattan – Downtown Brooklyn and Long Island City being the two most obvious ones, but also Jamaica. I think the challenge in Downtown Brooklyn versus Long Island City is that Long Island City competes with Midtown Manhattan, and the rent differential is much stronger between the Financial District and Downtown Brooklyn.
We are seeing developers come in with a residential component, which helps projects pencil out, recognizing there is a very different office market here. We are also seeing projects with schools – something that speaks to the beauty of Downtown Brooklyn. It is this live-work-play neighborhood. We welcome these projects – for example at 80 Flatbush we have a project with residential, commercial, two new schools, and a historic preservation component. That is the kind of good mixed-use projects that we want to see.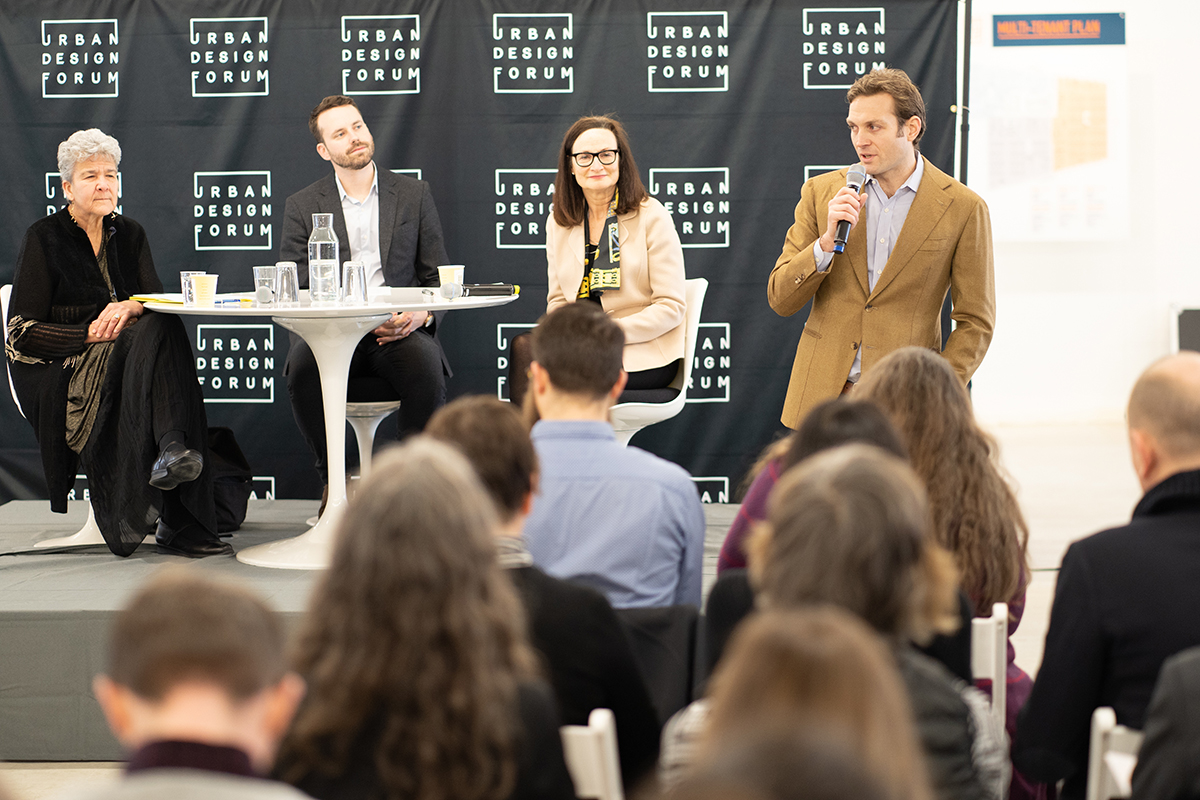 DM: You are all trying to figure out how to make sure that there are more and more public benefits in each of these projects – whether it's a school, open space, or transit infrastructure. Is that really the best tool that we have to make sure that these buildings are well designed, good neighbors…?
ML: Some of the buildings that are great additions to the skyline are as-of-right buildings. We shouldn't lose sight of the fact the vast majority of development that occurs in the city is as-of-right. The 2004 rezoning set the stage for buildings to be built as-of-right. Other signature projects go through a public review process when appropriate.
It's interesting. This is a city that is known for being litigious. The Dime Savings Bank building, which is going to be the tallest building, was voted unanimously by the community board when going through its Landmarks approval. That, to me, is a testament to the design. And again, I toss it out to this group: you are the developers, the architects, the landscape architects, and the designers who can contribute high quality work, buildings that contribute to the public realm. It's not just a matter of the public sector. We need the private sector to shoulder its part.
DM: A lot of concern around the change here is that the some of the consequences of the rezoning are displacement of businesses and residents. So what tools do we have at our disposal to continue preserving existing local businesses and ensure they benefit from the neighborhood's transformation?
RM: The good news is – although there has been displacement of some businesses – a lot of development was spawned on vacant land. Not every site has been a history of displacement. A project like 80 Flatbush had a small amount of city office which is going to be relocated, and some retail use. A lot of these sites were really, really underused.
I'm seeing certain office users want to stay in Downtown Brooklyn in some of the new construction, which is a really good sign that people recognize this is a great place to stay.
When you are talking about retail, there are a lot of other questions that come up. The national retail trends as we all know are changing very, very quickly, but happily people want to come here to shop. Most of our new projects have retail on the ground floor, and we are starting to see really interesting new leases. A lot of new gyms, a lot of new places to work out. These are actually the things that make perfect sense for Downtown Brooklyn given its connectivity.
But you are asking this question about what we can do: we can make sure that we have an active private market that responds to all the uses we already have. On the housing side, the great news is that most new rental projects have affordable housing baked into them.
ML: The question you ask is a meta question, and I think it goes far, far beyond zoning. We work with an alphabet soup of other city agencies, and getting the mix right isn't just a matter of design. Zoning is a relatively broad tool and it shouldn't be dictating which uses go where. Zoning has to stand the test of time. The 2004 rezoning is likely to continue to shape development moving forward.
Small businesses can work with the resources that are available to them, whether it's through a business improvement district or the Department for Small Business Services. But I think the approach that says one should be curating the retail is anti-market and ultimately leads to failure.
One good example is at City Point. We see within that complex both Century21, big box retail that draws a lot of people, but also lots of smaller shops with more "Brooklyn" feel. Why? Because that is the mix that keeps people wanting to come to shop.
I do think we can improve the streetscape that Regina had referred to before and make Downtown Brooklyn a place that people want to come. Because not only can you shop, you can then hang out and relax along Albee Square Mall. We must create a sense of place, making sure our different retail corridors retain their different feel.
DM: I want to pose one last question. One of the things I like most about Brooklyn is the vibrancy of Fulton Mall – it's just amazing. There are people there all day and all night even though the building stock and public realm isn't always in the best shape. As we think about how the surroundings are going to change, how can we strengthen that corridor and preserve the retail mix?
RM: We spend a lot of time at the Partnership thinking about Fulton Street. And it has changed over the years but the intervention is going in all of the right direction. We care about Albee Square and I'm happy you mentioned it. We just opened a new kiosk that WXY designed, keeping Albee Square really active and complementing what's going on at City Point. We have a movie theatre on Albee Square open till 1-o-clock in the morning. This, to me, is really a huge transformation – we have almost a 24-hour Fulton Street.
Part of this new activity is a result of the new mixed-use development. Macy's has reinvested in its Fulton Street store – have you seen the new shopping floor? They've done a phenomenal job. The Wheeler is going to provide 600,000 sf of office space above Macy's. And with all the new housing, we are going to see retail that responds to the people now living in Downtown Brooklyn.
–
Marisa Lago began serving as Director of the New York City Department of City Planning and Chair of the City Planning Commission in March 2017 under Mayor Bill DeBlasio. Marisa has previously served as the President and Chief Executive Officer of Empire State Development, where she advanced projects including the construction of Brooklyn Bridge Park, the expansion and renovation of the Jacob Javits Convention Center in Manhattan, and the revitalization of Erie Canal Harbor in Buffalo.
Regina Myer is President of the Downtown Brooklyn Partnership, a not-for-profit local development corporation that is tasked with supporting Downtown Brooklyn's emergence as New York City's center for innovation, creativity and entrepreneurship. Until October 2016, she served as President of Brooklyn Bridge Park, transforming 85 acres of formerly industrial Brooklyn waterfront into a world-class open space. Prior to Brooklyn Bridge Park, Regina was the senior vice president for planning and design at the Hudson Yards Development Corporation, and the Brooklyn Borough Director for the New York City Planning Development.