Dock 72: A new building typology for the IBZ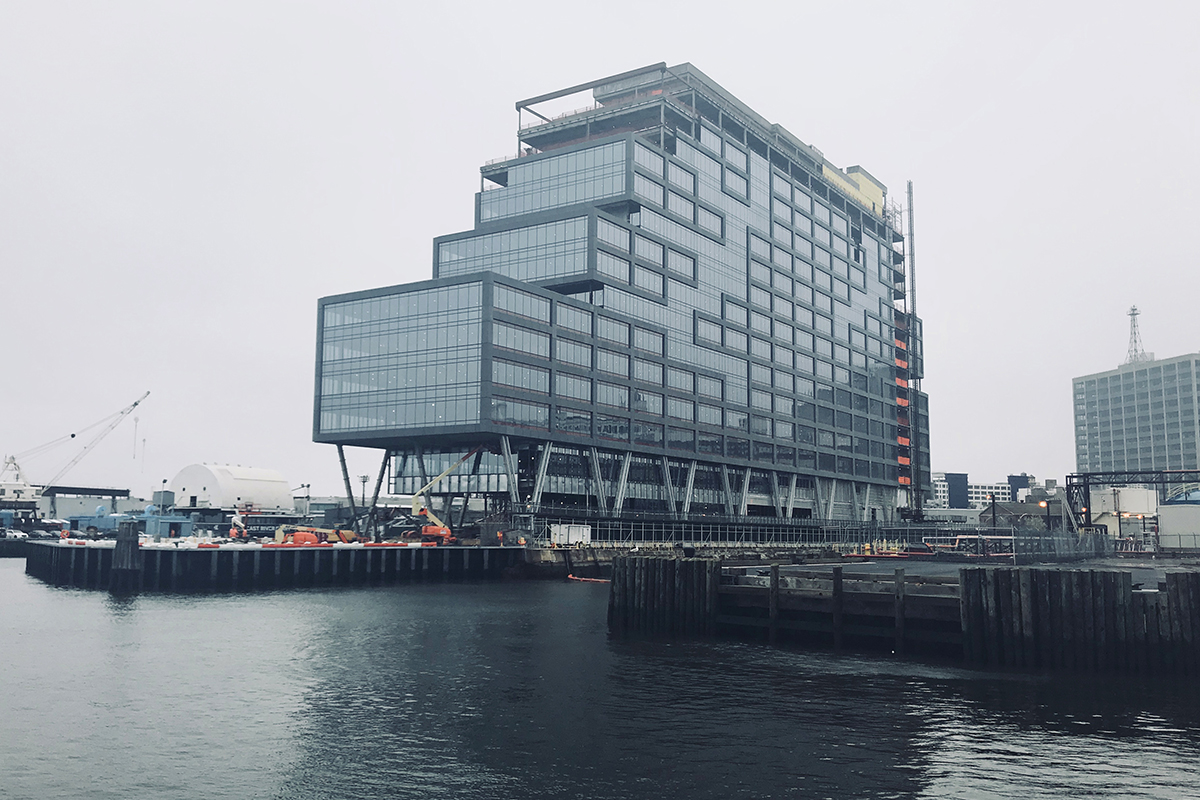 By designing mixed-use buildings within industrial zones, we can provide more space for emerging tech, vertical manufacturing, and creative sectors.
By Navid Maqami
Dock 72 is a 16-story, 675,000 sf mixed-use office building designed in response to the way people work today, and sited in the heart of the Brooklyn Navy Yard, a 230-acre former shipyard and industrial park, reimagined as an anchor of Brooklyn's Tech Triangle. A locus of creativity, entrepreneurship, and modern industry in New York, the Brooklyn Navy Yard is home to over 300 local businesses generating more than $2B of revenue annually. Driven by Brooklyn Navy Yard Development Corporation's mission to support industrial growth and incubate new design and creative sectors, this vanguard office building will be an inspiring workplace environment at the center of the emerging industries that are defining New York's future.
Developed in conjunction with co-working pioneers WeWork, as well as Boston Properties and Rudin Development, Dock 72 adds 450,000 sf of modern commercial and light industrial space to the Navy Yard's existing mix of creative and manufacturing enterprises, and will be the largest New York City commercial building built outside of Manhattan in decades. WeWork will occupy approximately 140,000 – 175,000 sf as the anchor tenant. The first floor will serve as a marketplace and lounge open to the entire building. The second floor will have a lounge and juice bar as an extension of the lobby with bleacher seating above. A gym will also be occupy the second floor with membership for building tenants. The 16th floor will house a 10,000 sf conference space with a kitchen and both indoor and outdoor lounges.
S9 Architecture envisioned Dock 72 as a modern office building that venerates the legacy of labor forged at Brooklyn's historic Navy Yard, while looking ahead to foster the tech, vertical manufacturing, and creative sectors that have rebirthed 21st century industry in Brooklyn. Dock 72 is designed to harness the power of these forces by organically facilitating cross-pollination, networking, and idea sharing through serendipitous encounters between the diverse community of startups, creatives, and small businesses who share workspace there. Floor plates are devised for scalable, open office plans, and social amenities that include 17,000 sf of outdoor terrace space for work and leisure, numerous lounges, a fitness facility, and a food hall encourage the mingling and interaction between WeWork members and other Dock 72 tenants, as well as the larger community at the Brooklyn Navy Yard.
Dock 72's form and exterior façade maintain a visual contiguity with the architecture and fenestration of the masonry industrial structures that surround, while converting the old drydock jutting into Wallabout Bay into one of New York's most concentrated hubs for innovation. The development leads the revitalization of the Brooklyn Navy Yard by providing dynamic space to create, do business, and generate community by bringing 4,000 living-wage jobs to the heart of Brooklyn.
–
Navid Maqami is a cofounder and a design principal of S9 Architecture. With over 30 years of experience, Navid leads teams of talented designers and architects on diverse projects, from large scale mixed-use developments to small interiors. His passion for better design coupled with his expertise analyzing social, economic and regulatory parameters, and working with developers and end users has resulted in an extensive portfolio of award-winning projects including the New York Wheel, Dock72 in the Brooklyn Navy Yard, Lansdowne Park in Ottawa and 205 Water Street in Dumbo.