Design Flexible Space for Business Growth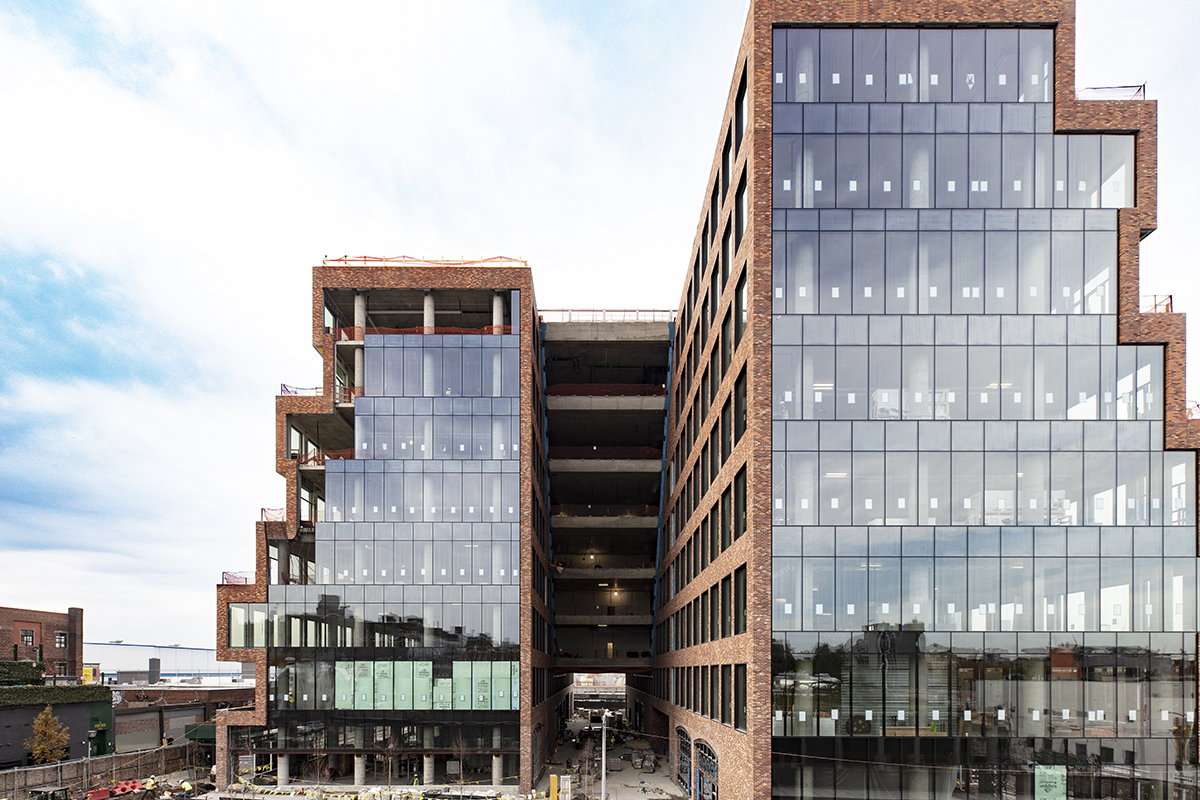 Design commercial buildings that are suitable for companies throughout the lifecycle of their development – from seed stage to maturity.
By Joseph Brancato
Built from the ground up on Williamsburg's revitalized waterfront, 25 Kent is Brooklyn's first new office and production space in more than 40 years. A neighborhood known for its entrepreneurship and creative energy, the building captures Williamsburg's character and industrial heritage with red brick and blackened steel taking on a whole new look that makes a statement. The design addresses contemporary trends in workspace and makerspace design to suit growing technology and light manufacturing companies. Featuring underground parking and bike storage, ground-level retail, dedicated light manufacturing space, eight floors of flexible floor plans, and a rooftop terrace, 25 Kent will house a community of innovative businesses integrated into what is now recognized as one of the most vibrant neighborhoods in the world.
The 503,842-square-foot project is accessible by two main lobbies. At the base of the building, an internal street lined with retail storefronts links two public plazas on Wythe and Kent Avenues which provide access to the waterfront with views of Manhattan's skyline. Street-level storefronts will house local retail serving the occupants of the building as well as the neighborhood. The retail space is planned to display new concepts and products, food and drink, and local goods and services. Eight floors of office and makerspace vary in size and have been planned to provide flexible space for businesses to grow throughout the lifecycle of their development – from seed stage to maturity. Bright, airy, and made for collaboration, each floor also benefits from access to daylight with 15-feet floor-to-ceiling height, 8'x10' mullion free windows on all sides and terraces on every level but the second floor.
Given the project's close proximity to the water, Gensler had to balance the technical requirements for the building with the desired massing shaped to address the sheer size of the site, the necessary porosity with the urban context, and the access to daylight. The foundation design is a continuous mat slab with thickened portions below the tower shear wall cores, and drilled tiedown anchors located outside the tower footprints to counteract hydrostatic uplift from groundwater. To accommodate the architectural intent of the vast column-free space in the center of each floor plate, each of the six columns supporting the bridge slab has a 20-foot long rectangular drop panel to achieve the desired long span with a conventionally reinforced 12-foot slab, while eschewing post-tensioning or similar strategies which would have entailed additional costs or specialized subcontractors.
As Design Development Architect, Gensler expanded upon a design by Hollwich Kushner, Design Architect, and will see the project though final completion. In Spring 2019, 25 Kent will bring 21st Century office and makerspace to support Williamsburg's growing live-work community.
–
Joseph Brancato, FAIA, NCARB, is a Co-Managing Principal for Gensler's Northeast and Latin America regions and Vice Chairman of the firm's Board of Directors, where he sits on the Executive & Governance Committee.