Deliver Goods By Subway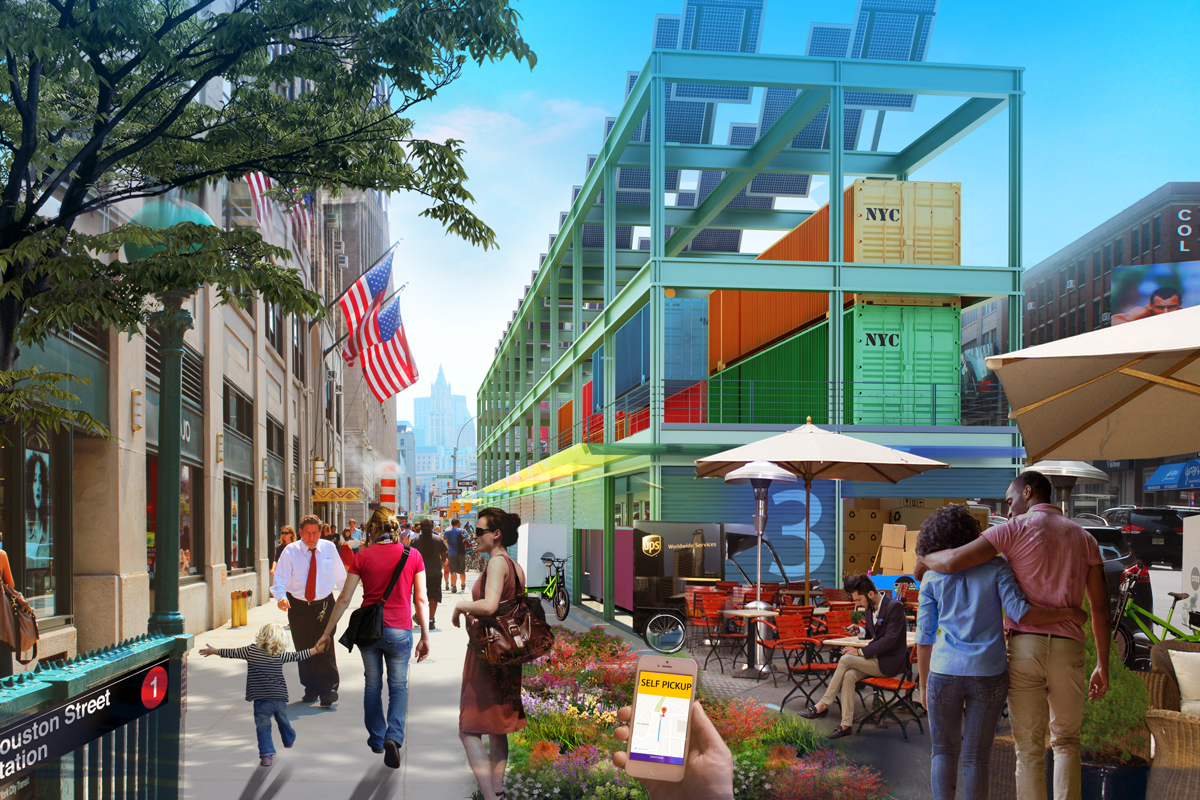 We're performing a thought experiment, New York City (Steady) State, to investigate how coterminous we can make New York's ecological footprint with its political boundaries. We're looking at a range of metabolic functions, including food, air, water, climate, waste, manufacturing, construction, and mobility. One of the major tactics we propose is to reconfigure city streets and highways, wresting them from the domination of energetic vehicles and repurposing them for more benign forms of mobility as well as for planting and agriculture, storm water capture, playgrounds, waste management, and other public uses.
New York City can become environmentally self-sufficient if we repurpose and rebalance city streets and use the subway to deliver goods across the five boroughs.
As part of this rebalancing of the city's respiratory systems, we've looked at the city's logistical operations. Both as an element in an eventual, completely internalized, steady state system and as a more immediately realizable proposition, we've thought about how we might move goods using the city's existing rail infrastructure. This could be accomplished in stages, and the modal mix on city streets can be progressively modified. The surplus capacity of the subway system could make a dramatic contribution to the reduction of truck deliveries and a knock-on un-clotting of surface arteries.
We propose constructing an integrated freight system—including that long-wished-for Cross-Harbor Rail Tunnel—that would see incoming goods delivered by rail or water to one of four large intermodal terminals: in New Jersey, Brooklyn, Queens, and the Bronx. Containerized goods would be transferred to subway flatcars and distributed to Neighborhood Distribution Hubs throughout the city. These hubs would expand on existing subway stations and would utilize both newly excavated underground space as well as recaptured streets above. The contents of standard containers would be broken down and delivered as individual items or placed in smaller containers configured for pedal-freight and other environmentally benign means of delivery.
We estimate that 75% of the city would fall within the 2,500-meter service radius of these hubs, allowing bicycle distribution in trips of under 15 minutes. Larger shipments, as well as areas beyond this radius would be served by electric tugs. Given current levels of both inbound and outbound freight, we estimate that approximately 40% of demand could be satisfied by this system. Goods movements would take place during night hours with quick loading and unloading of containers at the Neighborhood Hubs. Bulky deliveries from the Hubs would logically also take place at night but smaller, higher value, and timely shipments might be staged throughout the day. The entire system would be electrically or human powered and Neighborhood Hubs would also serve as solar power stations, greenhouses, and other community facilities.
—
Terreform is an independent, non-profit research center investigating forms, policies, technologies, and practices to create a more equitable, sustainable, and beautiful future for our urbanizing planet. Michael Sorkin is the president of Terreform and principal of Michael Sorkin Studio. Makoto Okazaki is Partner and Jie Gu and Ying Liu are architects at Michael Sorkin Studio.