Create the 42nd Street Grand Passage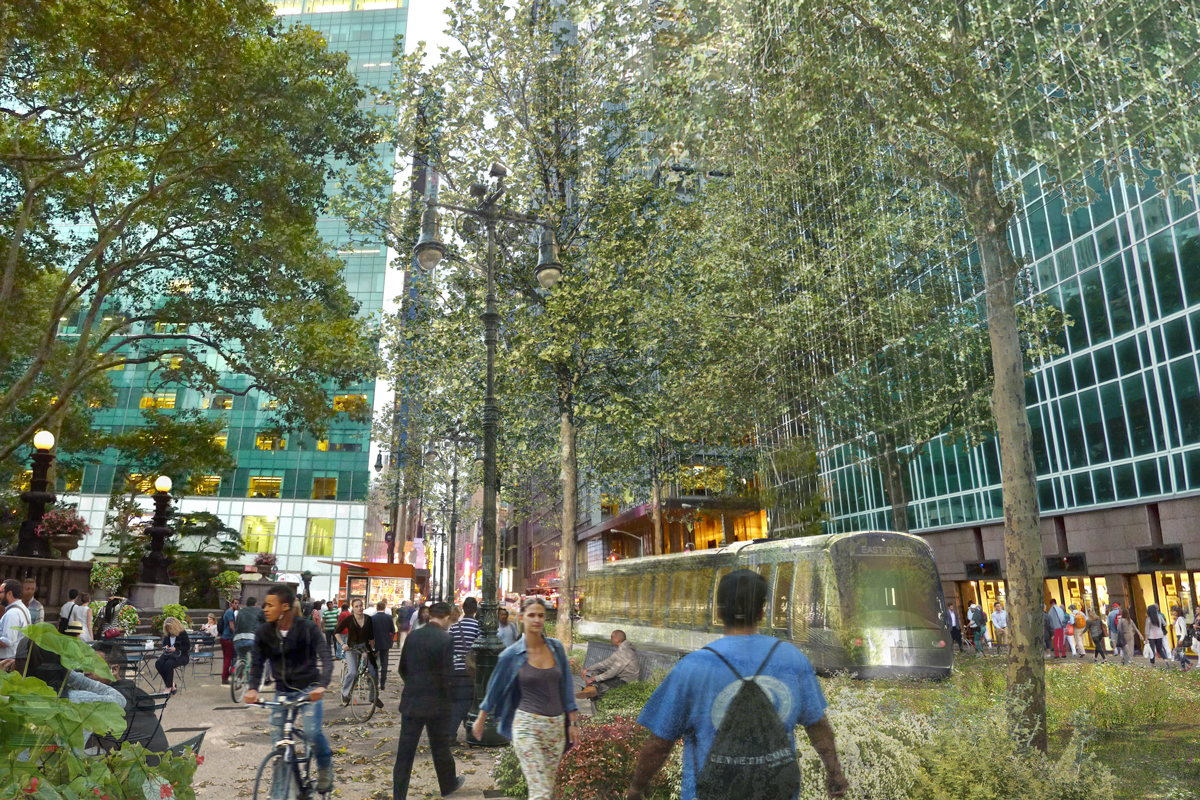 Public transportation projects in New York City must balance the demand for mobility with environmental, social, and economic priorities. 42nd street may be multi-faceted, dynamic, and diverse, but it is also congested and polluted. We propose implementing a Light Rail Grand Passage to both serve this transit corridor as well as revitalize this iconic public space.
42nd street is a microcosm of New York. Imagine it as a grand passage, with light rail gliding through the heart of the city!
Light rail systems are efficient, accessible and economical modes of transportation, but are also a unique tool in rehabilitating public space. These systems can drive decongestion, extend transportation networks to underserved peripheries, and foster social cohesion. Similar models in France animate the street level along the full length of their route, restoring the beauty of urban boulevards and regenerating nature in the dense city while being considerate of pedestrians and cyclists.
42nd Street could be transformed into a linear garden that connects the Hudson and East Rivers, drawing nature into the city's pulsing heart. On the Hudson River's edge, we could build a vibrant green promenade complete with bike lanes, eateries, and open-air bars. The renewed corridor would accommodate the hustle and bustle of the Port Authority Bus Terminal and Times Square with a wide pedestrian thoroughfare, and extend the tranquility of Bryant Park into the street by the New York Public Library. Finally, it would end at a large new plaza with a scenic vista overlooking the East River, providing access to a new ferry terminal by the United Nations.
Today, anyone can walk along 42nd street through the city's atmosphere, pace, scenery, and culture. Light Rail would be more than just a moving sidewalk for that experience, it would create a spectacular new boulevard—A Grand Passage—from which to witness the show that is New York City.
–
Karen Listowsky was the Chief Architect of the light rail in Jerusalem, Israel and currently lives in New York. Alfred Peter is a Landscape Architect and Urbanist who has worked on the design and planning of light rail in Strasbourg, Marseille, Toulouse, and Dijon, among others across France. Charles Bové is a Designer who developed light rail in Strasbourg, Marseille and more across France.
Vision42 is a citizens' initiative to re-imagine and upgrade surface transit in Midtown Manhattan, with a low-floor light rail line running river-to-river along 42nd Street within a landscaped pedestrian boulevard. The initiative is chaired by Roxanne Warren, AIA Architect and George Haikalis, ASCE Transportation Planner. For further details see vision42.org.