Coworking as a Framework for a Thriving Workplace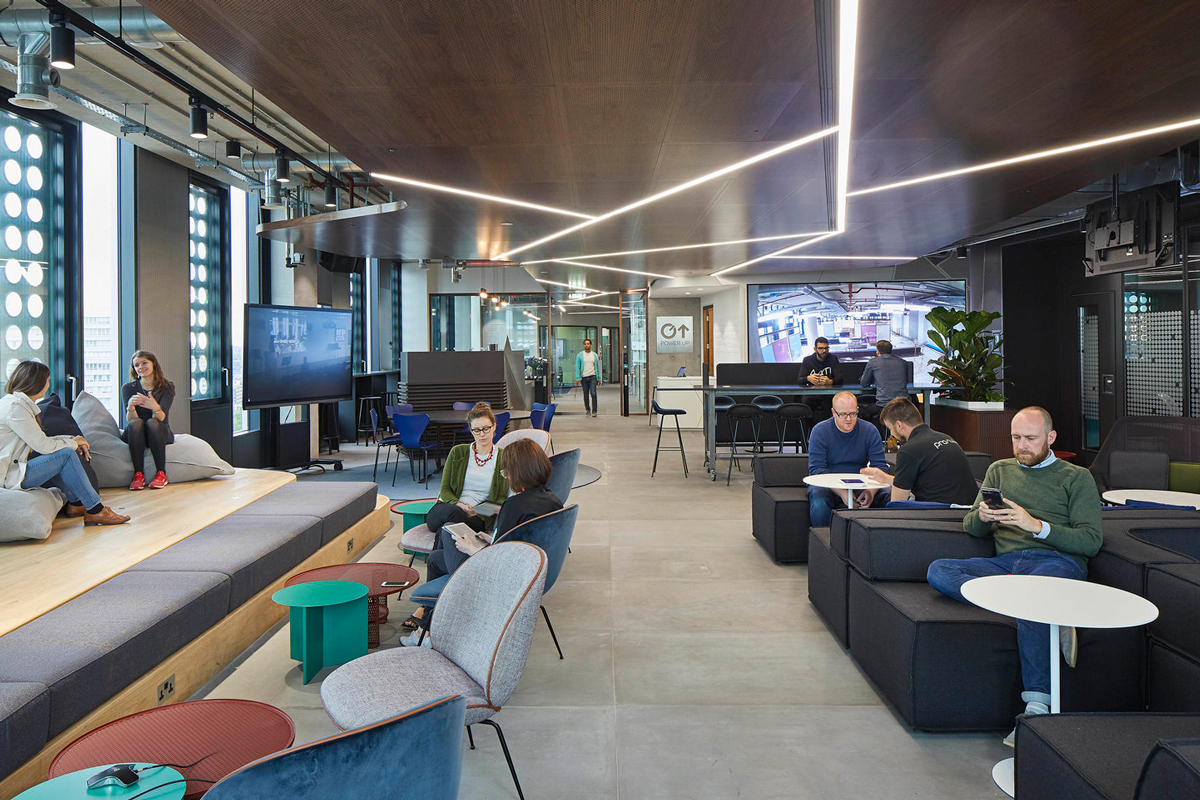 Coworking spaces should reflect the identity of their attracted members in order to thrive at work.
By Peter Bacevice
–
Coworking is more than just an office design typology or a commercial real estate business model. It is also a social structure. Whether it is an independently operated space or a large network of spaces run by entities such as WeWork or Knotel, a coworking platform unifies workers who are bound by some common identity that is not necessarily tied to that of a single organization or professional affiliation. Coworking is a distinct layer of social structure that transcends other work-oriented structures, such as the organizations and platforms that employ people. Walk into any coworking space, and you are likely to encounter a cross section of the professional workforce – freelancers, entrepreneurs, activists, small businesses, and teams from larger enterprises work among each other. Self-selection is a characteristic of coworking. That is, people choose to opt-in to a coworking space to find support for their professional needs. They can also easily opt out if they find that a particular community is unsupportive or unproductive. In major cities like New York where there are many coworking spaces serving a range of user groups and work styles, switching costs among them are low.
Design is also an important part of the coworking experience and supports its social organization. The recent widespread visibility of coworking has raised awareness of the value of good workplace design and other experiential aspects of work. People who work from coworking spaces benefit from good design. In the research I have conducted over the last 7 years with colleagues from the University of Michigan, we have learned how coworking provides its members with certain degrees of professional credibility that working from home, coffee shops, or even traditional corporate office settings do not. Coworking looks like the archetype of 21st century office work, and the design of many coworking spaces reflects this.
The social and design characteristics of coworking contribute to thriving at work. In our research, thriving is a situational construct defined as the joint experience of vitality and learning at work. We have consistently found that people who work from coworking spaces score higher on thriving measures than people who work in traditional office settings. We have also observed how coworking spaces attract members by communicating certain values and by cultivating an image, which is a function of both its aesthetic and organizational characteristics. Our research has found that when members of coworking spaces identify with the values and messages expressed by coworking space brands, thriving scores are comparatively higher than those who identify less.
Coworking space design should emphasize the importance of process too. The design process of coworking spaces should include exercises that help the operators understand what positively reflects their users' sense of professional identity and business credibility. When a member invites clients, business partners, or other guests to the space, assume those outsiders will subconsciously associate the space as an extension of the member's brand. Aesthetics, features, functions, or branding elements that reflect the professionalism of one user group could poorly reflect on another user group. Operators should take the time to conduct look and feel exercises, visual surveys, or other studies with current or potential members as ways to further understand their users' values in order to determine how coworking space design can best reflect those values. A coworking space that is designed to cultivate a particular professional image and attract members based on the messages embedded in that image can expect to retain members who truly thrive at their work.
–
Peter Bacevice is Director of Research at HLW and a Research Associate with the Ross School of Business at the University of Michigan. At HLW, he develops innovative research methods for integrating end user perspectives into the design and post-occupancy assessment of workplaces and learning environments. In his academic work, he studies the expressive and social attributes of workplace settings and the ways in which the built environment communicates organizational values and narratives. His work has appeared in the Harvard Business Review, MIT Sloan Management Review, multiple academic publications, and in presentations at various academic and professional conferences. He is based in Ann Arbor, Michigan, and divides his time professionally between New York City and Ann Arbor. He holds a PhD in Education from the University of Michigan.